.
NASA TV Coverage of Russian Spacewalk at Space Station on Dec. 27
NASA Television will air live coverage of a seven-hour spacewalk by two Russian members of the International Space Station crew beginning at 7:30 a.m. EST Friday, Dec. 27.
Expedition 38 Commander Oleg Kotov and Flight Engineer Sergey Ryazanskiy of the Russian Federal Space Agency, will install photographic and scientific equipment on the hull of the space station. Their work is not related to a series of U.S. spacewalks to replace a faulty ammonia coolant pump on the orbiting laboratory.
Kotov and Ryazanskiy will exit the Pirs airlock at 8 a.m. to install a pair of cameras on the Zvezda Service Module as part of a Canadian commercial endeavor designed to downlink Earth observation imagery and to refresh experiments.
The spacewalk will be the fifth in Kotov's career and the second for Ryazanskiy. Kotov will be designated as extravehicular (EV) crew member 1 and Ryazanskiy will be designated as EV2. They both will wear Russian Orlan spacesuits bearing blue stripe markings.
Quelle: NASA
.
Russian cosmonauts to make spacewalk Dec 27
MOSCOW, Russian cosmonauts working aboard the International Space Station (ISS) - flight engineers Oleg Kotov and Sergei Ryazansky - will make the sixth spacewalk this year.
They are expected to work outside the station for about seven hours, the Mission Control Centre said. Both will be working in computerised Orlan-MK spacesuits with LCD displays showing which systems need to be checked before leaving the station and in which order.
This is Ryazansky's first mission aboard the ISS and his second spacewalk. His first one took place on November 9. Kotov has made four spacewalks and this will be his fifth one.
The other ISS resident crewmembers - Mikhail Tyurin of Russia, NASA astronauts Michael Hopkins and Richard Mastracchio, and Koichi Wakata of the Japan Aerospace Exploration Agency (JAXA) - will assist Kotov and Ryazansky from inside the station.
Quelle: ITARTASS
.
Update: Spacewalk LIVE NASA-TV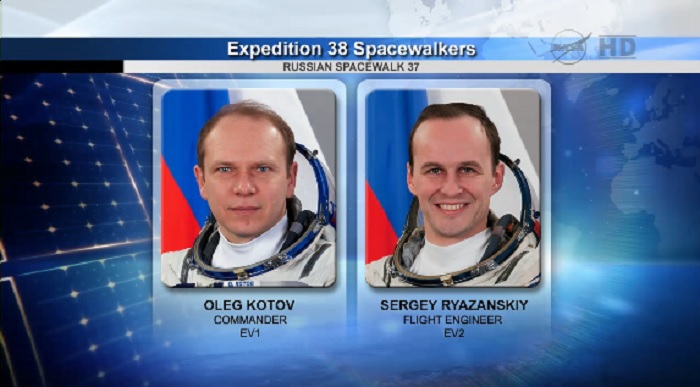 .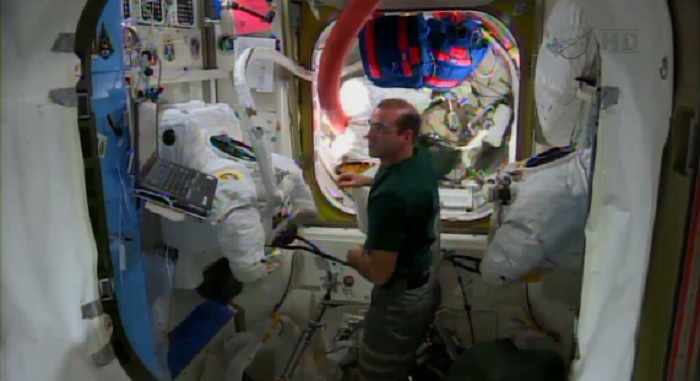 ...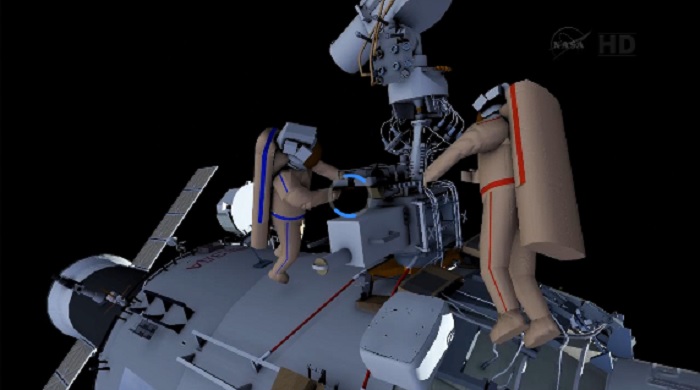 .
...
13.40 MEZ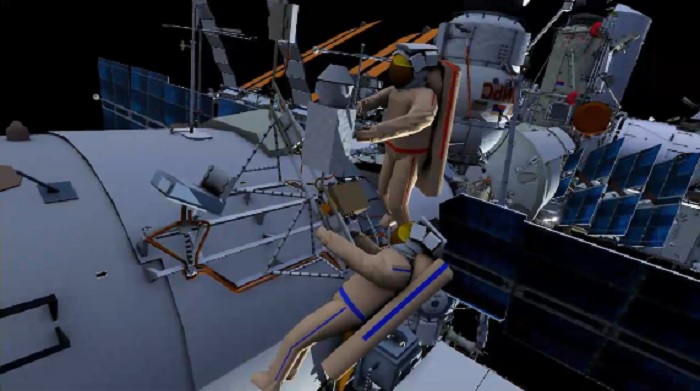 .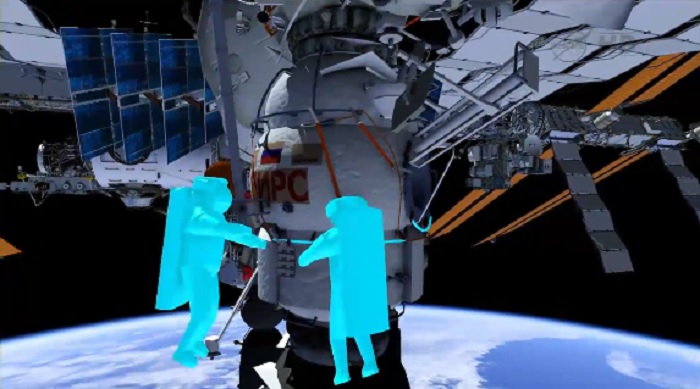 .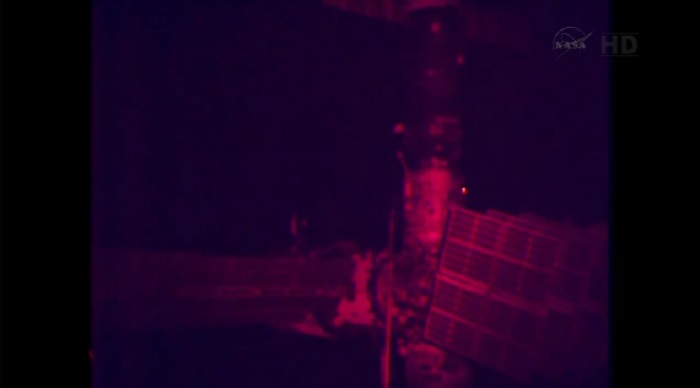 ...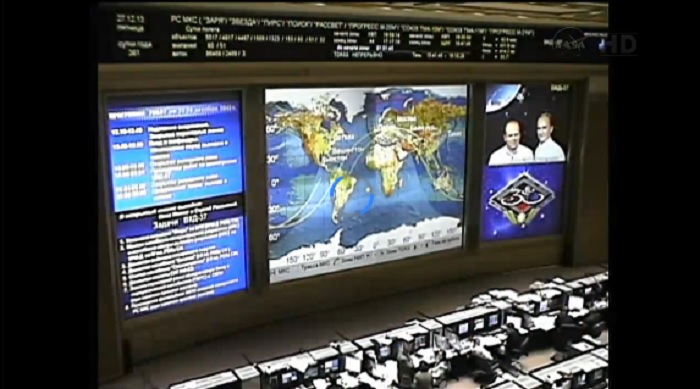 .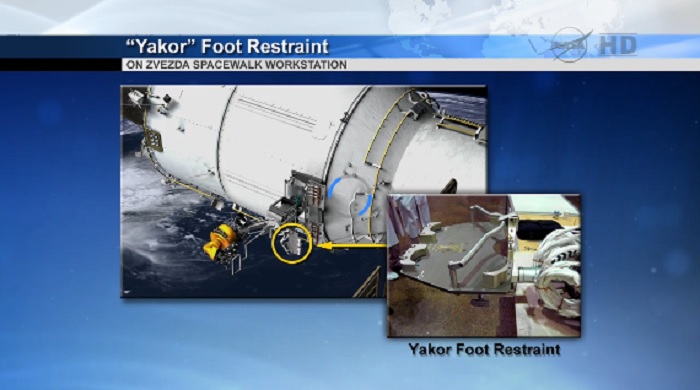 .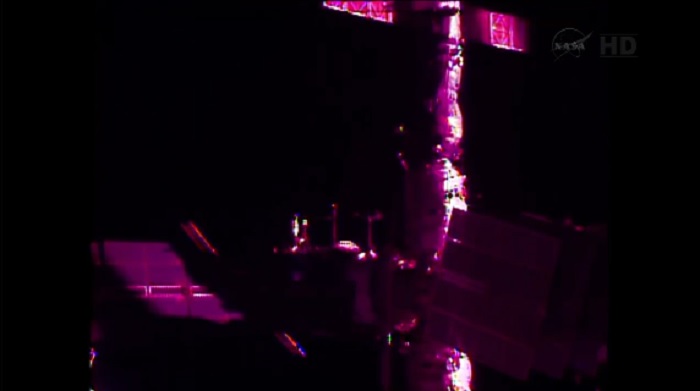 .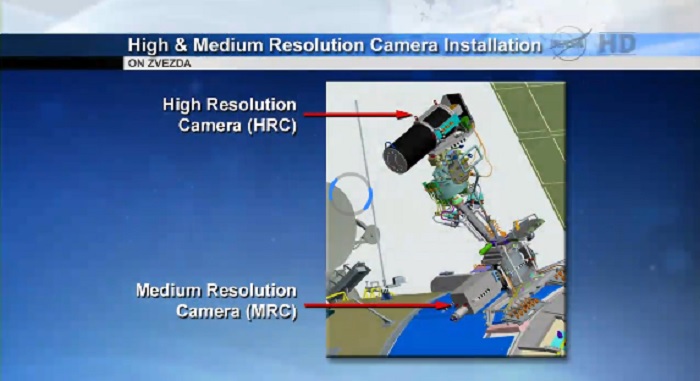 .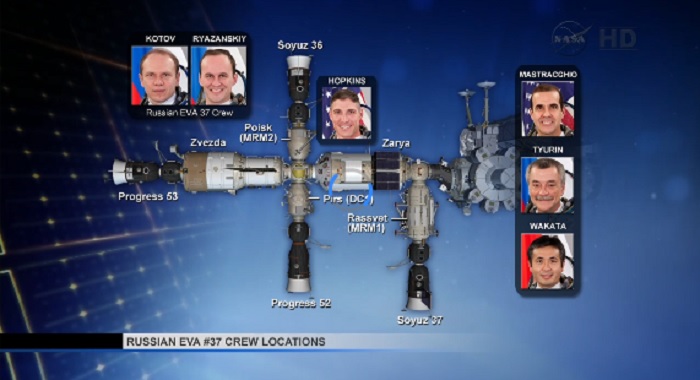 .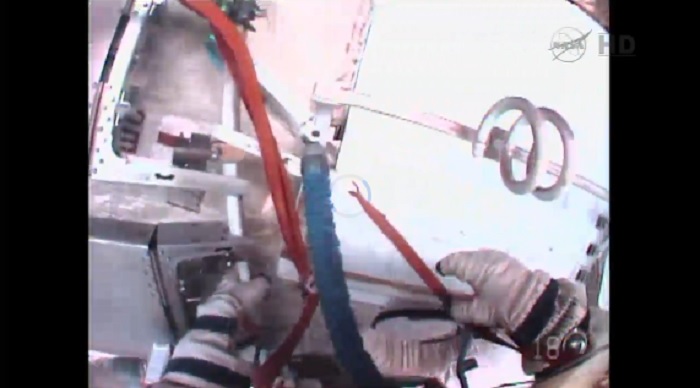 .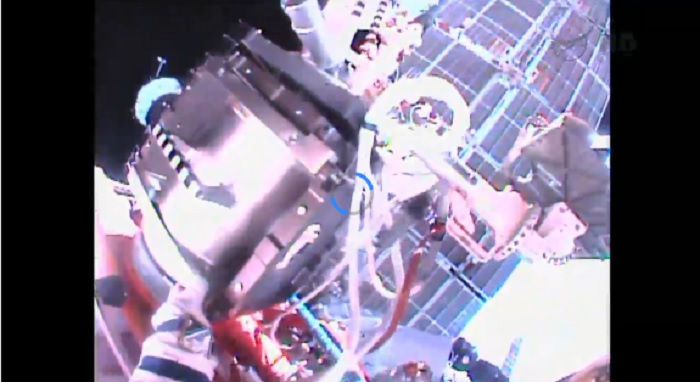 .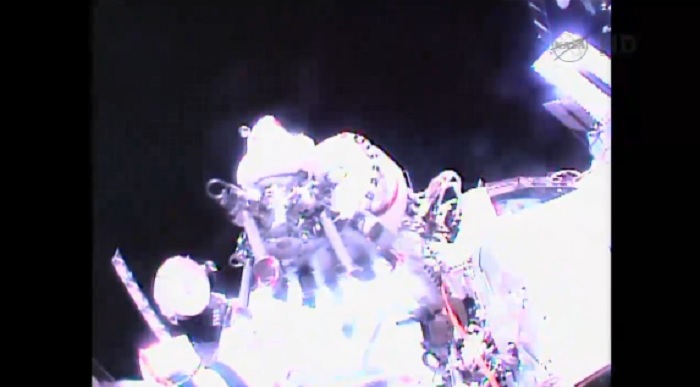 .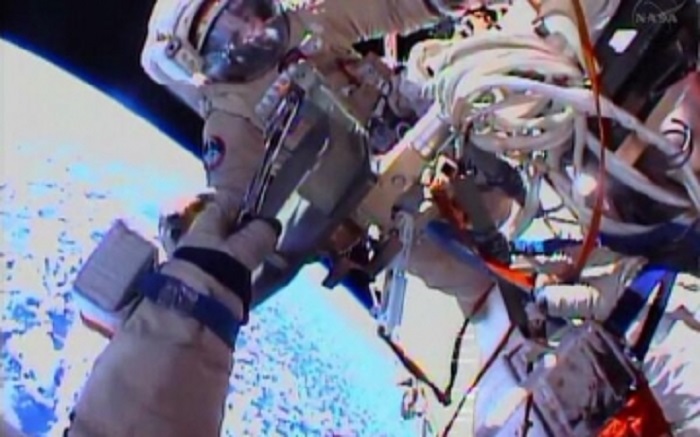 .
Frams: NASA-TV-LIVE
.
Update: 28.12.2013
.
Cosmonauts Install, Retrieve New Cameras in Frustrating Marathon Space Station Spacewalk
Cosmonauts Oleg Kotov and Sergey Ryazanskiy spent a frustrating eight hours outside the International Space Station during a record-setting Russian spacewalk on Friday, installing then retrieving a pair of commercial Earth observing cameras that failed to provide satisfactory telemetry.
The cameras, delivered aboard the Progress 53 resupply craft on Nov. 29, were developed for UrtheCast, of Vancouver, Canada which plans to offer near real time Earth views to subscribers through the Internet in partnership with Roscosmos, the Russian federal space agency.After a five hour effort to install 1.1 meter resolution video and 5.5 meter resolution still imaging cameras on stationary and movable Zvezda service module platforms, the spacewalkers were instructed to retrieve the imagers and return them to the station's Russian segment airlock for further troubleshooting.

Following the initial installation, the cosmonauts attached power and transmission cables. When Russian flight controllers were unable to obtain satisfactory transmissions, Kotov and Ryazanskiy made several additional attempts to reconfigure connectors in a bid to resolve the transmission issues.

"Well guys, it happens," controllers in suburban Moscow, told the two men. "Thank you for all your hard work. Sorry it turned our this way."

"Never thought I'd have to take it off, again," said one of the cosmonauts as the dismantling got underway.Friday's spacewalk stretched to 8 hours, 7 minutes, breaking a Russian spacewalk record of 7 hours, 29 minutes, established on Aug. 16 by Fyodor Yurchikhin and Alexander Misurkin as they configured the Russian segment for the arrival of the Multipurpose Laboratory Module.

Despite the setback, Kotov and Ryazanskiy removed and jettisoned Vsplesk, a Russian sensor designed to monitor terrestrial seismic activities that was installed during a 2008 spacewalk. They replaced Vsplesk with Seismoprognoz, a new earthquake monitoring experiment.

Friday's excursion, which drew to a close at 4:07 p.m., EST, was the third conducted by the six member ISS crew within the past week. U.S. astronauts Rick Mastracchio and Mike Hopkins carried out spacewalks last Tuesday and Saturday for the installation of a new pump module to restore the station's external thermal control system to normal operations following a Dec. 11 flow control valve failure.

UrtheCast, which counts the United Nations Institute for Training and Research among its clients, had planned to begin streaming Earth views in near real time in early 2014, following a calibration period. Another installation attempt has yet to be scheduled.
.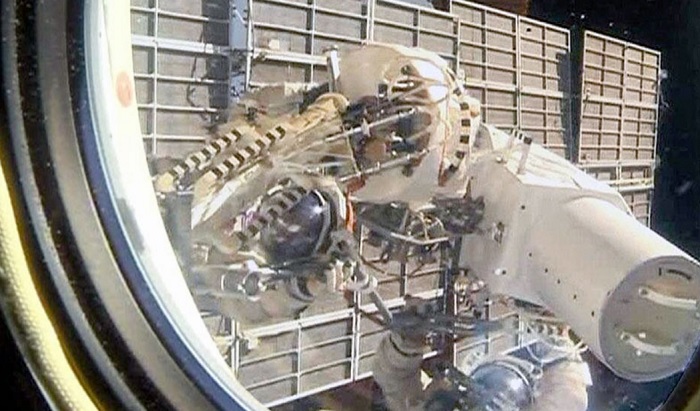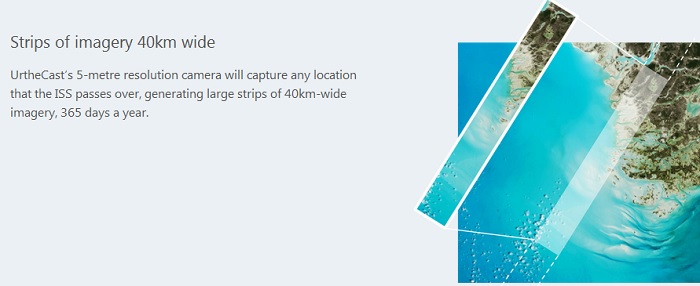 .
Station Cosmonauts Complete Spacewalk to Deploy Cameras
.
Two Russian cosmonauts in Orlan spacesuits wrapped up a 8-hour, 7-minute spacewalk to attempt the installation of photographic equipment on the exterior of the International Space Station at 4:07 p.m. EST Friday.
Commander Oleg Kotov and Flight Engineer Sergey Ryazanskiy promptly completed the main objective of Friday's spacewalk -- the installation of a pair of high-fidelity cameras as part of a Canadian commercial endeavor designed to downlink Earth observation imagery – but had to remove them later due to an unspecified problem that prevented telemetry from being received on the ground by Russian flight controllers.
As planned, Kotov and Ryazanskiy attached the two cameras on a combination biaxial pointing platform and spacewalk workstation that was installed on the Zvezda service module during a spacewalk on Nov. 9. Kotov and Ryazanskiy also installed a foot restraint to the workstation.
After routing data and telemetry cables for the medium resolution camera, Kotov jettisoned the cable reel opposite of the station's direction of travel for disposal.
When the flight control team at the Russian Mission Control Center outside Moscow did not see the expected telemetry and electrical connectivity from the medium and high resolution cameras, Kotov and Ryazanskiy were directed to remove the cameras and return them to the airlock for further analysis. The spacewalkers also were instructed to take detailed photographs of the electrical connectors mated earlier for additional review.
In addition to their work with the two cameras, the spacewalkers also removed the Vsplesk experiment package and jettisoned it. Vsplesk, installed during an Expedition 17 spacewalk in July 2008, was designed to monitor seismic effects using high-energy particle streams in the near-Earth environment. Kotov and Ryazanskiy replaced it with hardware for a more sophisticated earthquake-monitoring experiment, Seismoprognoz, which they attached to a Zvezda handrail.
Because of the issue in activating the cameras, Kotov and Ryazanskiy did not have time to complete the all of their planned tasks, which included the jettisoning of a frame that once held three Micro-Particles Capturer and Space Environment Exposure Device (MPAC & SEED) units for a Japanese space exposure study and the installation of a payload boom.
Friday's spacewalk eclipsed the record for the longest Russian spacewalk set by Expedition 36 Flight Engineers Fyodor Yurchikhin and Alexander Misurkin, who conducted a 7-hour, 29 minute excursion on Aug. 16.
With the completion of his fifth spacewalk, Kotov now has 30 hours and 43 minutes of total spacewalking time. Ryazanskiy has a total of 13 hours and 57 minutes over his two spacewalks.
This was the 177th spacewalk in support of space station assembly and maintenance, totaling 1,115 hours, 44 minutes, and the 11th spacewalk this year.
During the spacewalk, Flight Engineer Mike Hopkins was restricted to the Poisk module and the Soyuz TMA-10M craft that brought him, Kotov and Ryazanskiy to the complex in September. The remaining three crew members – Flight Engineers Rick Mastracchio, Koichi Wakata and Mikhail Tyurin – had access to the Zarya module and the entirety of the U.S. segment of the station.
Friday's Russian spacewalk was not related to a recent pair of U.S. spacewalks to replace a faulty ammonia coolant pump module. Flight controllers in Houston's Mission Control successfully restarted the new pump Tuesday night following two spacewalks – including a 7-hour, 30-minute excursion Tuesday -- by Mastracchio and Hopkins to replace a degraded pump module on the station's starboard truss. That pump module continues to operate well.
.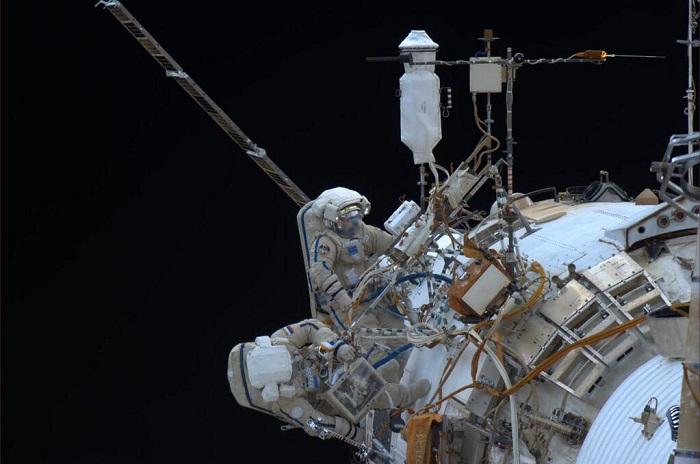 My Russian crewmates are working outside my window installing a telescope on station.
Quelle: NASA
2983 Views