.
29.10.2013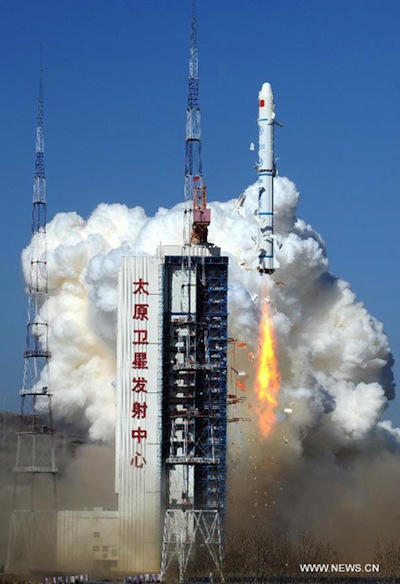 The Long March 2C rocket launched at 10:50 a.m. Tuesday Beijing time. Credit: Xinhua
.
China unexpectedly launched a Long March rocket Tuesday and put into orbit a secret military surveillance satellite likely equipped with a synthetic aperture radar to make observations through clouds and darkness.
The Long March 2C rocket soared into space from the Taiyuan space center in northern China's Shanxi province at 0250 GMT Tuesday (10:50 p.m. EDT Wednesday), or 10:50 a.m. Beijing time, China's state-run Xinhua news agency reported.
The two-stage liquid-fueled launcher placed the Yaogan 18 satellite into an orbit more than 300 miles above Earth with an inclination of approximately 97 degrees, according to U.S. military tracking data.
China did not announce the launch in advance, keeping with the country's usual policy of not disclosing the launch schedule for military satellites.
The Xinhua news outlet, a mouthpiece for the Chinese government, said Yaogan 18 will "conduct scientific experiments, carry out land surveys, monitor crop yields and aid in preventing and reducing natural disasters."
But Western analysts believe the Yaogan name is a cover for China's intelligence-gathering satellites. The circumstances of Yaogan 18's launch, including its orbit and launch vehicle, match two previous Yaogan satellites launched in April 2009 and November 2011.
Independent observers of China's space program believe Yaogan 18, like the satellites launched in 2009 and 2011, hosts a synthetic aperture radar payload optimized to resolve targets on the ground through clouds and during nighttime.
Tuesday's launch was the second Chinese space launch in four days and China's 10th space launch of the year. It marked the 59th launch to reach orbit worldwide in 2013.
Quelle: SN
.
Chinese Long March 2C lofts Yaogan Weixing-18 satellite
.
The Taiyuan Satellite Launch Center conducted yet another secretive launch on Tuesday morning (local time), when a Long March-2C orbited the Yaogan Weixing-18 satellite. Launch took place at 02:50 GMT from its LC9 Launch Complex, marking the second orbital Chinese launch in four days.
Chinese Launch:
As per usual, the Chinese media refer to the satellite as a new remote sensing bird that will be used for scientific experiments, land survey, crop yield assessment, and disaster monitoring.As was the case with previous launches of the Yaogan Weixing series, western analysts believe this class of satellites is being used for military purposes.
In fact, three types of satellites use the Yaogan designation. All with a basis for military purposes, these satellites are used for space-based synthetic aperture radar observations, electro-optical observations and naval oceanic surveillance.
This was the 184th successful Chinese orbital launch, the 183rd launch of a Chang Zheng launch vehicle, the 44th successful orbital launch from Taiyuan and the third from Jiuquan this year. It was also the tenth successful orbital Chinese launch in 2013.
Previous Yaogan Weixing Launch History:
The first Yaogan Weixing satellite (29092 2006-015A) was launched by the Long March-4C (Y1) from the Taiyuan Satellite Launch Center on April 27, 2006.
Developed by Shanghai Academy of Spaceflight Technology (SAST), details about this satellite were closely guarded, but later it was noted that this was the first Jianbing-5 satellite, equipped with the first space-based synthetic aperture radar (SAR).
The second satellite on the series, the Yaogan Weixing-2 (31490 2007-019A), was launched on 25 May, 2007, by the Long March-2D (Y8) from the Jiuquan Satellite Launch Center.
Details were also restricted, though it is claimed that this spacecraft was an electro-optical military observation satellite also known as JB-6 Jianbing-6, complementing the results of the Yaogan Weixing-1.
Another SAR mission similar to Yaogan-1 was launched on November 11, 2007 – with the Yaogan Weixing-3 (32289 2007-055A) satellite orbited by the Long March-4C (Y3) launch vehicle from Taiyuan.
Yaogan Weixing-4 (33446 2008-061A) was then launched on December 1, 2008. This was the second electro-optical satellite on the series and was launched by a Long March-2D (Y9) from Jiuquan.
Other satellites in the Jianbing-6 series were Yaogan Wexing-7 (36110 2009-069A), launched on December 9, 2009 from Jiuquan by the Long March-2D (Y10), and Yaogan Weixing-11 (37165 2010-047A) launched on September 22, 2010, by the Long March-2D (Y11) launch vehicle from Jiuquan.
The first second-generation electro-optical reconnaissance satellite developed by CAST, Yaogan Weixing-5 (33456 2008-064A), was launched on December 15, 2008. The launch took place from Taiyuan by the Long March-4B (Y20) rocket.
Yaogan Weixing-12 (37875 2011-066B) was other second-generation electro-optical reconnaissance satellite, launched on November 11, 2011, by the Long March-4B (Y21) rocket from Taiyuan.
Yaogan Weixing-6 (34839 2009-021A), launched by a Long March-2C (Y19) from Taiyuan on April 22, 2009, was a second-generation SAR satellite developed by SAST, having a spatial resolution of 1.5 meters.
Other second-generation SAR satellites were the Yaogan Weixing-10 (36834 2010-038A) launch on August 9, 2010, by the Long March-4C (Y6) launch vehicle from Taiyuan; and the Yaogan Weixing-13 (37941 2011-072A) launched on November 29, 2011, by the Long March-2C (Y20) launch vehicle from Taiyuan.
The Yaogan Weixing-8 (36121 2009-072A), launched on December 15, 2009, by the CZ-4C (Y4) from Taiyuan was a new generation of optical reconnaissance satellite. Similar to the Yaogan-8 was the mission of Yaogan Weixing-14 launched on May 10th, 2012 by the Long March-4B (Y12) from Taiyuan.
Click here for more Chinese Launch Articles: http://www.nasaspaceflight.com/news/chinese/
The Yaogan Weixing-9 mission, launched March 5, 2010 from Jiuquan, had an architecture different from the previous missions on the series. Launched by Long March-4C (Y5) rocket, the mission put not one but a triplet of satellites in Earth orbit.
Flying in formation these three satellites form a type of NOSS system. Similar missions were the YG-16 launched on November 25, 2012, from Jiuquan by the Long March (Y9), and the YG-17 launched on September 1, 2013, by the Long March-4C (Y13) also from Jiuquan.
The Yaogan Wrinxing-15 was an optical reconnaissance satellite launched on May 29, 2012 by the Long March-4C (Y10) from Taiyuan.
The Chang Zheng 2C (Long March 2C) is a Low Earth Orbit (LEO) launch vehicle derived from DF-5 ICBM.
It can be launched from either the Jiuquan Satellite Launch Center or the Taiyuan Satellite Launch Center.
The rocket is a two stage hypergolic launch vehicle with a total length of 35.15 meters, a diameter of 3.35 meters and a total mass of 192,000 kg.
The first stage is equipped with four YF-20A engines. Is has a length of 20.52 meters and a burn time of 122 seconds.
The second stage is equipped with one YF-22A engine, and has a length of 7.50 meters with a burn time of 130 seconds.
Launch Site:
Situated in the Kelan County on the northwest part of the Shanxi Province, the Satellite Launch Center (TSLC) is also known by the Wuzhai designation. It is used mainly for polar launches (meteorological, Earth resources and scientific satellites).
The center is at a height of 1400-1900m above sea level, and is surrounded by mountains to the east, south and north, with the Yellow River to its west. The annual average temperature is 4-10C, with maximum of 28C in summer and minimum of -39C in winter.
The launch centre has two single-pad launch complexes, a technical area for rocket and spacecraft preparations, a communications centre, a mission command and control centre, and a space tracking centre.
The stages of the missile and rocket were transported to the launch centre by railway, and offloaded at a transit station south of the launch complex. They were then transported by road to the technical area for checkout procedures.
The launch vehicles were assembled on the launch pad by using a crane at the top of the umbilical tower to hoist each stage of the vehicle in place. Satellites were airlifted to the Taiyuan Wusu Airport about 300km away, and then transported to the centre by road.
The TT&C Centre, also known as Lüliang Command Post, is headquartered in the city of Taiyuan, It has four subordinate radar tracking stations in Yangqu (Shanxi), Lishi (Shanxi), Yulin (Shaanxi), and Hancheng (Shaanxi).
Quelle: NSC
.
Update: 3.11.2013
.
Yaogan XVIII remote-sensing satellite launched in N China
.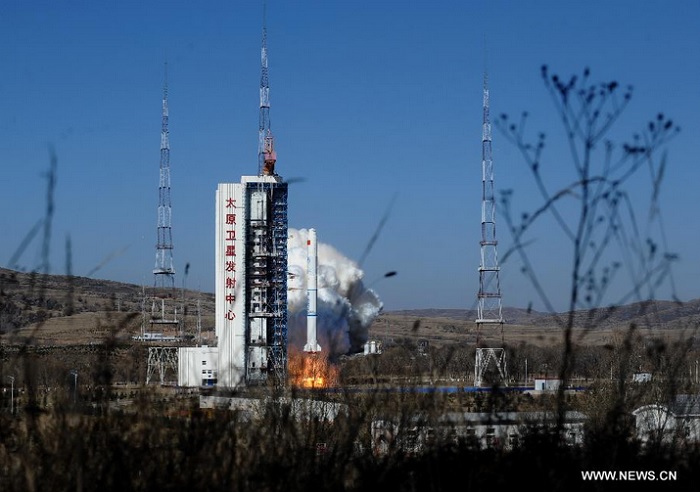 .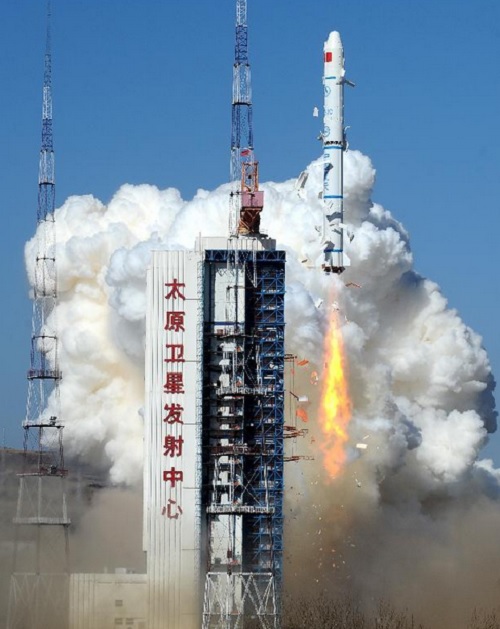 .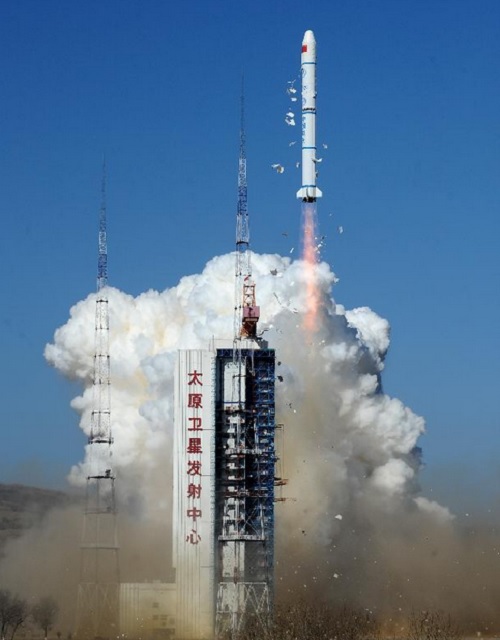 .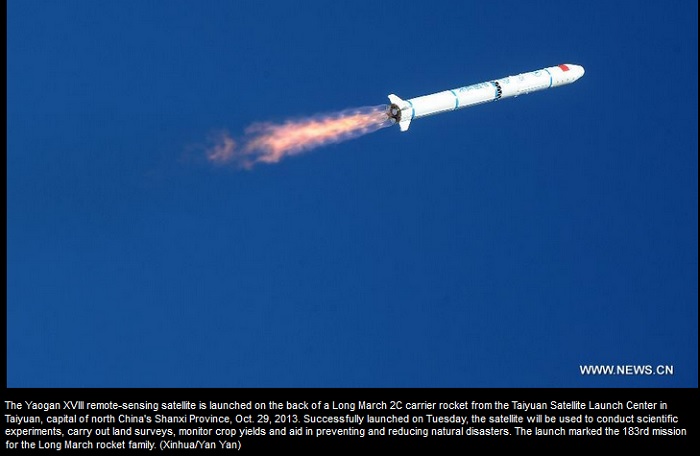 .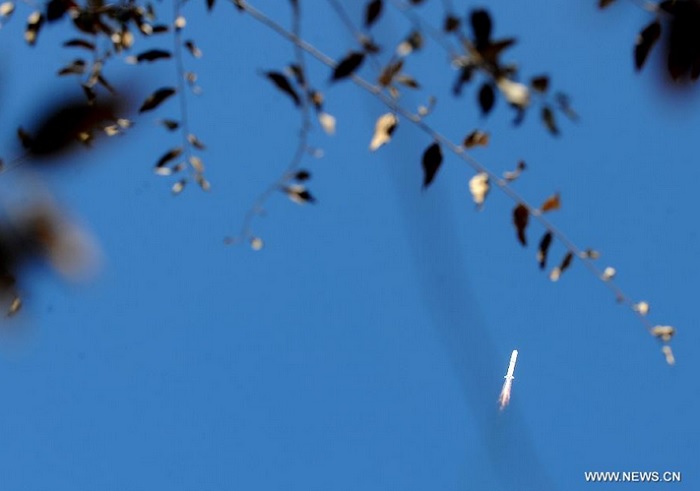 3742 Views