.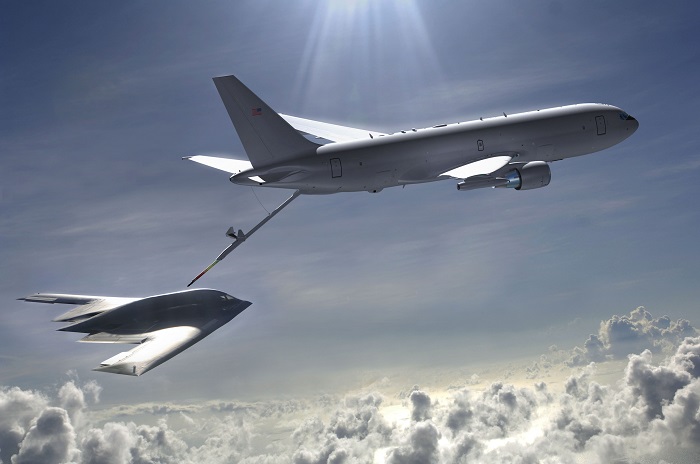 A KC-46 conducts in-flight refueling on a B-2 bomber in this illustration. The first KC-46 is expected to fly in 2015. (Air Force illustration)
.
WRIGHT-PATTERSON AIR FORCE BASE, Ohio -- Boeing's announcement this past week that they have begun assembly of the first KC-46 wing spar is a significant event for the Air Force tanker program. It marks the start of assembly of the first KC-46 Engineering and Manufacturing Development aircraft.

"We are excited and pleased that KC-46 fabrication has begun. The Boeing team continues to make significant progress in the development of the Air Force's next tanker," said Maj. Gen. John Thompson, Program Executive Officer for Tankers at the Air Force Life Cycle Management Center. "The development effort is on track, detailed test planning is making good progress, and initial beddown, training and sustainment planning is underway."

The Air Force is about a third of the way into the KC-46 tanker development program. The Air Force contracted with Boeing in February 2011 to acquire 179 KC-46 Tankers to begin recapitalizing the more than 50-year-old KC-135 fleet. The initial delivery target is for 18 tankers by 2017. Production will then ramp up to deliver all 179 tankers by 2028.

The aircraft being produced at the Boeing factory in Everett, Washington is a commercial derivative design based on the Boeing 767-200ER passenger aircraft. When the aircraft comes off the Everett production line, it will be a 767-2C Provisioned Freighter that will eventually become a military-configured KC-46 tanker.

The first fully equipped KC-46 is slated to fly in early 2015.
.
KC-46A TANKER

Mission
The KC-46A is intended to replace the U.S. Air Force's aging fleet of KC-135 Stratotankers which has been the primary refueling aircraft for more than 50 years. With more refueling capacity and enhanced capabilities, improved efficiency and increased capabilities for cargo and aeromedical evacuation, the KC-46A will provide aerial refueling support to the Air Force, Navy, Marine Corps as well as allied nation coalition force aircraft.

Features
The KC-46A will be able to refuel any fixed-wing receiver capable aircraft on any mission. This aircraft is equipped with a modernized KC-10 refueling boom integrated with proven fly-by-wire control system and delivering a fuel offload rate required for large aircraft. In addition, the hose and drogue system adds additional mission capability that is independently operable from the refueling boom system.

Two high-bypass turbofans, mounted under 34-degree swept wings, power the KC-46A to takeoff at gross weights up to 415,000 pounds. Nearly all internal fuel can be pumped through the boom, drogue and wing aerial refueling pods. The centerline drogue and wing aerial refueling pods are used to refuel aircraft fitted with probes. All aircraft will be configured for the installation of a multipoint refueling system.

MPRS configured aircraft will be capable of refueling two receiver aircraft simultaneously from special "pods" mounted under the wing. One crewmember known as the boom operator controls the boom, centerline drogue, and wing refueling pods during refueling operations. This new tanker utilizes an advanced KC-10 boom, a center mounted drogue and wing aerial refueling pods allowing it to refuel multiple types of receiver aircraft as well as foreign national aircraft on the same mission.

A cargo deck above the refueling system can accommodate a mix load of passengers, patients and cargo. The KC-46A can carry up to 18 463L cargo pallets. Seat tracks and the onboard cargo handling system make it possible to simultaneously carry palletized cargo, seats, and patient support pallets in a variety of combinations. The new tanker aircraft offers significantly increased cargo and aeromedical evacuation capabilities.

The aircrew compartment includes 15 permanent seats for aircrew which includes permanent seating for the aerial refueling operator and an aerial refueling instructor. Panoramic displays giving the ARO wing-tip to wing-tip situational awareness.

Background
The Boeing Company was awarded a contract for the Engineering and Manufacturing Development phase of the KC-46 program on Feb. 24, 2011. The initial flight of the KC-46A aircraft is scheduled for late calendar year 2014. The current contract, with options, provides the Air Mobility Command an inventory of 179 KC-46 tankers.

General Characteristics
Primary Function: Aerial refueling and airlift
Prime Contractor: The Boeing Company
Power Plant: 2 Pratt & Whitney 4062
Thrust: 62,000 lbs - Thrust per High-Bypass engine (sea-level standard day)
Wingspan: 157 feet, 8 inches (48.1 meters)
Length: 165 feet, 6 inches (50.5 meters)
Height: 52 feet, 10 inches (15.9 meters)
Maximum Takeoff Weight: 415,000 pounds (188,240 kilograms)
Fuel Capacity: 212,299 pounds (96,297 kilograms)
Maximum Transfer Fuel Load: 207,672 pounds (94,198 kilograms)
Maximum Cargo Capacity: 65,000 pounds (29,484 kilograms)
Pallet Positions: 18 pallet positions
Air Crew: 15 permanent seats for aircrew, including aeromedical evacuation aircrew
Passengers: 58 total (normal operations); up to 114 total (contingency operations
Aeromedical Evacuation: 58 patients (24 litters / 34 ambulatory) with the AE Patient Support Pallet configuration; 6 integral litters carried as part of normal aircraft configuration equipment
3828 Views