.
The European Space Agency (ESA) on Tuesday said it had approved the final design for a next-generation rocket, Ariane 6, aimed at maintaining Europe's grip on the fast-changing market for satellite launches.
ESA ministers gave political approval for the scheme in Naples, Italy, last November, and since then the agency's experts have been working with Europe's space industry to hammer out the design.
Ariane 6 is sketched as a lower-cost flexible launcher able to place a single payload of between three and 6.5 tonnes in geostationary orbit -- the popular parking slot for telecommunications satellites.
ESA's current flagship launcher is the bigger and highly reliable Ariane 5, a multiple-payload launcher that is expensive to operate.
It requires support of 120 million euros ($154 million) each year, at a time when sleek US entrepreneurs are starting to nibble at the satellite market.
In a press release, ESA said the design was for a three-stage vehicle.
Its first stage would comprise three motors, set in a line as opposed to a more conventional "cluster" configuration, that would be powered by 135 tonnes of solid propellant.
The second stage will also be driven by a solid-propellant motor.
The third will be propelled by a planned liquid-fuelled engine, Vinci, designed to be restartable rather than a single-burn motor, to give more options for placing payloads in complex orbits.
If all goes well, Ariane 6 will make its maiden flight in 2021 or 2022, becoming Europe's workhorse launcher for the next decade.
Jean-Yves Le Gall, head of France's National Centre for Space Studies (CNES), said the rocket's smaller size and newer technology would make Ariane 6 launches 30 percent cheaper than those of Ariane 5, which cost about 100 million euros per six-tonne satellite.
Around four billion euros in investment will be needed, mainly coming from countries whose industries will get most of the work.
The decision to back Ariane 6 set France at odds with Germany, whose industrialists complained that its development time was way too long.
Under a compromise, ministers backed a tweak of the Ariane 5 called Ariane 5 ME -- for "Midlife Evolution" -- that would be ready by 2017 at a putative cost of two billion euros.
It would be the first rocket to use the new-fangled Vinci upper-stage engine.
Its payload capacity would be two satellites of more than five tonnes each, hoisted to geostationary orbit, providing a 20-percent gain in cost over the present Ariane 5 ECA and ES models, according to prime contractor Astrium.
Under the deal, Ariane 6 will incorporate as much of the Ariane 5 ME technology as possible to save waste and time.
.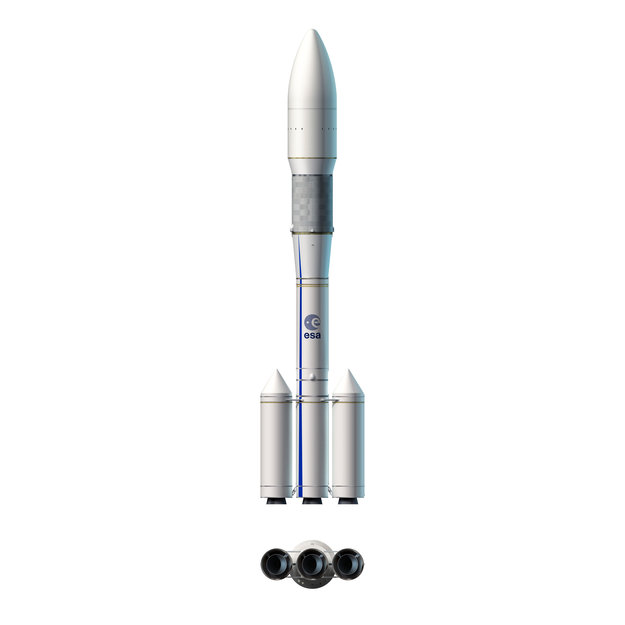 In November 2012, European Ministers responsible for space, meeting in Naples, Italy, approved the start of preparatory activities for Europe's next-generation Ariane 6 launch vehicle.
The objective of Ariane 6 is to maintain guaranteed autonomous access to space for Europe, while minimising exploitation costs and suppressing any support to exploitation.
The performance requested for the new launch vehicle was 3–6.5 tonnes in equivalent geostationary transfer orbit (GTO), to cover both governmental and commercial needs. The general configuration retained was 'PPH' – indicating the sequence of stages using solid propulsion, solid propulsion and cryogenic propulsion.
Ministers also requested that the new launch vehicle exploits maximum commonalities with the cryogenic reignitable upper stage of Ariane 5 ME.
Process
Seven months after ESA's Ministerial Council decision, the project team of ESA, supported by CNES, has endorsed the final concept proposed by industry for the vehicle that will become Europe's workhorse for reaching space in the 2020s and beyond.
This concept was selected after six months of trade-off studies done by a 'plateau projet' integrating industrial teams (Astrium, Avio, Herakles and the participation of Safran, MT Aerospace and others) working under ESA contract, consistent with Ministerial decisions mentioned above.
The choice of configuration was made by consensus and based on the following main criteria: exploitation costs, time to market and development costs.
Ariane 6 will benefit from the advances by European industry in solid and cryogenic propulsion, structures, systems, avionics, ground segment and operations through the Ariane and Vega programmes.
Baseline configuration selected
The selected 'Multi P linear' concept is based on a lower 'composite' of four motors, each loaded with around 135 tonnes of solid propellant, providing also synergies with the Vega evolution perspectives. An "in-line" arrangement of three will serve as the first stage, while the fourth will be mounted above as the second stage.
The third stage will be an adapted version of the Ariane 5 ME upper stage, equipped with the Vinci engine and specific propellant tanks.
The 5.4 m-diameter payload fairing will be able to accommodate the same volume of satellites as Ariane 5.
Steps to October 2013
The next step will be for ESA to consult with industry to gather competing ideas on key work packages of the new launch system. Industry will have maximum flexibility for meeting the requirements.
Consolidation of the current Phase A will take place at the Preliminary Requirements Review (PRR) in October 2013.
Decisions taken by the ESA Council at Ministerial level in November 2012 are being implemented strictly and timely.
.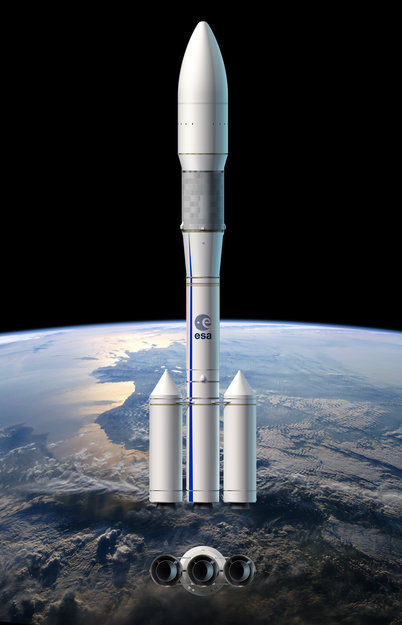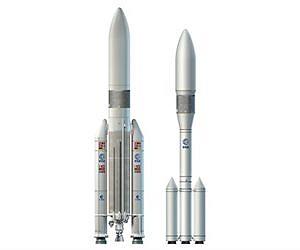 Quelle: ESA
4538 Views