.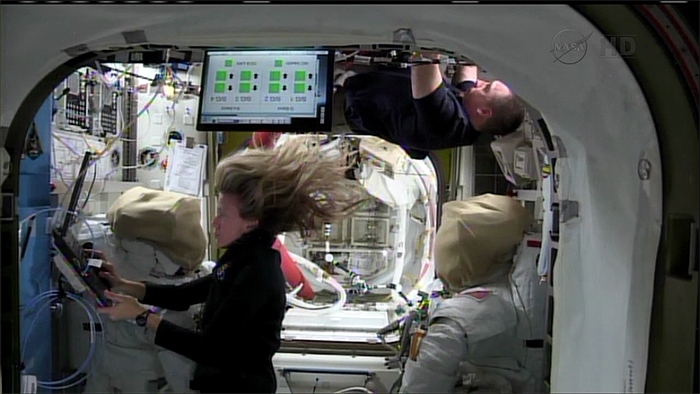 Flight Engineers Chris Cassidy (upper right) and Karen Nyberg prepare spacewalk tools and equipment inside the Quest airlock of the International Space Station.
.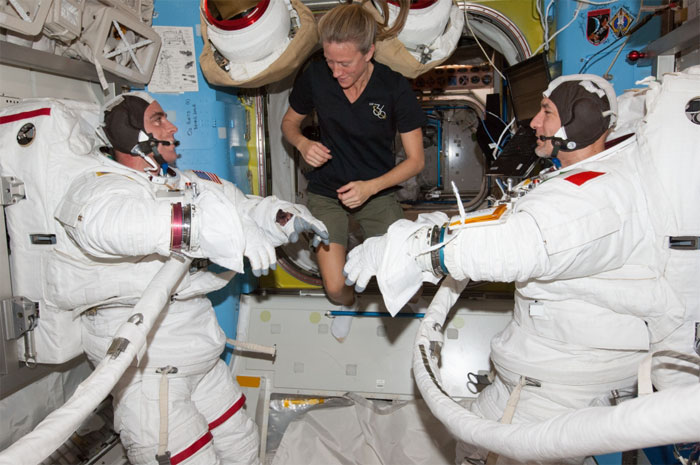 Station Astronauts Prep for U.S. Spacewalk
ISS036-E-014724 (3 July 2013) --- NASA astronaut Chris Cassidy (left) and European Space Agency astronaut Luca Parmitano, both Expedition 36 flight engineers, attired in their Extravehicular Mobility Unit (EMU) spacesuits, participate in a "dry run" in the International Space Station's Quest airlock in preparation for the first of two sessions of extravehicular (EVA) scheduled for July 9 and July 16. NASA astronaut Karen Nyberg, flight engineer, assists Cassidy and Parmitano.
.
The Expedition 36 crew of the International Space Station kicked off the week Monday with final preparations for a 6 ½ hour spacewalk set for Tuesday, one of two excursions planned for July.
Flight Engineers Chris Cassidy of NASA and Luca Parmitano will suit up in their U.S. spacesuits and exit the station's Quest airlock Tuesday to replace a failed Ku-band receiver box, perform maintenance and upgrades to station equipment and route power cables for the new Russian Multipurpose Laboratory Module scheduled to arrive later this year. During the spacewalk, Flight Engineer Karen Nyberg will be at the controls of the robotic workstation maneuvering the station's 57-foot Canadarm2 robotic arm to transport Parmitano to and from some of the worksites.
Cassidy, Parmitano and Nyberg spent Monday morning configuring spacewalk tools and equipment. Flight Engineer Fyodor Yurchikhin, who along with Nyberg will help suit up Cassidy and Parmitano inside Quest Tuesday, joined the three astronauts later for a final detailed procedure review. Afterward, the crew participated in a conference call with spacewalk specialists at Houston's Mission Control Center to square away any remaining issues or questions.
Tuesday's spacewalk, the 170th in support of station assembly and maintenance, is scheduled to begin at 8:10 a.m. EDT. NASA Television coverage begins at 7 a.m. This will be the fifth spacewalk for Cassidy and the first for Parmitano, who will be the first Italian to walk in space.
.
Nyberg rounded out her day setting up the EarthKAM camera in the Window Observational Research Facility inside the Destiny laboratory. EarthKAM allows middle school students to program a digital camera aboard the station to photograph a variety of geographical targets for study in the classroom.
.
Meanwhile on the Russian side of the complex, Commander Pavel Vinogradov worked with cargo aboard the ISS Progress 50 resupply ship berthed at the station's Pirs docking compartment. The commander also inspected and photographed the windows of the Zvezda service module to provide an assessment of their condition.
Flight Engineer Alexander Misurkin began his day with the Khromatomass experiment, analyzing blood and saliva samples for this Russian health evaluation. He also prepared some radiation dosimeters for Tuesday's spacewalk and participated in the Relaksatsiya Earth-observation experiment, studying chemical luminescent reactions in the atmosphere.
In addition to spacewalk support activities, Yurchikhin updated software on a laptop computer and worked with the Kulonovskiy Kristall experiment, gathering data about charged particles in a weightless environment. The results of this study could be used on future spacecraft and advanced photovoltaic cells.
.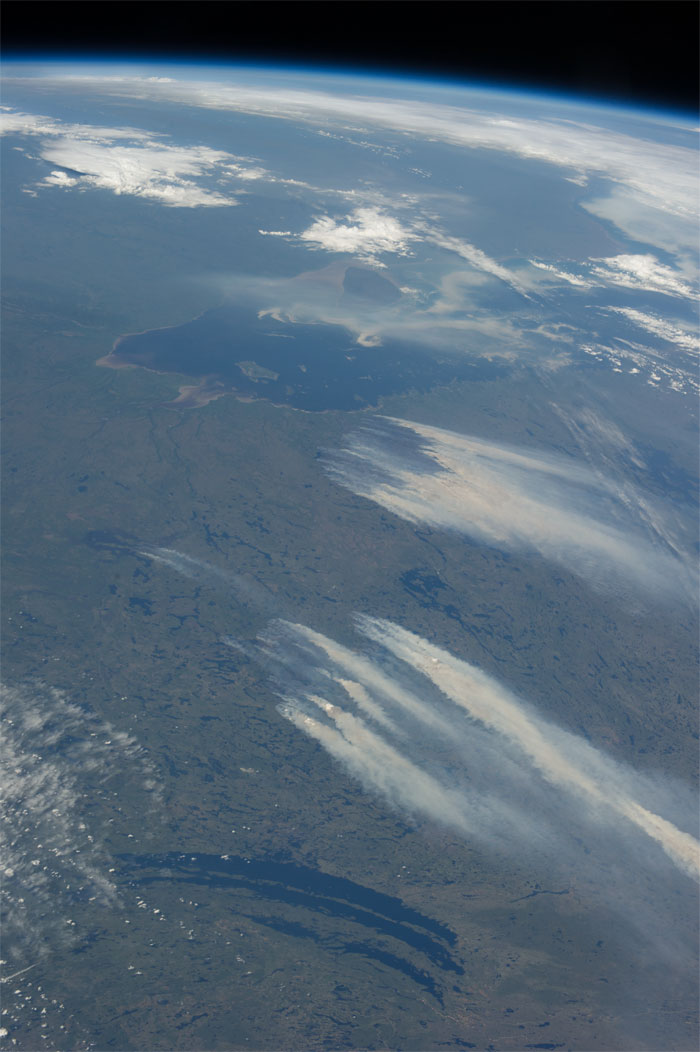 A number of Quebec, Canada wildfires southeast of James Bay were recorded as part of a series of photographs taken and downlinked to Earth on July 4 by the Expedition 36 crew members aboard the International Space Station.
.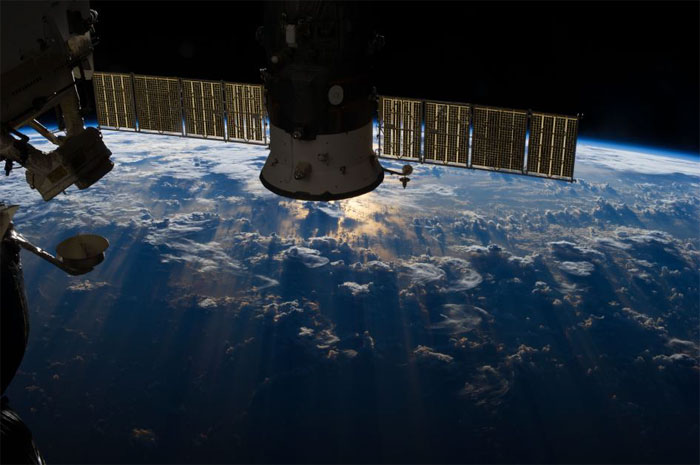 Storm clouds over the Atlantic Ocean near Brazil
Quelle: NASA
4273 Views