.
24.04.2013
.
SpaceShipTwo soll am Montag die Schallmauer durchbrechen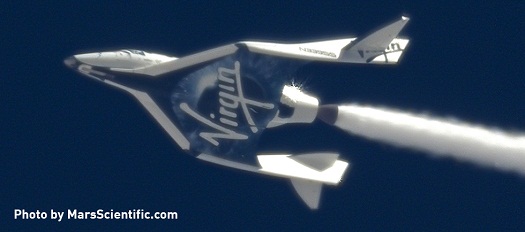 Branson tells the Las Vegas Sun that SpaceShipTwo will break the sound barrier next Monday:
That's your Virgin Galactic project. What's ahead for that?
We're hoping to break the sound barrier. That's planned Monday. It will be a historic day. This is going to be Virgin Galactic's year. We'll break the sound barrier Monday and from there, we build up through the rest of the year, finally going into space near the end of the year. I'll be on the first official flight, which we look to have in the first quarter of next year. We're doing a number of test flights into space first.
.
Quelle: SpaceX
.
Update: 29.04.2013
.
The spaceplane being developed by UK billionaire Sir Richard Branson has made its first powered flight.
The vehicle was dropped from a carrier aircraft high above California's Mojave Desert and ignited its rocket engine to go supersonic for a few seconds.
Sir Richard's intention is to use the spaceship to carry fare-paying passengers on short pleasure rides above the Earth's atmosphere.
His company Virgin Galactic has already taken hundreds of deposits.
The rocket vehicle is known as SpaceShipTwo (SS2).
Although it has been in the air on more than 20 occasions, this was the first time its hybrid motor had been ignited.
It was only a short burn lasting about 16 seconds, but it propelled SS2 beyond the sound barrier to a speed of Mach 1.2. Future outings should see progressively longer burn durations, enabling the plane eventually to reach sufficient velocity to climb more than 100km into the sky.
Space targetMonday's mission began at the Mojave Air and Space Port at just after 07:00 local time (14:00 GMT). Test pilots Mark Stucky and Mike Alsbury were reported to be at the controls of SS2.
It took off slung beneath the WhiteKnightTwo aircraft, which does the job of lifting the rocket plane to its launch altitude - some 45,000ft (14km).
A little under an hour later, SpaceShipTwo was released, dropped a short distance to get clear of WhiteKnightTwo and then lit its engine, which burns a combination of a solid rubber compound and liquid nitrous oxide.
After shutting down its motor, the vehicle then glided back to the Mojave runway, touching down just after 08:00 local time.
Sir Richard said in a statement: "For the first time, we were able to prove the key components of the system, fully integrated and in flight. Today's supersonic success opens the way for a rapid expansion of the spaceship's powered flight envelope, with a very realistic goal of full space flight by the year's end."
Family firstThe entrepreneur is reluctant these days to say precisely when SpaceShipTwo will enter commercial service.
Projections for a start date issued in the early days of the project in the mid-2000s have long since passed as engineers have grappled with the complexities of developing the world's first spaceliner.
The delay appears not to have dissuaded prospective passengers, however.
More than 500 people, including celebrities such as physicist Stephen Hawking and former Dallas actress Victoria Principal, have put down a deposit for a ticket that will cost them about $200,000.
The initial service will be run out of a purpose built facility in the New Mexico desert known Spaceport America. Each flight will accommodate two pilots and six passengers.
Sir Richard says he will take his family on one of the first outings to demonstrate his faith in the vehicle's safety.
Burgeoning enterpriseThe rocket plane itself is a derivative of SpaceShipOne, which became the first private manned vehicle to fly to the edge of space and back in 2004.
It was the brainchild of aviation pioneer Burt Rutan, whose Mojave company, Scaled Composites, then designed the current prototype passenger version for Sir Richard.
The pair formed The Spaceship Company to manufacture future vehicles.
There are other companies hoping to offer sub-orbital flights in the near future.
XCOR Aerospace, which also has an operation in Mojave, is developing a smaller rocket plane called Lynx. This would carry one pilot and one ticketed passenger to 100km.
Neither it nor SS2 can achieve the speeds needed to go into orbit.
Quelle: BBC-News
.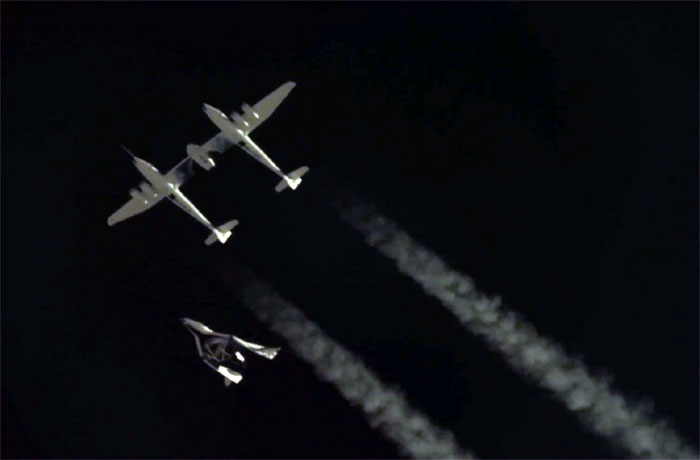 .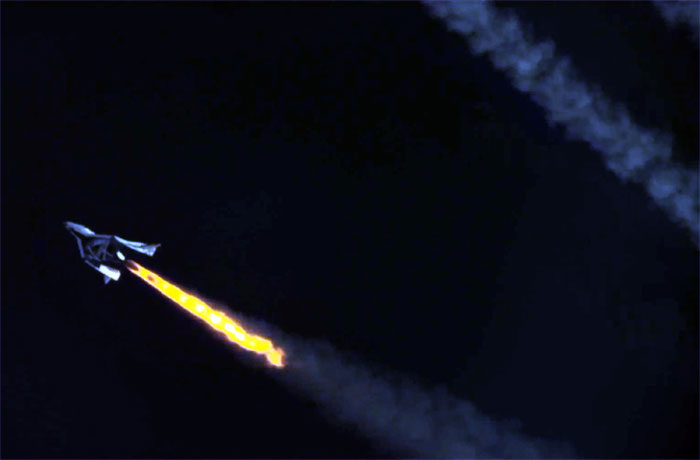 .

.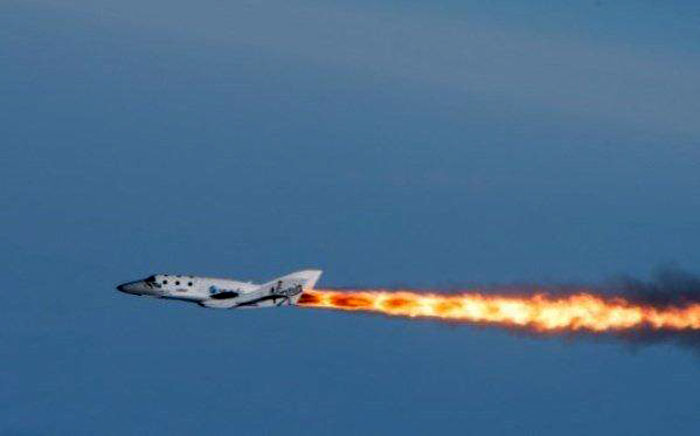 VIRGIN GALACTIC BREAKS SPEED OF SOUND IN FIRST ROCKET-POWERED FLIGHT OF SPACESHIPTWO
Sir Richard Branson witnesses vehicle-proving milestone as company sets year-end goal for spaceflight
MOJAVE, Calif. – Today, Virgin Galactic, the world's first commercial spaceline owned by Sir Richard Branson's Virgin Group and Abu Dhabi's aabar Investments PJS, completed the first rocket-powered flight of its space vehicle, SpaceShipTwo (SS2). The test, conducted by teams from Scaled Composites (Scaled) and Virgin Galactic, officially marks Virgin Galactic's entrance into the final phase of vehicle testing prior to commercial service from Spaceport America in New Mexico.
"The first powered flight of Virgin Spaceship Enterprise was without any doubt, our single most important flight test to date," said Virgin Galactic Founder Sir Richard Branson, who was on the ground in Mojave to witness the occasion. "For the first time, we were able to prove the key components of the system, fully integrated and in flight. Today's supersonic success opens the way for a rapid expansion of the spaceship's powered flight envelope, with a very realistic goal of full space flight by the year's end. We saw history in the making today and I couldn't be more proud of everyone involved."
The test began at 7.02am local time when SS2 took off from Mojave Air and Space Port mated to WhiteKnightTwo (WK2), Virgin Galactic's carrier aircraft. Piloting SS2 were Mark Stucky, pilot, and Mike Alsbury, co-pilot, who are test pilots for Scaled, which built SS2 for Virgin Galactic. At the WK2 controls were Virgin Galactic's Chief Pilot Dave Mackay, assisted by Clint Nichols and Brian Maisler, co-pilot and flight test engineer, respectively, for Scaled.
Upon reaching 47,000 feet altitude and approximately 45 minutes into the flight, SS2 was released from WK2. After cross-checking data and verifying stable control, the pilots triggered ignition of the rocket motor, causing the main oxidizer valve to open and igniters to fire within the fuel case. At this point, SS2 was propelled forward and upward to a maximum altitude of 55,000 feet. The entire engine burn lasted 16 seconds, as planned. During this time, SS2 went supersonic, achieving Mach 1.2.
"We partnered with Virgin Galactic several years ago with the aspiration to transform and commercialize access to space for the broader public," said His Excellency Khadem Al Qubaisi, Chairman of aabar Investments PJS. "Today's test is another key milestone in realizing that aspiration. Our partnership goes from strength to strength, and is an excellent example of aabar's desire to participate in the development of world class technologies that are commercially viable and strategically important, both for the company, its shareholders, and for Abu Dhabi."
The entire rocket-powered flight test lasted just over 10 minutes, culminating in a smooth landing for SS2 in Mojave at approximately 8am local time.
"The rocket motor ignition went as planned, with the expected burn duration, good engine performance and solid vehicle handling qualities throughout," said Virgin Galactic President & CEO George Whitesides. "The successful outcome of this test marks a pivotal point for our program. We will now embark on a handful of similar powered flight tests, and then make our first test flight to space."
In the coming months, the Virgin Galactic and Scaled test team will expand the spaceship's powered flight envelope culminating in full space flight, which the companies anticipate will take place before the end of 2013.
"I'd like to congratulate the entire team," said President of Scaled Kevin Mickey. "This milestone has been a long time coming and it's only through the hard work of the team and the tremendous support of Virgin Galactic that we have been able to witness this important milestone. We look forward to all our upcoming tests and successes."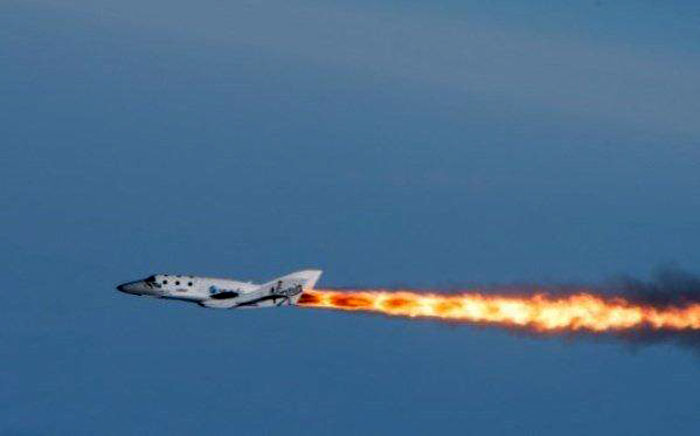 .
Quelle: Virgin Galactic
3890 Views