-
The latest forecast continues to show a 60 percent chance of weather good enough to allow a SpaceX Falcon 9 rocket to blast off from Cape Canaveral at 8:35 p.m. Sunday.Atop the rocket are a Dragon capsule packed with cargo for the International Space Station and a small communications satellite.

A weak frontal boundary moving slowly through the Florida peninsula could produce thick clouds and scattered showers Sunday evening. The launch window is instantaneous.

If the launch should delay for a day or two, the forecast is excellent Monday and Tuesday, with an 80 percent chance of favorable conditions both days.
-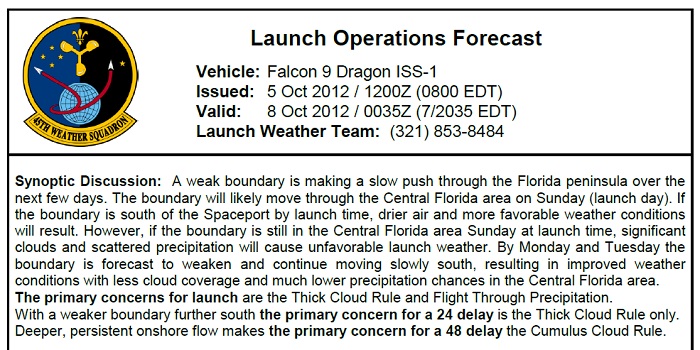 -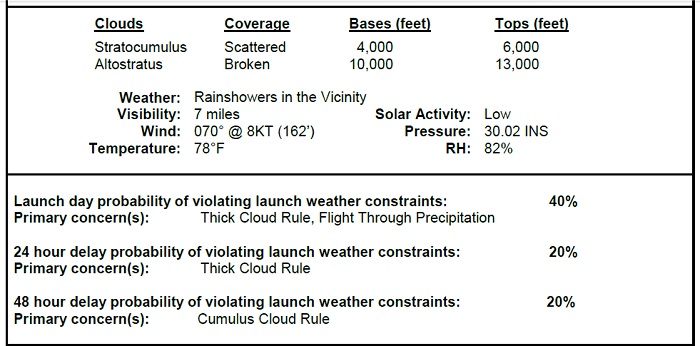 Quelle: USAF
-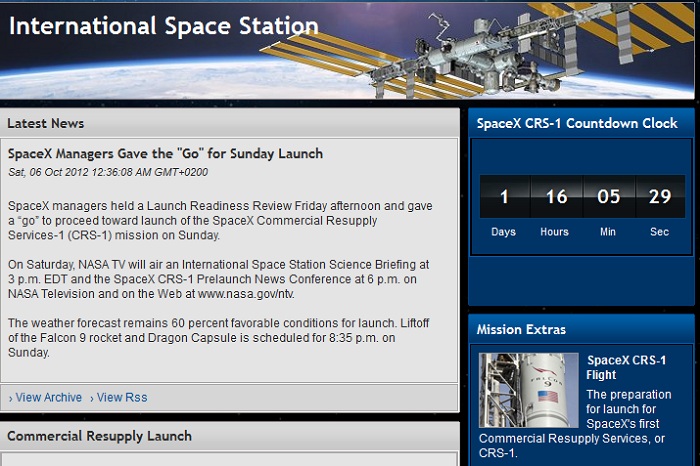 -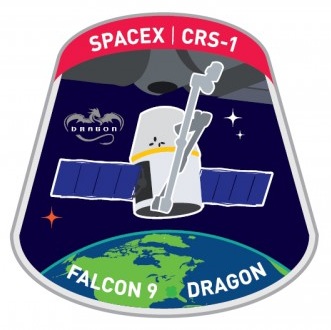 -
Update: 7.10.2012 / 11.00 MESZ
-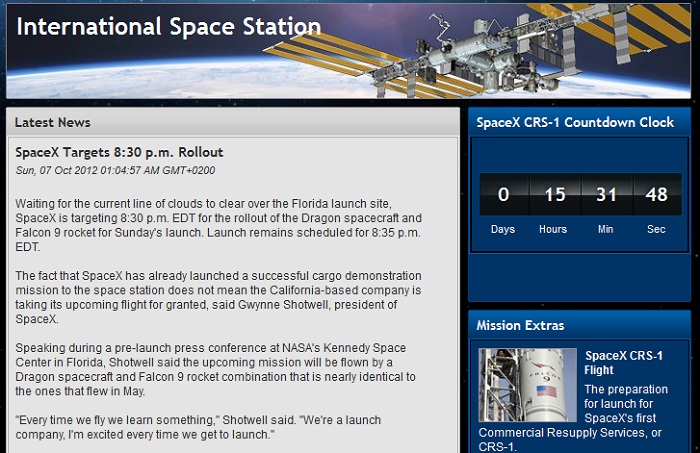 Update: 8.10.2012 / 6.20 MESZ
NASA Celebrates Milestone Liftoff
Mon, 08 Oct 2012 04:03:52 AM GMT+0200


NASA Administrator Charles Bolden and SpaceX President Gwynne Shotwell celebrated the successful liftoff of a landmark cargo mission to the International Space Station tonight as a SpaceX Dragon spacecraft loaded with supplies flew on its own in orbit. The flight is the first operational resupply mission for the company and NASA.

"This was a critical event in spaceflight tonight," Bolden said. "We're once again launching spacecraft from American soil with the supplies our astronauts need in space. NASA and the nation are embarking on an ambitious program of space exploration."

Hawthorne, Calif.-based Space Exploration Technologies, or SpaceX, launched its Dragon capsule aboard a Falcon 9 rocket at 8:35 p.m. EDT, capping a flawless countdown with spectacular show of light and thunder from the rocket's nine engines.

"This was an operational mission, so we're operational (but that) doesn't mean we're going to stop learning and stop making these vehicles as reliable as possible," Shotwell said during a press conference after the launch.

Dragon will rendezvous with the orbiting laboratory Wednesday so astronaut and station commander Suni Williams can reach out with the station's robot arm and grapple the Dragon. The spacecraft will then be joined to one of the station's ports where astronauts will unload its 1,000 pounds of materials. They will also load almost 2,000 pounds of used equipment and experiments inside the Dragon to be returned to Earth safely in about three weeks.
-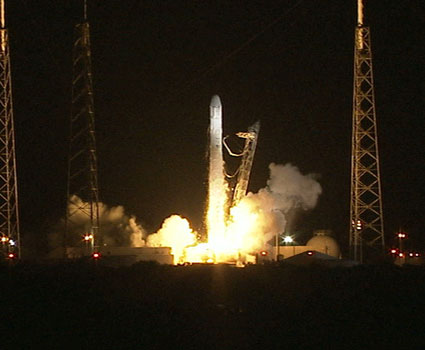 -
Update: 8.10.2012 / 9.00 MESZ
Frams : NASA-VIDEO von Start
-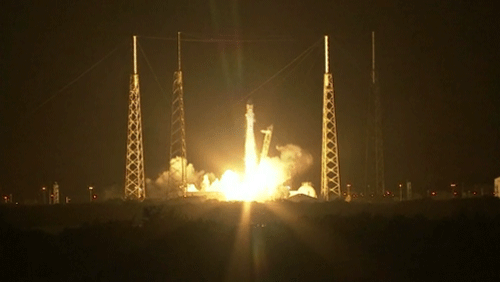 -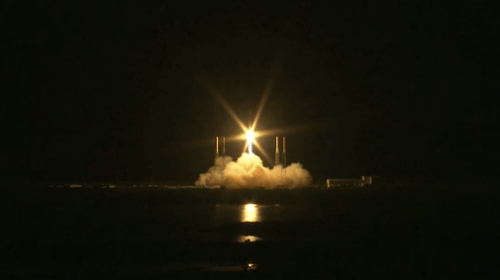 -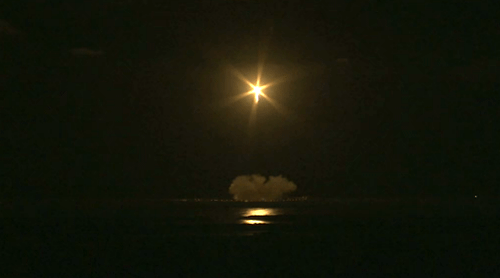 -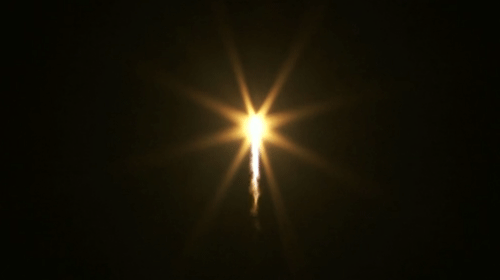 -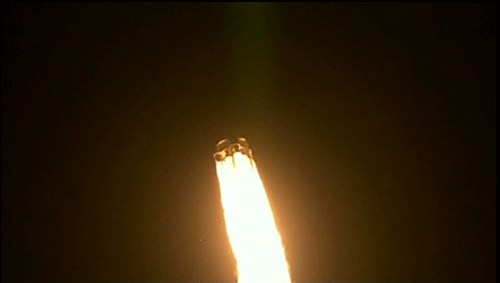 -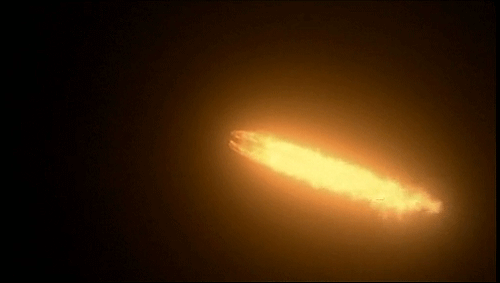 -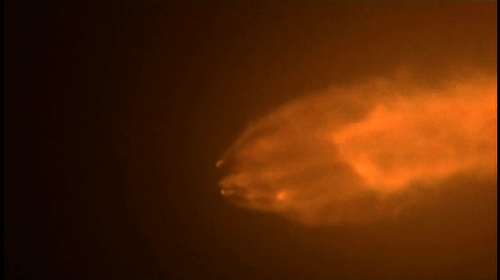 Update: 9.10.2012
The Falcon 9 Rocket achieved its main objective on Sunday night: getting a spacecraft bound for the International Space Station into orbit. But a problem with one of the engines meant the rocket's secondary payload, a communications satellite, is now flying at a lower altitude than planned. Footage of the launch appears to show debris falling from the rocket just over a minute after it lifted off from Cape Canaveral.
Orbcomm said Monday the rocket wasn't able to complete a second burn for safety reasons after the engine shutdown, which meant its prototype second-generation satellite was not deployed at the right altitude.
The New Jersey based company said engineers from Orbcomm and Sierra Nevada Corp, which built the satellite, are working to see if it can use its on-board propulsion to lift it into operational orbit.
Orbcomm plans to send 18 of its satellites into space using Falcon 9 rockets in 2013 and 2014.
SpaceX says it appears one of the Falcon 9 engines lost pressure, triggering a shutdown one minute and 19 seconds after lift off on Sunday night.
"We know the engine did not explode because we continued to receive data from it," read a statement released by the company Monday.
"Our review indicates that the fairing that protects the engine from aerodynamic loads ruptured due to the engine pressure release, and that none of Falcon 9's other eight engines were impacted by this event."
The Falcon 9 rocket is designed to keep flying even with the loss of more than one engine, and SpaceX says the engine failure had no effect on the Dragon spacecraft or the resupply mission to the International Space Station.
SpaceX says it will keep reviewing flight data to figure out the cause of the problem and apply those lessons to future missions.
The company aims to eventually use its Dragon spacecraft to ferry astronauts to and from the ISS.
This mission is the first of 12 unmanned cargo flights contracted by NASA.
Dragon is scheduled to dock with the ISS on Wednesday. Return to earth is targeted for October 28th.
4011 Views