22.12.2019
Boeing's Starliner set for early return from failed mission Sunday morning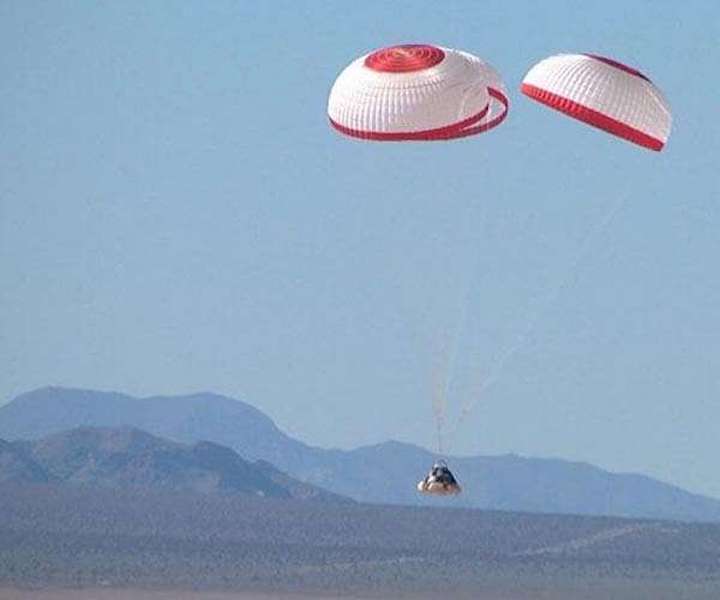 Boeing's Starliner spacecraft won't achieve its mission objective of docking with the International Space Station, NASA said Friday, dealing a blow to the agency's plans to end US dependence on Russian rockets for astronaut taxi rides.
Officials said the autonomously flown capsule experienced a glitch involving its onboard clock that led it to burn too much propellant, forcing an early return to Earth on Sunday morning.
"We have made a final decision - Starliner will not dock with the @Space_Station and will return to White Sands on Sunday," tweeted NASA Administrator Jim Bridenstine.
The failure of the mission, a final dress rehearsal before a crewed flight, will be seen as especially stinging for Boeing, which is facing a safety crisis over its grounded 737 MAX planes.
After the Space Shuttle program was shuttered in 2011, NASA awarded Boeing and Elon Musk's SpaceX contracts worth billions of dollars to provide transport for US astronauts.
Both companies are two years behind schedule, but SpaceX carried out a successful autonomous rendezvous and docking with the ISS in March.
Starliner, which was fixed to a giant Atlas V rocket, took off before sunrise at 6:36 am local time (1136 GMT) from Cape Canaveral, separating 15 minutes later.
Around 30 minutes after lift-off, Boeing announced on Twitter it had an "off-nominal insertion," indicating the procedure to even out its orbit had not gone as planned, and a live stream was cut shortly after.
- Clock glitch -
Bridenstine told reporters the Starliner's on board clock was out of sync, "and that anomaly resulted in the vehicle believing that the time was different than it actually was."
Assuming it was at a different stage of its flight, Starliner burned more fuel than it should have, forcing NASA and Boeing to call off the rendezvous with the ISS.
Mission control attempted to manually override the problem from the ground, but they were unable to establish a connection in time because of a satellite communication link failure.
Starliner will instead return to Earth, landing at NASA's White Sands facility in the New Mexico desert on Sunday morning around 7:30 am local time (1430 GMT).
Under former president Barack Obama, NASA opted for a shift in how it operates: instead of owning the hardware, it decided to hire private companies to take over the role, awarding Boeing and SpaceX billions of dollars to develop "Made in the USA" solutions.
The developments are independent of the Artemis program to return to the Moon by 2024, which will use a spaceship built for longer journeys, Lockheed Martin's Orion.
- $8 billion payment -
NASA has committed to pay $8 billion to Boeing and SpaceX, who in return need to deliver six trips carrying four astronauts each time, up until 2024.
A recent report by NASA's inspector general said the cost per astronaut comes to about $90 million for Boeing, against $55 million for SpaceX, while the US currently pays Russia more than $80 million for the same.
But both NASA and Boeing contest the numbers, which were calculated by taking the total sums paid by the space agency to each company and divided by the number of missions and astronauts.
SpaceX has had the benefit of receiving billions of dollars in earlier contracts to develop the Dragon's first version, for cargo, which was modified to make the crew version.
Despite the failure to reach the ISS, both NASA and Boeing officials attempted to put a positive spin on the mission, saying the Starliner would still carry out other spaceflight tests.
Bridenstine appeared to fix the blame on the ship's automation procedure, telling reporters: "Had we had astronauts on board that were manually flying it, there was no time at which they would have been unsafe."
The mission might have also continued, he added.
He added that SpaceX's earlier success meant that the overall objective of resuming crewed spaceflight using US spacecraft was still on track, and that both companies remained "critically important to the future architecture of commercial spaceflight."
Quelle: SD
+++
Update: 15.00 MEZ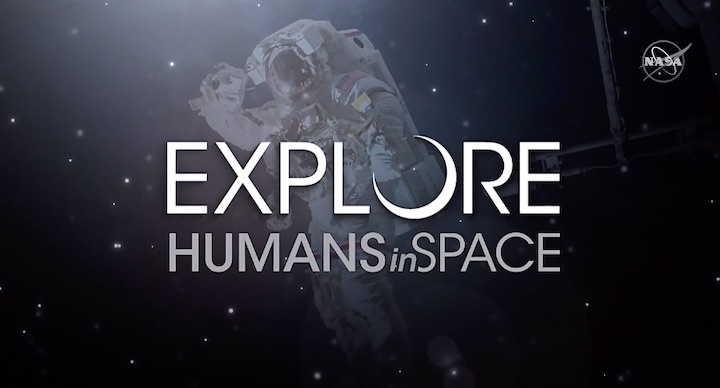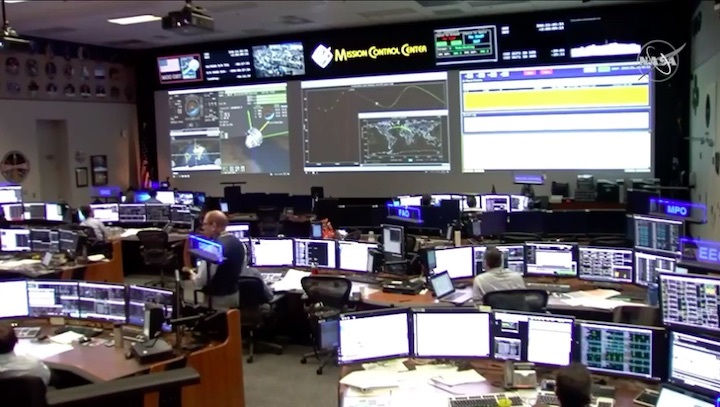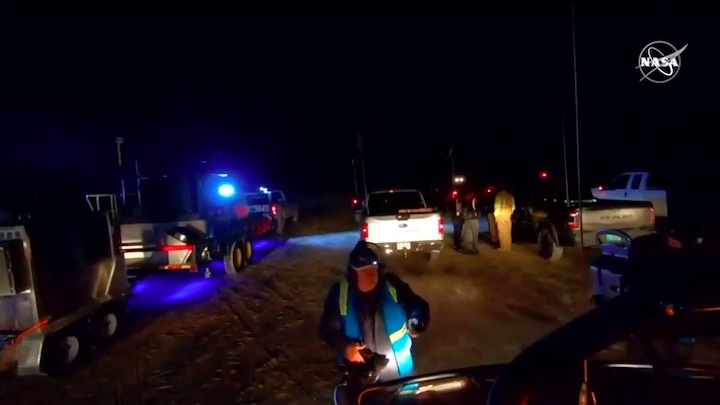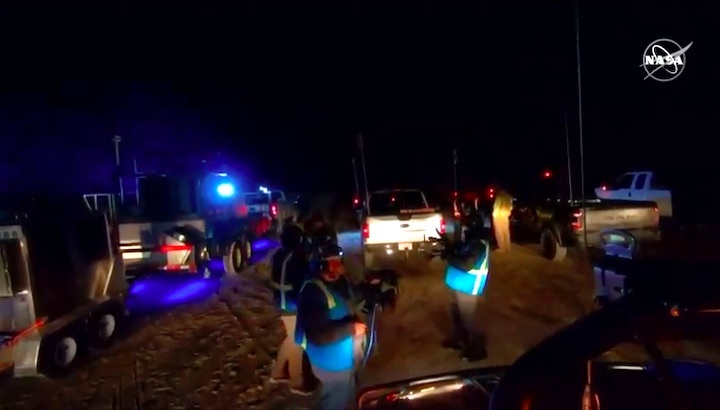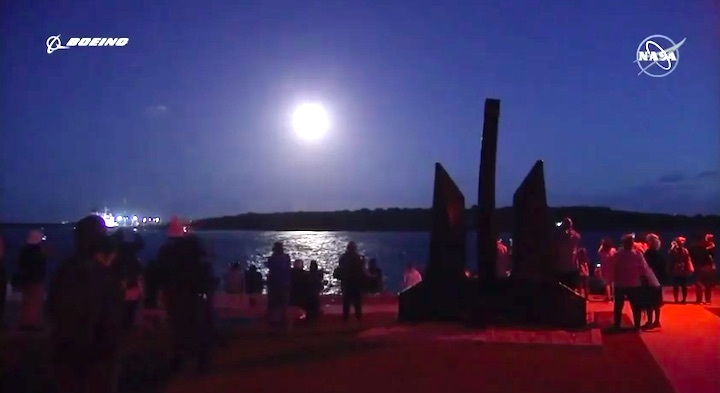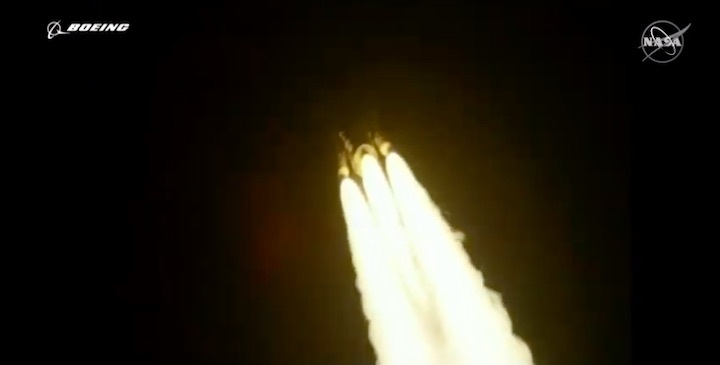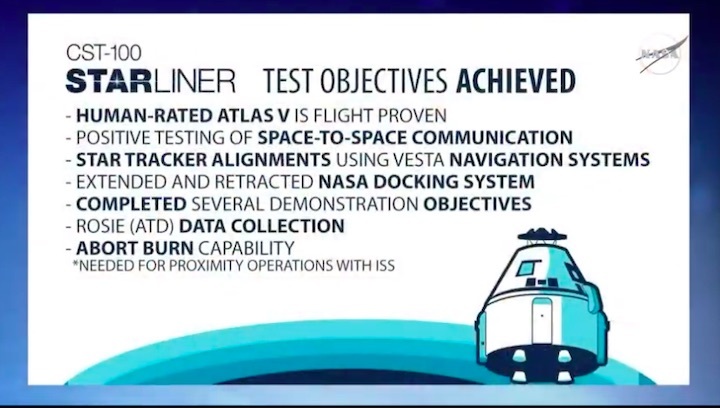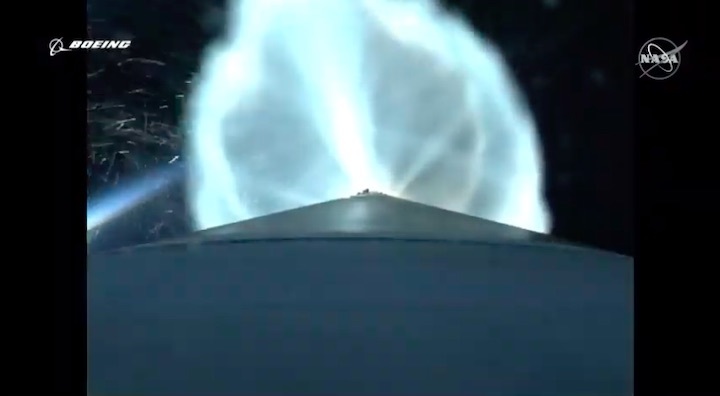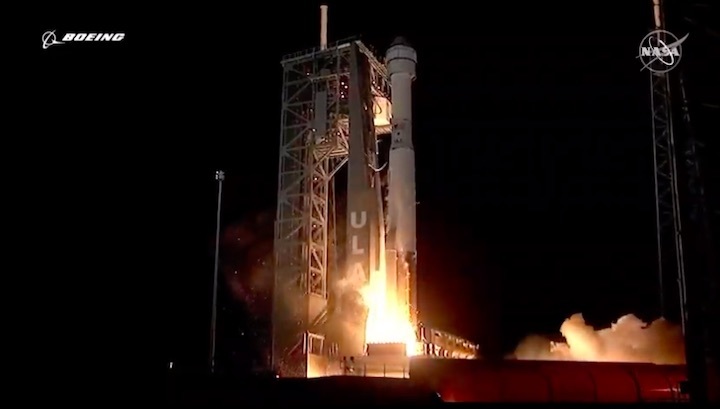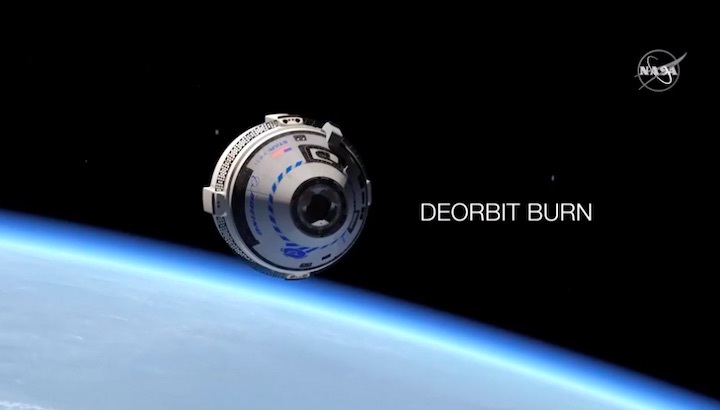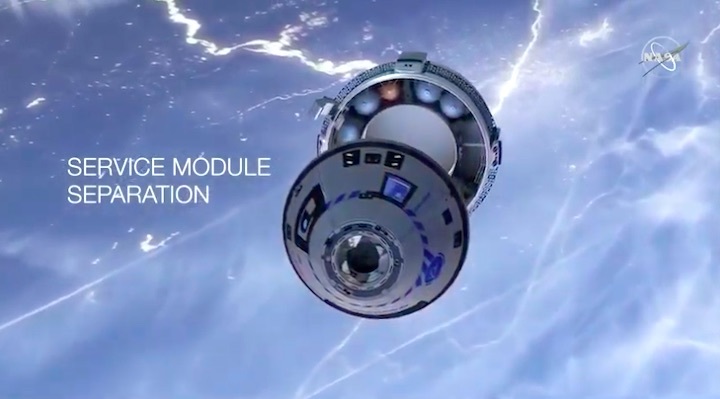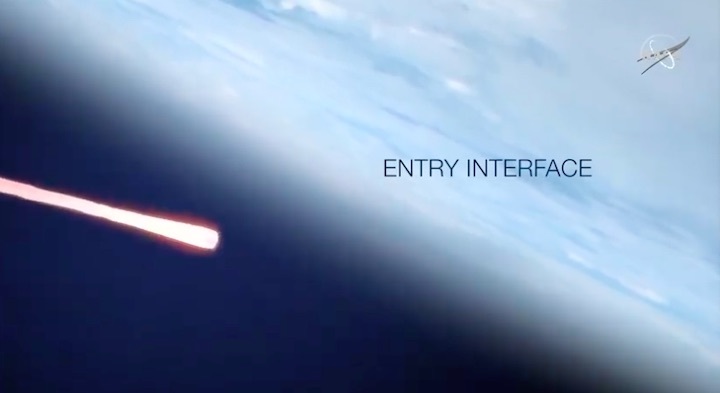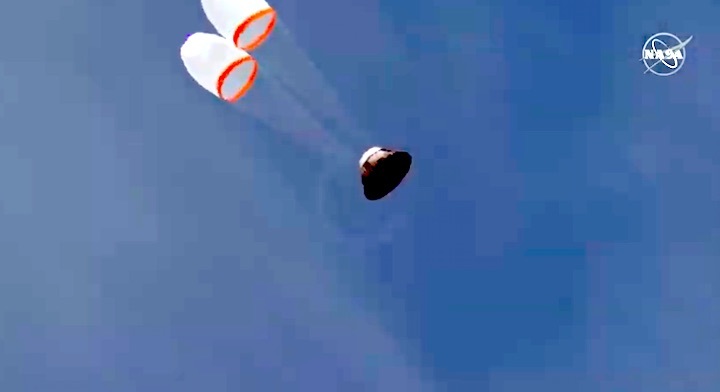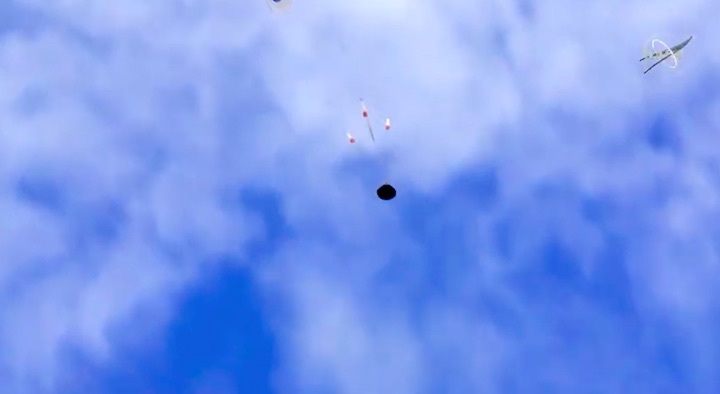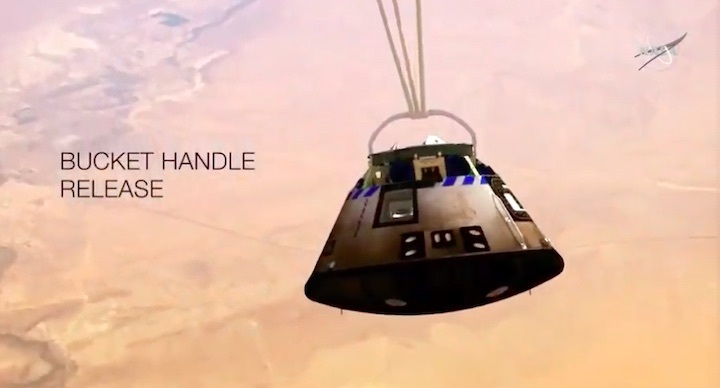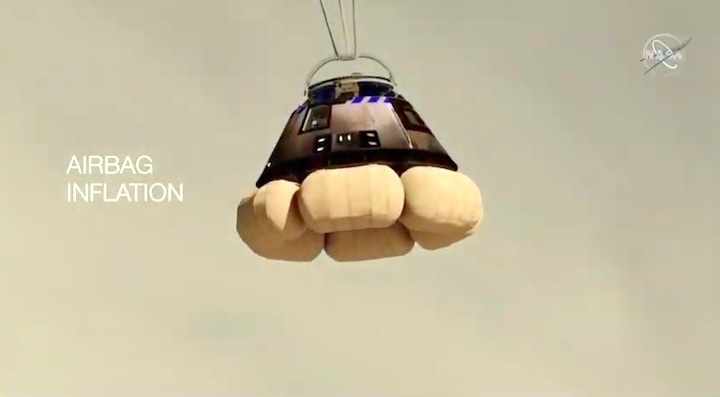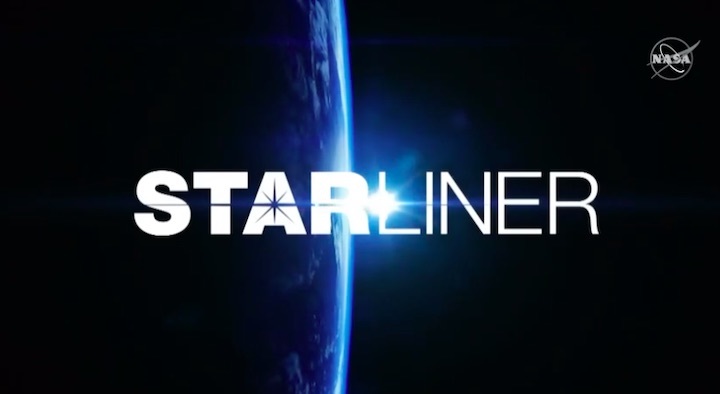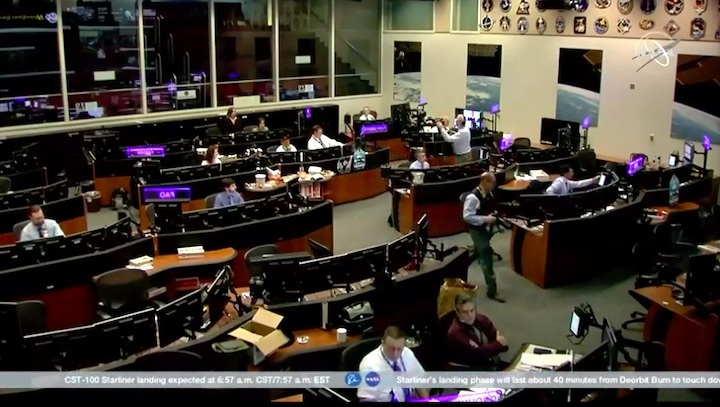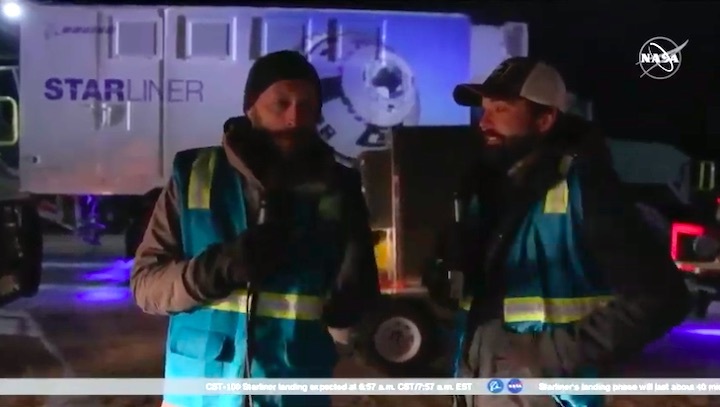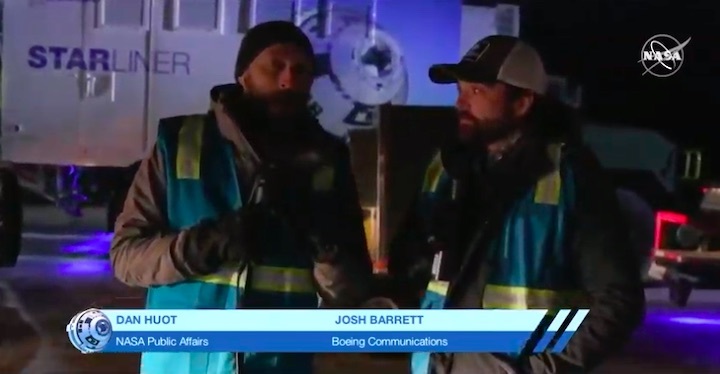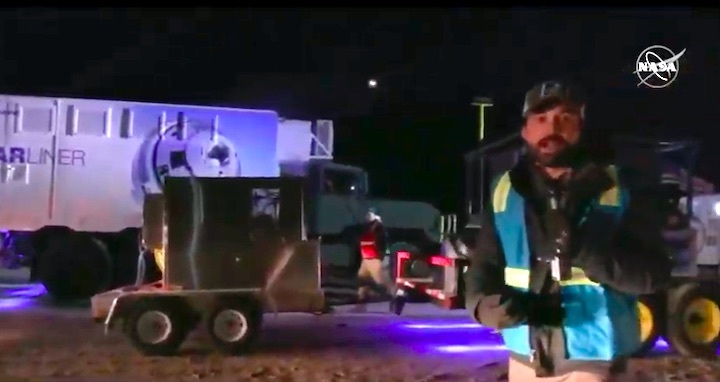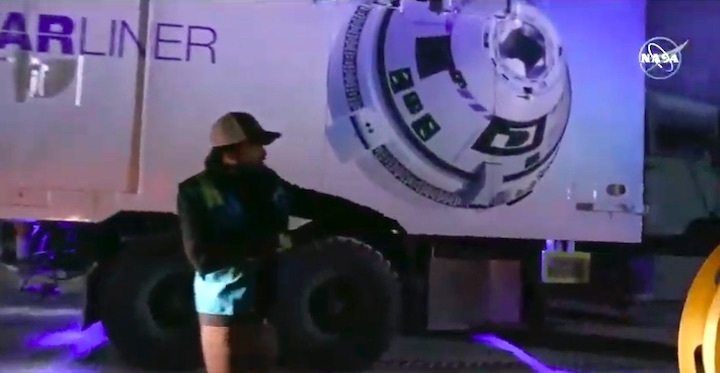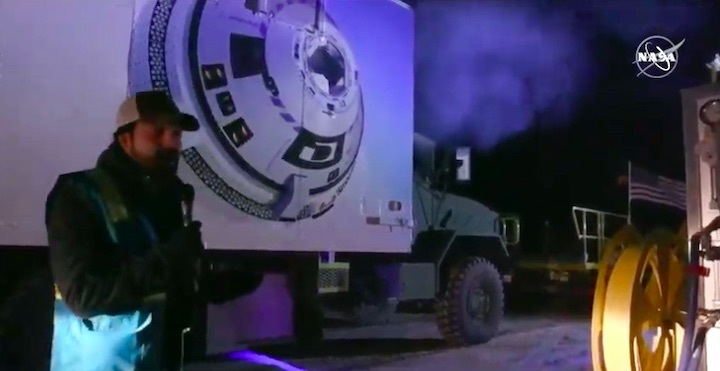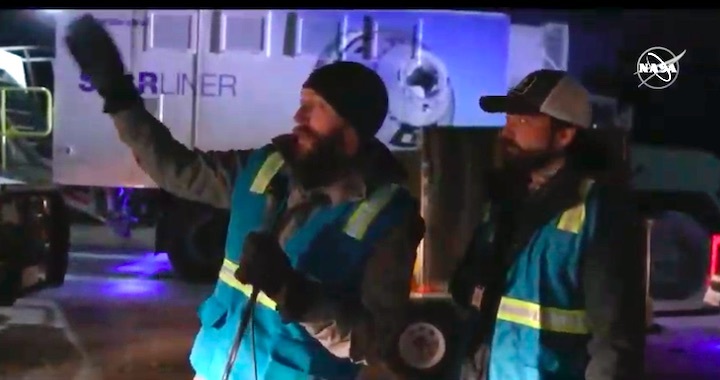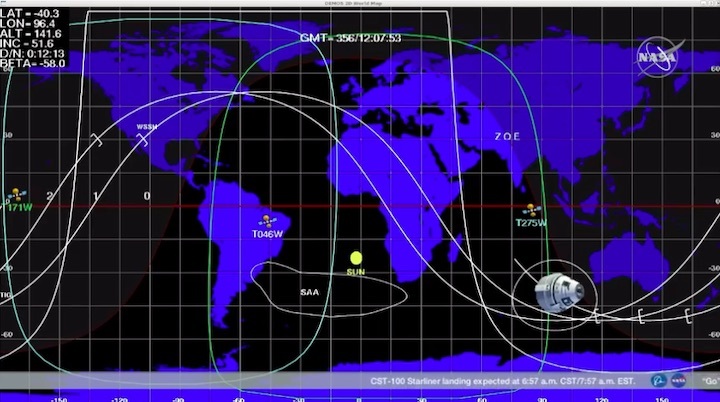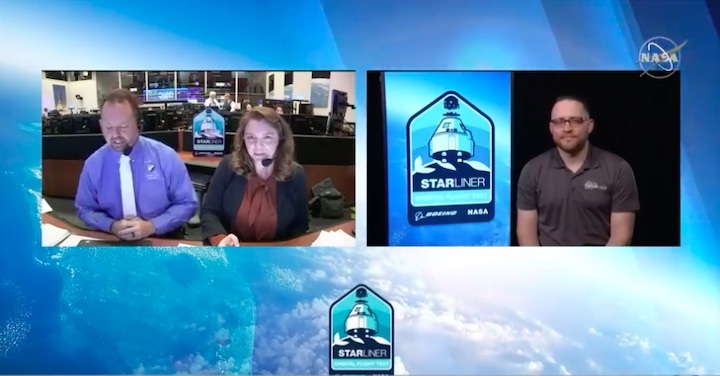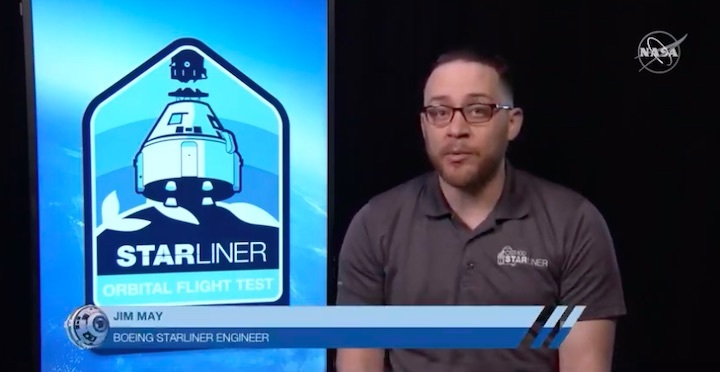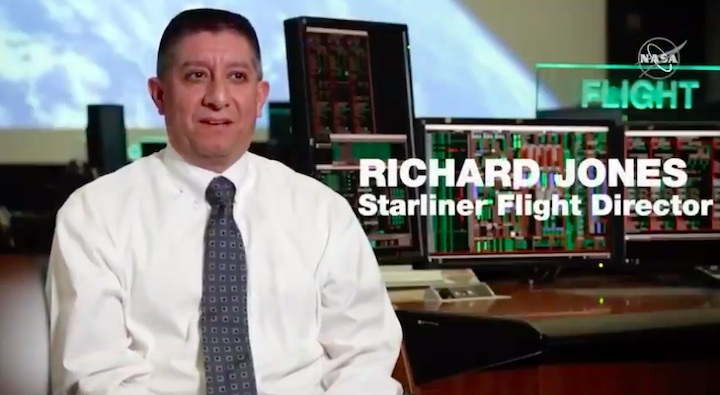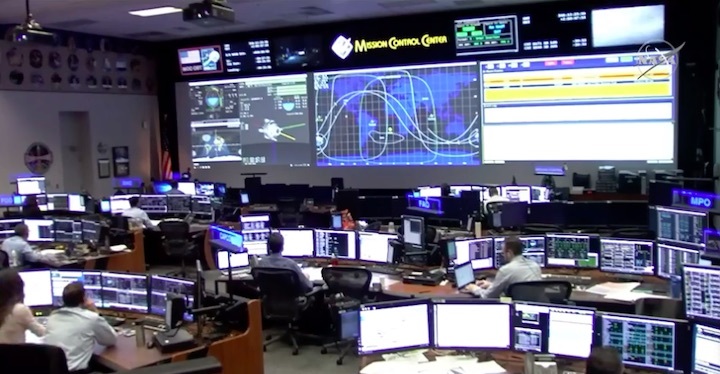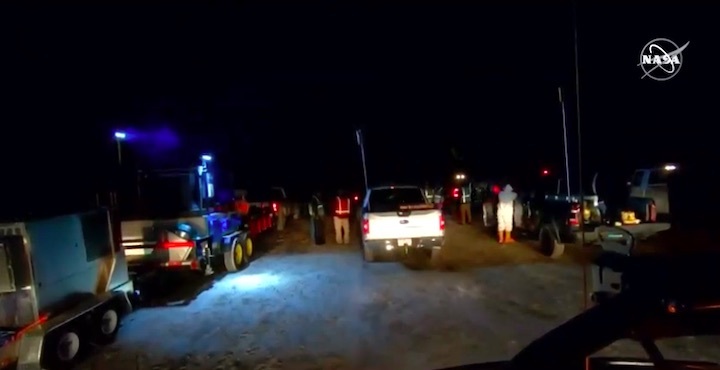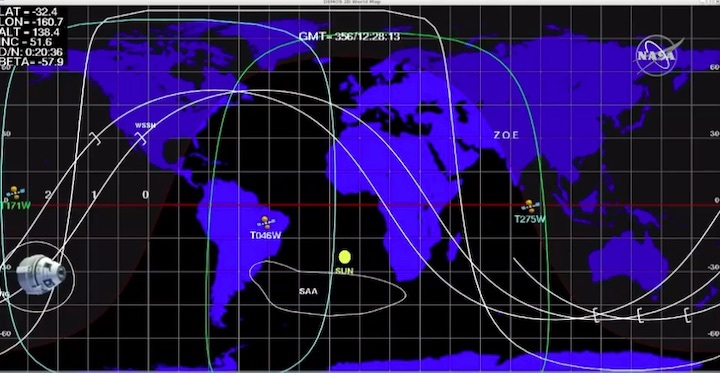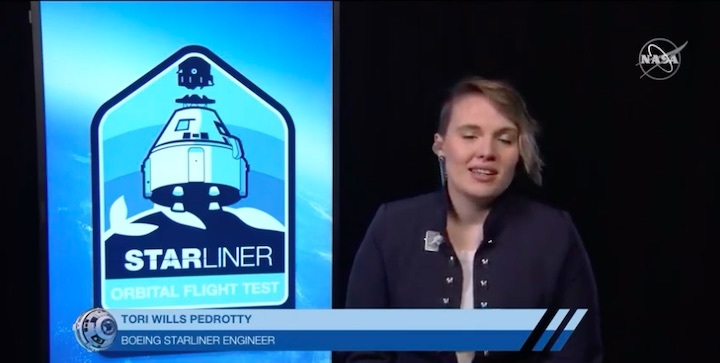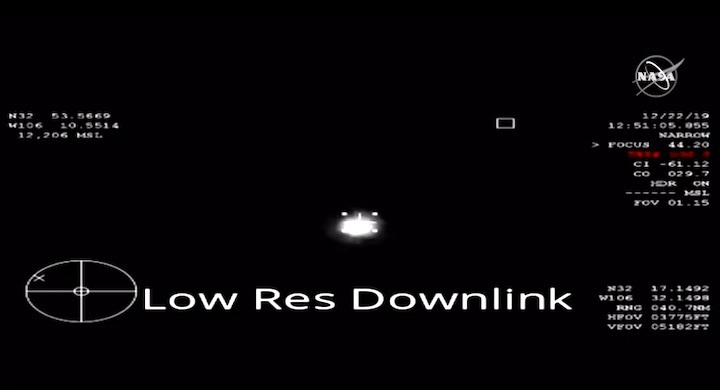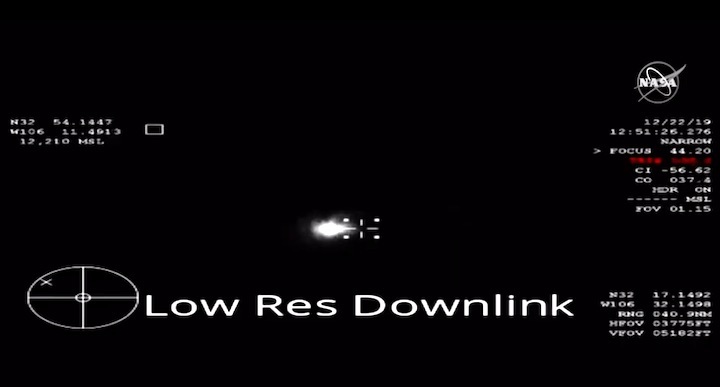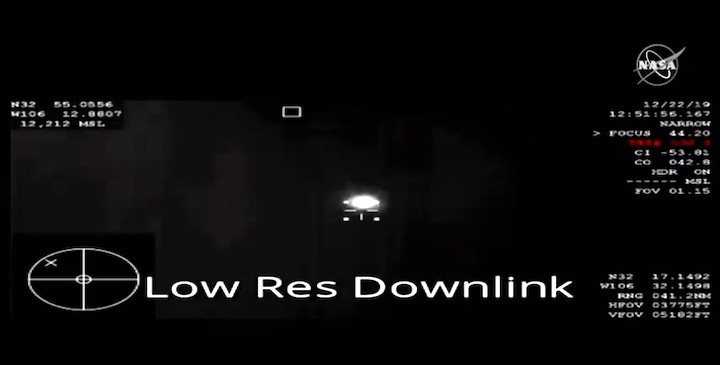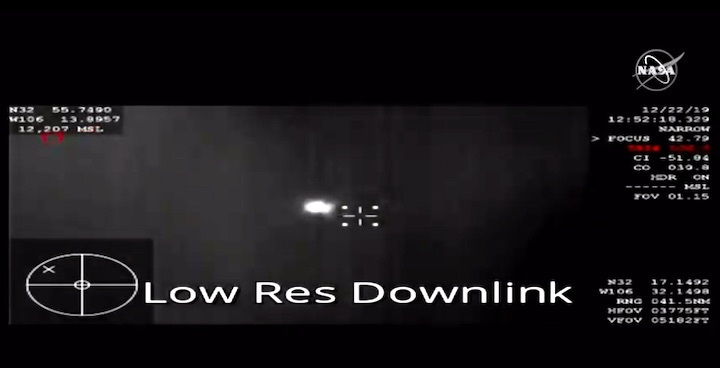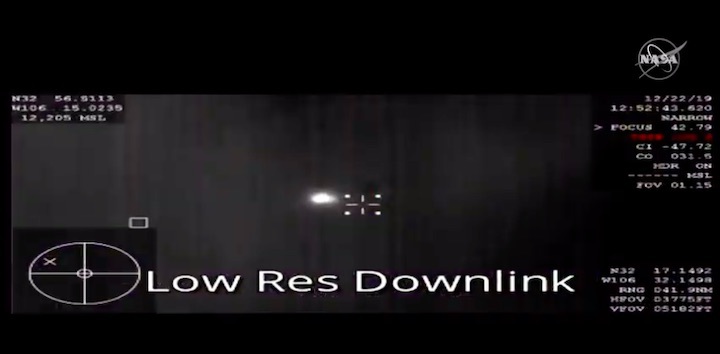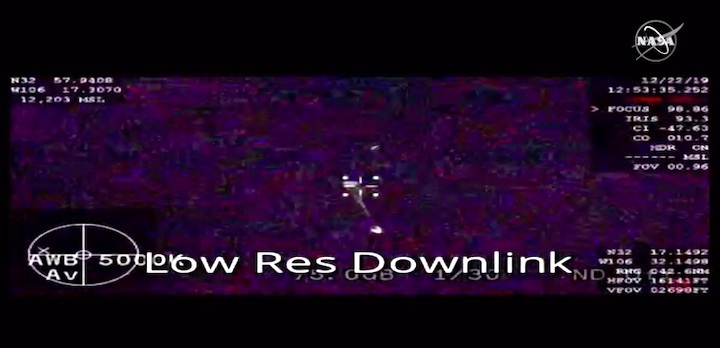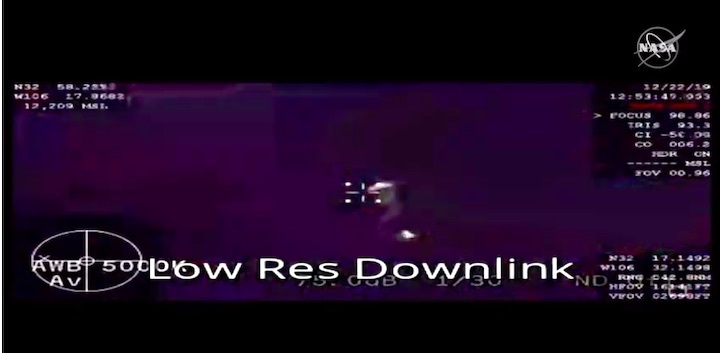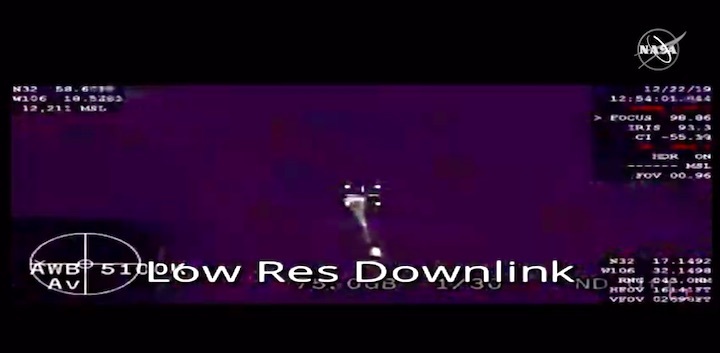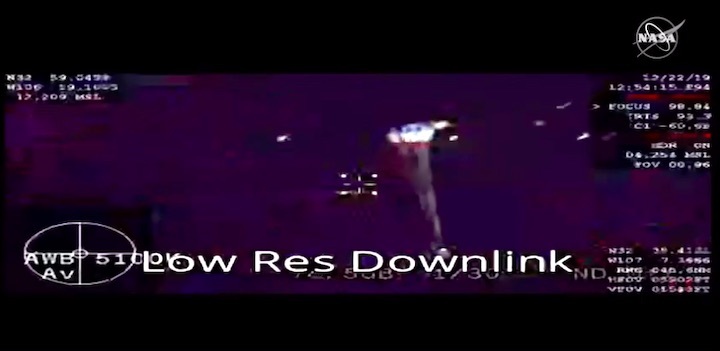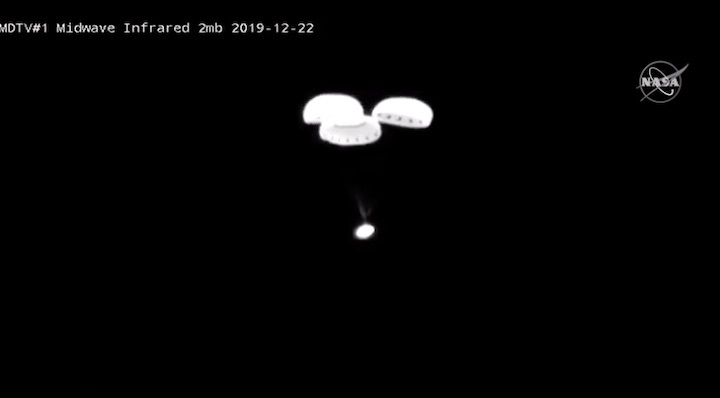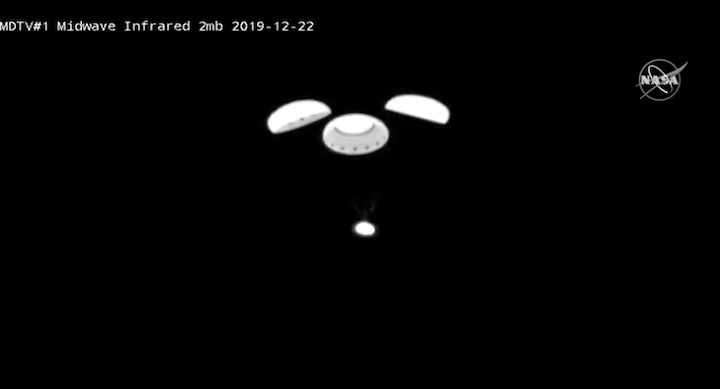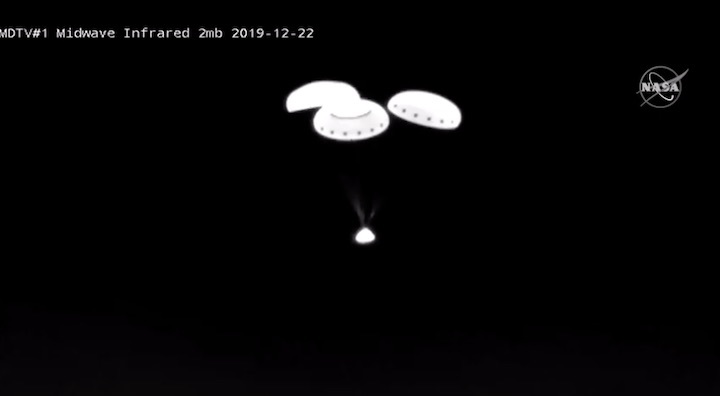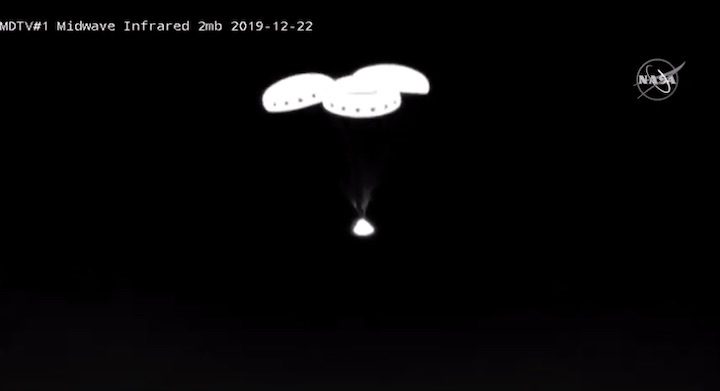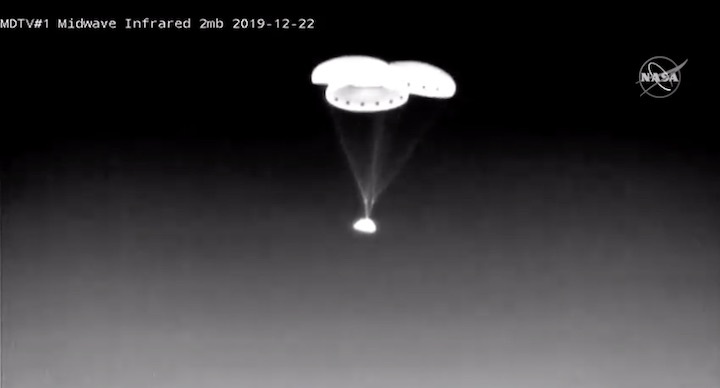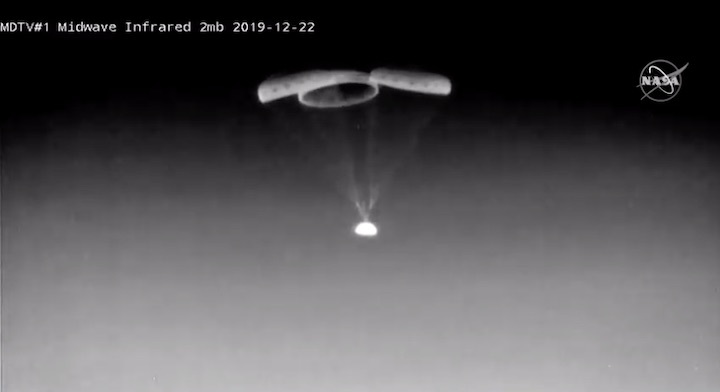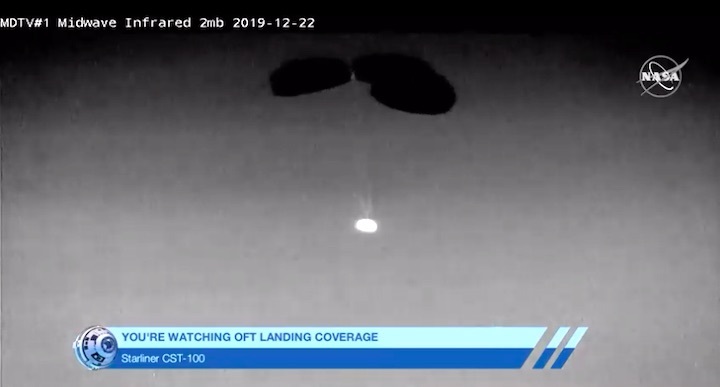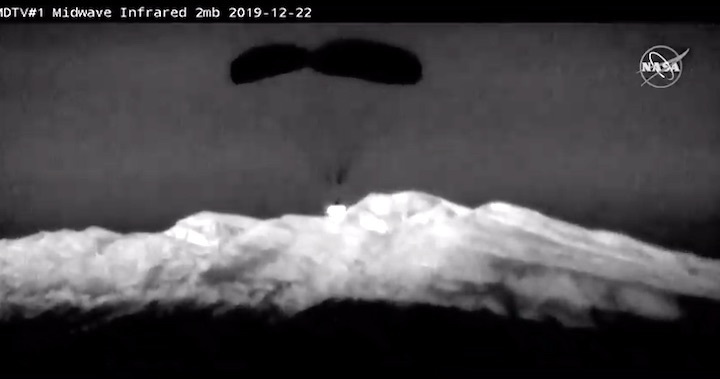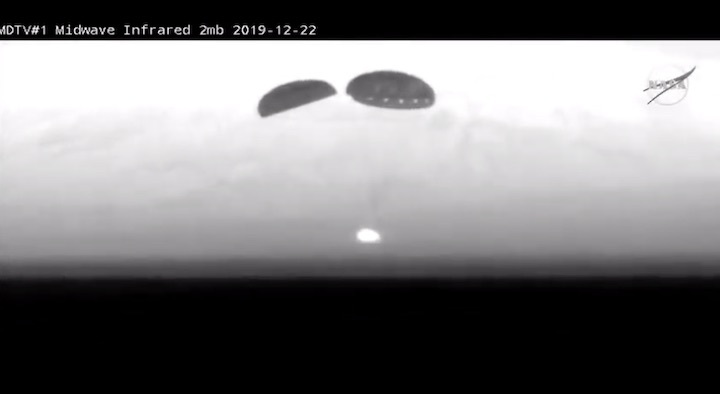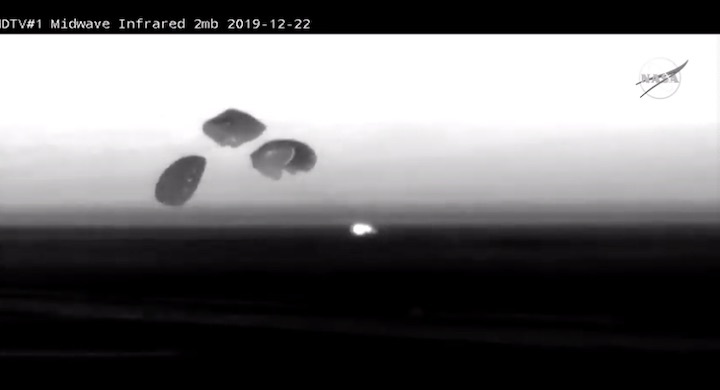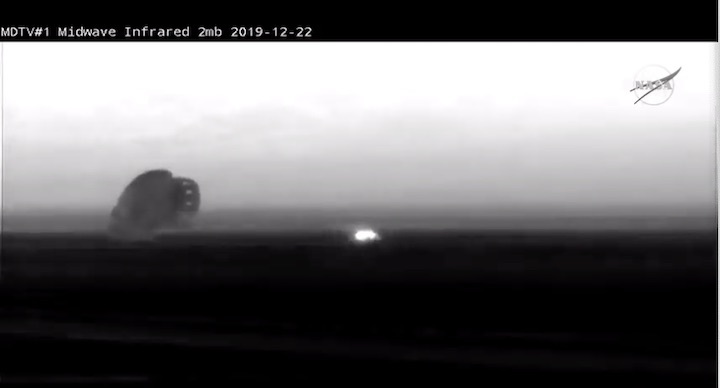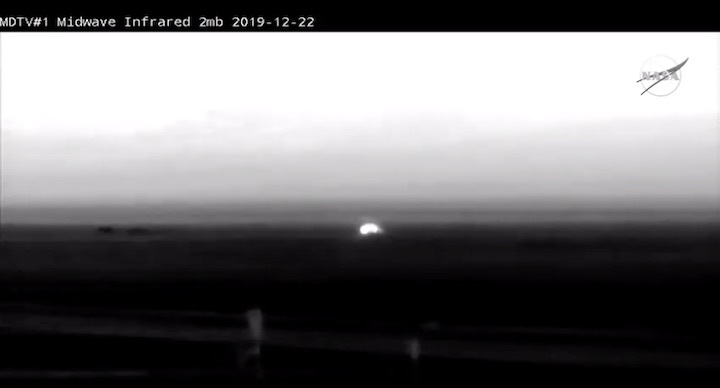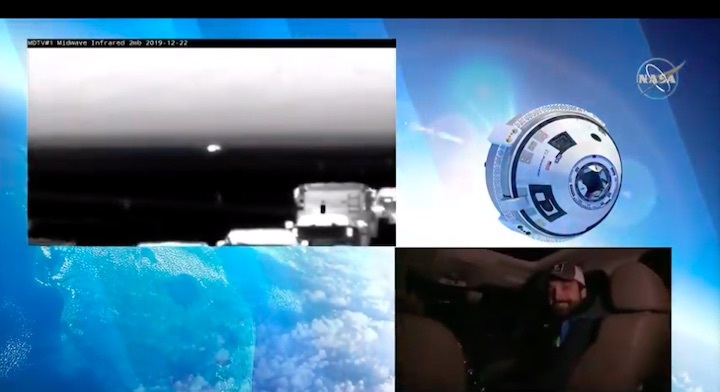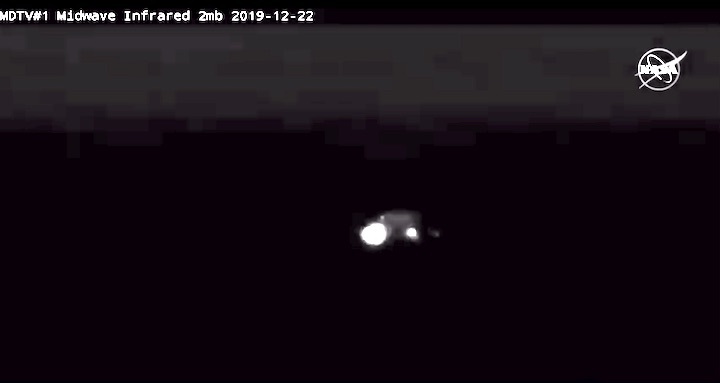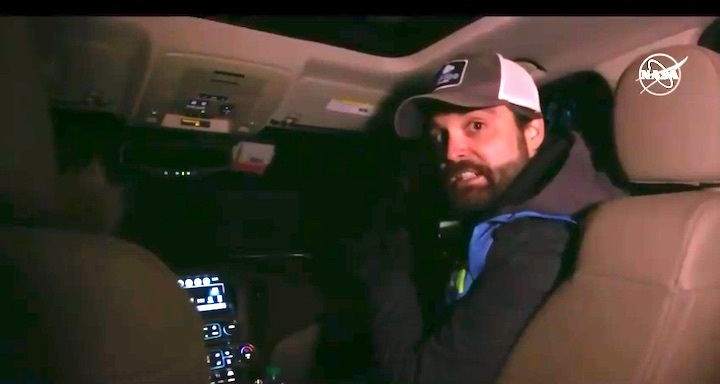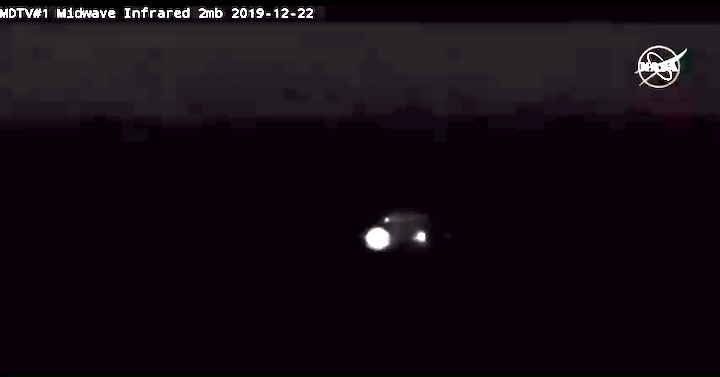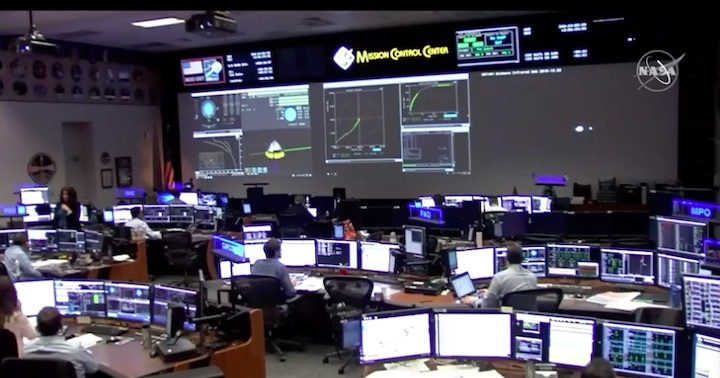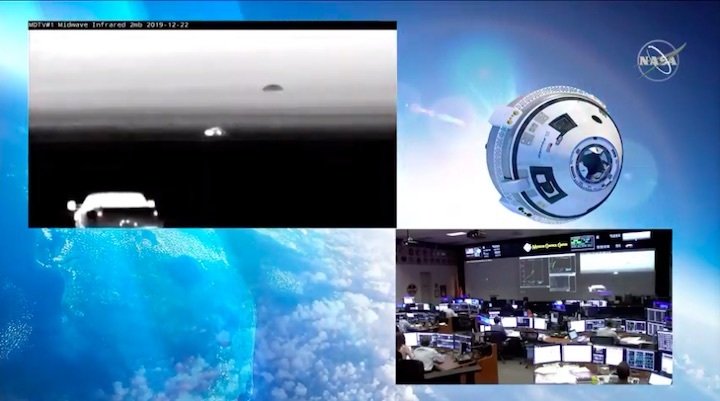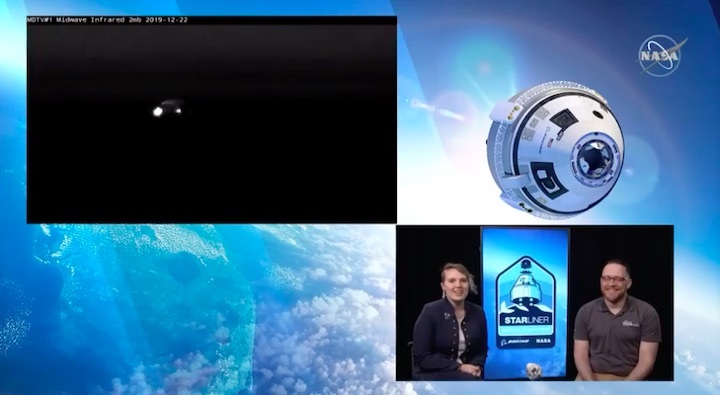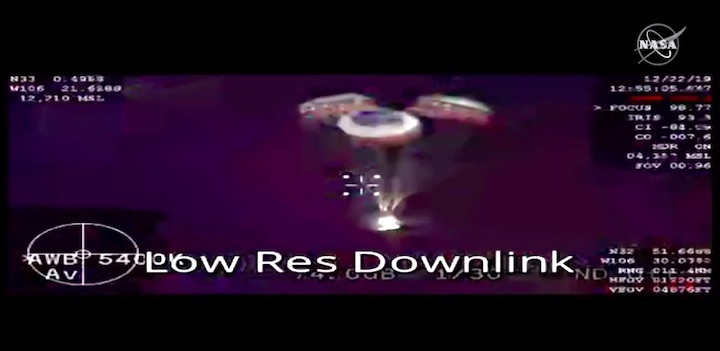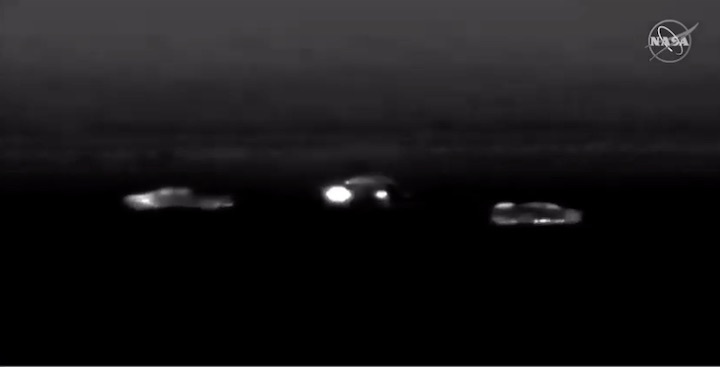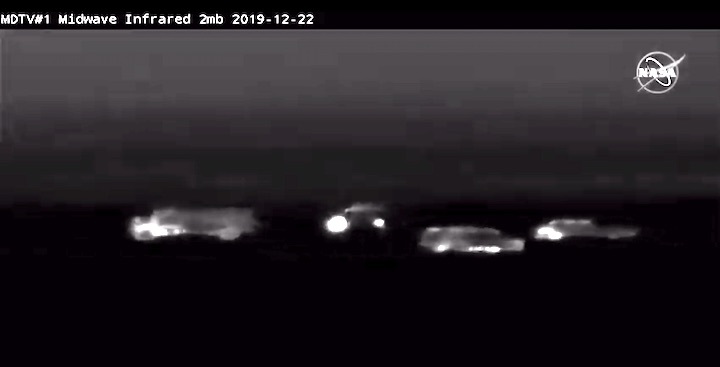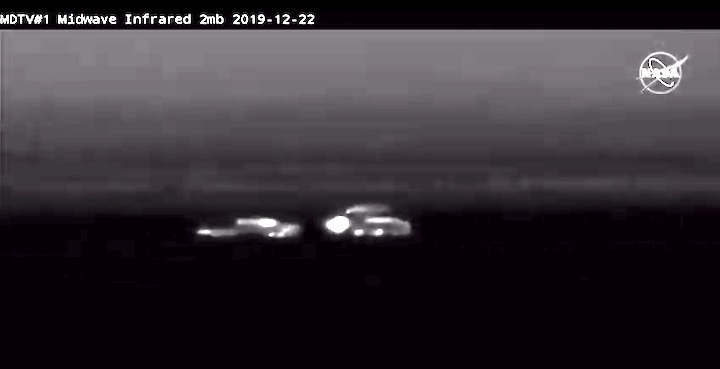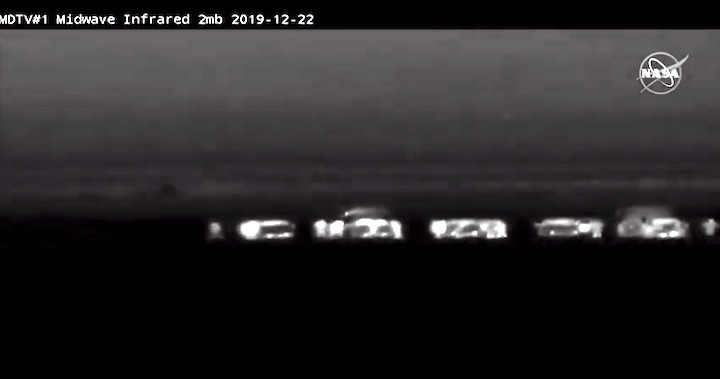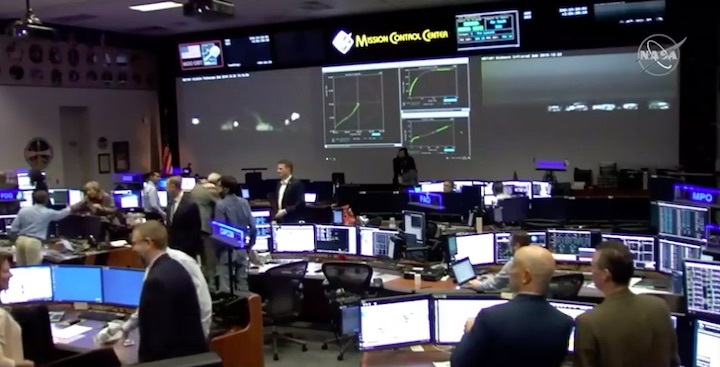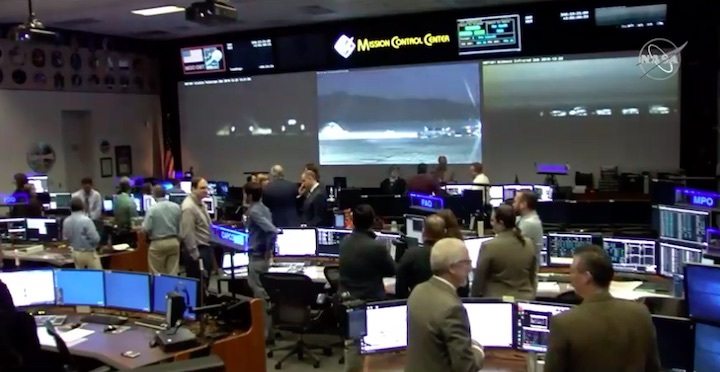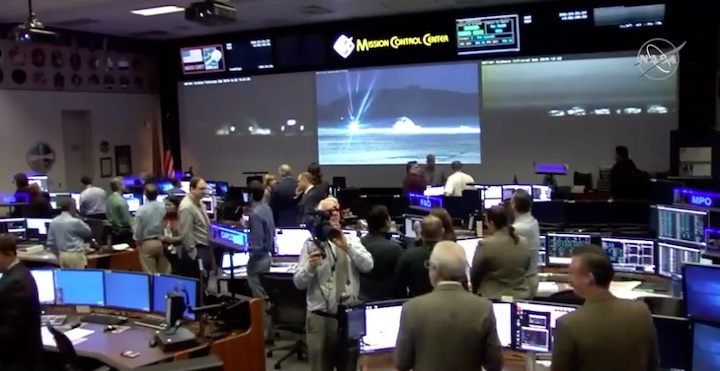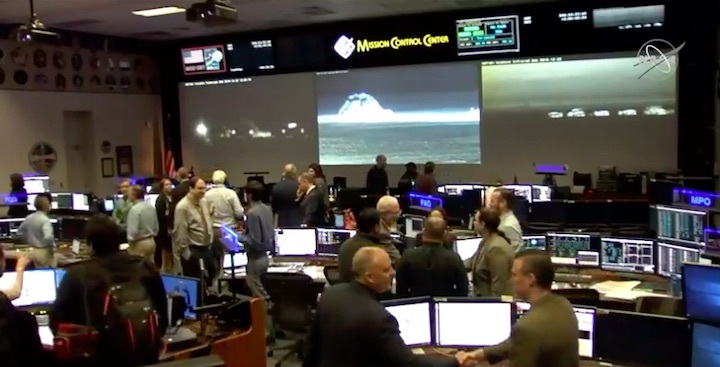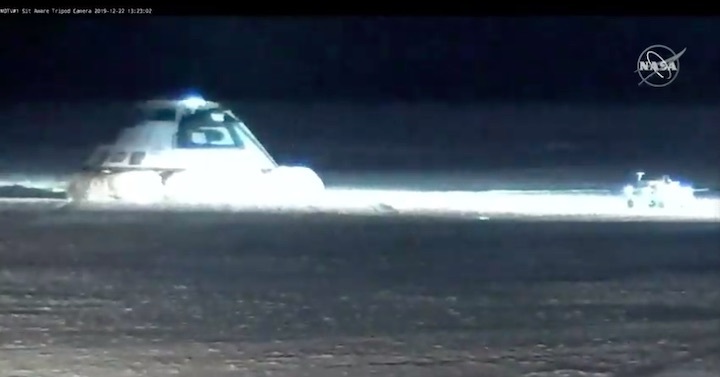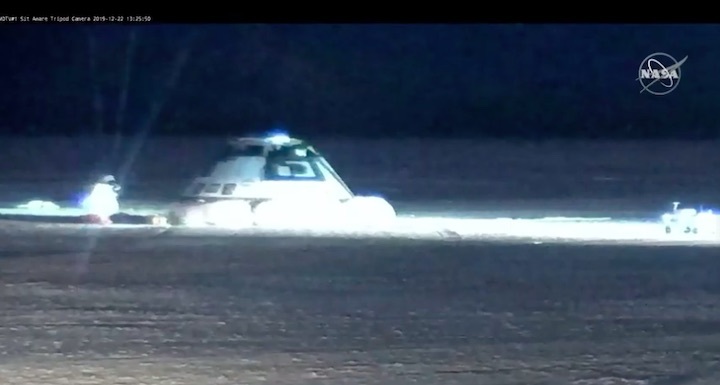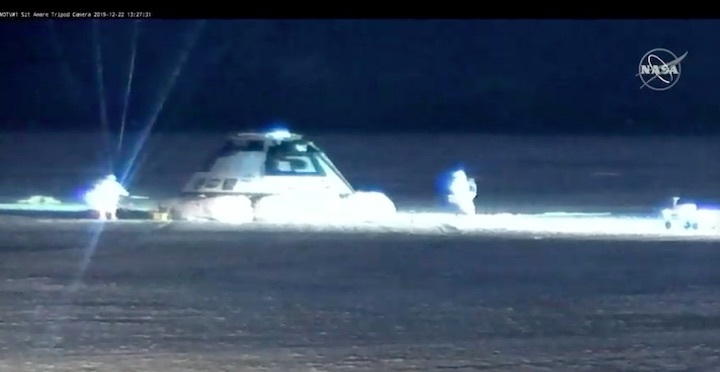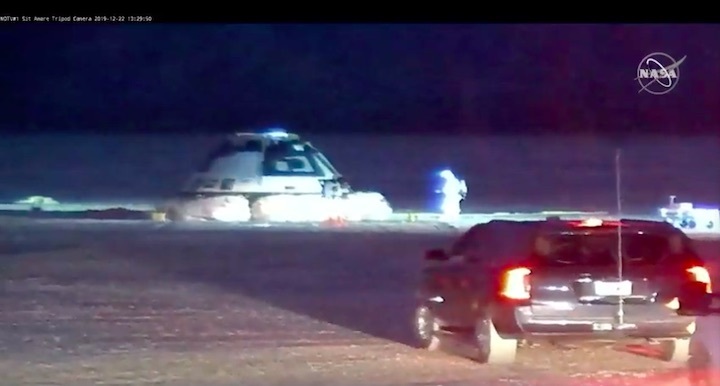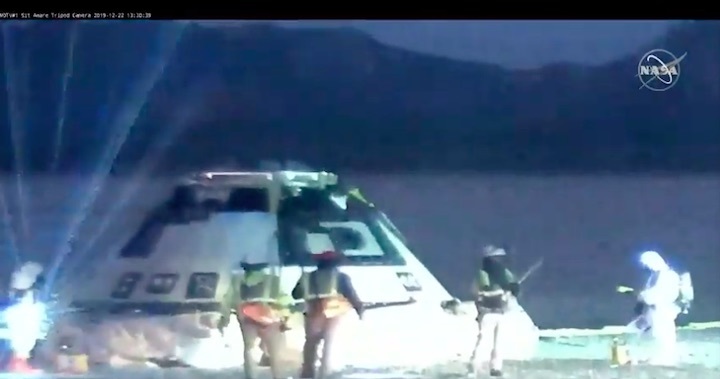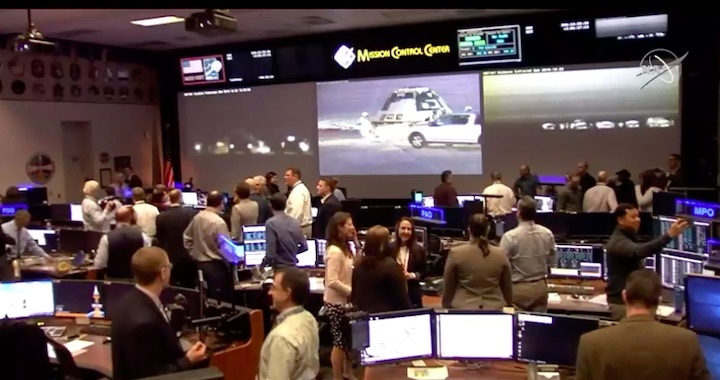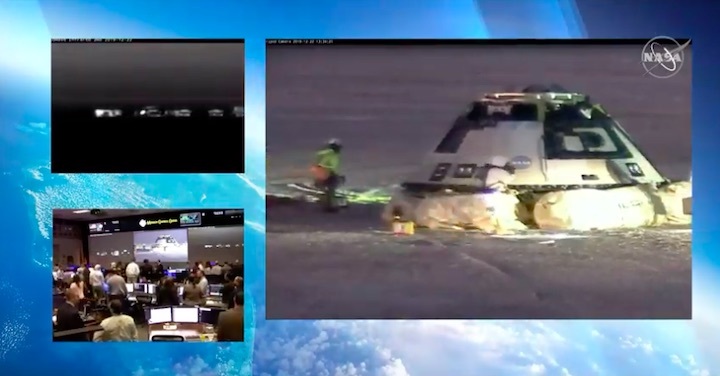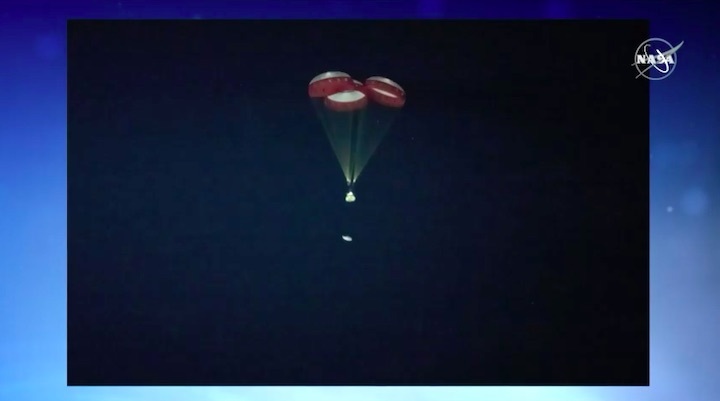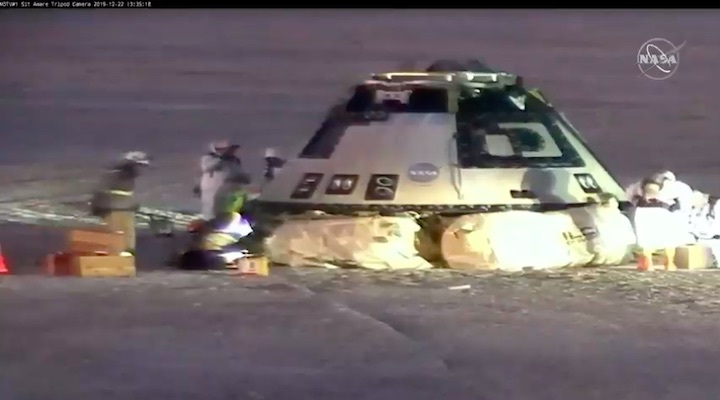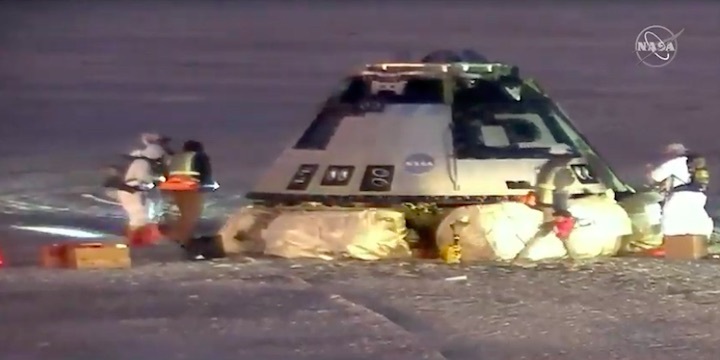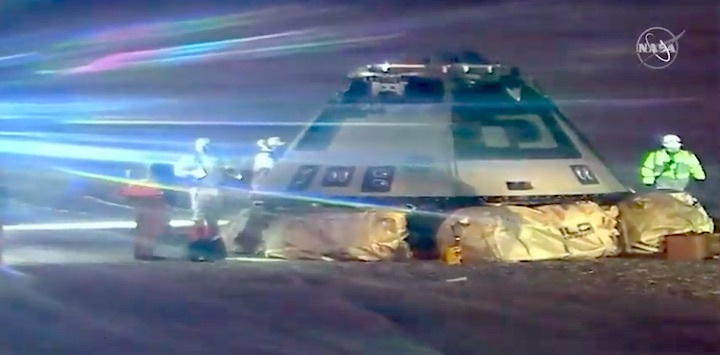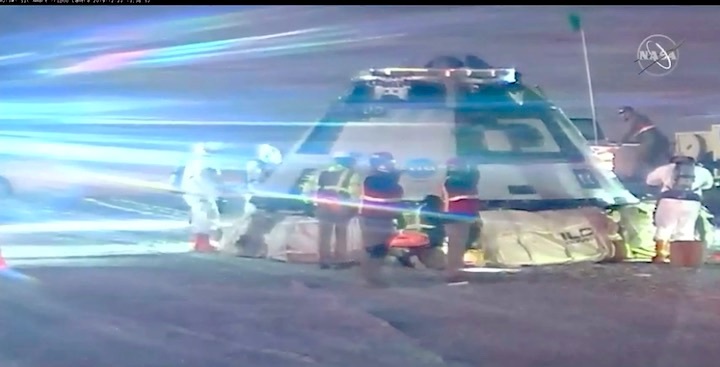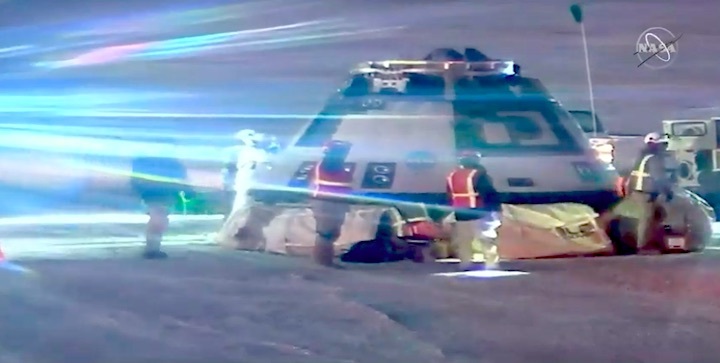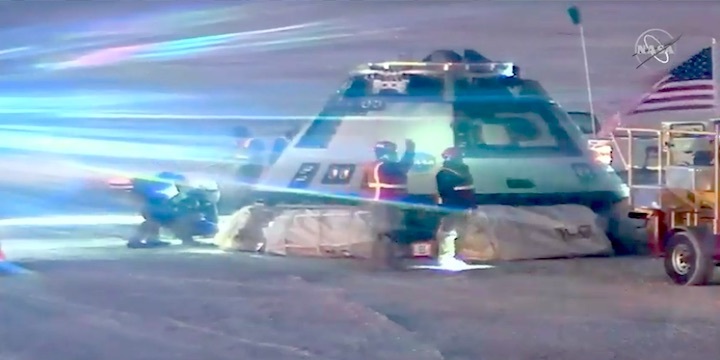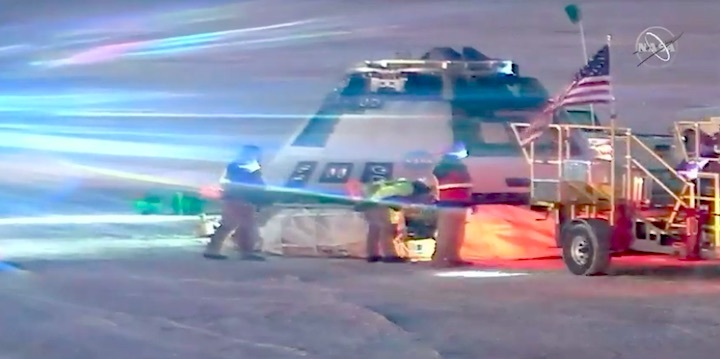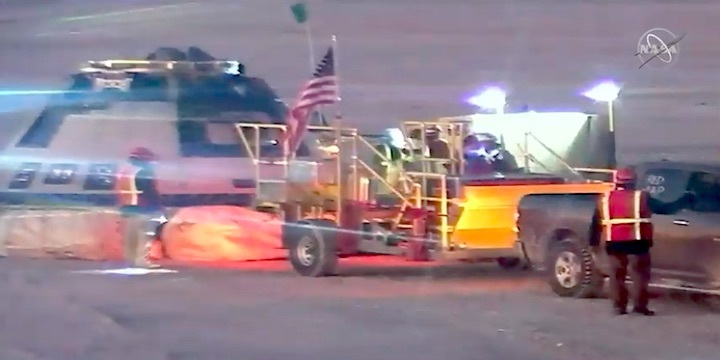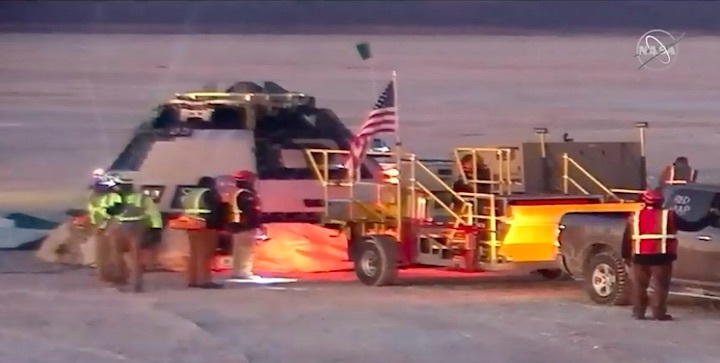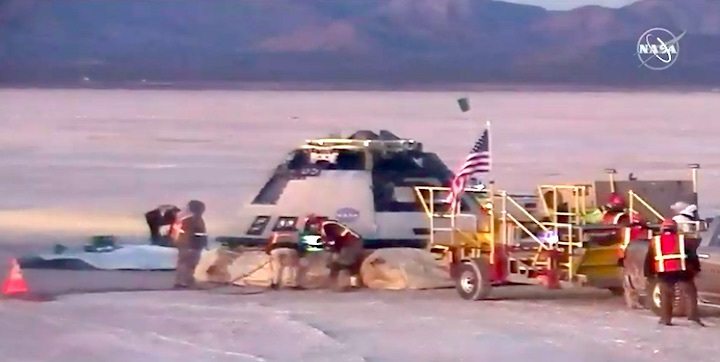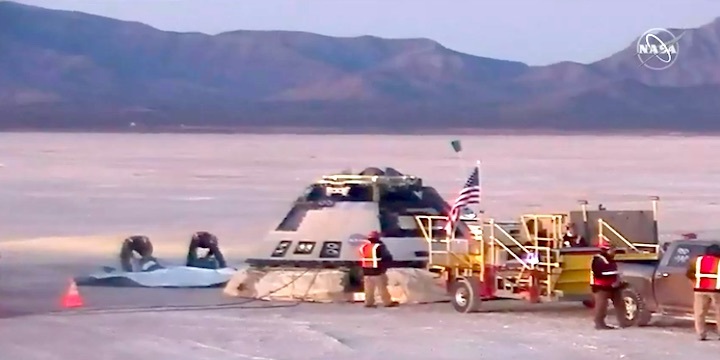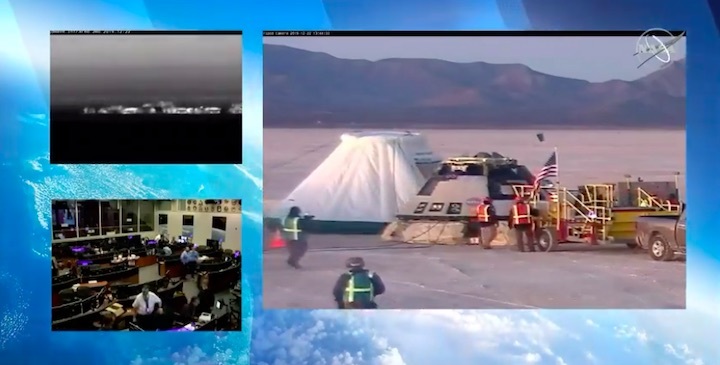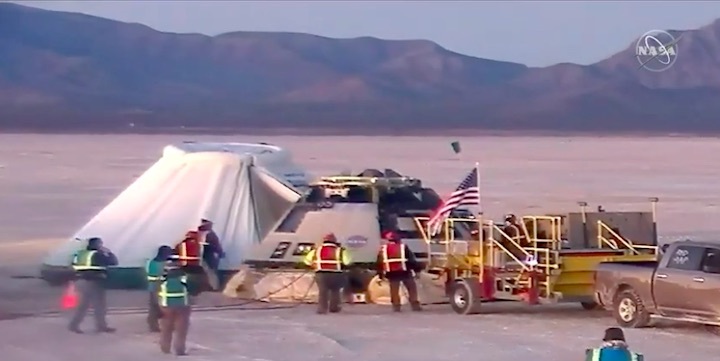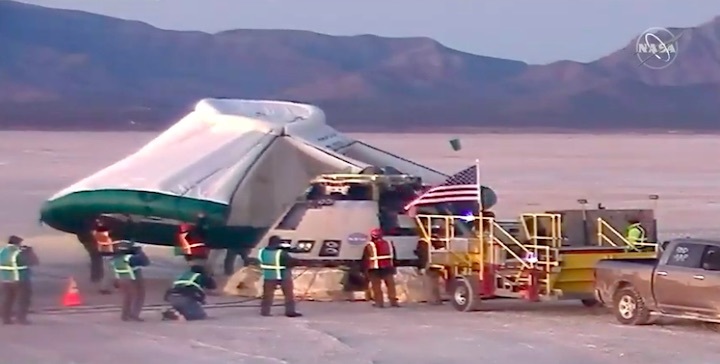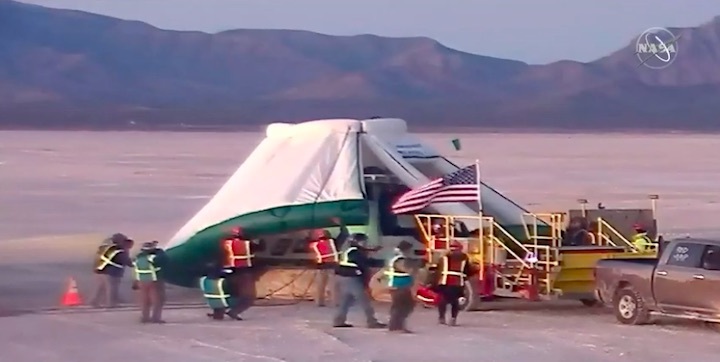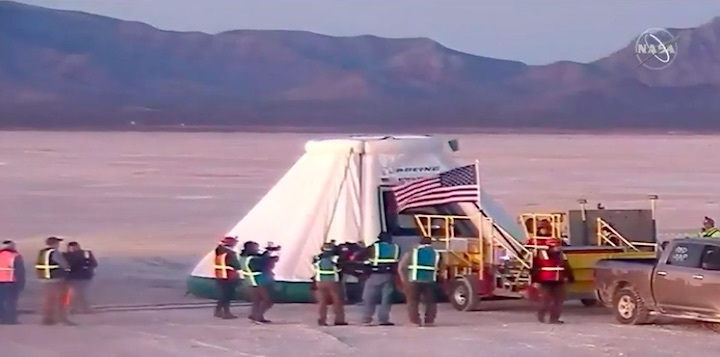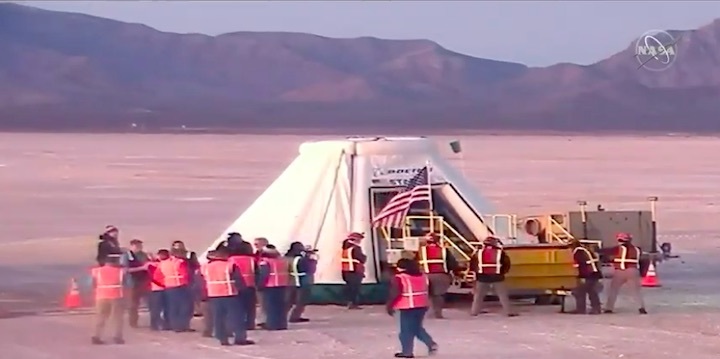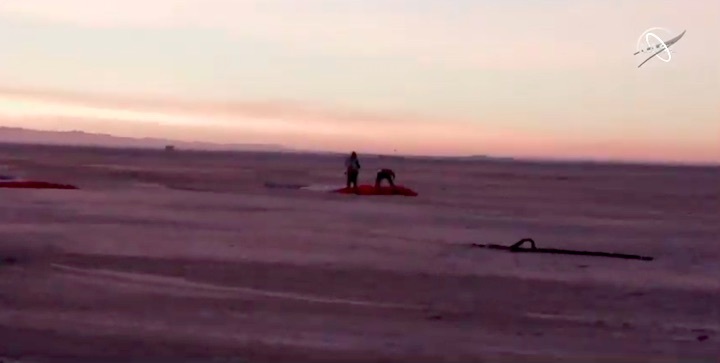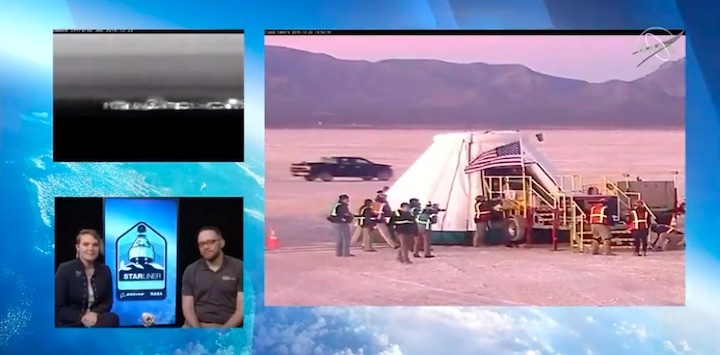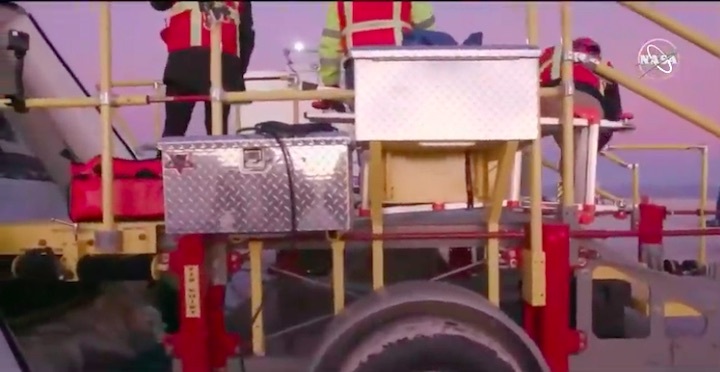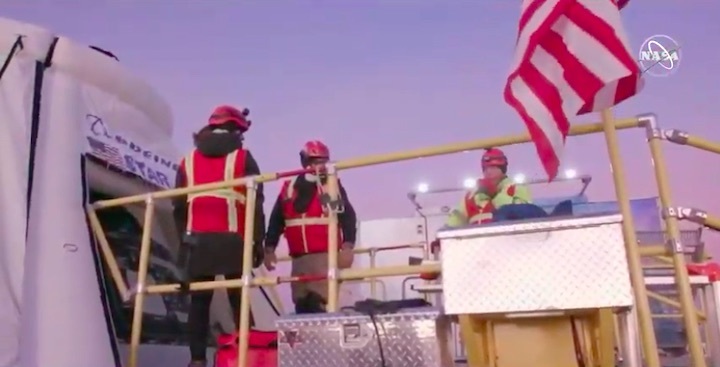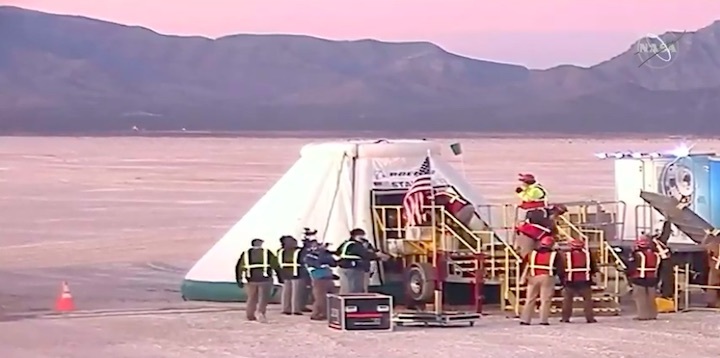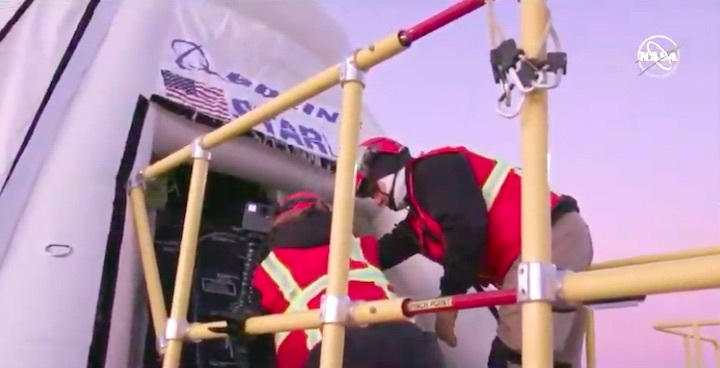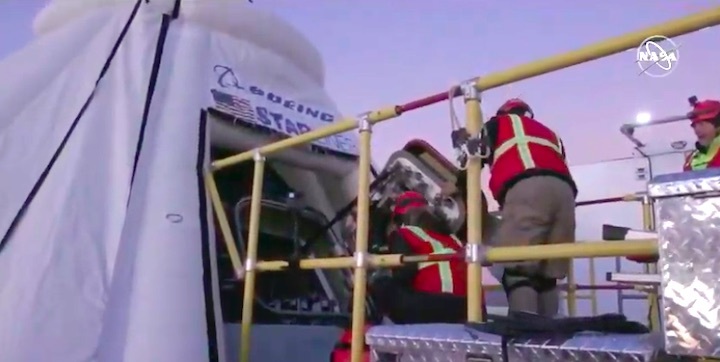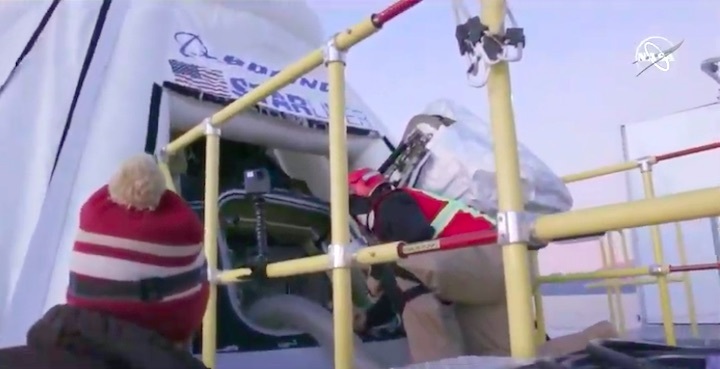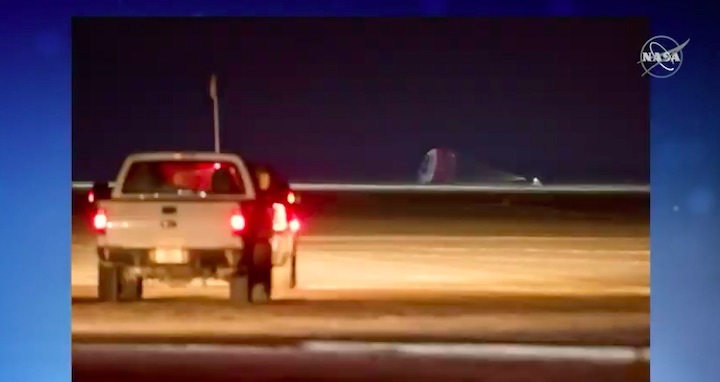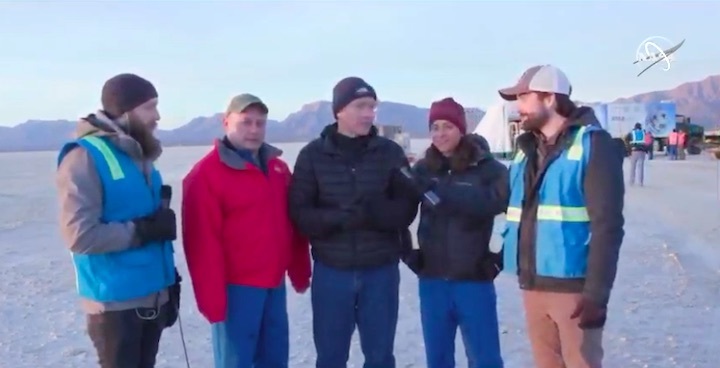 Quelle: NASA-TV
+++
Virgin Galactic teammates gathered early this morning to cheer on
@BoeingSpace
Starliner's successful landing into White Sands. Congratulations and welcome to New Mexico, Starliner!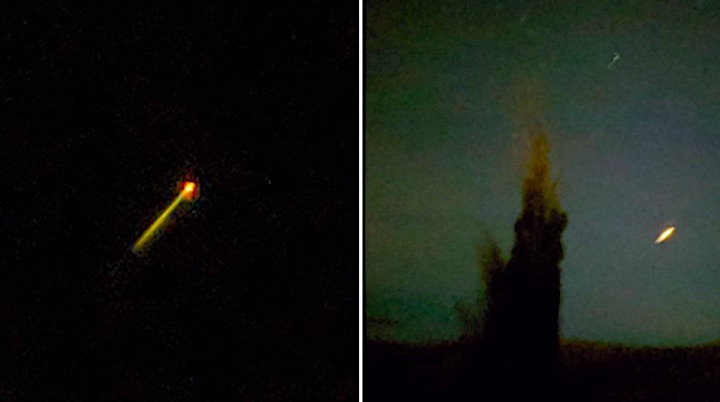 Quelle: Virgin Galactic
+++
Update: 23.12.2019
.
Boeing astronaut Starliner capsule lands after incomplete mission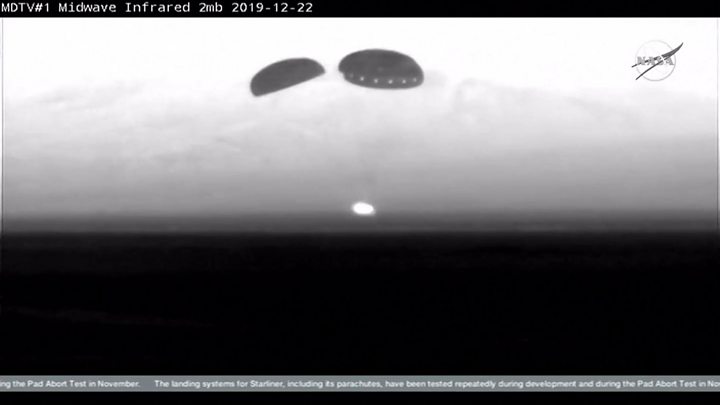 The Boeing company has cut short the uncrewed demonstration flight of its new astronaut capsule.
The Starliner launched successfully on its Atlas rocket from Florida, but then suffered technical problems that prevented it from taking the right path to the International Space Station.
It appears the capsule burnt too much fuel as it fired its thrusters, leaving an insufficient supply to complete its planned mission.
Starliner came back to Earth on Sunday.
It landed in New Mexico's White Sands testing range, using parachutes and airbags to make a soft touchdown on desert terrain.
It marked the first US land-landing for this type vehicle. Past crewed capsules have always made splashdowns in the ocean.
Boeing and the US space agency (Nasa) must now review the truncated mission before deciding when to allow crew to fly aboard future Starliners.
While this automated demonstration ticked off many of its objectives, such as a safe entry, descent and landing - it failed to achieve other key ones, the most significant being a rendezvous and docking with the space station.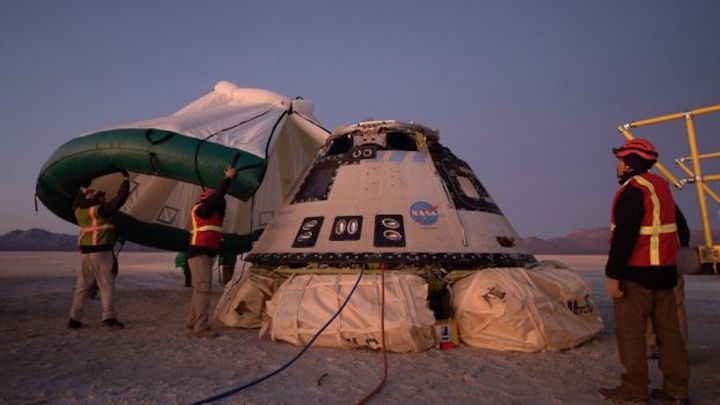 The Administrator of Nasa, Jim Bridenstine, said in a press conference on Friday that Starliner had experienced a timing "anomaly" shortly after launch. This led the capsule to become confused over where it was in its mission sequence. Starliner then expended an excessive amount of propellant trying to maintain very precise pointing, or attitude.
Flight controllers recognised the problem but were unable to intervene quickly enough because the capsule was passing between satellite links.
Mr Bridenstine remained upbeat, taking the positives out of the day's events.
"A lot of things went right," he said. "This is why we test."
The Administrator then suggested that had astronauts been in the capsule, they could have helped re-direct the craft to the space station.
Nasa astronaut Mike Fincke, who has already been selected to fly on a future Starliner, agreed with this assessment.
"Had we been on board, we could have given the flight control team more options on what to do in this situation," he said.
Not since 2011, when the shuttles were retired, have Americans launched from their own soil; US astronauts have been hitching rides in Russian Soyuz capsules instead.
The Starliner, and another capsule called Dragon from the SpaceX company, have been developed to reinstate the capability.
The business model will be different from the past, however.
Instead of owning and operating the new capsules, Nasa will simply buy seats in the craft. And Boeing and SpaceX will also be free to sell any spare capacity to others - to other space agencies and commercial concerns.
The agency "seeded" Starliner and Dragon under its Commercial Crew Program (CCP). The companies were given milestone payments to encourage the development of their capsules.
The vehicles are late, however; they should have been flying in 2017.
That they are still at the demonstration stage is due in part to Congress squeezing the amount of money Nasa could spend on the initiative. But also because of technical set-backs, such as the explosive destruction of a Dragon capsule on a test stand.
The SpaceX craft does look closer to entering service, though, after completing its own uncrewed trial in March. Whether Boeing will now have to repeat its test flight, going all the way to the station, before it can join Dragon on the "taxi rank" is uncertain. "I think it's too early to make that assessment," Mr Bridenstein said.
It's still possible Boeing and Nasa may decide to move directly to crewed flights.
Mike Fincke's Nasa astronaut colleague on the upcoming Starliner mission will be Nicole Mann. "We are looking forward to flying on Starliner. We don't have any safety concerns," she commented.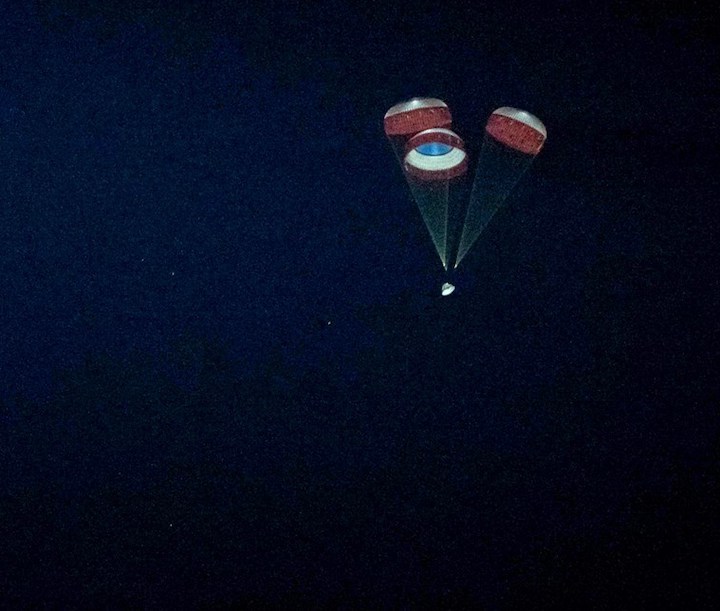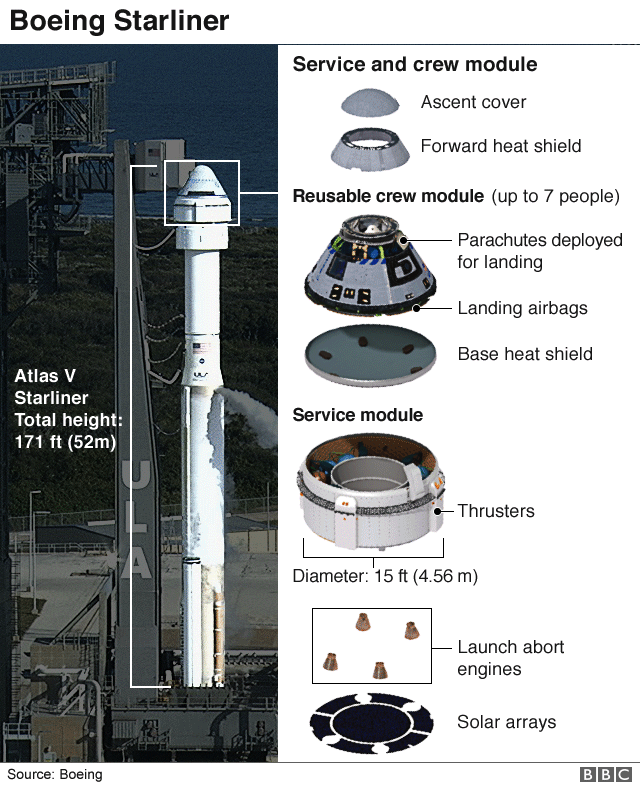 Quelle: BBC
+++
NASA, Boeing Complete Successful Landing of Starliner Flight Test

Boeing's CST-100 Starliner spacecraft completed the first land touchdown of a human-rated capsule in U.S. history Sunday at White Sands Space Harbor in New Mexico, wrapping up the company's uncrewed Orbital Flight Test as part of NASA's Commercial Crew Program.
Starliner settled gently onto its airbags at 7:58 a.m. EST (5:58 a.m. MST) in a pre-dawn landing that helps set the stage for future crewed landings at the same site. The landing followed a deorbit burn at 7:23 a.m., separation of the spacecraft's service module, and successful deployment of its three main parachutes and six airbags.
"Congratulations to the NASA and Boeing teams on a bullseye landing of the Starliner. The hardest parts of this orbital flight test were successful," said NASA Administrator Jim Bridenstine. "This is why we conduct these tests, to learn and improve our systems. The information gained from this first mission of Starliner will be critical in our efforts to strengthen NASA's Commercial Crew Program and return America's human spaceflight capability."
Although Starliner did not reach its planned orbit and dock to the International Space Station as planned, Boeing was able to complete a number of test objectives during the flight related to NASA's Commercial Crew Program, including:
Successful launch of the first human-rated United Launch Alliance (ULA) Atlas V rocket
Checked out the Starliner propulsion systems
Tested space-to-space communications
Confirmed Starliner tracker alignments using its navigation system
Tested Starliner's NASA Docking System
Validated all environment control and life support systems
Completed a positive command uplink between the International Space Station and Starliner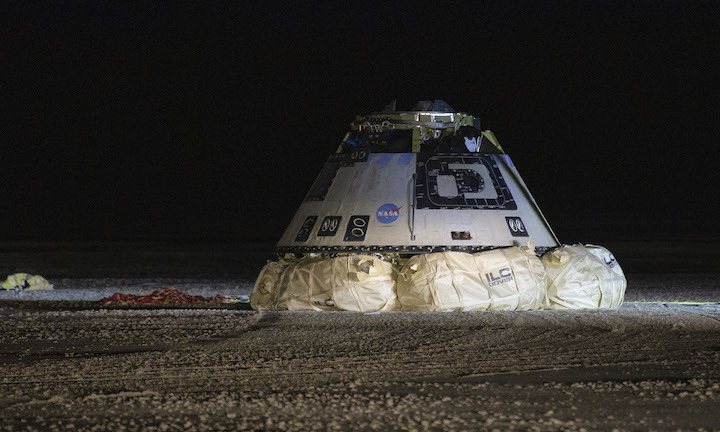 Credits: NASA/Bill Ingalls
"Today's successful landing of Boeing's CST-100 Starliner spacecraft is a testament to the women and men who have dedicated themselves to ensuring Starliner can safely transport crews to low-Earth orbit and back to Earth," said Boeing Senior Vice President of Space and Launch Jim Chilton. "The Starliner Orbital Flight Test has and will continue to provide incredibly valuable data that we, along with the NASA team, will use to support future Starliner missions launched from and returning to American soil."
"This mission has only strengthened the resolve of the NASA, ULA, and Boeing teams," said NASA Deputy Administrator Jim Morhard. "Systems were tested, but more importantly the teams were tested. The hardest parts of this mission were a tremendous success. The Commercial Crew Program is strong. But keep in mind, this is a great reminder that human exploration is not for the faint of heart. We are just getting started!"
The Starliner that landed today will be refurbished for Boeing's first operational crewed mission, following the Crew Flight Test. NASA astronaut Suni Williams, who will fly on that mission, dubbed the spacecraft "Calypso" after the ship of famed explorer Jacques Cousteau.
"I love what the ocean means to this planet," said Williams. "We would not be this planet without the ocean. There's so much to discover in the ocean, and there's so much to discover in space."
The uncrewed Starliner spacecraft launched on the ULA Atlas V rocket at 6:36 a.m. Friday, Dec. 20, from Space Launch Complex 41 at Cape Canaveral Air Force Station in Florida.
Quelle: NASA
+++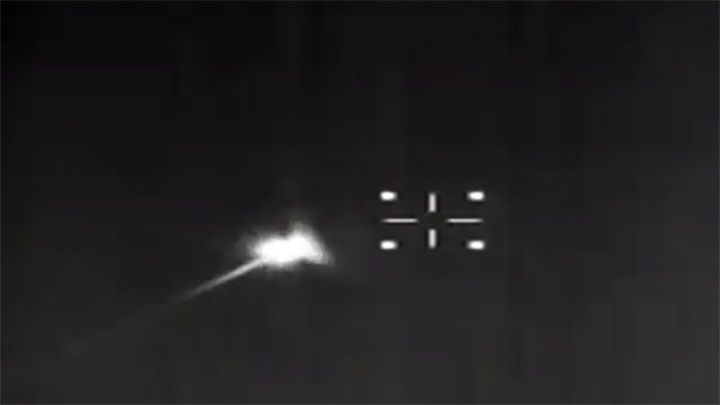 Boeing's first Starliner spacecraft plunges through Earth's atmosphere in this infrared view from a NASA WB-57 chase plane over White Sands Space Harbor in New Mexico on Dec. 22, 2019. (Image credit: NASA TV)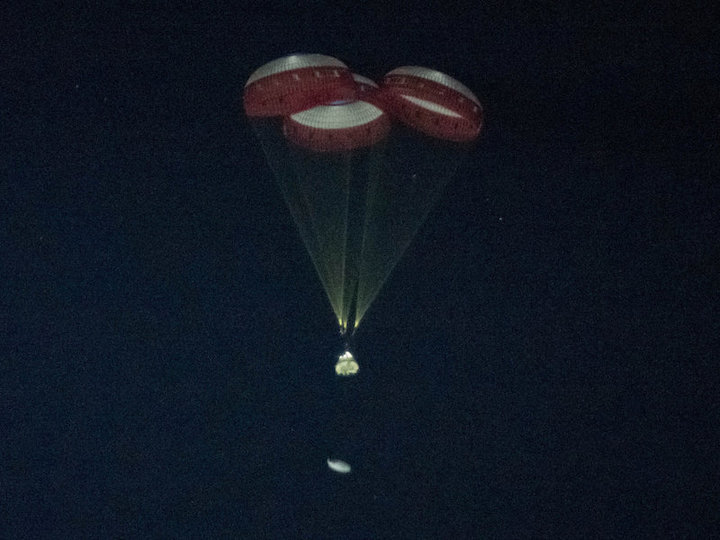 The Boeing CST-100 Starliner spacecraft jettisons the heat shield before it lands in White Sands,
NASA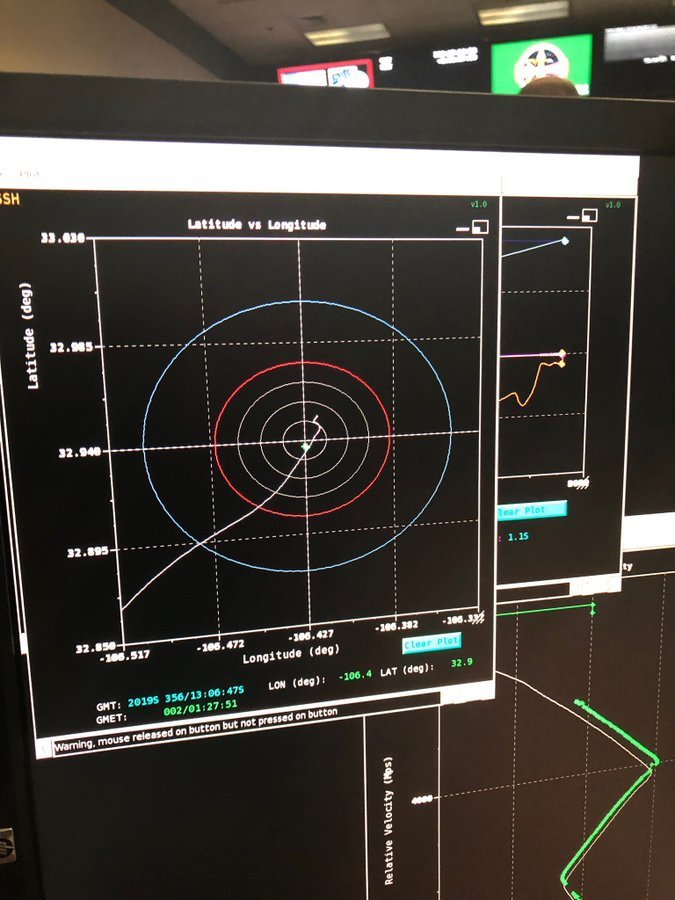 Jim Bridenstine
3440 Views