1.06.2021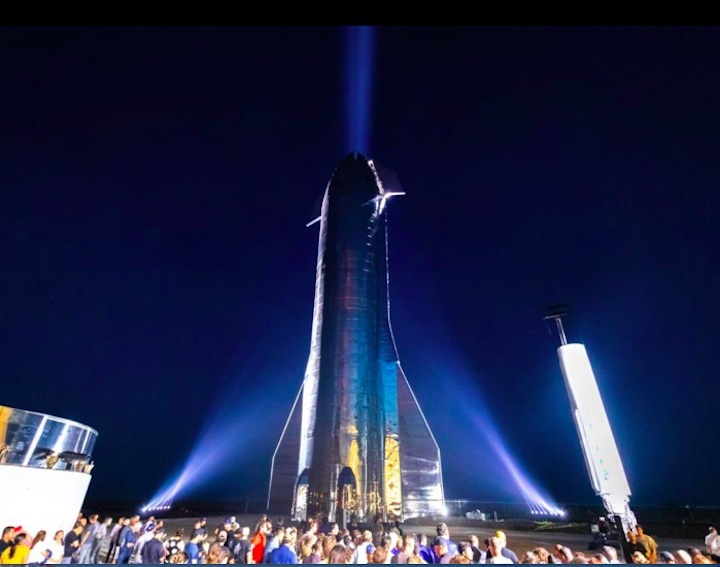 SpaceX Starship engine completes orbital-duration static fire test in Texas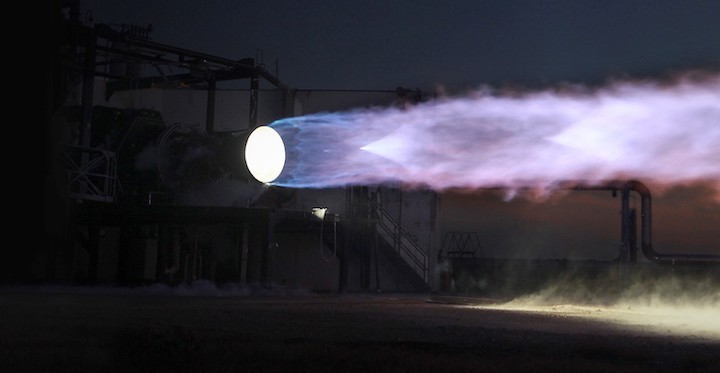 A local resident and unofficial SpaceX observer has reported hearing a test of one of Starship's Raptor engines that lasted more than five minutes at the company's McGregor, Texas development facilities.
If accurate, it could be the longest static fire of a Starship engine that SpaceX has ever completed in the two years since full-scale Raptor testing first began. Whether it was successful or not, a five or six-minute static fire would also confirm that SpaceX is well into the process of qualifying Raptor for Starship's first orbital launch attempts.
An FCC "Special Temporary Authority" (STA) request filed by SpaceX itself for Starship's inaugural "Orbital Test Flight" earlier this month provided several significant details about that milestone mission. Aside from revealing that Starship will ultimately attempt a soft ocean landing – splashdown – off the coast of a Hawaiian island after traveling ~75% of the way around Earth, it also included a precise timeline of launch events.

According to that timeline, ten seconds shy of three minutes after liftoff, Starship's Super Heavy booster will shut down and separate from the spacecraft. Starship will then ignite either three or six Raptor engines for a bit less than six minutes to boost itself within the vicinity of orbital velocity. Curiously, the same timeline makes no mention of a deorbit burn, without which the first "orbital" test flight will technically be suborbital even if Starship is traveling very close to orbital velocity.
Regardless, the document confirms that Starship's orbital insertion burns will be approximately 5.5-6.5 minutes long – the maximum stamina required from its Raptor engines, in other words. Rephrased, in its current design, Starship will never be able to reach orbit without Raptor engines capable of continuously operating for around six minutes. Up until high-altitude Starship test flights began in December 2020, the extent of Raptor's long-duration capabilities and thus the state of SpaceX testing was effectively a mystery.
When Starship SN8 debuted, however, it quickly became clear that SpaceX had made significant progress after one of its three Raptor engines burned without apparent issue for 280 seconds (4:40). If SN3x and SN4x Raptors could handle almost five minutes of continuous operation, the engine was just ~20% improvement away from being able to complete a plausible orbital insertion burn.
Now, six months later, Raptor appears to have completed at least one truly orbital-class burn at SpaceX's Central Texas development campus. McGregor typically completes multiple static fires every day and already performs similar-duration testing of Merlin Vacuum engines and upper stages, so it's possible – if not probable – that one or several other five or six-minute-long tests have simply been missed over the last few months.
Beginning just a handful of months ago, SpaceX has been rapidly building a new Raptor test stand with two vertical engine bays and new liquid oxygen and methane propellant storage to go with it. Given that a six-minute Raptor engine static fire at or close to full thrust would consume around 220 metric tons of propellant, it's possible that SpaceX's ground test facilities simply didn't have the storage capacity to support such long tests prior to those recent upgrades.
Regardless, the first unofficially confirmed orbital-duration test is an exciting and important milestone with or without SpaceX confirmation and continues to make it abundantly clear that the company is now almost entirely focused on reaching orbit (or getting close).
+++
SpaceX bumps Starship booster engine count, ramps up Raptor factory
SpaceX CEO Elon Musk has confirmed that Starship's Super Heavy booster will have at least one more engine than expected after hardware spotted at its Boca Chica, Texas factory indicated as much.
Simultaneously, Musk revealed that SpaceX's Hawthorne, California factory and headquarters is now producing Raptors at a rate that will likely make it the company's most numerous product (outside of Starlink) in the near future.
Musk says that Super Heavy boosters will "initially" have 29 Raptor engines instead of 28 engines and could even be upgraded to 32 engines down the road. In 2020, the vehicle's design was updated, dropping from 31 to 28 engines for unknown reasons before SpaceX began work on the first real Super Heavy hardware. Known as BN1 or booster number 1, that rocket was stacked to its full ~70m (~230 ft) height but ultimately turned into a manufacturing pathfinder (i.e. practice) after Super Heavy's design changed once again.
Who or what has been causing those seemingly endless design changes is unclear but SpaceX is finally at a point where any more major changes will explicitly delay plans for Starship's inaugural spaceflight – deemed an "orbital test flight" by the company. It remains to be seen if SpaceX will actually attempt to recover the first booster(s) after those initial quasi-orbital test flights but we now have a better idea of what those Super Heavies might look like.
Namely, Musk seems to indicate that even the very first flightworthy prototypes will be outfitted with a full complement of Raptors – seemingly nipping in the bud the possibility of a booster debuting with the fewest possible engines. In the case of the first few initial orbital launch, that means that SpaceX is happy to risk losing 32-35 engines for every single attempt.
That could imply several things. SpaceX might be extremely confident that early boosters will be recovered. It could have zero faith in the reusability of early flown Raptors, meaning that they're functionally expendable regardless of the outcome. SpaceX could have also reduced the cost and increased the speed of production to the point that expending dozens of Raptors isn't a major issue – though ~32 Raptors would cost $8 million even if SpaceX has already hit Musk's long-term "<$250k" per-engine target.
However, Musk also says that SpaceX has ramped up Raptor production to the point that it's almost completing one engine every 48 hours – equating to around 180 Raptors per year or a maximum cadence of one expendable three-engine Starship and 29-engine booster launch every nine weeks. At that run rate, Raptor has likely beat out Falcon's venerable Merlin to become SpaceX's most-produced rocket engine.
According to NASASpaceflight, SpaceX has already begun work on Raptors with serial numbers in the 150s. Two new Raptor test stands in work at its McGregor development facilities will also reportedly enable an average of one engine qualification every day – enough testing capacity to outfit 6 boosters and 30 Starships (~365 Raptors) per year. In short, SpaceX is well on its way to having the ability to manufacture and power a truly vast fleet of Starships and Super Heavy boosters.
Quelle: TESLARATI
----
Update: 21.06.2021
.
SpaceX stacking giant Super Heavy rocket ahead of Starship orbital flight test
SpaceX has been targeting July for the landmark flight.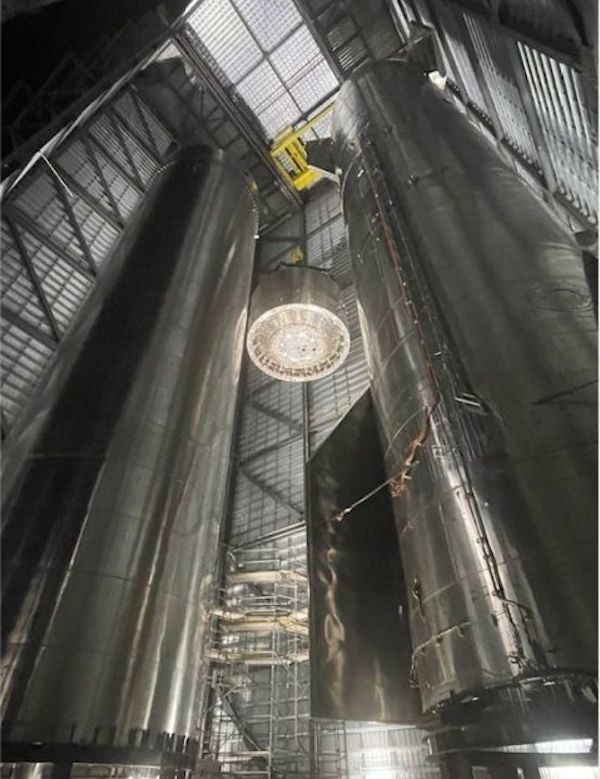 This photo, tweeted by SpaceX founder and CEO Elon Musk on June 15, shows one of the company's huge Super Heavy booster coming together. "Stacking Super Heavy aft section," Musk wrote in the tweet. (Image credit: Elon Musk via Twitter)
SpaceX is gearing up for the most ambitious test flight yet of its Starship Mars rocket.
Last month, a Starship prototype aced a high-altitude test flight for the first time, soaring about 6.2 miles (10 kilometers) into the skies above SpaceX's "Starbase" site in South Texas and then touching down safely back at the facility. (Four other Starship test vehicles had tried this uncrewed hop in the previous five months, but none of them managed to stick the landing.)
Even before achieving that milestone, however, SpaceX had started planning out the first Starship flight to Earth orbit. In March, for example, company founder and CEO Elon Musk tweeted that SpaceX was targeting July for that landmark trial, which will require both elements of the reusable Starship system — the 165-foot-tall upper-stage spaceship, called (somewhat confusingly) Starship, and the huge first-stage booster known as Super Heavy.
Super Heavy was not involved in the 6.2-mile-high flight; that May 5 jaunt employed just a prototype Starship upper stage, one outfitted with three of SpaceX's next-generation Raptor engines. (The final Starship spacecraft will sport six Raptors and Super Heavy about 30 of them, Musk has said.)
In mid-May, we learned the details of the coming orbital test, thanks to a document filed with the U.S. Federal Communications Commission (FCC) that was first reported by The Verge.
The plan is this: The Super Heavy-Starship duo will lift off from Starbase, and the huge first-stage booster will come down about six minutes later in the Gulf of Mexico about 20 miles (32 km) off the Texas coast. The upper stage will make its way to Earth orbit, ultimately returning for a soft splashdown about 62 miles (100 km) off the northwest coast of the Hawaiian island of Kauai.
Construction of the Super Heavy that will be involved in that flight is apparently well underway. On Tuesday (June 15), for example, Musk tweeted a photoshowing two pieces of the massive rocket about to come together.
SpaceX has not announced a specific target date for the orbital test, but early July may well be off the table at this point. An environmental assessment of Starship launch operations is currently being performed, CNN Business reported on Wednesday(June 16).
"Depending on the outcome of that assessment, it may also be required to go through a more detailed review culminating in an updated Environmental Impact Statement. Only after that process is complete can the Federal Aviation Administration move on to licensing a possible orbital Starship launch," CNN Business' Jackie Wattles wrote.
"Those reviews and approvals will not be done in time for an early July launch, according to a source familiar with the licensing process," she added.
Whenever the orbital test happens, it will be quite an event. Stay tuned!
Quelle: SC
----
Update: 22.06.2021
.
SpaceX installs first parts of tower meant to catch Starship boosters
SpaceX's Starship 'launch tower' appears to have been outfitted with the first major component of a mechanism that's meant to allow the structure to catch Starship boosters – and maybe the ships themselves – in mid-air.
Already speeding towards completion just a few months after assembly began, the tower's primary purpose is to provide a stable platform capable of steadying Starships and Super Heavy boosters during final integration, when the two stages combine to become one launch vehicle. Situated a stone's throw from the Gulf of Mexico on the windy South Texas coast, the process of carefully mating two halves of what amounts to a several hundred ton skyscraper will be far harder than it might seem.
Though early operations could likely trade refinement for patience and some level of added risk, regular Starship operations will necessitate rapid, reliable, and repeatable mating in almost all weather and wind conditions. In other words, Starship's integration tower will likely be outfitted with arm-like structures capable of temporarily fixing Starships and Super Heavy boosters in place. Teased several times by CEO Elon Musk over the last six or so months, SpaceX or its stubborn leader seem to have decided somewhere along the way that the same tower could potentially catch those building-sized rocket stages, too.
Recently described as "basically Mechazilla" by Musk, the launch tower's supposed catching mechanism is almost a complete mystery. Based on the CEO's comments, the implication is that some kind of giant, mobile pair of robotic arms will be affixed to the tower's exterior. When catching Super Heavy boosters, Musk says those arms will 'grab' the rocket just below its Falcon booster-style grid fins. In fact, a prototype of a Super Heavy booster's grid fin section was recently completed at SpaceX's Boca Chica factory and sports what looks like two anchor-like structures that could be used to secure and grapple the rocket.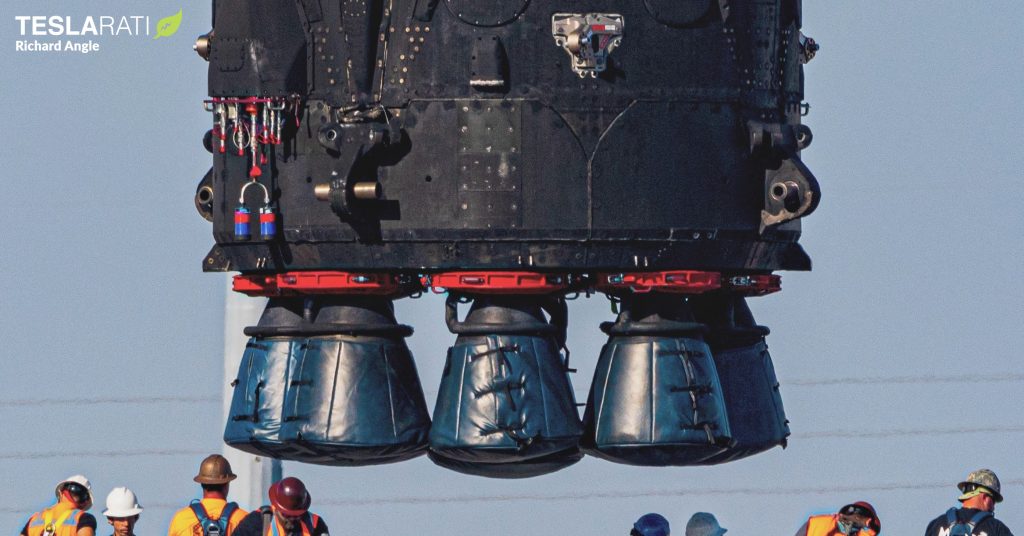 A bit like the four anchors used to secure Falcon boosters to the launch pad before liftoff and withstand hundreds of tons of thrust, the structures installed between Super Heavy grid fin mounts appear similar but are instead installed near the top of the rocket. Perfect, in other words, to serve as anchor points for cranes or clamps. It's possible that Super Heavy boosters could also 'land' by resting the flat rear end of those hardpoints on the tower's arms.
At the same time, catching boosters with the flat end of those hardpoints with give Super Heavy an extraordinarily narrow window for successful recovery unless its grid fins are also capable of serving as the passive part of the catch mechanism.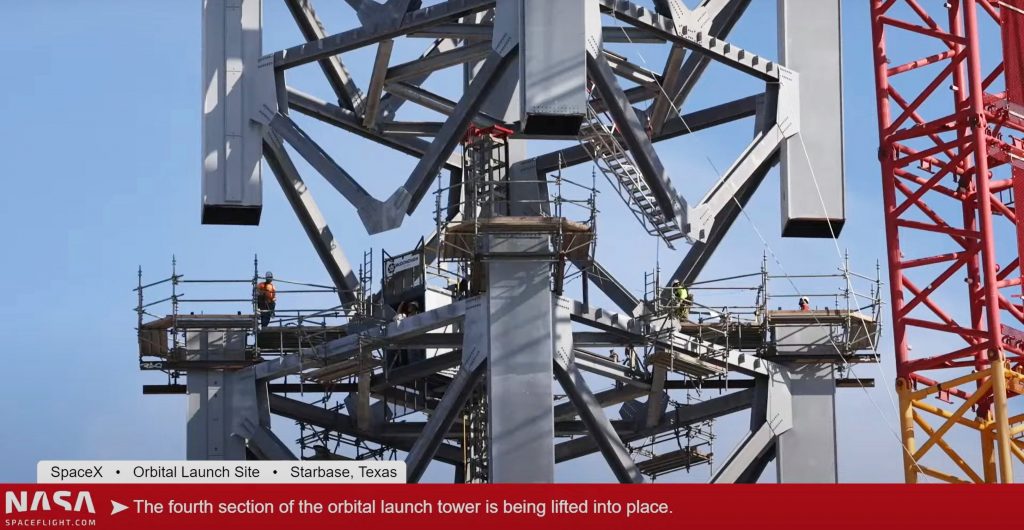 Known as a drawworks and potentially scavenged from Phobos, an oil rig turned SpaceX sea launch platform, the powerful hoist may be the first part of the mechanism that could allow the tower's arms to roll up and down its exterior, 'cushion' landing boosters, and function a bit like a crane. Using rail-like structures visible on three of the tower's four 'legs,' the hoist could lift that mechanism like a sort of complex rocket elevator.
Ultimately, though, SpaceX's unprecedented Starship launch/catch tower will remain a mystery until it's fully assembled and in active use. Thankfully, based on the rate of progress being made over the last few months, those milestones might be just a few months away.
Quelle: TESLARATI
----
Update: 28.06.2021
.
SpaceX aiming for July for Starship orbital launch despite regulatory reviews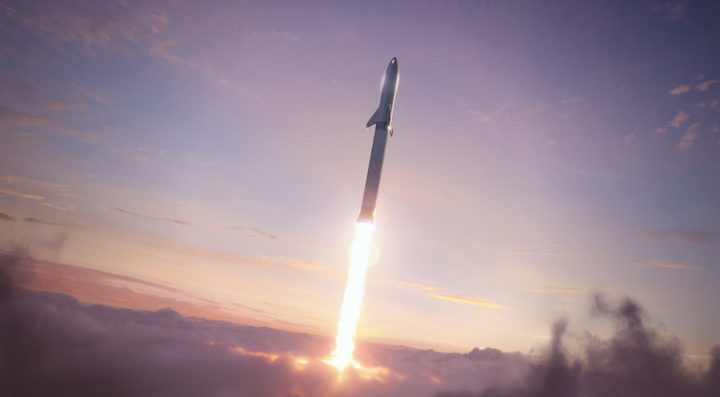 WASHINGTON — SpaceX President Gwynne Shotwell says the company is "shooting for July" for the first orbital launch of the company's Starship vehicle despite lacking the regulatory approvals needed for such a launch.
Speaking at the National Space Society's International Space Development Conference (ISDC) June 25, Shotwell said the company was pressing ahead with plans for an orbital flight involving the Super Heavy booster and Starship upper stage from the company's Boca Chica, Texas, test site.
"We are headed for our first orbital attempt in the not-too-distant future. We're shooting for July," she said. "I am hoping we make it, but we all know this is difficult. We are really on the cusp of flying that system, or at least attempting the first orbital flight of that system, in the very near term."
SpaceX last flew a Starship prototype May 5, with the SN15 vehicle flying to an altitude of 10 kilometers before making a successful landing, a milestone that had eluded four previous prototypes in tests between December 2020 and March 2021. While SpaceX originally appeared to be planning a second suborbital flight of that vehicle, it instead moved the vehicle from the launch pad. Another Starship prototype, SN16, has remained at the production site.
SpaceX has since turned its attention to preparing for the first orbital test flight. In a filing with the Federal Communications Commission May 13, SpaceX outlined the flight plan for the mission, starting with liftoff off from Boca Chica. The Super Heavy booster would land in the Gulf of Mexico off the coast from Boca Chica, while Starship would go into orbit but reenter after less than one orbit, splashing down 100 kilometers northwest of the Hawaiian island of Kauai.
That license application stated the flight would take place during a six-month period beginning June 20. However, the Federal Aviation Administration's Office of Commercial Space Transportation has not yet issued a launch license for Starship/Super Heavy launches from Boca Chica. The company's existing license covers only suborbital flights of Starship.
As a part of the licensing process, the FAA is performing an environmental review of launches from Boca Chica. The agency said in November that the original environmental impact statement for the site, prepared in 2014 when SpaceX was contemplating launching Falcon 9 and Falcon Heavy rockets, was not applicable to the far larger Starship/Super Heavy vehicles. Some environmental groups had criticized allowing SpaceX to launch Starship vehicles from Boca Chica using the original environmental study.
That assessment must be completed before the FAA can issue a license to SpaceX for Starship/Super Heavy flights. The assessment could conclude that such launches would have no significant impact, or that some mitigation measures are needed to allow such launches. It could also conclude that a more detailed environmental impact statement would be required, delaying a decision on the license.
The FAA has not provided an update on the status of the environmental assessment, which would include publication of a draft version for public comment before a final version. It is unlikely that process could be done in time to support a launch in the near future.
Shotwell made no mention of the licensing and environmental review process in her brief comments at ISDC, where she was accepting an award from the organization. Later in her remarks, she said the orbital launch attempt was the next big test for Starship. "I never want to predict dates because we'll still in development, but very soon," she said.
Shotwell said she was also "very excited" about the progress on the Starlink program. She said SpaceX will have full global coverage once all the satellites launched to date reach their operational orbits. SpaceX launched the most recent batch of Starlink satellites May 26.
"Roughly six or so weeks from now we will have full global continuous coverage with the Starlink constellation, which should really help people who are un- or under-served to get broadband internet," she said.
Quelle: SN
----
Update: 31.07.2021
.
SpaceX CEO Elon Musk reveals the heart of Starship's Super Heavy booster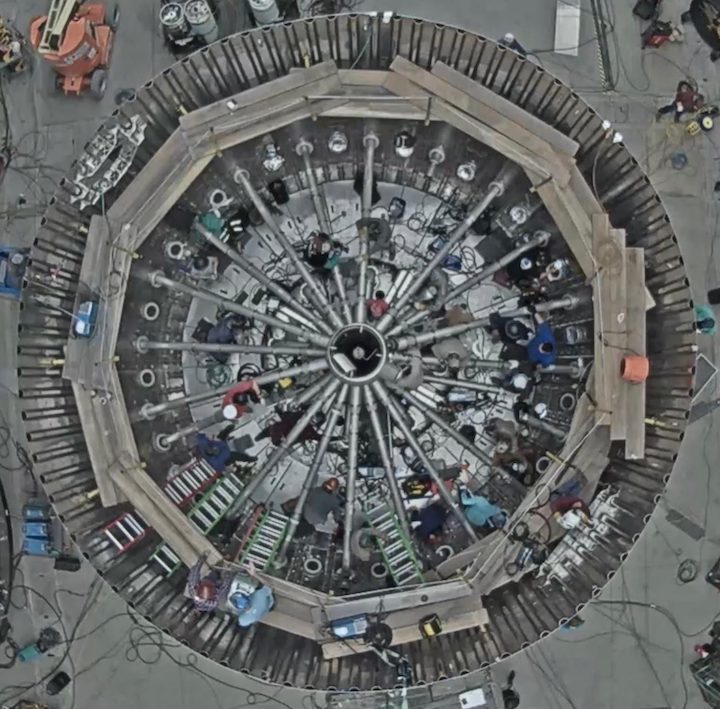 CEO Elon Musk has revealed the first glimpse of the most complex, important, and unproven part of Starship's record-breaking Super Heavy booster.
Known as the engine section, the aft end of Super Heavy is likely where the fate of early booster prototypes will lie. For the most part, Super Heavy is just a colossal duo of steel propellant tanks that is – to an extent – even simpler than its smaller Starship upper stage, which needs two types of Raptor engines, flaps, a bevy of maneuvering thrusters, and more. However, at the booster's base, SpaceX must design, fabricate, and assemble a nightmarishly crowded and complex mechanical structure capable of mounting, fueling, and powering anywhere from 29 to 33 Raptor engines.
Simultaneously, that structure and all associated plumbing must withstand the force and pressure of more than 2000 metric tons of cryogenic liquid oxygen and the 7500 tons (16.5 million lbf) of thrust those Raptors can generate. That's just the bare minimum, though.
Beyond the extraordinary mechanical stress it must withstand, Super Heavy's thrust section also needs to be able to survive the hellish, violent environment created by almost three dozen powerful rocket engines on one side while the structure is effectively half-submerged in a cryogenic fluid, subjecting the puck and dome to brutal thermal conditions. Last but certainly not least, the exterior of Super Heavy's thrust structure must be able to survive the mechanical and thermal hell of hypersonic atmospheric reentry with zero cushioning of the blow.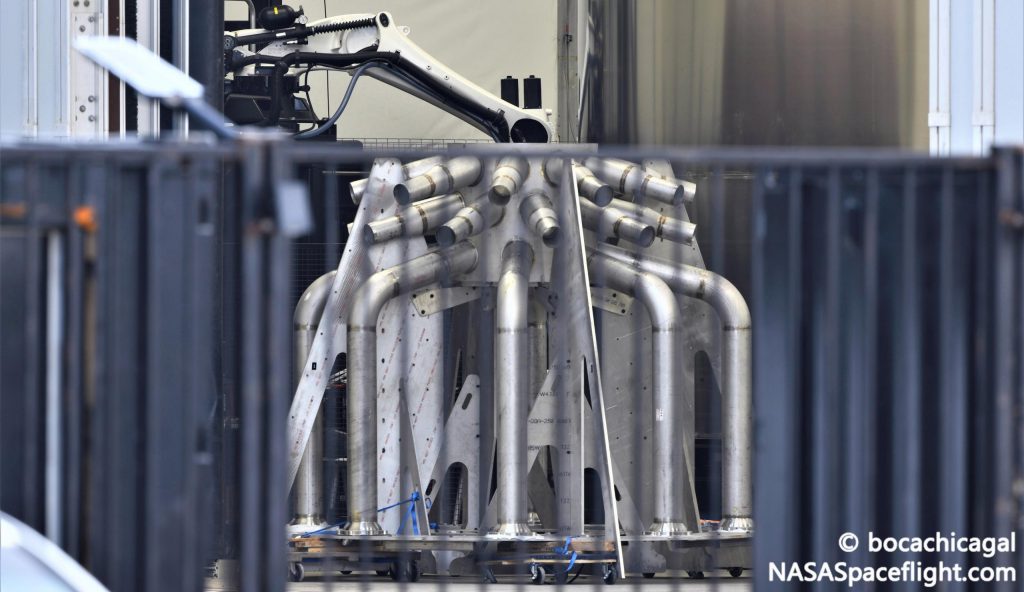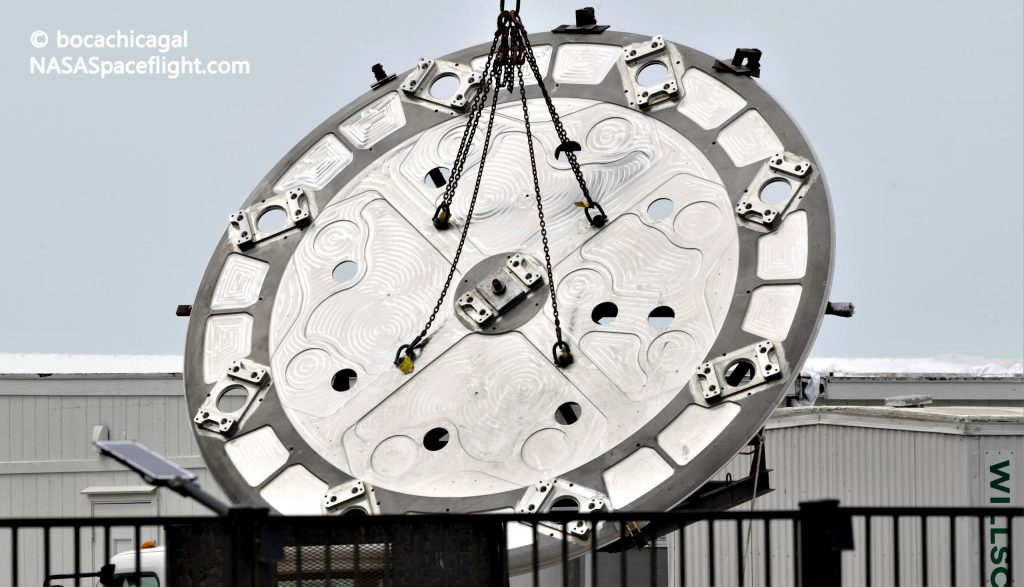 The forces involved are difficult to imagine. At full thrust, Super Heavy Booster 4's 29 Raptor engines (eventually expanding to 33 on future cores) will likely produce more than 5500 metric tons (12.1 million lbf) of thrust, making it both the largest and most powerful rocket booster ever built or tested. At full thrust, those 29 Raptors will consume more than 17 metric tons (~38,000 lb) of cryogenic liquid methane and oxygen – equivalent to around ten Tesla Model 3s worth of propellant – every single second.
Including smaller secondary runs for each Raptor engine, Super Heavy's engine section will likely contain miles of plumbing for highly flammable, explosive, and high-pressure liquid and gaseous methane and oxygen. All 29 Raptors also need to be connected to Super Heavy's power supplies and avionics systems, demanding still more miles of wiring.
Ultimately, Musk says that the next generation of Starship's Raptor engine – "V2.0" – "is a major improvement in simplification," presumably making life a bit easier for the engineers that have to design Super Heavy's hellish engine section plumbing and the technicians that have to fabricate and assemble it. However, there's just no getting around the fact that a single rocket booster with dozensof engines is going to have an extraordinarily complex thrust section. Only time will tell if SpaceX's extensive launch vehicle expertise is up to the task.
Quelle: TESLARATI
+++
SpaceX is building Starship's first orbital-class booster at a breakneck pace
Within the last week, SpaceX's South Texas Starship factory appears to have kicked things into high gear and are now assembling the first orbital-class Super Heavy booster prototype at a breakneck pace.
While the assembly of the Super Heavy known as Booster 4 (B4) wasn't too dissimilar to what CEO Elon Musk described as a "very hard" build of Booster 3 up to last week, work on the rocket has visibly accelerated. Since January 2020, the process of building Starships and Super Heavy boosters has been fairly simple. Both onsite and offsite, raw materials (mostly sheet steel) are cut, bent, and welded into relatively small parts that then make their way to (or around) Boca Chica by truck, forklift, or crane.
With the help of jigs and good amount of automation, the resulting hardware is then welded together to form domes, header tanks, transfer tubes, tank barrels, flaps, and more. Once subassembly is complete, those integrated rocket sections are reinforced with stringers, ribs, and baffles and outfitted with mechanisms, hardpoints, brackets, plumbing, and more. Finally, final assembly – better known as stacking and by far the most visible step – can begin and technicians stack each of those premade segments on top of each other to form a complete Starship or Super Heavy.
While part fabrication and subassembly integration takes weeks or months on its own, those earlier steps can be done more or less simultaneously, meaning that SpaceX can prepare sections for several different ships and boosters at the same time. For the last six or so months,at any given moment, SpaceX has had 40-60+ rings in work as part of 15-20+ different ring 'sections' visible all across Starbase.
Respectively, each Starship and Super Heavy booster require 20 and 36 rings apiece, while each of the propellant storage tanks SpaceX is building itself for the rocket's first orbital launch pad require 12-15. All told, SpaceX usually has a combination of around 3-5 ships, boosters, and GSE tanks in some stage of assembly. Unsurprisingly, some assembly is harder than others and building the first in a series of prototypes has almost invariably taken far longer than the later average that develops.
| | | |
| --- | --- | --- |
| | Booster 3 | Booster 4 |
| LOx tank start | May 20th | July 16th |
| LOx tank finish | June 18th | July 31st? |
| CH4 tank start | June 24th | July 28th |
| CH4 tank finish | June 27th | July 29th |
| Final stack | June 29th | Aug 1st? |
In that sense, it's not a huge surprise that SpaceX's Booster 4 assembly has quickly surpassed the pace set with Booster 3 less than a month earlier. SpaceX began stacking Super Heavy B3 around May 20th, starting with the rocket's aft liquid oxygen (LOx) tank. Five separate stacks are required to turn the LOx tank's 23 steel rings into a single structure – a process that took SpaceX about a month with Booster 3.
Booster 3 methane (CH4) tank assembly began a few days after the LOx tank's completion but proceeded far more quickly, wrapping up just a few days later. Two days after that, those two tank sections were then mated and welded together to complete Booster 3's full ~65m (~210 ft) tall airframe.
Now, just four weeks after Booster 3 was rolled to the launch pad for proof and static fire testing, Super Heavy Booster 4 is well on its way to reaching its full ~65m height almost twice as quickly. With work beginning around July 16th, B4's oxygen tank is now just missing an (extremely complex) engine section and the booster's methane tank was stacked to completion – 13 rings tall – in less than two days. That leaves SpaceX's first potentially flightworthy, orbital-class Super Heavy booster just two stacks away from completion less than two weeks after its assembly began.
If SpaceX can sustain that pace for another few days, Booster 4 assembly will be the fastest of any full-height prototype ever built at Starbase, most of which have been Starship prototypes that are half to about three quarters the size of Super Heavy.
Quelle: TESLARATI
516 Views