25.04.2019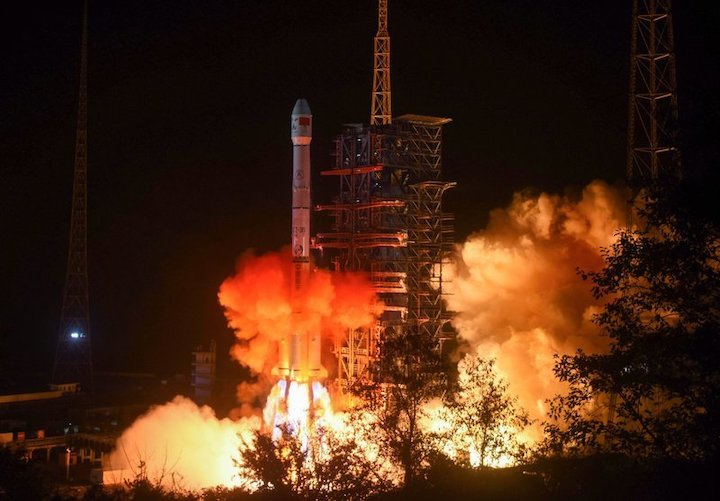 China is looking forward to a national collaboration in science and technology experiments on its planned space station.
Projects in fields such as aerospace medicine, space life science and biotechnology can be submitted to www.cmse.gov.cn, the website of the China Manned Space, from July 1 to Aug. 31.
The submission process is one of several activities to celebrate China's Space Day, which falls on Wednesday this year.
China's space station is expected to be completed in 2022. The station will serve as the country's space laboratory to carry out multidisciplinary scientific research, technological verifications and applications, said Zhou Jianping, chief designer of China's manned space program, on the launch ceremony of the submission process in Beijing Tuesday.
China's space station is also open to international cooperation. In 2018, 42 cooperation proposals from 27 countries about science experiments on the station have been received and departments concerned are working on a plan to implement them.
Quelle: Xinhua
+++
China's planned space station to support hundreds of experiments
Science facilities on China's planned Tiangong space station could support hundreds of space research projects after it's completed in 2022.
Sixteen experiment racks will be installed in the core module and two lab capsules of the space station, and an extravehicular experiment platform will be built.
Each rack is regarded as a lab that can support various space experiments, and astronauts can upgrade and replace the facilities.
In addition, a capsule holding a large optical telescope will fly in the same orbit as the station, according to the Technology and Engineering Center for Space Utilization (CSU) of the Chinese Academy of Sciences.
The facilities will support a large number of research projects in fields such as astronomy, space life science, biotechnology, microgravity basic physics and space materials science.
The CSU has made breakthroughs in key technologies and a test version of the experiment racks in the core module is almost finished, said Wang Ke, director of the CSU Integration Technology Center.
At about 1.8 meters high, 1 meter wide and 900 cm deep, each rack weighs less than 500 kg.
Although the racks are smaller with about half the weight of the racks on the International Space Station (ISS), they could have similar and even better performance. "We believe more important scientific results can be achieved on China's space station," said Wang.
The space station will carry a hydrogen clock, a cold atomic clock and an optical clock to establish a high-precision time and frequency system.
"The margin of error is less than 1 second every 3 billion years," said Zhang Wei, director of the Utilization Development Center of CSU.
The time and frequency system, as well as an ultra-low temperature cold atomic experiment system, will support research in general relativity, gravitational physics and quantum physics, said Zhang.
The 2-meter-caliber space telescope, which will share the same orbit, is expected to help scientists understand the mechanism of the accelerated expansion of the universe, dark energy and dark matter, the origin and evolution of the universe and life, Zhang said.
Scientists will also conduct space life science and biotechnology experiments on the station to study how human beings might live in space for long periods, and develop new medicines.
Research on fluids, combustion and materials science under microgravity conditions could help lay the foundation for future space exploration and utilization of space resources.
China is accelerating its timetable for the Tiangong space station, with the core module expected to be launched in 2020 and completion around 2022.
Weighing 66 tonnes, the space station will be a T shape with the Tianhe core module at the center and the Wentian and Mengtian lab capsules on each side.
The station, orbiting 340 to 450 kilometers above the Earth's surface, could be enlarged to 180 tonnes if required and accommodate three to six astronauts. It is designed to last at least 10 years, but this could be prolonged through in-orbit maintenance, Zhou Jianping, chief designer of China's manned space program, has said.
China is seeking international collaboration in experiments on the station to promote sustainable global development and cooperation.
Almost 100 international cooperation proposals have been received, and about 30 have passed the initial evaluation, said Zhang.
Quelle: Xinhua
+++
China's Long March-5B rocket to make maiden flight in 2020 for space station
China's Long March-5B carrier rocket is scheduled to make its maiden flight in the first half of 2020, according to the China Manned Space Engineering Office (CMSEO).
As a new generation of carrier rocket, the Long March-5B has the largest carrying capacity to low-Earth orbit. It will carry the core capsule and experiment capsules of China's space station.
China's Tiangong Space Station is expected to be completed in 2022. It is mainly comprised of the Core Capsule, Experiment Capsule I and Experiment Capsule II, with the aim of building a reliable operating space station and providing long-term support for the onboard astronauts.
The space station project will be implemented in three phases: key technology validation, construction and operation. Six flight missions, including the maiden flight of the Long March-5B rocket and launch of the test core capsule, have been scheduled in the first phase, and launches of experiment capsules in the second phase.
Each capsule will weigh about 20 tonnes. After a series of tests, the core capsule will be transferred into the flight model phase. The two experiment capsules are ready for final assembly, according to Wednesday's Science and Technology Daily.
The preliminary selection for candidates of astronauts has finished, and the development of space application system has carried on as planned, the paper cited Zhou Jianping, chief designer of China's manned space program.
The Long March-5B rocket is in production and undergoing tests for engine reliability, the paper said.
Quelle: Xinhua
+++
China to build scientific research station on Moon's south pole
China aims to build a scientific research station in the south polar region of the moon and realize manned lunar exploration mission in about ten years, said a senior space official on Wednesday.
Zhang Kejian, head of the China National Space Administration, made the remarks at the opening ceremony of China's Space Day in Changsha, capital of central China's Hunan Province.
China will launch the Chang'e-5 lunar probe to collect and return lunar samples back to Earth at the end of 2019, Zhang said.
Shaoshan, the hometown of China's late leader Mao Zedong, will be one of the permanent storage centers of the lunar samples, Zhang said.
He also mentioned in his speech that China plans to launch its first probe to explore Mars in 2020.
China joined the space club on April 24, 1970, when the Long March-1 carrier rocket launched the country's first satellite, Dongfanghong-1, into orbit.
Since 2016, China has set April 24 as the country's Space Day. The various activities on Space Day have become a window for the Chinese public and the world to get a better understanding of China's aerospace progress.
The theme of this year's activities is to "pursue space dreams for win-win cooperation."
Quelle: Xinhua
2033 Views