A Canadian Jewish billionaire gave Israel's space effort a $5 million boost this week, a month before the country's first spacecraft is expected to take-off for the moon.
Sylvan Adams, who made aliyah in 2015 and later brought the Giro d'Italia bike race to Israel, committed the money on his 60th birthday during a tour of the facilities in which the spacecraft is being assembled.
The project aims to make Israel the fourth country to land a craft on the surface of the moon, and is being led by SpaceIL, a non-profit initiative led by three friends who refused to give up after failing to win a $20 million lunar prize from Google in March.
The trio hope to create an "Apollo effect" in Israel, to encourage the next generation of Israeli children to choose to study science, technology, engineering and mathematics (STEM), and Adams said this played a big part in his reasoning.
"I believe that sending the first Israeli spacecraft to the moon will inspire Israeli school children to take up STEM studies and think about space exploration, and especially to believe that everything is possible," he said.
The main funder of the SpaceIL project is South Africa-born Israeli billionaire Morris Kahn, who has donated $27 million. He thanked Adams this week, adding: "We are now in the final stretch."
The Israeli craft is expected to launch from Florida's Cape Canaveral next month, with a two-month journey to the moon ahead of touchdown on 13 February 2019.
Quelle: JEWISH NEWS
----
Update: 18.12.2018
.
First private Israeli lunar mission will launch in February
An Israeli organization says that it has pushed back its launch of the first private spacecraft aiming to land on the moon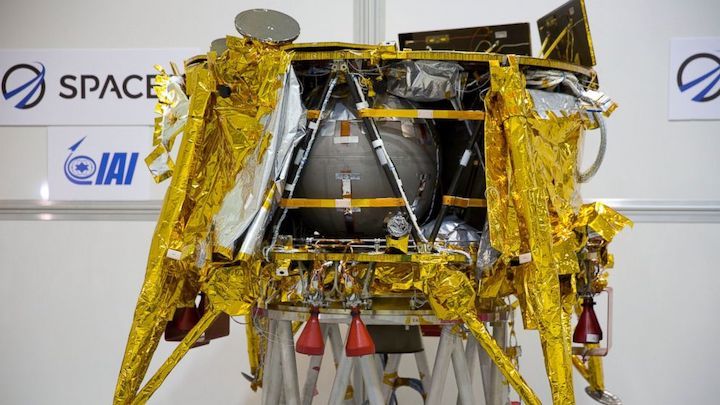 An Israeli nonprofit on Monday said it has pushed back the launch of what it hopes will be the first private spacecraft to land on the moon until February.
Officials from SpaceIL and its project partner, the state-owned Israel Aerospace Industries, announced that the landing craft, dubbed "Beresheet," or Genesis, will ship in February to Florida. Propelled by a SpaceX Falcon rocket launch, the robotic lander will then commence its months-long voyage to the moon. It had been slated to launch this month.
SpaceIL said it had no control over the launch's delay, and that SpaceX, the private space exploration company founded by entrepreneur Elon Musk, notified them that its rocket will now lift off in February 2019 without providing an explanation.
Israel Aerospace Industries manager Opher Doron stressed that the small craft, roughly the size of a washing machine, faces a "difficult, arduous journey" because it will have to make several orbits before touching down on the moon. Upon landing, the craft is to relay photographs and collect data about the moon's ever-changing magnetism for research by Israel's Weizmann Institute and NASA.
On Monday, SpaceIL representatives presented a time capsule that will accompany the spacecraft to the moon.
The capsule, in the shape of a DVD, holds pictures of the Israeli public, interpretive drawings by Israeli children and other pieces of national memorabilia, including stories of Holocaust survivors.
"We hope that far in the future, when travel to the moon is as common as trans-Atlantic travel, that children will be able to understand the lives of their Israeli ancestors through this archive on the moon," said SpaceIL co-founder Yonatan Winetraub.
A crowd of Israeli reporters, clad in sanitized white coats, burst into applause as Winetraub fastened the capsule to the underbelly of the craft.
SpaceIL was founded in 2011 and originally vied for Google's Lunar Xprize, which challenged private companies to try to land an unmanned spacecraft on the moon.
But the $20 million competition was scrapped by the tech giant earlier this year when it became clear none of the five companies would meet a March deadline.
SpaceIL has vowed to continue the mission and hopes that its ambitious $95 million project, largely funded by South African-Israeli billionaire Morris Kahn and other donors, will spur a new wave of commercial missions to the moon and jump-start new companies.
Israel would become the fourth country to land a craft on the moon, after the U.S., the Soviet Union and China.
Quelle: abcNews
----
Update: 21.01.2019
.
First Israeli Spacecraft Transported to Florida by SpaceIL – Historic Moon Mission to Take Place Next Month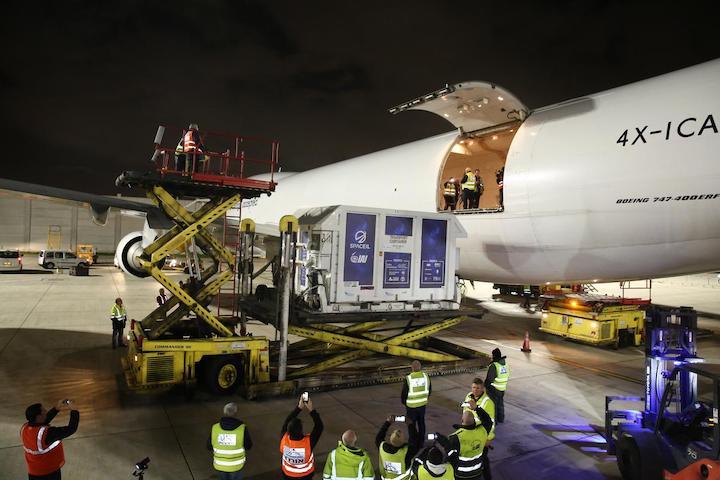 The spacecraft, inside a temperature-controlled shipping container, was loaded into a cargo plane at Ben Gurion Airport and then flown to Florida. (Photo credit: Eliran Avital)
Israeli nonprofit SpaceIL and Israel Aerospace Industries (IAI)'s first lunar spacecraft began a historic journey to the moon earlier this week, when it was transported in a cargo plane from Ben Gurion Airport to Orlando, Florida, ahead of launching from SpaceX Launch Complex 40 (SLC-40) at Cape Canaveral Air Force Station next month.
SpaceIL and IAI recently packed the 180-kilogram spacecraft into a special temperature-controlled, sterile shipping container, built to protect the spacecraft and ensure it arrives safely at the launch site. After landing at Orlando International Airport, the spacecraft – named Beresheet (the Hebrew word for in the beginning) – will then be driven to Cape Canaveral Air Force Station, where it will be added as a secondary payload by launch service provider Spaceflight. It will be launched on a SpaceX Falcon 9 rocket together with a geostationary communications satellite built by SSL. The launch is targeted for no earlier than mid-February.
"After eight years of hard work, our dream has come true: We finally have a spacecraft," said SpaceIL CEO Ido Anteby. "Shipping the spacecraft to the United States is the first stage of a complicated and historic journey to the moon. This is the first of many exciting moments, as we look forward to the forthcoming launch in Cape Canaveral."
IAI Director of Logistics Eyal Shitrit said that though IAI has extensive experience in complex shipping projects, "the transporting of Beresheet is a unique challenge since this is a once-in-a-lifetime mission and there is no backup plan – this spacecraft must arrive safely."
In addition to the container holding Beresheet, two more containers will be included in the cargo plane, which itself is temperature controlled. SpaceIL and IAI engineers will accompany the spacecraft on the flight to Florida, and more engineers will join them in Cape Canaveral. Beresheet will undergo final tests before being launched by a SpaceX Falcon 9 rocket.
Upon completing its lunar mission ¬– the first in Israel's history and the first that's privately funded – Israel would join superpowers China, Russia and the United States in landing a spacecraft on the moon.
Since the establishment of SpaceIL, the task of landing an Israeli spacecraft on the moon has become a national project, with educational impact, funded mainly by Morris Kahn, a philanthropist and businessman who took the lead in completing the mission, serving as SpaceIL's president and financing $40 million.
"The excitement we all feel today will only intensify moving forward, and I can't wait for the next milestone," said Kahn. "This is only the beginning."
Additional donors include Dr. Miriam and Sheldon Adelson – whose $24 million contribution enabled the project to continue – and Lynn Schusterman, Steven and Nancy Grand, Sylvan Adams, Sami Sagol and others.
Please find below photos and a video of SpaceIL and IAI packing Beresheet, the first Israeli lunar spacecraft, into a special shipping container and then into a cargo plane.
Quelle: The Jewish Voice
----
Update: 12.02.2019
.
Exclusive: An interview with the co-founder of Israel's historic moon mission
Just days before liftoff, Yonatan Winetraub reveals what sparked the idea, the planned lunar experiments and what surprising gifts are onboard.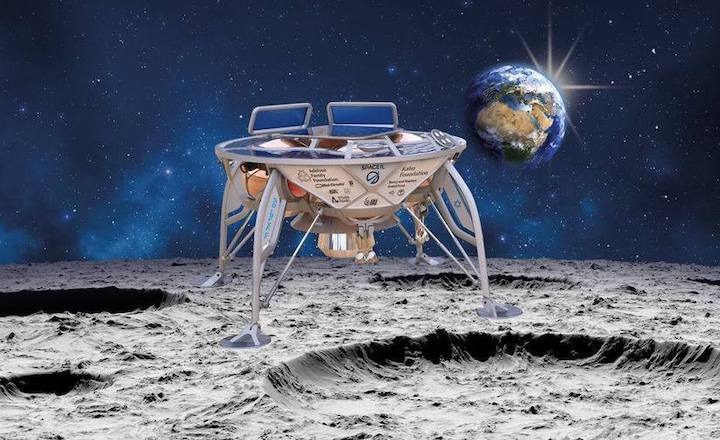 Like many good ideas, it was hatched after an evening of drinking.
Three young Israelis – Yonatan Winetraub, Yariv Bash and Kfir Damari – were at the only bar in Holon, a small town just south of Tel Aviv. They made for an intriguing ensemble: a space engineer, a cyber security expert and a drone maker.
As the night wore on, they came up with an audacious plan to build a spacecraft that could land on the moon. "As the alcohol level in our blood rose, we got more and more determined to do this," Winetraub recalled during a recent interview with From The Grapevine. "And it never faded away."
Nearly a decade later, their alcohol-infused idea is about to make history. Their spacecraft will lift off from the Kennedy Space Center in Florida next week. If all goes as planned, the trio's ship carrying the flag of their native country will make Israel only the fourth country to ever successfully land on the moon – after the U.S, Russia and China. Moreover, it will mark the first-ever privately funded trip (i.e. not paid for by a government) to land on the lunar surface.
"It's going to be the conclusion of 8 1/2 years of really hard work," Winetraub said. "When we started it, we had no idea if it was actually going to succeed." To paraphrase the old Chinese proverb: The journey of thousands of miles begins with one step. Or a beer.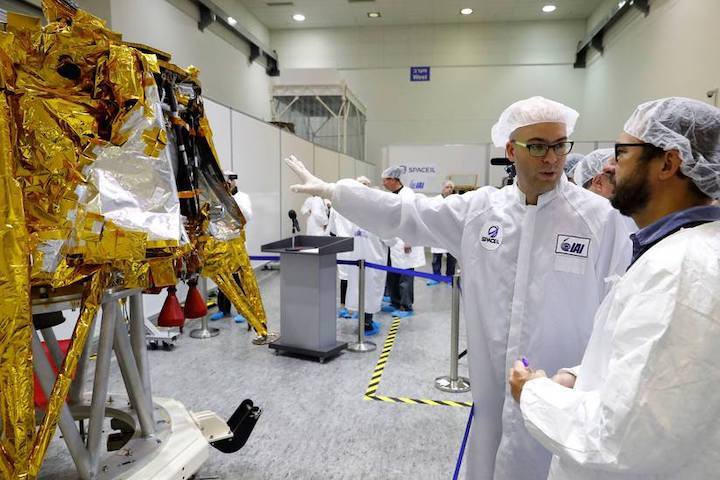 Yonatan Winetraub (left) points to the spacecraft at a media event in December in Israel. (Photo: Jack Guez / AFP/Getty Images)
Their lunar aspirations came at a propitious time. For years, NASA has been moving away from moon missions, opting instead for routine trips to the International Space Station as well as hyping a glitzier journey to Mars. Billionaires like Elon Musk, Jeff Bezos and Richard Branson have stepped in to help fill the void. As did Google.
Back in 2007, the Silicon Valley tech giant established the Google X Prize. It offered $20 million to the first team to land a rover on the moon and send back high-definition video. Groups from all over the world signed up, hoping to take part in this modern-day space race.
The three Israelis – who called their team SpaceIL – excelled in the competition, quickly separating themselves from the pack by becoming one of the top three teams. (Bash played double duty during this time, also launching a company that builds drones that deliver burgers to golfers.) As the contest waged on, Google had to keep pushing back the deadline to allow more time for the teams to work. In early 2018, with no team able to meet the latest deadline, Google withdrew the prize money.
But SpaceIL was so close to finishing the project, only months away from completion. They decided to keep going, and that bet paid off. In total, thanks to around $100 million in private donations, they pulled off the unthinkable.
The ship was completed in late 2018. A dedication ceremony in December christened the spacecraft the Beresheet, Hebrew for "Genesis." In January, it was shipped from Israel to the United States, where it has taken up residence at Cape Canaveral to undergo final tests before the launch.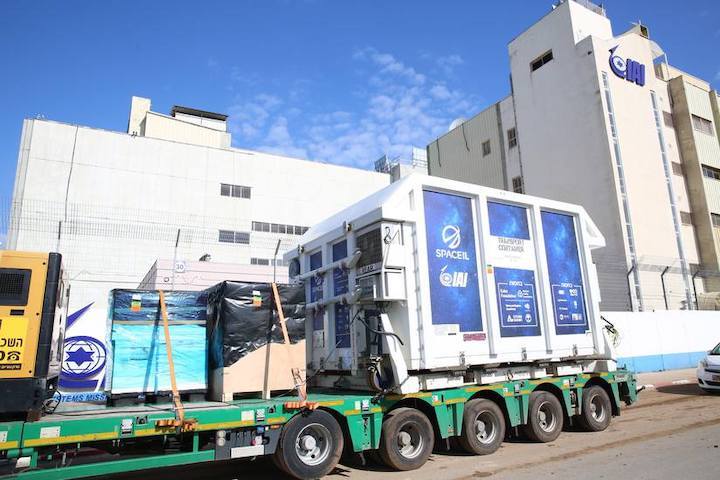 The spaceship was driven from the factory to Israel's Ben Gurion Airport, where it was packed into a cargo plane. (Photo: Eliran Avital)
It's no surprise that the ship, which is about the size of a smart car, will be the smallest spacecraft ever designed for a lunar landing. Since the launch of Israel's space program during the 1980s, the Mediterranean country has been forced to innovate. Most countries launch rockets eastward, in conjunction with the Earth's rotation. "The Earth's rotation has some velocity to it and that can give you an extra push to go to space," Winetraub explained.
But due to geographic limitations, Israel launches its spacecrafts westward, toward the Mediterranean Sea. "Not only don't we get the extra push from the Earth's velocity, but we get the push in the opposite direction." To counteract this takes more fuel and more efficiency. Israel has become so successful at making lightweight space equipment and satellites that other countries – like the U.S., Germany and France – have entered into cooperating agreements with Israeli space companies.
Another cost-efficiency method is not flying to space on your own. Instead, SpaceIL will be hitching a ride aboard a SpaceX rocket. Think of it like an Uber carpool ride into space. "It's less of a piggyback, and more like a ride-share," Winetraub told us. "There are passengers in the front seat and passengers in the back seat all going up to space. Because we're getting off last, other payloads get dropped off first. So it takes a while." A trip to the moon would normally only take days. But because SpaceIL will be the last passenger to be dropped off, it will take about 2 1/2 months. Winetraub predicted it would be around late April before their ship lands on the moon.
Winetraub will be in Florida next week to watch the launch firsthand, while others from SpaceIL will be stationed at a ground control center in Israel, where they will begin receiving signals from the Beresheet. "In a sense, it's like the birth of a spacecraft. There's a lot of work to be done."
Despite all their rigorous pre-launch testing, there's only so much they can do to prepare. The ship has never been exposed to the actual rigors of interplanetary space travel, so anything is possible. "It's a complicated engineering process with so many parts," Winetraub said. "We have the best engineers in Israel working on this. We're hoping everything goes smoothly, but you actually don't know."
The trip is more than just a history-making venture and will embark on some scientific research. Once it lands, it will conduct experiments on the moon's magnetic field. NASA recently installed some of its own monitoring devices onto the ship as well. Equipped with an external camera, the craft will also be able to broadcast video of what it's seeing back to mission control here on Earth.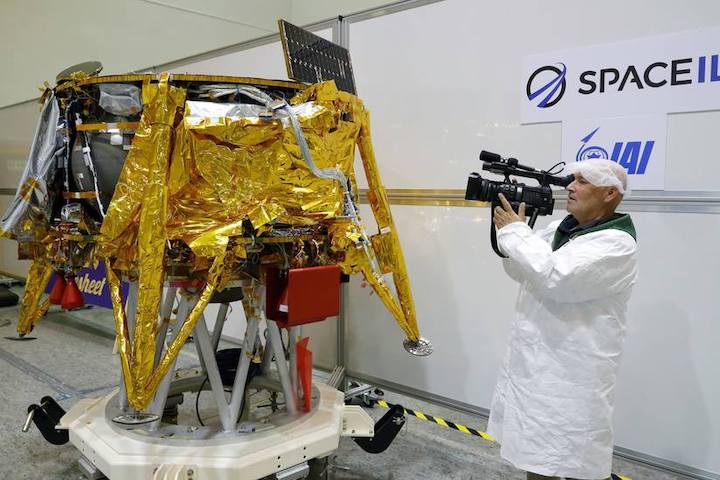 A journalist films the spacecraft during a presentation for the media on Monday. (Photo: Jack Guez / AFP/Getty Images)
This will be a one-way trip, as the spacecraft will remain on the moon for future explorers to discover. SpaceIL has placed a time capsule aboard the ship consisting of three discs – each containing hundreds of digital files. Among them are drawings by Israeli children, MP3 files of Israeli songs and photos of Israeli landscapes. "It is very possible that future generations will find this information and want to learn more about this historic moment," Winetraub mused.
SpaceIL is also hoping their lunar landing becomes an educational calling card, something akin to JFK's inspirational "We choose to go to the moon" speech. "Kids today in Israel and also in the U.S., they're not as interested in science and engineering because it's harder. It's much easier to watch reality TV," said Winetraub, who himself admitted to watching "The Real Housewives" in his spare time. "But especially here in the Startup Nation, we need scientists and engineers. So we wanted to shift the attention towards that direction."
He hopes this message resonates with the next generation. "We live in an era when these kids are going to be able to make their own rocket ships, or solve global warming, or clean up the oceans or whatever it is that they want to do. The technology is going to catch up with their dreams," he said. Through public lectures and other activities, SpaceIL has already reached more than a million kids. They've also created an online course for students about space travel, and a children's book called "The Little Spacecraft" will be published. "This is something we're very proud of," Winetraub told us. "When you see the spark in the kids and you see how excited they are, it affects you as well. It kind of fills you up to see the sparks in their eyes."
As if shepherding a space journey wasn't enough, it's only one of the big-ticket missions in Winetraub's life. The countless hours of work on the SpaceIL project has put the 32-year old Tel Aviv native a tad behind in his schoolwork. He's currently a Ph.D. student at Stanford, researching ways to detect cancer at a much earlier stage. "The sooner you detect it the more likely you are to be cured from it," he said.
He sees parallels between the two paths of his life's work, pointing out that both cancer research and space travel have seen incredible progress in the past decade. When asked which field he considers harder to crack, he didn't have to think long. "As much as a spaceship is complicated machinery, the human body is much more complicated and well engineered."
He also said he hopes to himself travel to space one day. But, for now, that trip is on the back burner as he makes final preparations for the Beresheet's launch. Before hanging up, he left us with this plea: "Please cross your fingers because this is a hard mission and we need all the help that we can get."
Quelle: From the Grapevine