15.07.2018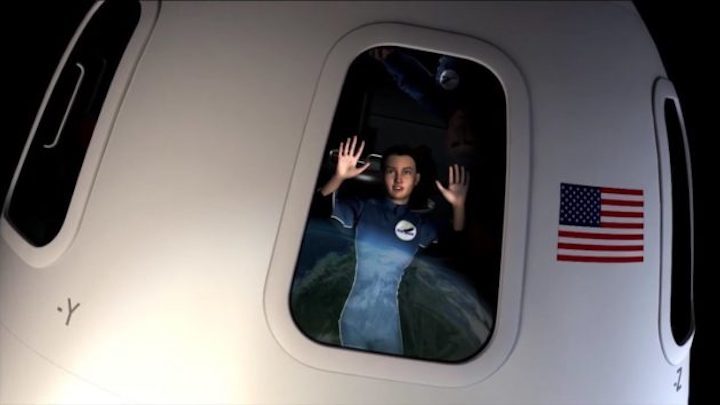 Amazon billionaire Jeff Bezos' space venture, Blue Origin, is playing down reports that a suborbital space trip on its New Shepard rocket ship could cost $200,000 to $300,000.
"We have not set ticket pricing and have had no serious discussions inside of Blue on this topic," Blue Origin said in an emailed statement. "We will begin selling tickets sometime after our first human flights and are focused on developing New Shepard."
Blue Origin has flown eight uncrewed flight tests of the New Shepard spacecraft, which consists of a reusable booster that flies itself back to a landing and a crew capsule that floats back down at the end of a parachute.
Further uncrewed flight tests reaching as high as 100 kilometers, the internationally recognized boundary of space, are expected in the months ahead. Blue Origin CEO Bob Smith told GeekWire in April that the company is aiming to start flying people by the end of this year.
Those people won't be commercial customers, however.
"We will fly Blue Origin astronauts before we fly commercial passengers and haven't done any real work on passenger selection or the ticket sale process," the company said.
Blue Origin does, however, offer an email notification list for would-be passengers, and it recently advertised a position for an astronaut experience manager. (The ad was removed not that long ago, which could mean the position is filled. Or not.)
They company has former NASA astronauts on its staff, and in private conversations, they tend to say they'd love to have first crack at flying on New Shepard.
There have also been rumblings that Blue Origin employees would get an early chance to fly. Last year, one newly hired employee went so far as to tell a newspaper reporter that there was a lottery for New Shepard seats. (The company pooh-poohed that report.)
This week's report from Reuters, claiming that the price tag for a flight could be set in the range of $200,000 to $300,000, was attributed to two unnamed Blue Origin employees who were said to have knowledge of the pricing plan. For what it's worth, those figures are in the same range as the price tag advertised by Virgin Galactic, which is also testing a suborbital spaceship for passenger flights.
It's not outside the realm of possibility that the future price tag is a topic of conversation at the Blue Origin's headquarters in Kent, Wash., particularly if there's now an astronaut experience manager on the case. But today's statement suggests that it's too way too early to write a check.
"We will fly passengers when we are ready," Blue Origin said. "We have a flight test schedule, and schedules of those types always have uncertainties and contingencies. Anyone predicting dates is guessing."
Quelle: GeekWire
1206 Views