11.07.2018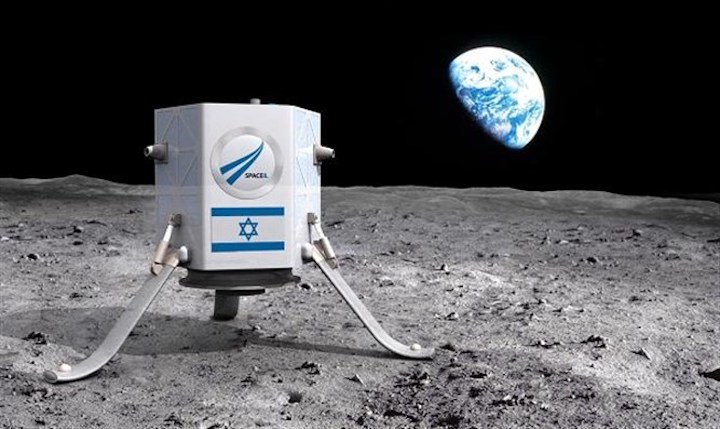 An Israeli spacecraft will land on the moon early in 2019, the SpaceIL corporation announced Tuesday, in a mission which would make Israel the fourth country to make a lunar landing.
The SpaceIL spacecraft will be launched from the United States on a Falcon 9 orbital launch vehicle, built by Elon Musk's Space Exploration Technologies Corporation, or SpaceX.
At a press conference on Tuesday, SpaceIL representatives announced that the unmanned lunar landing craft will be transferred to the US in November, with a launch date in December.
According to SpaceIL, the unmanned space vessel will reach the moon and complete the lunar landing on February 13th next year.
If successful, the mission would make Israel the fourth country to make a soft-landing by an unmanned vehicle on the moon. The USSR, US, and China have landed unmanned vehicles in "soft landings" since 1966. The US remains the only country to have undertaken a manned mission to the moon, with six successful Apollo mission lunar landings from 1969 through 1972.
During its mission, the unmanned SpaceIL vehicle will plant the Israeli flag on the moon, SpaceIL CEO Dr. Ido Anteby said.
"We will plant the Israeli flag on the moon," said Anteby. "This is a small but smart spacecraft. It is 2 meters (6.6 feet) in diameter and about half a meter (1.65 feet) tall. It weighs 600 kilograms (1,323 pounds). When it lands on the moon, it will weigh 180 kilograms (397 pounds).
After its launch, the SpaceIL spacecraft will be carried into an Earth orbit at some 60,000 kilometers (37,282 miles) from the surface of the Earth.
From there, the spacecraft will gradually make its way to the moon from an elliptical orbit around the Earth. This will make the travel time far longer than on past missions to the moon, while saving on fuel and thus reducing launch weight.
SpaceIL first announced plans for a lunar landing ahead of Google's 2012 Lunar X Prize, which promised $20 million for the first team to successfully land a vehicle on the moon.
While the contest ended with no winner, in 2014 SpaceIL launched a fundraising campaign, and received $16.4 million from American Jewish donors Miriam and Sheldon Adelson.
Quelle: ARUTZ SHEVA 7
+++
Israel announces mission to land spacecraft on the Moon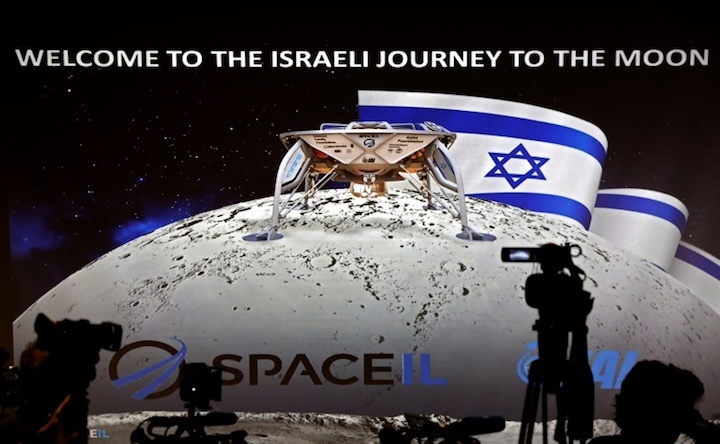 Organisers hold a press conference on July 10, 2018 ahead of the planned launch of Israel's first lunar spacecraft
THOMAS COEX (AFP)
-
Israel announced on Tuesday that it will launch its first lunar mission in December, with the hopes of becoming the fourth country to land a spacecraft on the moon in February 2019.
Israeli space exploration firm SpaceIL, together with Israel Aerospace Industries (IAI), will launch a spacecraft into orbit via a SpaceX rocket in December, which they intend to land on the moon in February 2019.
"We will all remember where we were when Israel landed on the moon," Morris Kahn, one of the project's leaders, said announcing the mission.
So far, only the US, Russia and China have landed spacecrafts on the moon.
The project began as part of the Google Lunar XPrize, which offered $30 million (25 million euros) in prizes to encourage scientists and entrepreneurs to come up with relatively low-cost moon missions.
With its 585 kilograms, two meters in diameter and a meter and a half high, the Israeli spacecraft will be the smallest to ever land on the moon, Ido Anteby, the CEO of the nonprofit SpaceIL said on Tuesday.
It will be launched via a rocket from American entrepreneur Elon Musk's SpaceX firm and its mission will include research on the moon's magnetic field.
Its first task however will be to plant an Israeli flag on the moon, organizers said.
The IAI-built spacecraft, which was build in 2013, will be transferred to the United States in November, ahead of the launch.
The overall cost of the project is estimated to be around $95 million.
The first Israeli astronaut for NASA was Ilan Ramon, who was among those killed when Space Shuttle Columbia crashed on February 1, 2003.
Ramon became the first foreign recipient of the US Congressional Space Medal of Honor, which he was awarded to him posthumously.
Space Shuttle Columbia was a 16-day flight dedicated to experiments and research.
Before embarking on a career as an astronaut, Ramon was an elite pilot in the Israeli Air Force, and among the few pilots who took part in the 1981 airstrike on Iraq's nuclear reactor.
Quelle: i24NEWS
---
Update: 12.09.2018
.
Israeli moon lander to ride SpaceX rocket in Spaceflight's first move beyond low Earth orbit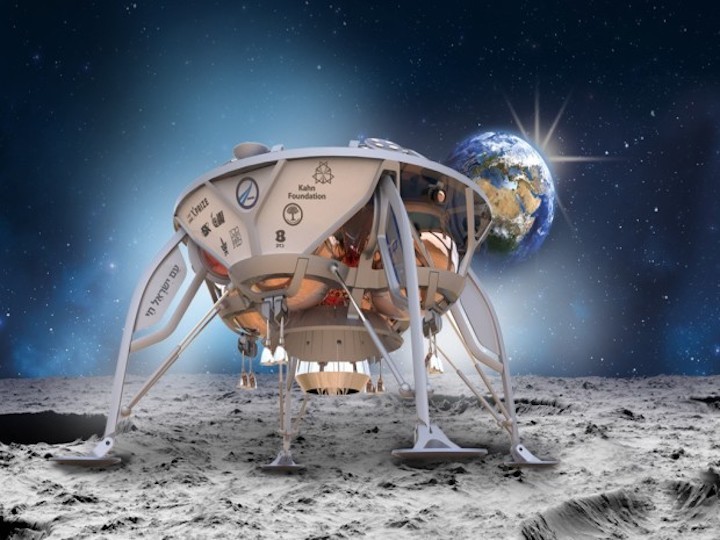 SpaceIL's lunar lander is go for launch as a secondary payload on a SpaceX Falcon 9 rocket that's due to send a telecommunications satellite into geosynchronous orbit, Seattle-based Spaceflight announced today.
The launch, expected early next year, would represent the first Spaceflight rideshare mission to go beyond low Earth orbit. And Israel-based SpaceIL's mission would represent the first non-governmental landing on the moon.
Spaceflight timed its announcement to coincide with Euroconsult's World Satellite Business Week conference in Paris. It said rideshare opportunities to geosynchronous transfer orbit, or GTO, would be made available every 12 to 18 months, or as customer demand requires.
Although Spaceflight didn't identify the primary payload for Spaceflight's first GTO mission, it's thought to be the PSN-6 telecommunications satellite, which was built for Indonesia's PT Pasifik Satelit Nusantara by SSL, a Maxar Technologies subsidiary. This would be the first combined launch for Spaceflight and SSL.
"We're focused on getting our customers' spacecraft into orbit in the most expeditious, cost-effective manner possible," Spaceflight President Curt Blake said in a news release. "The rideshare model is beneficial to everyone; the primary spacecraft as well as all the secondaries pay less than if they contracted to launch individually. In addition, working with a reliable partner like SSL to fulfill our first GTO mission increases our ability to service this growing destination. We're looking forward to making GTO a routine and affordable destination for our clients."
The mission plan calls for several of Spaceflight's rideshare payloads to be deployed from geosynchronous transfer orbit. SSL's host spacecraft would then continue onward to geosynchronous orbit, where the remaining rideshare satellites would be separated.
Spaceflight didn't identify any of the payloads other than SpaceIL's, and didn't disclose the prices that were paid. Spaceflight, which provides satellite rideshare and mission management services in league with a wide range of launch providers, is a subsidiary of Seattle's Spaceflight Industries.
David Bernstein, senior vice president of program management at SSL, hailed Spaceflight's "innovative approach to aggregating launches and bringing a more cost-effective launch model to the industry as a result."
"Working as a team with Spaceflight and SpaceX, we are enabling a unique mission that ultimately accomplishes a translunar injection, prior to dropping off other payloads on our way to geostationary orbit for the primary communications satellite," Bernstein said.
SpaceIL was one of the competitors in the $30 million Google Lunar X Prize, which was terminated early this year when organizers determined that none of the teams could get to the moon before the March deadline.
During a July news conference in Israel, SpaceIL's team leaders said they expected to have their spacecraft launched by the end of this year, kicking off an energy-efficient, two-month trip to the moon. At the time, their schedule called for the 600-kilogram (1,300-pound) lander to touch down on the lunar surface on Feb. 13, 2019, but that schedule may have to be revised to reflect a later time frame for the launch.
After landing, the spacecraft would send back photos and videos as well as data about the moon's magnetic field.
SpaceIL's organizers say about $88 million has been invested in the effort, mostly from private donors but also from organizations including the Israel Space Agency; Israeli's Ministry of Science, Technology and Space; and the Weizmann Institute of Science. SpaceIL President Morris Kahn, an Israeli billionaire investor, reportedly has donated $27 million.
Quelle: GeekWire
471 Views