10.07.2018
Russia's new-generation Orlan-MKS spacesuits may get a jet-propelled rescue system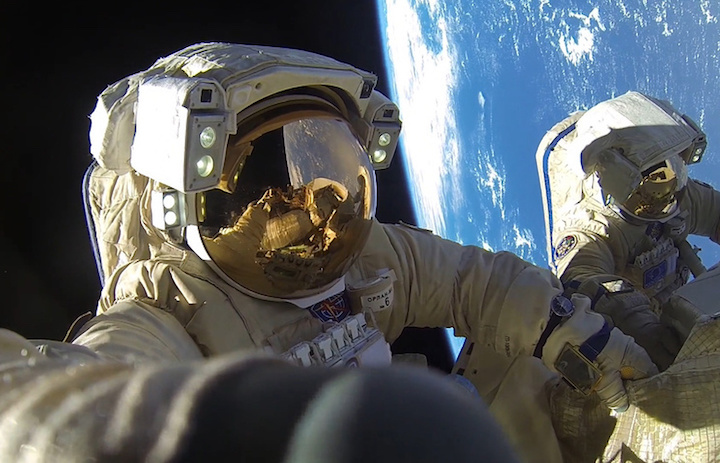 Russia's new-generation Orlan-MKS spacesuits may get a jet-propelled rescue system and a helmet-mounted display for advice for cosmonauts, CEO of the Zvezda Research and Production Enterprise (the spacesuit's developer) Sergei Pozdnyakov told TASS on Monday.
As of today, Zvezda has specified the maximum and minimum lists of work on the Orlan spacesuit, he said.
"We plan to make minimum upgrades of the sleeves and, possibly, to increase the size of the entry into the spacesuit in order to remove inconveniences for big cosmonauts during its use. With regard to maximum work, we plan to integrate an automatic rescue system into the spacesuit and data display system into the helmet for projecting information to the cosmonaut," Pozdnyakov said.
The helmet-mounted display should be similar to the system used by military pilots when information is projected to the aircraft cockpit glass. With the help of this system, cosmonauts will be getting advice for work they accomplish, the chief executive said.
The automatic rescue system envisages integrating jet engines into the spacesuit to properly guide a cosmonaut who gets away from a space station or spacecraft and bring him back. The work on developing this system may take up to three years and a half, the Zvezda chief executive said.
Not all the items can be made using domestic materials and, in case of restrictions, work will be carried out in its minimum scope "only with Russian components," the chief executive said.
The need to change the Orlan-MKS spacesuit sleeves stems from inconveniences for some cosmonauts with short arms to work: the new polyurethane casing is not as elastic as rubber that was used previously and, therefore, creates folds. Zvezda intends to make the sleeves easily removable to make the spacesuit customized for the individual.
The climate control system integrated into the Orlan-MKS spacesuit works normally, although some cosmonauts spoke in favor of manual regulation, he said.
Orlan-MKS spacesuit
The Orlan-MKS spacesuit differs from the previous Orlan-MK version by its new internal polyurethane casing and a new water cooling system, which should automatically set the most comfortable temperature for the operator.
Currently, two such spacesuits are located on the International Space Station and a Progress resupply ship will deliver the third outfit to the orbital outpost on July 10.
A source in the space industry earlier told TASS that after their spacewalks in new spacesuits, the cosmonauts complained about the more rigid casing and some discomfort during work with the Orlan MKS spacesuit's new thermoregulation system.
Quelle: TASS
1195 Views