12.01.2018

SpaceX's Dragon cargo spacecraft is scheduled to splash down in the Pacific Ocean on Saturday, Jan. 13, west of Baja California, with approximately 4,100 pounds of NASA cargo, science and technology demonstration samples from the International Space Station.
The Dragon spacecraft will be taken by ship to Long Beach, California, where some cargo will be removed immediately for return to NASA. Dragon then will be prepared for a return trip to SpaceX's test facility in McGregor, Texas, for final processing.
A variety of technological and biological studies are returning in Dragon. Hardware from the Made in Space Fiber Optics payload, which demonstrated manufacturing fiber optic filaments in a microgravity environment. Designed by the company Made in Space and sponsored by the Center for the Advancement of Science in Space (CASIS), the investigation pulled fiber optic wire from ZBLAN, a heavy metal fluoride glass commonly used to make fiber optic glass. Research indicates that ZBLAN fiber pulled in microgravity may not crystalize as much, giving it better optical qualities than the silica used in most fiber optic wire. Results from this investigation could lead to the production of higher-quality fiber optic products both in space and on Earth.
Samples from APEX-05 were used to study a stress reaction in plants when experiencing reduced oxygen availably (hypoxia), which occurs for example, during times of soil flooding. Such natural hypoxic events are sensed by plants and can lead to either changes in growth and development to aid in the plant's survival, or in extreme cases, lead to significant losses in productivity and even death. These spaceflight experiments may help provide molecular targets for manipulation to help make plants more tolerant of low oxygen conditions and so contribute to agriculturally important traits such as crop flood tolerance.
Mice from NASA's Rodent Research-6 study also will return live to Earth for additional study. The investigation, which was conducted jointly with the U.S. National Lab, evaluated a new drug delivery device for administering continuous low doses, which could help counteract muscle wasting and prevent the need for daily or frequent drug administration. A tiny capsule, implanted under the skin, delivers a constant, low dose of a drug via a silicone membrane, with channels as narrow as 1/50,000 the width of a human hair. The drug, called formoterol, is a common therapy in asthma inhalers and for other lung diseases that relaxes muscles responsible for tightening a patient's airways. The low-dose delivery also could help avoid the known side effects of taking high doses long-term.
Dragon is the only space station resupply spacecraft currently able to return cargo to Earth. The spacecraft lifted off from Space Launch Complex 40 at Cape Canaveral Air Force Station in Florida Dec. 15 carrying about 4,800 pounds of supplies and scientific cargo on the company's 13th commercial resupply mission to the station. It arrived on station Dec. 17.
For more than 17 years, humans have lived and worked continuously aboard the station, advancing scientific knowledge and demonstrating new technologies, making research breakthroughs not possible on Earth that will enable long-duration human and robotic exploration into deep space. A global endeavor, more than 200 people from 18 countries have visited the unique microgravity laboratory that has hosted more than 2,100 research investigations from researchers in more than 95 countries.
Quelle: NASA
---
Update: 13.01.2018
.
SpaceX's CRS-13 Dragon returns home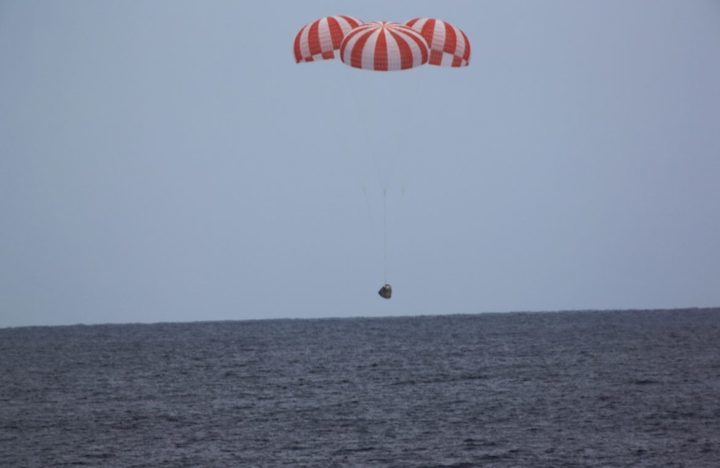 SpaceX's CRS-13 Dragon unberthed from the ISS ahead of a return to a Pacific Ocean splashdown on Saturday, concluding the spacecraft's latest resupply mission. Dragon returned with 4,100 pounds of cargo, highlighting her unique downmass capability for NASA. Splashdown occurred around 10:36 Eastern Time (07:36 local time on the West Coast).

Dragon has enjoyed yet another successful trip into space.
Launched by Falcon 9 (B1035.2) from a returning SLC-40 at Cape Canaveral, Dragon has enjoyed an issue-free orbital trip to the ISS.
Following a smooth rendezvous with the International Space Station, she was berthed to Node-2 Harmony's nadir port.
The attachment to the orbital outpost marked the delivery of 4,861 lbs (2,205 kg) of cargo to the ISS: 1,080 lbs (490 kg) of Crew Supplies; 1,567 lbs (711 kg) of Science Investigations; 363 lbs (165 kg) of EVA Equipment; 416 lbs (189 kg) of Vehicle Hardware; 11 lbs (5 kg) of Computer Resources; and 1,422 lbs (645 kg) of unpressurized, external cargo in Dragon's trunk.
Of the science payloads launched to Station, two were external experiments in the trunk of the Dragon, namely the Total and Spectral Solar Irradiance Sensor (TSIS-1) and the Space Debris Sensor.
Both payloads were successfully removed during Dragon's berthed operations, while the ISS crew removed the multitude of payloads from her pressurized module, before re-filling it with downmass.
Over recent days, the SSRMS moved into operations to prepare for the departure of Dragon.
The ISS crew also checked out the vital communication system that will be employed during the departure of Dragon, such as the Commercial "Off-The-Shelf (COTS) Ultra High Frequency (UHF) Communication Unit (CUCU) and Crew Command Panel (CCP)
Friday night marked the unberthing of the vehicle from Node 2.
Whilst being firmly held in the snares of the Latching End Effector (LEE) on the end of the SSRMS, bolts securely fastening Dragon to the nadir (Earth-facing) Common Berthing Mechanism of Node-2 Harmony were driven to the retract position, freeing Dragon from its berthing port on the Station.
Dragon was then maneuvered on the end of the SSRMS away from the main structure of the ISS to its release point 10 meters from the orbital lab.
For this release, the Dragon will depart via ground controls, with Expedition 54 Flight Engineers Joe Acaba and Scott Tingle monitoring, as opposed to conducting the operation themselves.
The exact time of release is always subject to change from the announced plan due to lighting conditions, communications coverage, and day-of timeline activities. CRS-13's release was marked as at 3:58 AM Eastern.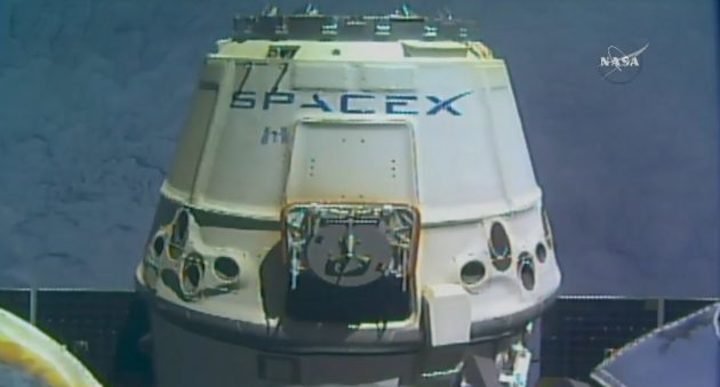 Once the LEE snares were released, the SSRMS backed away from Dragon as the craft held its position at the 10m mark.
Once the Station's arm is cleared to a safe distance, Dragon conducted a series of three small thruster firing departure burns that move the capsule down the R-Bar (Radial Vector) and away from the International Space Station toward Earth (when viewed in relation to ISS orientation and Dragon movements with respect to Earth).
During the initial stage of departure, Dragon was under the control of its own computer programming, with the Station crew and controllers at Mission Control Houston in Texas for NASA having primary control over the spacecraft.
As Dragon pushes down the R-Bar, the largest of the three thruster departure burns imparted enough Delta Velocity (Delta-V) change to Dragon to push it outside of the approach ellipsoid.
The approach ellipsoid is a 4 km by 2 km oval-shaped region around the International Space Station that extends 2 km in front of and 2 kilometers behind the ISS along the velocity vector (V-Bar) and 1 km above and 1 km below the Station along the R-Bar.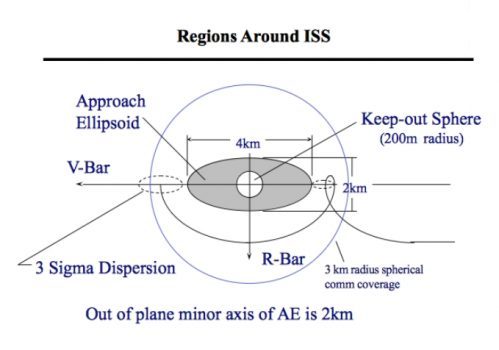 Once Dragon cleared the approach ellipsoid 1 km below the ISS, primary control of the vehicle shifted from NASA to SpaceX controllers in Hawthorne, California.
Dragon conducted several hours of free flight activities as controllers at Mission Control SpaceX prepared the vehicle for the end of its mission.
This included the closure of the Guidance Navigation and Control (GNC) bay door on Dragon, creating a perfect thermal protection seal around the entirety of Dragon for entry.
At the appropriate time, Dragon's Draco thrusters began a 10-minute firing sequence known as the deorbit burn to slow the capsule and place it on to the proper heading for entry into Earth's atmosphere.
Following the deorbit burn, the umbilicals between Dragon and her external payload trunk were severed ahead of the trunk's separation from Dragon itself.
Dragon then places its heat shield out in front in preparation for Entry Interface (EI) – the moment Dragon reached the first traces of Earth's upper atmosphere.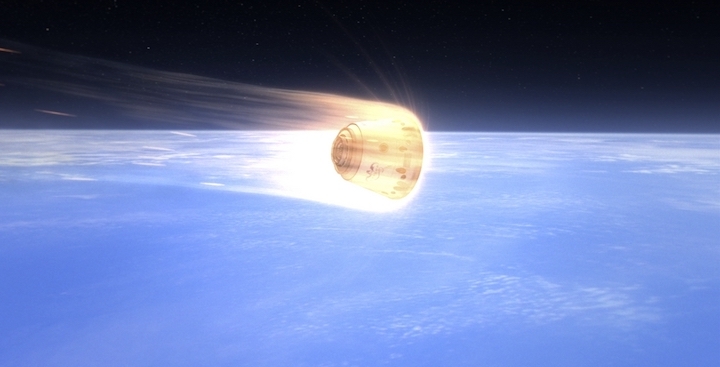 Once EI occurred, Dragon's Thermal Protection System (TPS) protected it from the searing hot temperatures of reentry formed as the air molecules around Dragon are instantly heated and turned to plasma under the friction created by Dragon's high velocity.
Dragon's primary heat shield, called PICA-X, is based on a proprietary variant of NASA's Phenolic Impregnated Carbon Ablator (PICA) material and is designed to protect Dragon during atmospheric re-entry.
PICA-X is robust enough to protect Dragon not only during ISS return missions but also during high-velocity returns from Lunar and Martian destinations.
Unlike the Dragon capsule, the Dragon trunk destructively burns up in Earth's atmosphere.
Once safely through the plasma stage of reentry, Dragon's drogue parachutes deployed, followed by the main chutes designed to ease the vehicle to a splashdown in the Pacific Ocean for recovery.
Recovery will be attained by three main recovery vessels which are positioned near Dragon's return location. The main recovery vehicle had already set sail on Friday.
Fast recovery vessels deployed to begin collecting Dragon's parachutes as recovery of the capsule itself was conducted by the primary recovery assets.
Once safely aboard the recovery vessel, Dragon will be transported to the Port of Los Angeles and will then ship to Texas for cargo removal.
The Dragon involved with CRS-13 spacecraft now has two missions under her belt, as she was previously flown in 2015 for the CRS-6 mission.
Launched on 14 April 2015 atop a Falcon 9 v1.1 rocket, Dragon spent almost 37 days in orbit – 34 of those berthed at the space station – before returning to Earth on 21 May for a successful water recovery off the coast of California.
C108 is the second Dragon to be reflown – capsule C106 was used for 2014's CRS-4 mission before returning to space as CRS-11 earlier this year, atop the same first stage that will be used to launch CRS-13.
Currently, Dragon is the only resupply vessel capable of returning experiments and equipment from the International Space Station as the three other in-service resupply vehicles (Progress, Cygnus, and the H-II Transfer Vehicle) all perform destructive reentries into Earth's atmosphere.
Under the second Commercial Resupply Services (CRS2) contract award, Sierra Nevada's Dream Chaser spaceplane will join Dragon as only the second uncrewed vehicle capable of returning equipment and experiments from the Station.
With the conclusion of CRS-12, NASA's next commercial resupply mission to the International Space Station will be SpaceX's CRS-14 flight, which is currently targeting liftoff from SLC-40 at Cape Canaveral in mid-March.
Quelle: NS
1713 Views