4.10.2017
TASS website launches Satellite One special project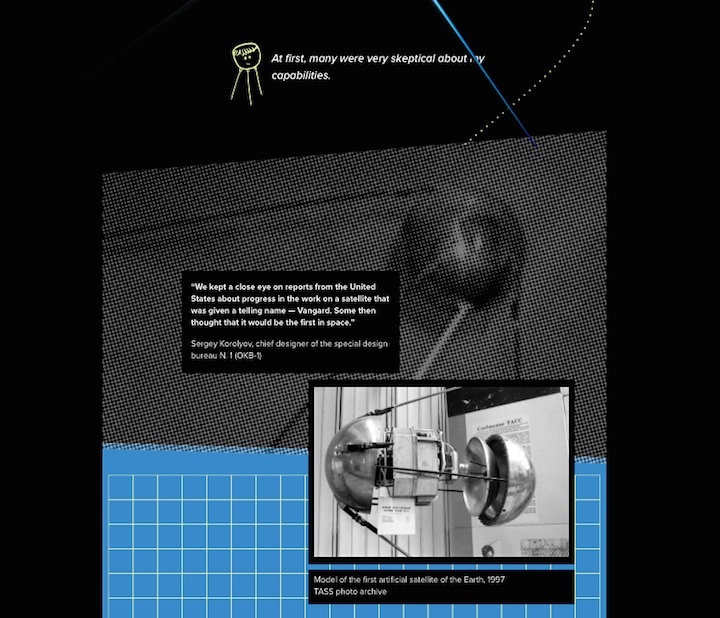 Here: http://sputnik.tass.com/sputnik_one/?_ga=2.8802997.1890206669.1507103283-1539678733.1474126187
The website of the Russian News Agency TASS has launched a special projectcelebrating the 60th anniversary of the Soviet Union's first satellite launch.
The Satellite One project describes the history of the object that enabled humankind to usher in the space era, eventually leading the Soviet Union and the United States into their space race. Its five chapters focus on key events and facts linked to the launch of the Elementary Satellite-1.

The project explains the object's name and also reveals information on the myths linked to its flight (for example that the satellite was seen from the Earth).

The project's feature is the broadcast simulating the first days of the Elementary Satellite-1 flight. On the homepage, users may watch how the object moves in the Earth's orbit and monitor its route.

The broadcast will kick off on October 4, 2017 at 22:28:34 Moscow Time (the historic time of the satellite's launch) and will last until Sunday evening.

The Satellite One special project has an unusual design emulating a collage technique.

"We decided to use the aesthetics of clippings and Soviet technical illustrations, and make the project look like a satellite enthusiast's collection, combining sketches, schemes and archive photos," said Alexey Novichkov, head of TASS infographics studio.

The material combines publications from popular science magazines, Tekhnika Molodezhi (Technology for the Youth), Nauka I Zhizn (Science and Life) and historic materials from the press archives of TASS.

According to the team that worked on the project, the style of materials largely defined the style of the Satellite One project.

The archive spreads of magazines with a slight displacement of colors and original newspaper stories harmonize with the covers of chapters with large raster graphics and dynamic figured insertions.

Another hallmark of the project is the presence of a character, who narrates the story. "During the creation of the Satellite character, we were guided by the illustrations from children's literature of the 1960s," the project's designer Konstantin Kakovkin explained.
Quelle: TASS
735 Views