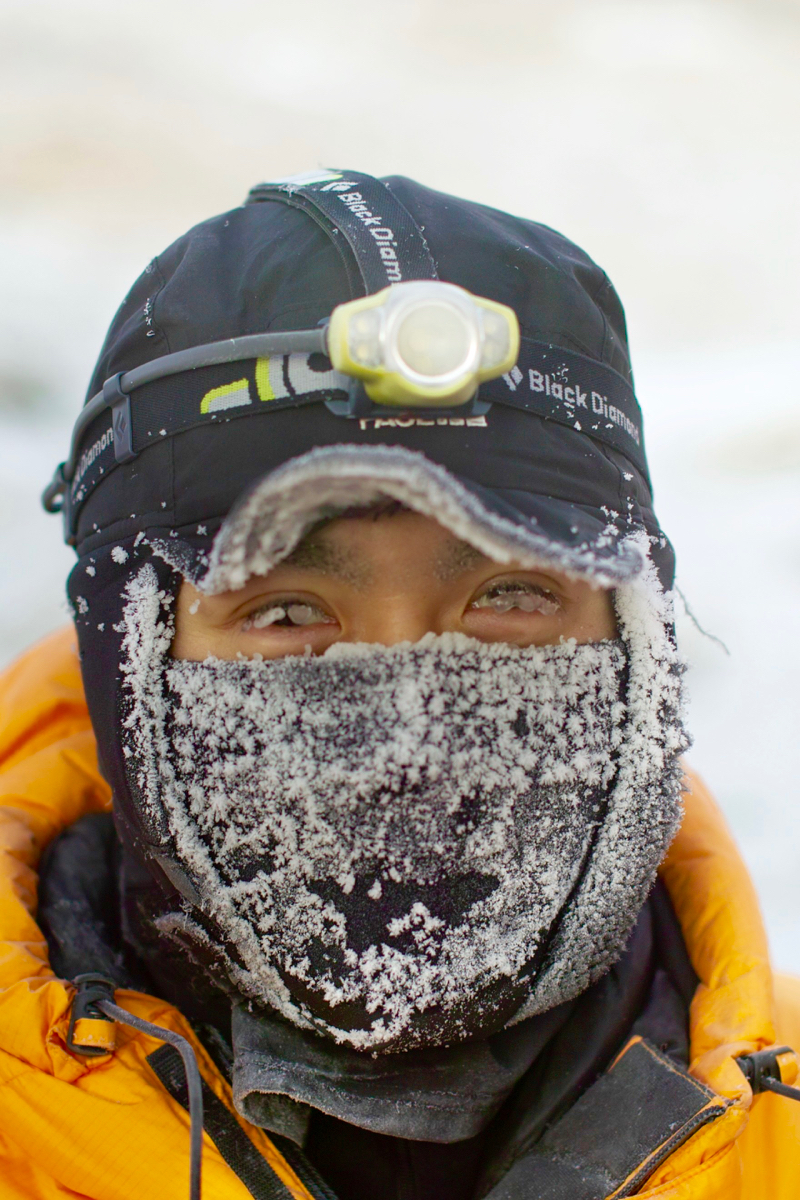 The Mars Society is conducting the ambitious two-phase Mars 160 Twin Desert-Arctic Analogue mission to study how seven crewmembers could live, work and perform science on a true mission to Mars. Mars 160 crewmember Annalea Beattie is chronicling the mission, which will spend 80 days at the Mars Desert Research Station in the southern Utah desert before venturing far north to Flashline Mars Arctic Research Station on Devon Island, Canada in summer 2017. Here's her latest dispatch from the mission:
Hello, all.
The study of "extremophiles" provides us with clues about possible forms of extraterrestrial life and where to look for such life. Extremophiles are organisms that survive at the limits of life in extreme physical or geochemical conditions.
The word combines the Latin extremus, meaning "extreme," and the Greek philiā (φιλία), which means "love." [See more Mars 160 photos here, and get daily images by the Mars 160 crew]
On our Mars 160 crew, if any of us could be thought of as an "extremophile," in the sense of having an extreme love of life and the ability to adapt and survive in harsh environments at the limits of life, Japanese architect Yusuke Murakami is the person.
Yusuke has had more experience of extreme environments here on Earth than the rest of us on the Mars 160 crew put together. He was a member of the 50th Japanese Antarctic Research Expedition and has spent time in by far the coldest, highest and windiest continent and the harshest environment on our planet. Antarctica is below freezing most of the year, has little rainfall and is subject to katabatic winds, long periods of sunlight and long periods of darkness. In Antarctica, Yusuke was part of a 28-person Wintering Crew. His role was mission specialist in mainly geophysics, a member of a team who works to understand the physical properties of the Earth from a window on the planet, the Antarctic continent.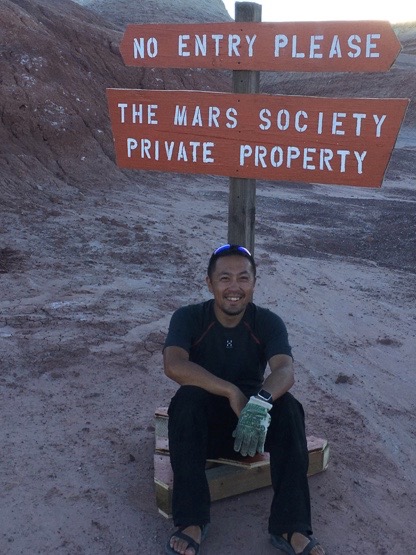 As Executive Officer (XO) for Mars 160, Yusuke's role is to support the Commander, ensuring Alex's directives are followed.
Yusuke also has the complex task of understanding the food inventory for the hab. In collaboration with Earth-based experts, overall he assists in measuring how much food we need in total for 80 days. In this first phase of the mission, he also monitored what was needed for 20 days at a time. In the Arctic, we will be just stocked once for food for the whole three months, so it's important we think about our requirements and get the balance right.
Yusuke is also cross-trained by Claude-Michel in caring for plants as a research collaborator for Heather Hava's NASA-funded Bioregenerative Life Support Systems Project(BLiSS), a mix of human-factors studies, life support system and agriculture. This study enhances habitability and diet by growing fresh foods. In the Arctic, Yusuke will take over Claude-Michel's role as principal operator and will set up the systems and monitor the crew as they care for their individual smartpots. [Plants in Space: Photos by Gardening Astronauts]
As well as all these responsibilities, Yusuke is a valuable member of our science team and is cross-trained in lichens, as a science generalist both in the field and in the lab.
Yusuke is a magician with technology and one of our best cooks. His signature creation for Mars 160 is very special — he calls it spam sushi.
I asked Yusuke how an understanding of Antarctic conditions helps us to think about extremity, especially on places like Mars that are subject to combined stresses that preclude most of life.
Yusuke says that, although we have an understanding of the Martian environment from a distance, extremity is still basically an unknown condition. No one really knows how the ambiguity of deep space, extreme distance and isolation will impact humans living off-Earth. Disconnected from our planet, living in small groups under surveillance and being confined in poisonous environments could increase ennui and lassitude, as a major issue for human factors in extraterrestrial settlement. Here on Earth, Yusuke believes extremity is an expression relative to experience. Humans define limits over time, and our limits change as we adapt.
For this mission, Yusuke's key research combines architecture and science operations. The Dome Project compares working processes in and out of spacesuits.
The Dome Project began several years ago, and year by year it has changed its purpose.
Originally it started in the classroom as a children's project. But in 2014, after the big earthquakes in Nepal, Yusuke decided to adapt his research to see if he could help his friends in need overseas. (Previously he had spent some time in Mt. Everest Base Camp as part of an engineering crew for mountaineering teams).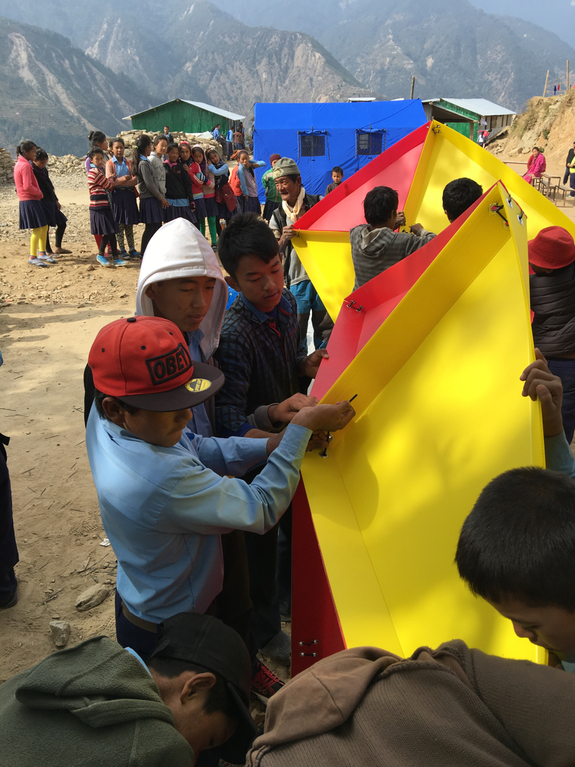 After 10 days of consecutive earthquakes, Yusuke packed up his dome prototype and travelled to Nepal to see if the dome could be useful as a shelter. It was a functional emergency shelter but needed to be modified. Yusuke's great experiences working with children and his time with the Nepali people give him inspiration and hints for further developing the dome design. He returned to Japan to source the human resources needed to hand-make the unit parts of domes as earthquake shelters.
Outside our hab, in very chilly conditions, Yusuke and a team of four from our crew have just finished assembling the yellow-and-blue dome, which consists of approximately 46 units.
Initially, the first stage of construction took place indoors, connecting basic parts.
Moving the dome outdoors required the team to pressurize and de-pressurize in the airlock with the dome units. Yusuke determined that four components together are the standard measure of human scale, as this size is the size of the airlock, the exit and entry to our hab. With 12 joined sections ready to go, the team moved outside.
Over the next two days, a team of first two, then three astronauts in spacesuits began to assemble the dome. [Spacesuit Suite: Evolution of Cosmic Clothes (Infographic)]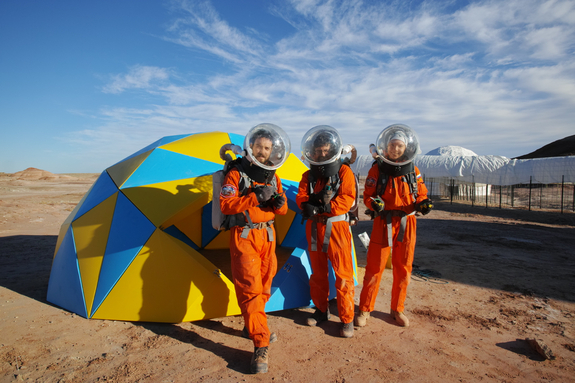 I asked Yusuke about the purpose of working on the dome project here, and he answered that it's about a measure of activity: "In Japan, the tatami mat is a measure of human-sized physical space in the house. We can say that how people worked to assemble the dome is a measure of human-sized process, as a kind of a space tatami, a module for the future, as a baseline for designing a Mars station in space."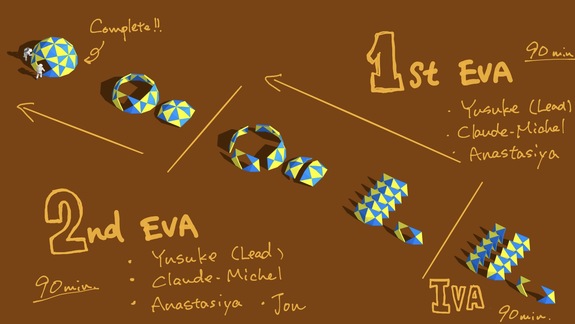 What was learned is that wearing spacesuits makes crews assemble technology in a similar way. The spacesuit homogenizes (makes the same). Measuring these methods of assembly helps us to understand how people work together as a team and clearly identifies transparent human-centered outcomes in terms of process — useful knowledge that will inform Yusuke's next architectural work.
Yusuke says, "Usually architects who want to design space stations are always thinking about form. Nobody cares about how people can work in space conditions.
"Human-centered design never comes from the inspiration of just one designer but from the knowledge and experience of everyone involved. Before I can design space architecture, I want to understand how people work in spacesuits, building a team together, as a kind of living, human-centered design. The dome module connects many people, architects, astronauts, Earthlings. My interest is human."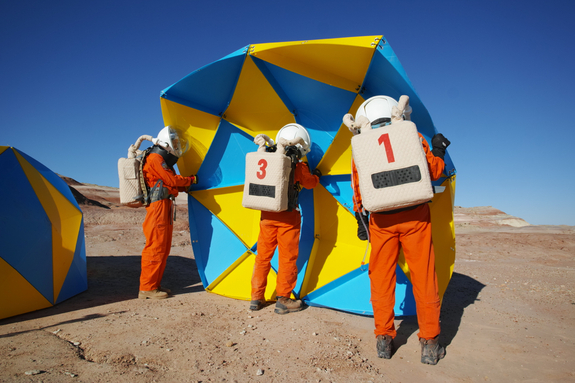 There's a saying Yusuke likes that says, "if you want to go faster, go alone, but if you want to go farther, go together." The name of Yusuke's dome is Dare Demo Dome, which means "a dome for everybody" in Japanese.
To envisage a new kind of future, all kinds of different people will be needed to go to Mars. Beyond frameworks of need and deficiency, imaginative people like Yusuke Murakami will be included in early extraterrestrial societies to build rich cultural practices and highlight possibilities for social cohesion, connection and agency.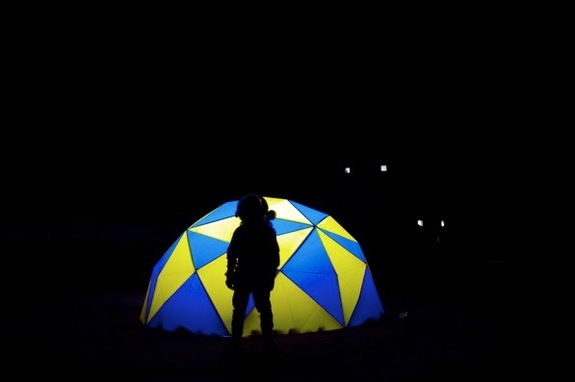 For me, Yusuke's architecture is much more interesting than a focus on formal and aesthetic concerns, as it involves measuring the limits of human experience.
Good art — in this case, good architecture — promotes collective and individual development and invents common languages that alter perceptions and encourage us to imagine different alternatives for life.
All rationales for space activities are cultural rationales. (As stated in Dator J. 2012, Social Foundations of Human Space Exploration, Springer Publications: Switzerland.)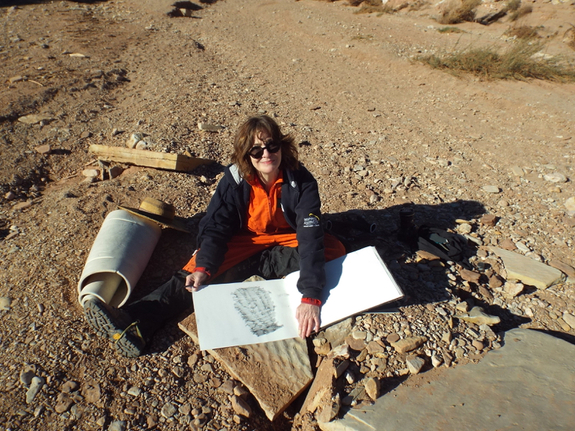 MARS OR BUST.
Annalea Beattie
Editor's Note: To follow The Mars Society's Mars 160 mission and see daily photos and updates, visit the mission's website here: http://mars160.marssociety.org/. You can also follow the mission on Twitter @MDRSUpdates. For information on joining The Mars Society, visit: http://www.marssociety.org/home/join_us/.
Quelle: SC
---
Update: 5.08.2017
.
Notes from Mars 160: Our Home on 'Mars'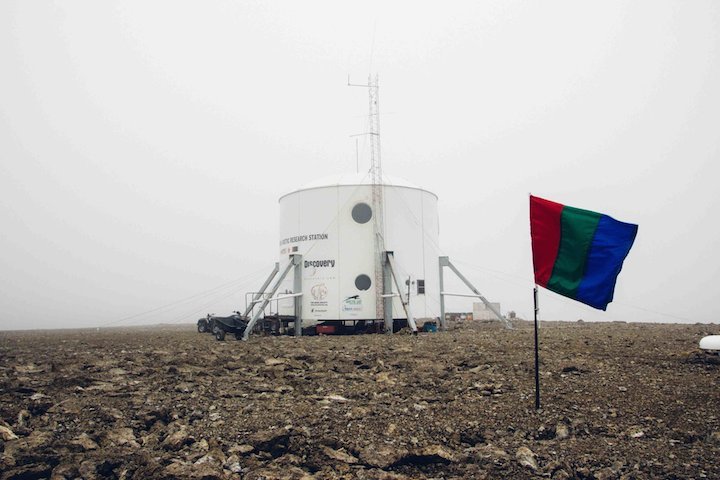 On June 22, The Mars Society launched the second phase of its ambitious Mars 160 Twin Desert-Arctic Analog simulation to study how seven crewmembers could live, work and perform science on a true mission to Mars. Mars 160 crewmember Paul Knightly is chronicling the mission, which will spend 60 days in the Canadian arctic at the Flashline Mars Arctic Research Station (FMARS) on Devon Island after completing a similar 80-day mission at the Mars Desert Research Station (MDRS) in southern Utah in 2016. Here's his third dispatch from the mission:
This week I figured I would give you a tour of our home on "Mars" — the Flashline Mars Arctic Research Station, or FMARS for short. Let's start from the outside and work our way inside. At 2 stories tall and 25 feet (8 meters) in diameter, FMARS predates and is nearly identical to its sister station in Utah where we spent the first half of our mission, the Mars Desert Research Station (MDRS).
Looking around from outside the station, it is easy to see why this location was selected. As we walked up to FMARS for the first time last month, it felt like I had been transported into an image captured by one of the Mars rovers. Large boulders are strewn about the polar desert without any vegetation in sight. Only a few species of lichen and flowers are hardy enough to survive in this harsh climate, and the few species of animals that call Devon Island home have made themselves scarce in our presence. And then there's the six of us living in a two-story habitat on the rim of an impact crater.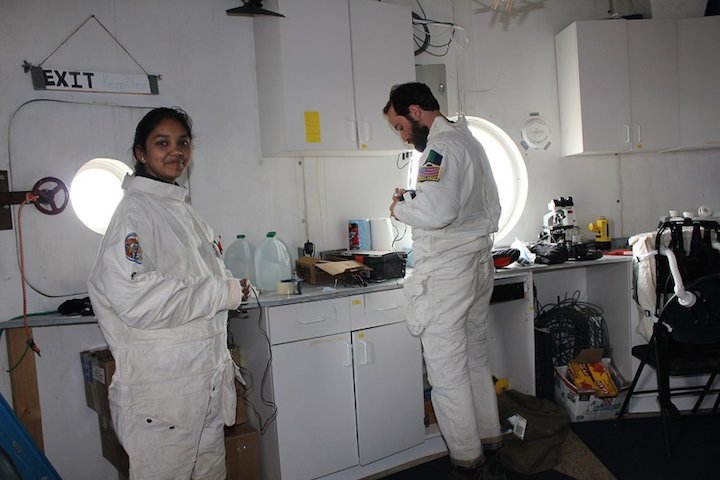 Just inside the main airlock on the first floor is the EVA Preparation Room, where we get ready for our extravehicular activities and store our spacesuits. This room leads into the rest of the first floor, which consists of lab space and work benches where we prepare samples and work on engineering problems including spacesuit maintenance and equipment repair. The bathroom and shower are behind the engineering work space — but more on that later.
Climbing a ladder leads to the second floor that consists of the main living area, including the kitchen and our state rooms. In the middle of the room, a kitchen table doubles as a conference table, around which stories and meals are shared and preparations are made for the day's field activities. As with many homes, a lot of life happens in our kitchen at FMARS.
Between our time on the Mars 160 mission and other missions to MDRS, we have all found that meal preparation and fixed eating times are essential to the emotional health of the crew. Food is an interactive experience that ensures the entire crew is involved in at least a few shared activities and moments each day. We all generally prepare at least one major meal (lunch or dinner) per week, ranging anywhere from soup at lunch to a minor feast at dinner.
In just the past week, we have tested the culinary limits of our food supply. I cooked up a taco night on Saturday, which required me to make tortillas from scratch and to use Spam as a stand in for beef. Call it a Tex-Mex/Martian fusion dish. Then, on Monday, Yusuke spent the better part of the day preparing a dish he called "Red Water," which was a mix of almost everything in the kitchen minus the sink. I would call it a blend between curry and chili, but it was surprisingly tasty with a generally sweet and rich flavor.
A meal that we look forward to twice per week comes courtesy of Anastasiya, who brought with her a supply of Russian space food courtesy of Spacefood Laboratory, based in Moscow. Spacefood Laboratory has been supplying food to the Russian space program since the 1950s and has recently expanded its market to include outdoor enthusiasts and rescue crews that all benefit from the easily prepared and nutritious dishes. The meals are my first introduction to the Russian palette, and dishes have ranged from borscht soup to a dessert of cottage cheese with sea-buckthorn. Naturally, almost all of these dishes come out of a tube — just as astronauts and cosmonauts would find them served up on the ISS.
Back to the tour of FMARS. Each person sleeps in a state room that leads into the kitchen and consists of a single bunk bed with adjacent space for clothes and personal items. Some walk-in closets are bigger than our state rooms, but on a mission to Mars space is critical, and the cramped quarters are a worthwhile price to pay for the sake of exploration. The rooms are big enough to provide us with private space when we need it, but much of our daily work happens out in the open.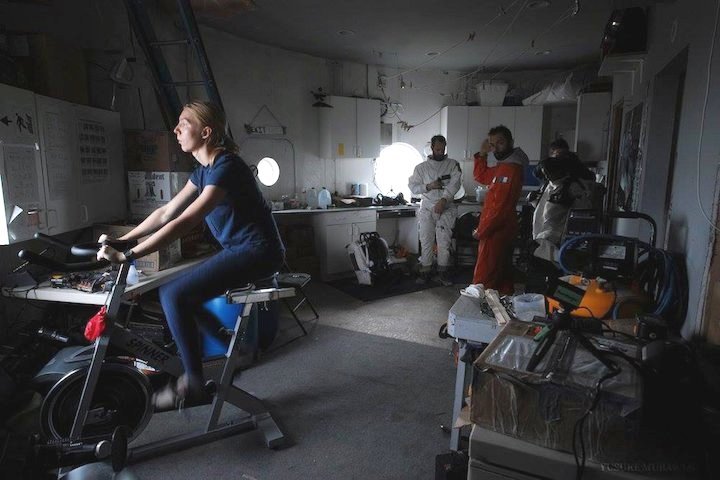 Above the state rooms is an attic where we can store extra food and supplies in addition to the water basin. Our water supply comes from a freshwater stream fed by snow melt that is about 0.6 miles (1 kilometer) from FMARS. The crystal-clear water is probably clean enough to drink without any additional filtration, but we boil all of our drinking water anyway to be safe. Water must be collected manually with the help of our ATVs every couple of days and is done "out of sim" in normal cold-weather gear. Once it is brought back to FMARS, a cistern in the EVA Prep Room is filled and then pumped to our upstairs water basin. From the basin, the water is then distributed to the kitchen and bathroom through a gravity and pump-on-demand system.
Which leads us back downstairs to the bathroom. People always want to know how astronauts "go" in space. Our bathroom at FMARS actually consists of two separate rooms for the toilet and shower. The shower is like any you might find in a normal house. It is attached to a water heater that we turn on during our weekly shower days — just one shower per person, per week here at FMARS. Daily hygiene is handled by a combination of no-rinse shampoo, baby wipes, and the occasional sponge bath. Laundry is a more difficult task that is usually performed using the shower as well, but without a dryer, clothes must be hung up to dry.
With all fanfare reserved for the end of our tour, we arrive at the toilet. Astronauts traveling to Mars will have to contend with human waste storage and disposal, which left unchecked could be quite voluminous for a crew of six or more on a two-year roundtrip mission. While MDRS is equipped with a standard septic system, waste handling at FMARS is actually more analogous to the constraints of a surface mission to Mars.
At FMARS, waste is segregated by liquids and solids. Liquid waste is stored in 55-gallon drums that are flown out at the end of the mission, and solid waste is burned in an on-site incinerator with other solid trash. This "leave no trace" mentality of wilderness exploration will also apply to the first missions to Mars, and is already being tested today. For instance, on the ISS, liquid waste is now being recycled into water usable for drinking. Solid waste on a Mars mission could perhaps be recycled into fertilizer to grow plants; otherwise, a storage and disposal system will need to be devised for early missions until infrastructure is built to handle it on a larger, municipal scale.
That concludes today's tour of FMARS! I hope you've enjoyed this insight into our home on "Mars." It may not have all the luxuries of a modern home, but it is helping us to prepare for what the first astronauts will need as we venture farther into the solar system.
Quelle: SC