.
12.04.2016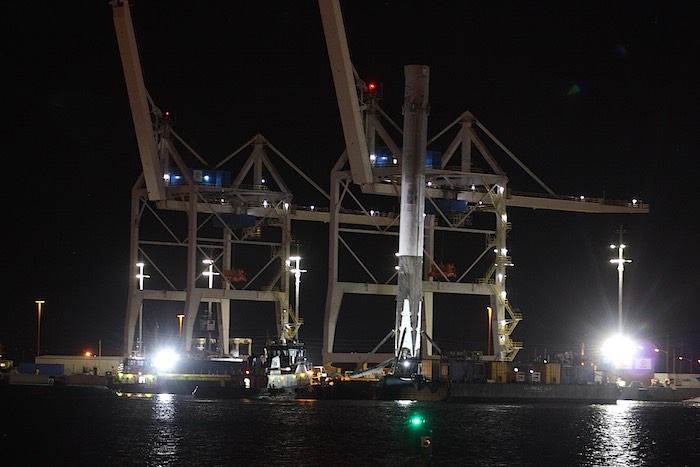 Riding into port aboard a floating platform before dawn, SpaceX's Falcon 9 rocket booster arrived back at Cape Canaveral early Tuesday after sticking a historic landing at sea last week, kicking off a series of inspections and tests before engineers ready it for launch again.
A small crowd of SpaceX employees, news photographers and space enthusiasts welcomed the 15-story rocket booster to Port Canaveral around 2 a.m. EDT (0600 GMT) aboard a landing ship dubbed "Of Course I Still Love You," a reference to giant planet-sized starships in science fiction novels by Iain Banks.
The rocket returned to Earth less than nine minutes after a successful launch from Cape Canaveral on Friday with a Dragon supply ship ferrying 3.5 tons of cargo to the International Space Station.
A tugboat towed the rocket and its landing platform, or "drone ship," through the channel leading to a dock where SpaceX technicians will hoist the first stage booster off the ship and on to a stand on the north side of the inlet to Port Canaveral.
The SpaceX recovery crew planned to weld steel shoes over the rocket's four aluminum-carbon fiber landing legs for the journey from the touchdown zone 185 miles northeast of Cape Canaveral back to Florida. Jacks and cables were also installed around the base of the rocket for added stability.
Once the first stage is off the drone ship, the ground team will retract or remove the rocket's landing legs, then rotate it horizontal for transport to a nearby hangar.
The Falcon 9's destination is unconfirmed, but SpaceX chief executive Elon Musk said Friday the rocket's first stage will likely go to launch pad 39A — a former shuttle launch facility now leased by SpaceX — for a series of engine firings to verify its flight readiness.
.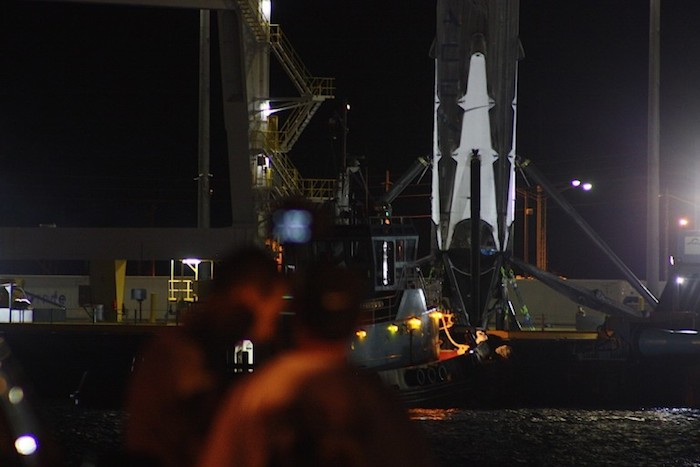 The objective: Fly the first stage booster again, perhaps as soon as June.
"We're going to do a series of test fires," Musk told reporters after Friday's launch. "We're hoping to do that at the Cape, rather than transport it to Texas (SpaceX's rocket test facility), and then bring it back. Our plan is to basically fire it 10 times in a row on the ground. If things look good at that point, then it's qualified for reuse and launch. We're hoping to re-launch on an orbital mission in … June."
SpaceX has not identified what spacecraft will fly on the used booster, but Musk said he hopes a paying customer will agree to sign up for the mission.
Officials from SES, a Luxembourg-based communications satellite operator, have repeatedly said they are interested in flying a payload on a reused Falcon 9 rocket. But their next satellite will not be ready for launch until late this year.
Missions on the Falcon 9 manifest in June include a launch from Vandenberg Air Force Base in California with Taiwan's Formosat 5 Earth observation platform and a package of microsatellites aboard a Sherpa carrier developed by Spaceflight Industries.
.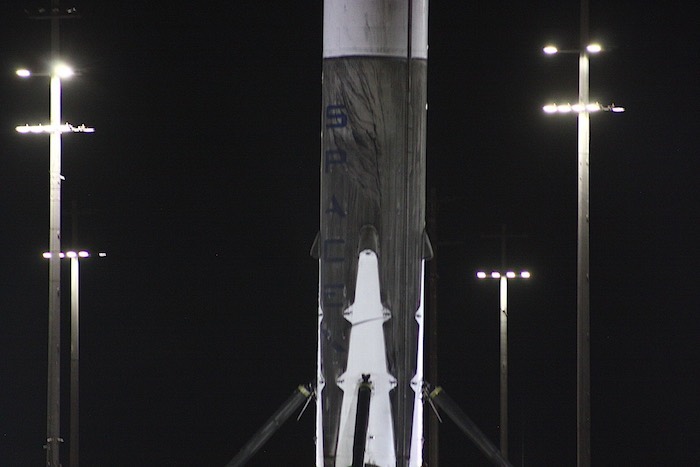 SpaceX's next cargo delivery mission to the space station is scheduled for late June, carrying several tons of supplies and experiments, plus a critical docking adapter for future arrivals of U.S. commercial crew capsules.
The Thaicom 8 communications satellite is finishing up tests at Orbital ATK's spacecraft factory in Virginia for a launch aboard a Falcon 9 rocket in mid-2016.
Demonstrating the Falcon 9's first stage can be recovered and reused is a major leap in SpaceX's goal of slashing the cost of spaceflight.
"I think it's another step towards the stars," Musk said. "In order for us to really open up access to space, we've got to achieve full and rapid reusability, and being able to do that for the primary rocket booster is going to be a huge impact on cost."
The Falcon 9's upper stage, which goes into orbit on each launch, and the rocket's clamshell-like payload enclosure are still thrown away after every flight. Musk said SpaceX is working on retrieving the payload fairing, which costs several million dollars.
In the meantime, SpaceX hopes to improve its success rate at recovering first stage boosters.
.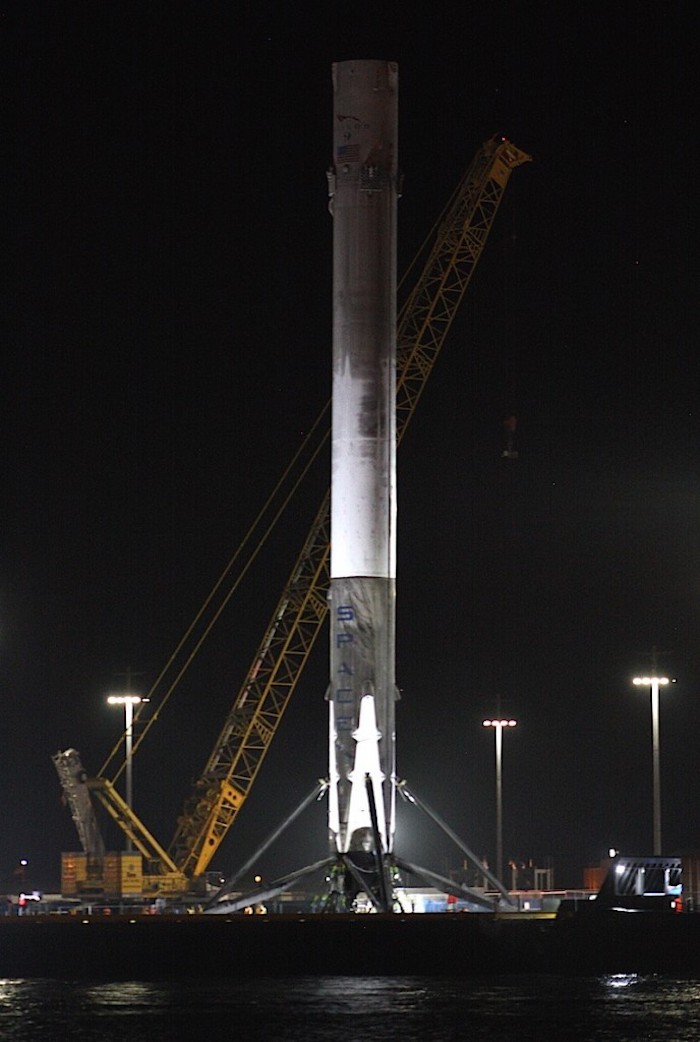 The Falcon 9's first stage typically shuts down about two-and-a-half minutes after liftoff, and its landing aimpoint depends on the weight of the mission's passenger and the type of orbit targeted. For Falcon 9 rockets delivering heavy satellites to high-altitude orbits — like most large telecommunications satellites — a landing at sea is required.
SpaceX's floating landing targets measure 300 feet by 170 feet, and four underwater engines keep the ships in exact position. The drone ship was located about 185 miles downrange from Cape Canaveral for Friday's mission.
Launches into lower orbits several hundred miles up need less fuel and travel slower at stage separation, leaving enough reserve propellant to turn around and come back to land at facilities at Cape Canaveral or Vandenberg.
Gwynne Shotwell, SpaceX's president and chief operating officer, said last month the company wants to initially offer a 30 percent discount to clients willing to sign up to launch with previously-flown Falcon 9 first stage.
A commercial Falcon 9 launch sells for about $61 million, according to SpaceX's website, and a 30 percent reduction is equivalent to about $43 million.
.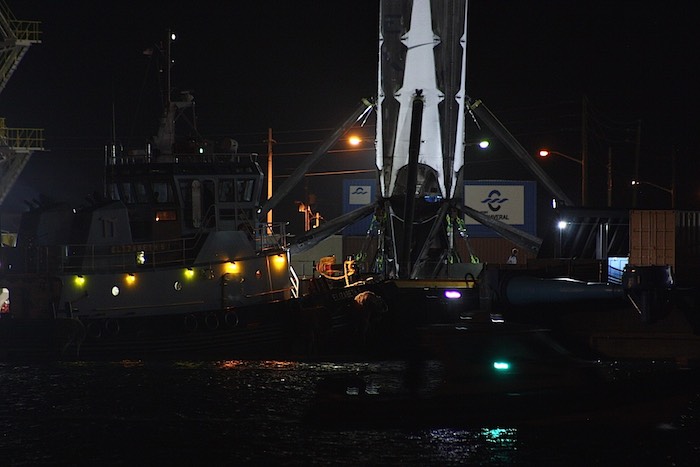 The latest upgrade to the Falcon 9 rocket, which burns super-chilled densified liquid propellant and operates at a higher throttle setting, gives the launcher the ability to lift heavier satellites into orbit. The performance boost also allows more missions to retain enough leftover fuel to come back and land.
Cold gas nitrogen thrusters re-orient the Falcon 9 booster after staging, and three of the first stage's nine Merlin engines re-ignite as the booster coasts up to 100 miles above Earth to set up for landing. The three engines fire again a few minutes later for a "re-entry" burn, followed by a last-minute burn of the rocket's center engine to slow down for final descent.
The inaugural flight of the Falcon 9's current configuration in December put 11 Orbcomm communications satellites into low Earth orbit, and the first stage returned to Cape Canaveral for a dramatic nighttime touchdown a few miles from where it took off.
SpaceX does not plan to re-launch that vehicle, which Musk said will go on display outside the company's headquarters in Hawthorne, California.
The landing attempts at sea had a lesser record before Friday's touchdown.
.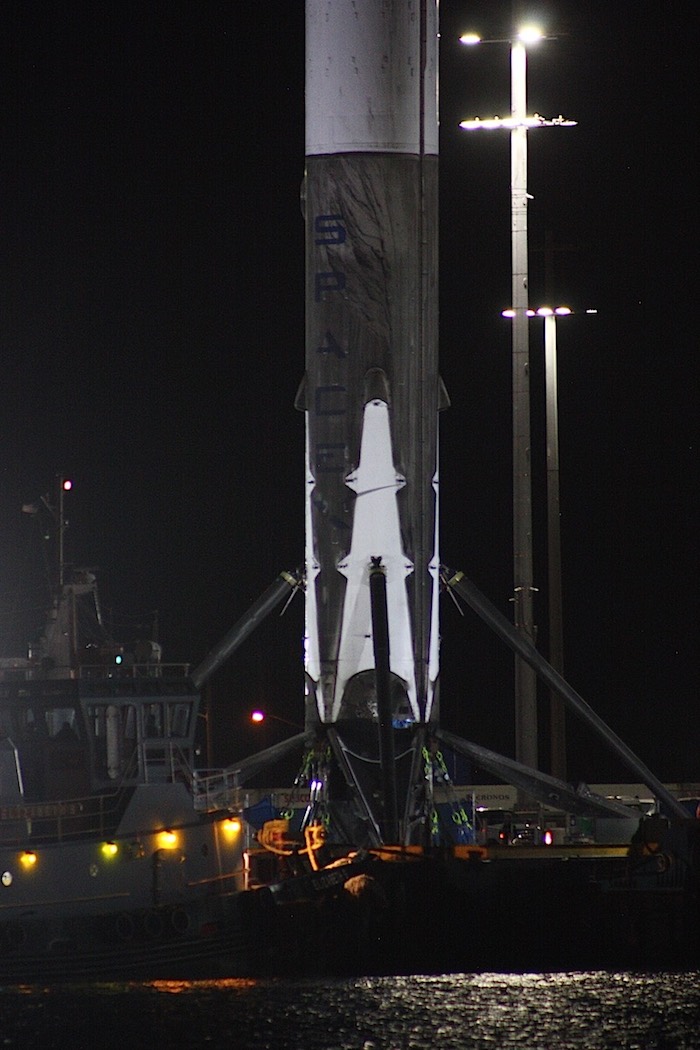 Four previous landing tries aboard SpaceX's fleet of drone ships were unsuccessful, with the rockets hitting the barge too hard or tipping over after touchdown.
SpaceX engineers tweaked the rocket's descent system in the wake of the landing failures, adding extra fluid to the booster's hydraulically-actuated grid fins for better descent steering and correcting an engine throttle valve glitch.
"It will still take us a few years to make that smooth and make it efficient, but I think it's proven that it can work," Musk said. "There probably will be some failure in the future, but we'll iron those out and get to the point where it's routine to bring it back, and where the only changes to the rocket are to maybe hose it down and clean it, give it a wash, and add the propellant and fly again."
Quelle: SN
-
Update: 15.04.2016
.
THIS IS HOW SPACEX UNLOADS A 15-STORY ROCKET OFF A DRONE SHIP
PHOTOS FROM PORT CANAVERAL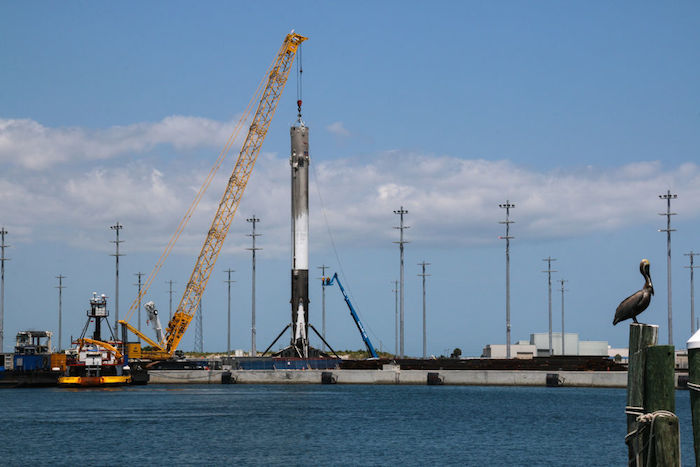 After landing on a drone ship on Friday, Falcon 9's first stage arrived at Port Canaveral on Tuesday, April 12. The booster is about 15 stories tall. Now SpaceX is working on getting it back to Cape Canaveral for testing and possible reuse in flight.
-
On Friday, SpaceX made history by landing its Falcon 9 rocket booster on a drone ship. The move will help the company recover and reuse more rockets after they launch, and the achievement was a long time in the making--SpaceX tried for more than a year to stick the drone ship landing, suffering many explosive failures along the way. They've finally done it! Now they just need to get that thing back to Cape Canaveral.
The drone ship "Of Course I Still Love You" brought the Falcon 9 back to port a little later than expected. It was supposed to arrive on Sunday, but actually docked in the early hours of Tuesday morning. The unloading process has taken several days so far, and is expected to last at least another day or so. Understandable, since we're talking about a 15-story rocket stage with potentially hazardous chemicals onboard.
During a press conference last week, SpaceX CEO Elon Musk said,"We're a little bit like the dog that caught the bus--what do we do now?" It's the first time the company has had the opportunity to attempt the unloading procedure, and it will doubtless go more smoothly if/when these drone ship landings become more frequent.
Once it can get the rocket lying down horizontally on a transport vehicle, SpaceX is hoping to bring the used Falcon 9 to Cape Canaveral for testing and, if all goes well, will relaunch in a couple of months.
.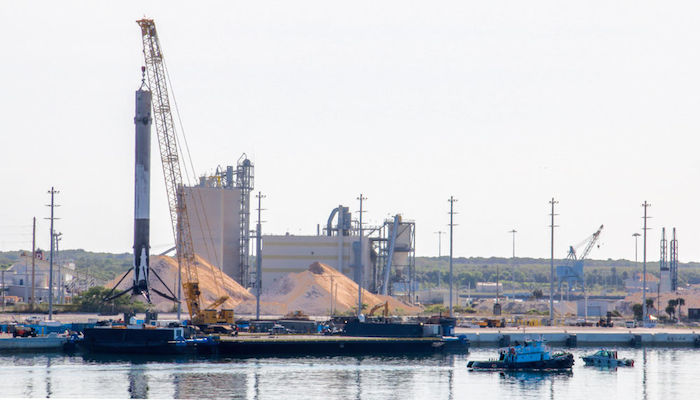 The port's 273-foot crane lifted the booster off of the drone ship, setting it down onto a cradle (not visible here).
.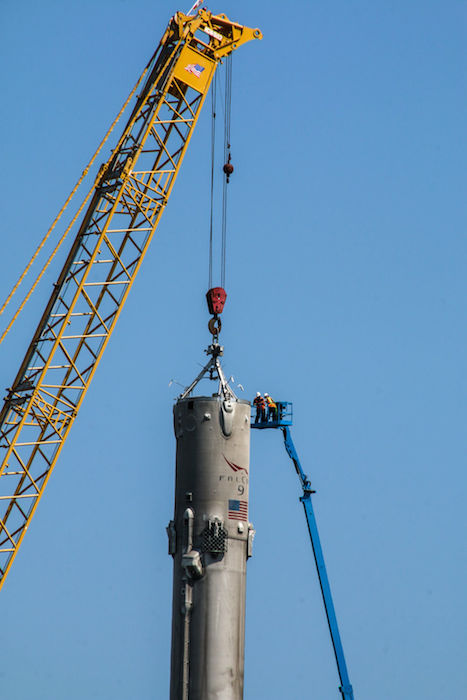 Before the crane could lift it, a fixture had to be installed on top of the booster.
.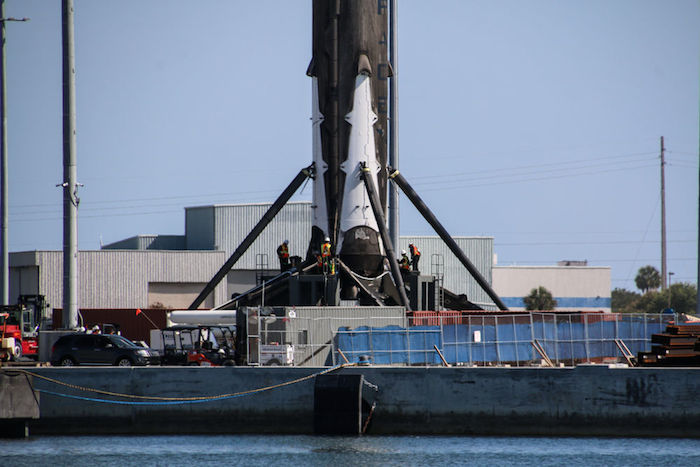 After the drone ship touchdown, workers welded steel shoes over the rocket's landing legs to make sure it wouldn't tip over on the way to port. Here, those shoes have been removed, but workers appear to be inspecting the base of the rocket. Later, when it comes time to load the rocket onto a truck, the landing legs will either be folded up or removed for horizontal transport.
.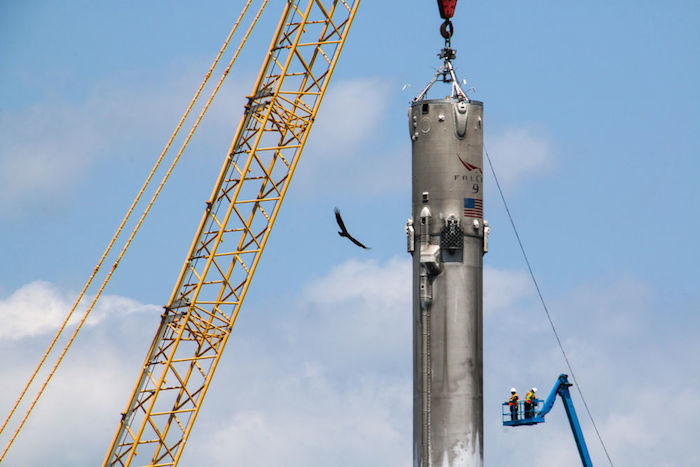 A vulture meets a Falcon.
Quelle: PS
2159 Views