Al Bowers attaches a bungee cord to the Prandtl-d, as Kassidy McLaughlin prepares to release and launch the aircraft.
.
The Flight Opportunities Program, which is managed at NASA Armstrong, has agreed to fund two balloon flights during the next several years and potentially a sounding rocket flight following that to demonstrate how the flier would work on Mars, Bowers said. The flights will be at one of two locations – Tucson, Arizona, or Tillamook, Oregon. NASA's Ames Research Center at Moffett Field, California, manages the Flight Opportunities solicitation and selection of technologies to be tested and demonstrated on commercial flight vehicles.
"We are going to use GPS initially, but obviously there is no GPS on Mars, so later on we will have to find something else for navigation," Bowers said. "But the little autopilot that provides the waypoint navigation, that's one of the things we're going to exercise on a research vehicle and then on the prototype that flies on a future balloon flight."
The flight test could also include some scientific research that will apply to a Mars mission.
"We could have one of two small science payloads on the Prandtl-m on that first balloon flight," Bowers said. "It might be the mapping camera, or one might be a small, high-altitude radiometer to measure radiation at very high altitudes of Earth's atmosphere. Eventually the aircraft may carry both of them at the same time."
A second research flight from a balloon is planned for next year and would feature an aircraft capable of returning to the launch site on a flight that could be as long as five hours as it glides back to Earth, he said.
"We will do the same thing again with a balloon flight to about the same altitude," Bowers said. "On that mission Prandtl-m would actually be inside a CubeSat container. The balloon would drop the CubeSat container and then the aircraft would deploy from the container right after the drop, unfold and fly away."
Success could lead to a third mission that is already being discussed because the Flight Opportunities Program has access to a sounding rocket capable of going to very high altitudes, Bowers said.
"That mission could be to 450,000 feet and the release from a CubeSat at apogee," he said. "The aircraft would fall back into the Earth's atmosphere and as it approaches the 110,000-to-115,000-feet altitude range, the glider would deploy just as though it was over the surface of Mars.
"If the Prandtl-m completes a 450,000-foot drop, then I think the project stands a very good chance of being able to go to NASA Headquarters and say we would like permission to ride to Mars with one of the rovers."
.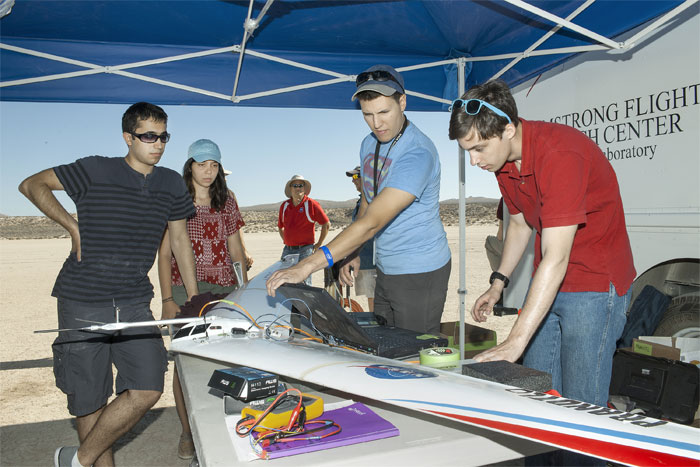 Jonathan Zur, from left, Alexandra Ocasio, Derek Abramson, Red Jensen, Etan Halberg and Keenan Albee wait for data to download from a Prandtl-d flight
Credits: NASA Photo / Ken Ulbrich
Quelle: NASA