.
19.02.2014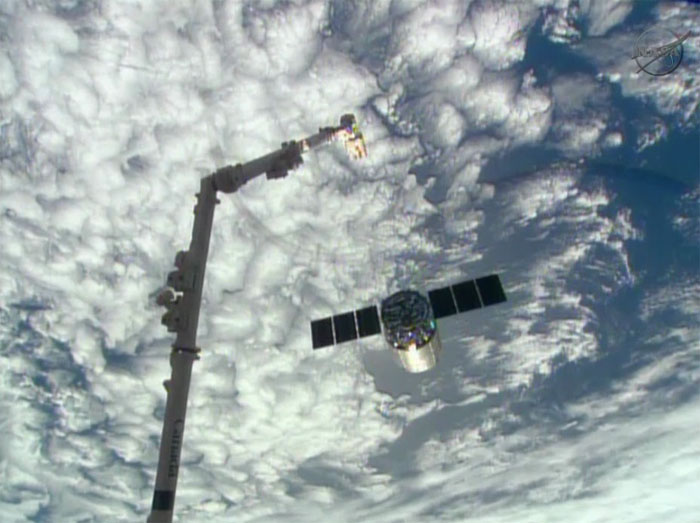 Orbital Sciences Corp. has entered the final stages of its ORB-1 mission—the first of eight dedicated Cygnus cargo delivery flights to the International Space Station (ISS)—following the successful unberthing and release of the spacecraft early Tuesday, 18 February. Based inside the multi-windowed cupola, Expedition 38 crewmen Mike Hopkins of NASA and Koichi Wakata of the Japan Aerospace Exploration Agency (JAXA) used the station's 57.7-foot-long (17.6-meter) Canadarm2 robotic arm to remove Cygnus from the Earth-facing (or "nadir") port of the Harmony node at 5:15 a.m. EST. As Wakata monitored data and maintained contact with Mission Control in Houston, Texas, Hopkins released the cargo ship into free flight at 6:41 a.m. EST. It will now be maneuvered into a "disposal corridor," ahead of a seven-minute de-orbit burn and destructive re-entry Wednesday morning.
For the last 37 days, the ORB-1 mission has been in residence at the station, having been launched on 9 January atop Orbital's home-grown Antares booster from Pad 0A at the Mid-Atlantic Regional Spaceport (MARS) on Wallops Island, Va. It was named in honor of former shuttle astronaut C. Gordon Fullerton, who died last August. It transported 2,780 pounds (1,260 kg) of payloads, supplies, experiments, and belated Christmas gifts to the six-man Expedition 38 crew—Russian cosmonauts Oleg Kotov, Sergei Ryazansky, and Mikhail Tyurin, NASA's Hopkins and Rick Mastracchio, and Japan's Wakata—and was successfully grappled by Canadarm2 and berthed at the Harmony node on 12 January. Five weeks later, with all of its cargo unloaded and laden with up to 2,800 pounds (1,270 kg) of trash and other disposable items, ORB-1 is now ready for its fiery, Viking-like funeral tomorrow, as it re-enters and burns up over an uninhabited stretch of the Pacific Ocean.
o kick off the unberthing process, the three-man U.S. Orbital Segment (USOS) team of Hopkins, Wakata, and Mastracchio conducted final leak checks of the vestibule between Cygnus and the Harmony node. "Once leak checks were completed, the vestibule was depressurized and Common Berthing Mechanism (CBM) operations were started by Koichi Wakata," noted Spaceflight101. "To demate the Cygnus spacecraft from its port on Harmony nadir, 16 CBM bolts had to be released, followed by four capture latches. Using four Controller Panel Assemblies, the 16 bolts were released in four groups of four in order to break the hard mate between Cygnus and Harmony. With the bolts released, four capture latches were released and Canadarm2 was in control of the spacecraft. The arm grappled Cygnus last weekend and was configured to pass power and data to the spacecraft well ahead of the unberthing."
At the instant of today's release from Canadarm2, both Cygnus and the ISS were flying 260 miles (420 km) above the southern Atlantic Ocean, off the coast of Argentina and Uruguay. Shortly afterward, Wakata issued a planned "Abort" command, which instructed the cargo ship to execute a 90-second departure burn of its reaction control thrusters to maneuver away from the space station. Six minutes after release, at 6:47 a.m., EST, it passed beyond the critical 660-foot (200-meter) "Keep Out Sphere" (KOS), a virtual exclusion zone around the ISS. The spacecraft then performed a departure burn to position it "ahead" and "above" the station, after which Orbital's Mission Control Center in Dulles, Va., assumed primary command of the final stages of the ORB-1 flight.
Looking ahead to Cygnus' fiery demise tomorrow (Wednesday, 19 February), an 11.5-minute engine firing is anticipated to begin at 8:12 a.m. EST to slow the spacecraft's velocity by almost 160 mph (260 km/h), ahead of a second "burn" which will reduce the "low point" (or "perigee") of the orbit to permit it to enter the tenuous upper atmosphere. This second burn is currently timed to get underway at 12:46 p.m. EST and will last for six minutes and nine seconds, positioning Cygnus for a destructive re-entry over the Pacific at about 1:20 p.m. Unlike SpaceX's Dragon cargo vehicle—which can survive atmospheric re-entry and perform a parachute-assisted ocean splashdown—Cygnus is intended to be destroyed at the end of each mission.
Orbital Sciences Corp. received a $1.9 billion Commercial Resupply Services (CRS) contract from NASA in December 2008, which calls for eight Cygnus missions by 2016 to haul a total of 44,000 pounds (20,000 kg) of supplies, payloads, and equipment to the ISS. As part of the requirements for these missions, both Orbital and SpaceX—NASA's second CRS partner—were required to first execute a satisfactory Commercial Orbital Transportation Services (COTS) demonstration flight. SpaceX completed the COTS mission of its Dragon cargo ship in May 2012, followed by Orbital's ORB-D test flight of Cygnus in September-October 2013. With the enormous success of both missions, Orbital and SpaceX were cleared to begin their dedicated CRS commitments. SpaceX has already flown two of its six contracted CRS flights, in October 2012 and March 2013, whilst ORB-1 represents the first CRS mission by Orbital. As a result, the United States now has two fully-fledged private contractors restocking the space station.
With the completion of its ORB-1 mission, the playing field between Orbital and SpaceX has begun to level. The Hawthorne, Calif.-based launch services organization, headed by PayPal entrepreneur Elon Musk, will launch its third Dragon mission (SpX-3) in mid-March, followed by two others in July and November. Meanwhile, Orbital's second dedicated mission (ORB-2) is expected to launch in early May, followed by ORB-3 in October. Each cargo flight will spend approximately a month berthed at the ISS.
Quelle: AS
.
Update: 20.02.2014
.
Orbital Completes First Operational Cargo Mission to International Space Station for NASA
-- Cygnus Cargo Logistics Spacecraft Reenters Earth's Atmosphere Over Pacific Ocean --
-- Company's Next CRS Mission to ISS to Take Place in Early May --
(Dulles, VA 19 February 2014) – Orbital Sciences Corporation (NYSE: ORB), one of the world's leading space technology companies, today announced the successful completion of the first of eight CygnusTM operational cargo logistics spacecraft missions to the International Space Station (ISS) as part of the company's $1.9 billion Commercial Resupply Services (CRS) contract with NASA. The Cygnus spacecraft unberthed from the ISS yesterday morning at 6:41 a.m. (EST), completing a 37-day stay at the orbiting laboratory. Today, Cygnus reentered Earth's atmosphere over the Pacific Ocean east of New Zealand at approximately 1:20 p.m. (EST).
"We are very proud to have a second flawless cargo mission to the space station brought to a successful conclusion this afternoon," said Mr. David W. Thompson, Orbital's Chairman and Chief Executive Officer. "Following Cygnus' successful demonstration mission in late 2013 conducted under our COTS research and development partnership with NASA, the picture-perfect execution of the first operational mission is a great way to start the CRS contract. We are looking forward to the next Antares launch and Cygnus cargo delivery mission currently scheduled for early May."
The CRS-1 mission began on January 9, 2014 when Orbital's AntaresTM rocket launched Cygnus into orbit from the Mid-Atlantic Regional Spaceport (MARS) located at NASA's Wallops Flight Facility in eastern Virginia. Cygnus, which carried 2,780 lbs. (1,260 kg.) of cargo and science payloads, rendezvoused and berthed with the ISS three days later on January 12. Prior to its departure from the station, the astronauts loaded the cargo module with approximately 3,250 lbs. (1,477 kg.) of unneeded items for disposal.
Under the CRS contract with NASA, Orbital is using Antares and Cygnus to deliver up to 44,000 lbs. (20,000 kg.) of cargo to the ISS over eight missions, including the CRS-1 flight just completed, through late 2016. For these missions, NASA will manifest a variety of essential items based on ISS program needs, including food, clothing, crew supplies, spare parts and equipment, and scientific experiments.
Preparations are already well advanced for the next Cygnus cargo delivery flight, the CRS-2 mission, scheduled to take place in early May. The Antares rocket for the mission is now undergoing final assembly at Wallops Island, while the Cygnus spacecraft is being prepared for shipment to the Wallops launch site in mid-March. The CRS-2 flight is expected to deliver about 3,630 lbs. (1,650 kg.) of cargo to the Space Station.
3416 Views