.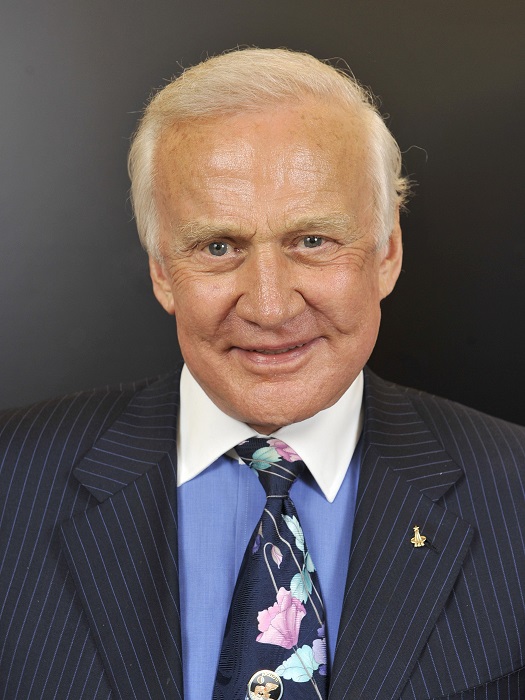 A global space ambassador. Courtesy of the Buzz Aldrin Archive
.
Buzz Aldrin is a retired US Air Force pilot, a former American astronaut and the second person to walk on the Moon, on July 21, 1969. He was the lunar module pilot on Apollo 11, the first manned lunar landing in history.
Upon returning from the moon, Dr Aldrin was decorated with the Presidential Medal of Freedom, the highest American peacetime award.
Since retiring from NASA and the Air Force, Col Aldrin has remained at the forefront of efforts to progress human space exploration. On November 16, 2011, Dr Aldrin was awarded the Congressional Gold Medal, the nation's highest civilian honour, along with the other Apollo 11 crew members, Neil Armstrong and Michael Collins, and Mercury Seven astronaut, John Glenn, for their significant contribution to society and exploration.
Dr Aldrin has also written eight books including the New York Times best-selling autobiography, Magnificent Desolation, released in 2009 before the 40th Anniversary of the Apollo 11 moon landing. He has released best-selling illustrated children's books, two space science-fiction novels and his most recent book Mission to Mars: My Vision for Space Exploration was published by the National Geographic Society in 2013.
"To realize the dream of humans on Mars we need a unified vision. We need to focus on a pathway to the prize." These were the strident historic words articulated by Buzz Aldrin in July 2009 at the Smithsonian Air and Space Museum's John Glenn Lecture Series for NASA's 40th anniversary of the Apollo 11 Moon landing. Five years on, and having very recently celebrated his 84th birthday, Dr Aldrin's enthusiasm, ambassadorial work, resolute attitude and ideals are no less subdued.
Exciting developments in space science are coming thick and fast and showing notable progress. It is however, US President Barack Obama's objective of a manned mission to Mars in his lifetime, preceded by a robotic landing on a real orbiting asteroid, that remains a most ambitious follow on to lunar robotic surface control by the US and the occupation of a jointly designed International Lunar Base.
Mars Settlement
Dr Aldrin would however like to see a more ambitious vision set out in Obama's second term space policy. In his most recent book 'Mission to Mars', he calls for a future American President to make a commitment to establish permanent human presence on Mars. The timing would come 50 years after Dr Aldrin and Neil Armstrong became the first humans to step foot on the Moon on July 21, 1969.
"I see the larger advances in humanity here on planet earth will come when decisions are made to move earthlings from one planet where we've evolved for thousands and thousands of years, to the enormously historic beginning of a settlement and the colonisation of another planet," he emphasizes. "It is a big objective, but I would like to see the US make a commitment within a definite time period of leading the other nations in international permanence on Mars."
Budget Consistency
One notable issue Dr Aldrin highlights is that there is a clear lack of consistency in the government's budgets for space technology development and the long term human space exploration objectives. The U.S 2013 budget proposal for NASA was $17.7bn, $59m less than what the space agency received in 2012. "The budget is driven absolutely by short term objectives and heritage components that don't include investment in long term objectives," Aldrin says frankly.
"It took the United States 3 ½ % to 4% of allotted or discretionary funding during the Apollo years to achieve the objective of sending humans to the Moon. In order to develop the long term capability of achieving the much more challenging goal of the first earthling settlements on Mars, we are certainly going to need to require much more than ½ %, which is what NASA has been receiving for tens of years now.
"We just cannot continue to lead the world and advance our space capabilities to that level and acquire the recognition of the inspiration benefits, and the increased progression of Science, Technology, Engineering and Math. STEM education requires the inspiration of individuals to choose subjects and to develop careers that contribute towards those objectives, and I don't believe we're doing that with an underfunded national priority of investment."
.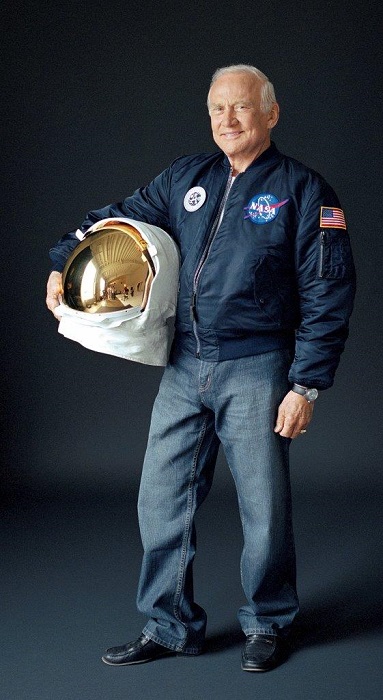 "The many ideas I reference in my life wouldn't be possible without a strong and evolving background in the education of Science, Technology, Engineering and Math." Courtesy of the Buzz Aldrin Archive.
.
Cooperative Efforts
However Dr Aldrin remains optimistic nonetheless in all the high profile work he has done to this day, to encourage the global community towards new and permanent human exploration and settlement of space. He thinks with the right partnerships, constancy of purpose, policy consistency and the continuation of robotic missions to Mars throughout the 2020s, successful human mission to Mars can be achieved.
The objective, Dr Aldrin admits, will not be achieved by one nation alone and will need a cooperative and joint approach. This comes back to Dr Aldrin's blueprint United Space Vision (USV). In this, he encourages America to initiate a lunar consortium where international partners – China, Europe, South Korea, Russia, India and Japan – would do the lion's share of the planning, technical development and funding for manned missions back to the moon. Furthermore the United States would develop new strategies, launch vehicles and spacecraft to bring the country closer to Mars, by way of progressive missions to comets, asteroids and Mars's moon Phobos.
"I think it's imperative that we correct some mistakes that I feel have been made between nations by excluding China and its growing capability from cooperative activities at the international space station," he says. "The United States should be helping to motivate the national efforts of other countries in space activity, bringing together our resources with other countries, specifically China, and using our knowledge to help further their goals and achievement. By carefully providing assistance, without consuming all our space activities, we can develop the stepping stones that will lead us to Mars."
Inspiration through Education
Dr Aldrin talks fondly of his education and the role his father, Edwin Eugene Aldrin, a Colonel in the Air Force, played in inspiring his love for technology. Growing up in New Jersey, he was an extremely smart student, graduating early from Montclair High School before studying military engineering at the US Military Academy at West Point. "My education was largely inspired by the educational pursuits of my father that lead me to West Point and then to earn a Doctorate of Science in Astronautics at MIT, before eventually joining the astronaut programme."
Known as "Dr Rendezvous" because he was the first of his selected group of astronauts to have a doctorate, Dr Aldrin is keen to emphasize the benefits of aerospace education. "My continued efforts to improve the space leadership of the United States in the world by emphasising the objectives of Mars and the many innovative ideas I reference in my life wouldn't be possible without a strong and evolving background in the education of Science, Technology, Engineering and Math; STEM."
.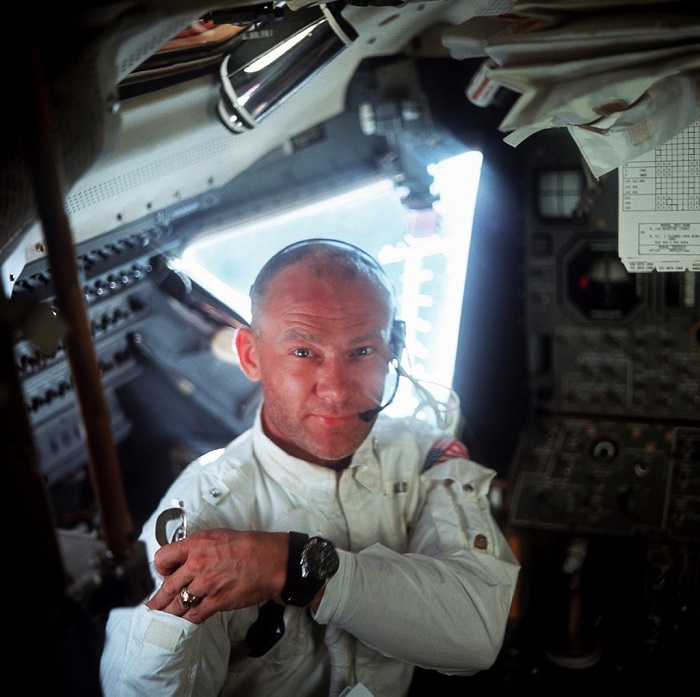 "The aim is to give back and inspire, while advancing space science education." Courtesy of the Buzz Aldrin Archive.
.
The not-for-profit organisation Dr Aldrin has set up, The Share Space Foundation, is proof that he is determined in continuing to inspire future generations into space and through their educational paths. The Foundation shares educational resources for children of all ages to experience the wonders of space, as well as foster affordable space travel opportunities for all people. "As a young kid who grew up and pursued education, I had no idea of the career I would follow and the opportunities that would open up to me as a result of that. The aim is to give back and inspire, while advancing space science education.
"There are many other distractions for young people today and the need for inspiring them in traditional ways we once used to is very important. Increased inspiration comes from the knowledge we gain first by exploration and second by evolving science in development, commercialisation and of course security."
Space Progress
In a year where a number of high profile space missions are taking place and which some are calling a critical year for commercial space travel, it is Dr Aldrin who remains the most pragmatic Lunar Ambassador and Global Space Statesman. Newspaper column inches will be no doubt be filled with the fascinating stories on the European Space Agency's star-mapping Gaia craft and the ESA's Rosetta craft rendezvous with Comet P67P/ Churyumov-Gerasimenko, NASA's Mars Atmosphere and Volatile Evolution (MAVEN) mission orbiting the red planet, and the Indian Space Research Organisation's Mangalyaan probe arriving just days after.
.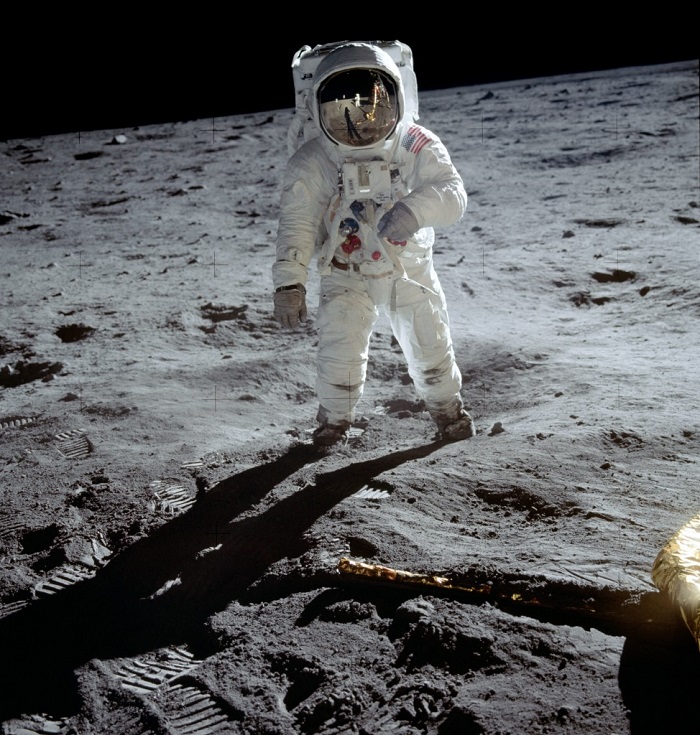 "The United States should be helping to motivate the national efforts of other countries in space activity." Courtesy of Buzz Aldrin Archive.
.
Broadening Space
As an unstinting advocate for private space travel, Dr Aldrin is keen to see future progress. He believes this type of travel will bring down the cost of single scientific missions through creating large sustainable markets and generate broad public interest and participation. The idea that tourists in space will nurture the next generation of astronauts, engineers and scientists, is one he believes strongly in. "Commercial passenger travel drives the requirements for reusable Earth to orbit transportation systems. Not only that but I believe public space travel by private citizens or non-professionals is critical as it makes space more familiar."
Dr Aldrin's 'Mars Cycler' was an idea from the 1980s that remains close to his heart. A spacecraft system with perpetual cycling orbits between Earth and Mars creating a space transportation network. "I came up with the idea in 1985 as a system that provided a transportation orbital strategy," he excitedly exalts. "It would lead to a sustainable transportation system that could ferry people, supplies and equipment to Mars, utilizing a host spacecraft on a trajectory travelling between the two planets. I'm pretty confident we're moving in the right direction, I just need to gather increased support for these lofty objectives."
Until that day will happen, Dr Aldrin will continue to advocate for other private missions such as Space X, Mars One and the Inspiration Mars aspirations. Mars One plans to send a group of people to colonize the planet on a one-way mission in 2024 and the latter aims to launch a couple on a flyby of Venus and Mars in 2021. "I am very encouraged and supportive of space activity from private firms who are looking towards Mars. Mars One originating from the Netherlands is doing some very interesting work. Human space travel is excitedly poised to go from the few to the many and hopefully my firm belief in the motto "Everybody needs space!" will go on."
.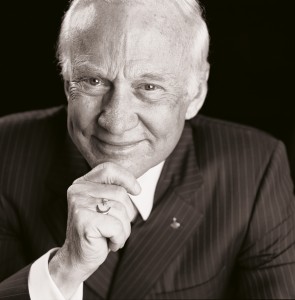 "Dr Rendezvous". Courtesy of the Buzz Aldrin Archive.
.
Quelle: npg
3548 Views