.
9.03.2013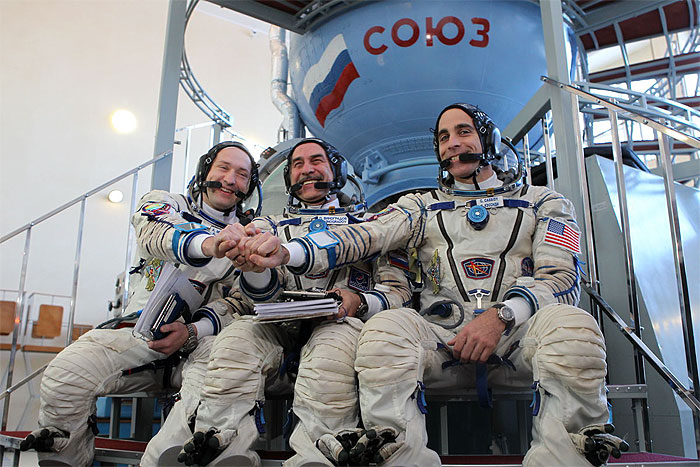 At the Gagarin Cosmonaut Training Center in Star City, Russia, Expedition 35/36 Flight Engineer Chris Cassidy (right), Soyuz Commander Pavel Vinogradov (center) and Flight Engineer Alexander Misurkin clasp hands for photographers prior to the start of qualification simulation runs in a Soyuz spacecraft mock-up on March 5, 2013. The three crew members are training for launch March 29, Kazakh time, to the International Space Station in their Soyuz TMA-08M spacecraft from the Baikonur Cosmodrome in Kazakhstan.
CREDIT: NASA
-
Update: 9.03.2013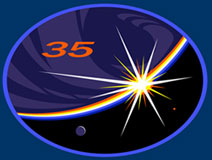 .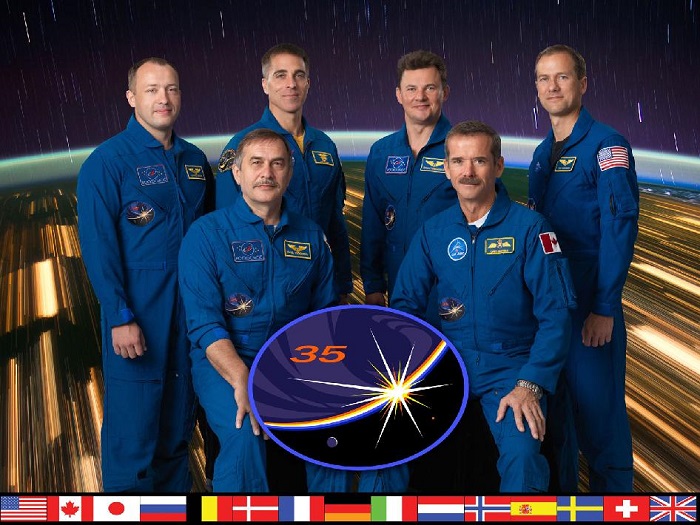 Pictured on the front row are Expedition 35 Commander Chris Hadfield (right) and Flight Engineer Pavel Vinogradov. On the back row, from left, are Flight Engineers Alexander Misurkin, Chris Cassidy, Roman Romanenko and Tom Marshburn. Photo credit: NASA
Quelle: NASA
.
Update: 14.03.2013 - NASA-TV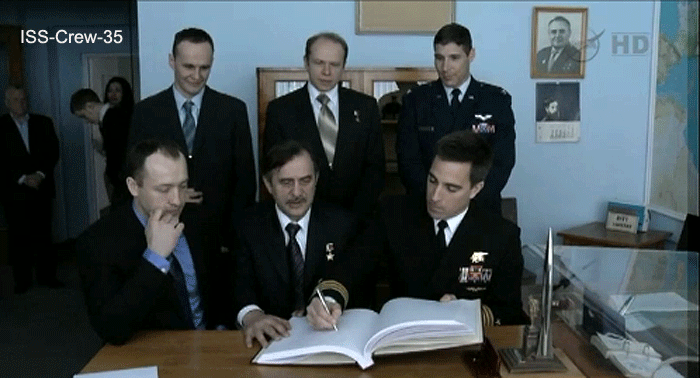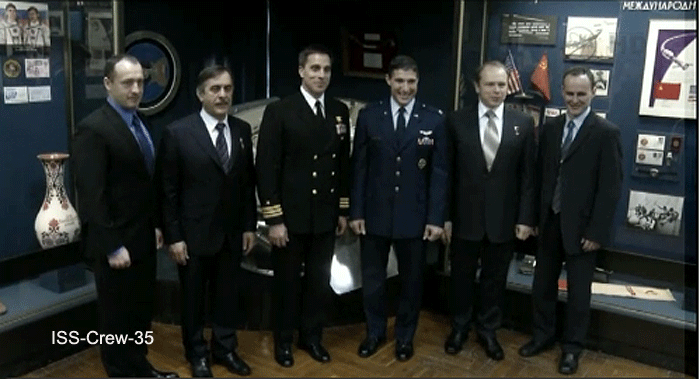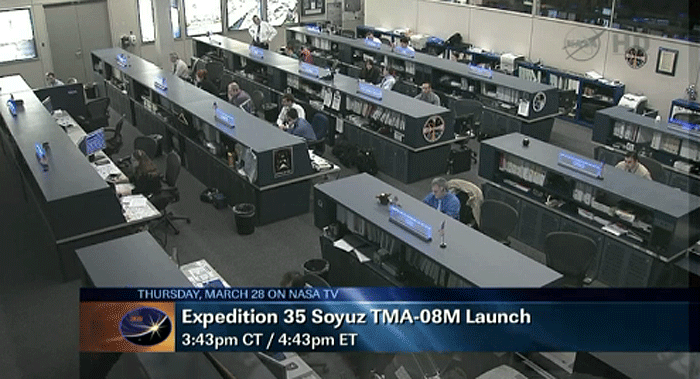 Soyuz TMA-08M Crew Ready for Rapid Trek to Space Station
.
The multi-month increments by International Space Station crews seem to be coming quick and fast these days, with none more quickly than the upcoming Soyuz TMA-08M crew of Russian cosmonauts Pavel Vinogradov and Aleksandr Misurkin and NASA's Chris Cassidy. When they launch from the desolate steppe of Baikonur, in north-central Kazakhstan, on 28 March, they will spend a mere six hours—as opposed to the standard two days—in "solo" flight, before docking at the sprawling orbital research facility. In doing so, Vinogradov, Misurkin, and Cassidy will form the second half of Expedition 35, under the leadership of Canada's first ISS Commander, Chris Hadfield, and will later constitute the core of the Expedition 36 crew, returning to Earth in September.
Although same-day rendezvous and dockings are nothing new, and America's Skylab crews typically arrived at the orbital workshop just eight or nine hours after liftoff, it has been typical in the ISS era for astronauts and cosmonauts to follow the longer profile, which is more economical in terms of propellant expenditure and the demands of orbital mechanics. At the same time, however, the confines of Russia's tiny Soyuz vehicle are cramped and highly stressful and often serve to exacerbate sensations of nausea and space motion sickness. Getting crews to the station sooner, though enormously complicated, was highly desirable, and, writing last year, analyst James Oberg noted that a fast-rendezvous plan had been developed, involving a ballet of between four and six thruster firings to create the right conditions for an early docking. "The destination in space," wrote Oberg, "must be lined up much more precisely in a narrow 'slot' in the sky. With the two-day profile, that destination could be anywhere halfway along the ISS' round-the-world orbital track … but with the fast-track rendezvous, the target must be maneuvered in advance into a segment of the target's orbit that is only 20 degrees wide at the time of the spacecraft's launch."
In August 2012, Russia's Progress M-16M—or "48P" in ISS Program-speak—was launched and successfully completed a docking with the space station just six hours after liftoff. It was noted at the time that at least one of the crewed Soyuz missions for 2013 might follow a similar profile, and the TMA-08M crew will do just that. "It's a really exciting and interesting concept to do," explained Chris Cassidy in his pre-flight NASA interview. "Typically, we'll launch on one day, go to bed, be up that whole second day with a few tasks and activities, but not much significant activity, and then go to sleep again and wake up and rendezvous on that third day. We'll scrunch that whole timeline down into about a six-hour period. The interesting thing from a human point of view is we don't have time to take off our space suits, so we'll be strapped into our seats for the whole duration of that six-hour period, plus the pre-launch activities. It'll be a long day and a lot of time in the suits."
Having said this, the crew will have the opportunity to move around the cabin, which is rendered somewhat more spacious in the absence of gravity. However, for Cassidy, a U.S. Navy officer and former SEAL, the lack of comfort in the Soyuz is notable. "The toilet is right next to where you sleep, which are right next to your buddy," he said, "and eating and all; it's like living for a day in a smart car or a Volkswagen Beetle." From an operational perspective, the only difference for Cassidy and his crewmates are that the six-hour timeline is much shorter, naturally, than it would ordinarily be, with fewer gaps between discrete activities. The decision to adopt the fast-rendezvous approach for Soyuz TMA-08M was formally agreed by the International Partners last month, but, according to ISS Program Manager Mike Suffredini, has not yet been approved for all future flights. A decision on whether to adopt it for Soyuz TMA-09M on 28 May—whose crew includes NASA astronaut Karen Nyberg—is expected to be made in April.
"All the systems of the vehicle are the same, but the work is more intense," said Pavel Vinogradov, a veteran of two previous long-duration missions, who will be commanding the Soyuz TMA-08M flight to the station. Recently quoted by SpaceflightNow.com, he added that "there are no new systems or modes in the vehicle, but the co-ordination work of the crew should be better." Overall, Vinogradov feels that although it will be hard on the crew in the first few hours of pre-launch activities and orbital flight, it offers the benefits of greater efficiency in the long term. Another tangible benefit for the Russians is that a full complement of Soyuz controllers will be needed for only a day, as opposed for three days in the previous rendezvous profile. NASA remains cautious, however, and has expressed concerns over the technical difficulty of the orbital maneuvers, in such rapid-fire succession and so soon after launch, plus the crew's comfort and workload. In his NASA interview, Cassidy acquiesced that the ultimate decision "probably will be made by Roscosmos … but certainly what we learn will be passed on to the other crews."
Soyuz TMA-08 arrived at the Baikonur site in January and has steadily progressed through its final weeks of testing, ahead of mating to its booster, a descendent of the R-7 "Semyorka" ("Little Seven"), originally conceived by Sergei Korolev in the 1950s. Approximately a day before launch, it will be transported out to the launch pad in a horizontal fashion, atop a railcar, and there erected into a vertical position. Liftoff is currently planned for 4:43:22 p.m. EDT (8:43:22 p.m. GMT) on 28 March, with docking at the space station's zenith-facing Poisk mini-research module at 10:32 p.m. EDT (2:32 a.m. GMT on the 29th).
Russia will achieve a new national record on this mission, for Vinogradov will become the oldest cosmonaut ever launched into space. He will turn 60 on 31 August, a few days before his scheduled return to Earth; this slightly eclipses the previous Russian record-holder, Valeri Ryumin, who was 58 years old when he flew to Mir aboard shuttle mission STS-91 in June 1998. Vinogradov flew long-duration expeditions to Mir and the ISS, most recently in 2006, and the chance to return to the strange microgravity environment is something he particularly wants to savor. "People who were on-board the station," he explained in a NASA interview, "feel that it's their second home, and it will be like coming home for me. And, of course, it's larger. The station has expanded; it's now beautiful and big."
The arrival of Vinogradov, Misurkin, and Cassidy will kick off a busy few months for the ISS Program, highlighted by numerous spacewalks from both the Russian Operating Segment (ROS) and the U.S. Operating Segment (USOS). The first excursion is tentatively planned for 19 April and will involve Vinogradov and fellow Expedition 35 cosmonaut Roman Romanenko. When he floats outside the Pirs airlock, Vinogradov will become the world's oldest spacewalker, soundly beating the previous record-holder, Story Musgrave, who was 58 years old when he supported three EVAs to service the Hubble Space Telescope in December 1993. In his NASA interview, Vinogradov spoke briefly about the tasks he and Romanenko will perform. "It's going to be for the installation of special sensors and antennas that show the state of the electromagnetic field around the station," he explained. The cosmonauts will also install material-exposure sample trays and equipment to support the docking, in early June, of Europe's fourth Automated Transfer Vehicle (ATV-4, named in honor of physicist Albert Einstein).
The EVA will be the first of as many as seven throughout the summer months, with three other ROS spacewalks currently planned for 26 June, 15 August, and 19 August. These three will be performed by Misurkin and Fyodor Yurchikhin—the latter of whom is scheduled to arrive at the ISS aboard Soyuz TMA-09M in late May—and according to Vinogradov will be conducted in support of the anticipated (and long-delayed) Nauka multi-purpose laboratory module, scheduled for launch in late 2013 or 2014. "We will have to provide power lines and to transition the power lines from the USOS to the ROS," he said, "and it's not a short route to attach them, to lay the cables for data transfer as well, and to install data trusses, data buses and … scientific equipment on the outer shell of the station." This equipment is expected to include a pair of Canadian-built telescopes. "How they decide who performs the EVAs is very hard," Vinogradov concluded. "It's very hard to prepare a person to perform the EVA; it's very hard to measure and spread out the tasks between the crew members and the load between the crew members."
For the first six weeks of their mission, Vinogradov, Misurkin, and Cassidy will work as part of Expedition 35, alongside Roman Romanenko, NASA's Tom Marshburn, and Commander Chris Hadfield. That will change when Hadfield and his team return to Earth aboard their Soyuz TMA-07M spacecraft on 14 May, after 146 days in orbit. Vinogradov will take command of the ISS and the first half of the Expedition 36 increment will begin. Three new crew members—Soyuz TMA-09M's Fyodor Yurchikhin, Karen Nyberg, and Italian astronaut Luca Parmitano of the European Space Agency—will arrive to restore the station's six-person capability at the end of May. Parmitano will become the second Italian long-duration resident of the ISS; in ESA mission-naming tradition, his voyage is called "Volare" ("To Fly" in Italian.) With the exception of Nyberg, this new crew will participate heavily in the EVA schedule over the summer period.
In addition to Yurchikin and Misurkin's spacewalks in June and August, astronauts Cassidy and Parmitano will make at least two EVAs—and perhaps three—in early July. When he ventures outside, Parmitano will become the first Italian in history to perform a spacewalk. Current projections indicate 2 July and 5 July as the preferred dates, with a third tentatively slated for the 9th. "The number of EVAs," explained Vinogradov, "will depend on how successful they are … but we don't want to put too much pressure on the crew and give them time to work at a measured pace." One of Cassidy and Parmitano's first tasks will be the relocation of a pair of Heat Rejection Subsystem Grapple Fixtures (HRSGFs) from their current home on the station's Mobile Base System to the outboard S-1 and P-1 trusses. The HRSGFs, nicknamed "grapple bars," arrived at the ISS aboard SpaceX's CRS-2 Dragon cargo craft and were robotically removed from the unpressurized Trunk on 6 March by the 57-foot-long Canadarm2 manipulator arm.
The purpose of the grapple bars is to provide a capability for Canadarm2 to interface with ISS radiator elements, should the need arise to repair or replace them. The astronauts will remove the bars from their Payload Orbital Replacement Unit (ORU) Accommodation (POA) on the Mobile Base System, and Cassidy expects the work to transfer them to their final S-1 and P-1 locations to require the majority of the six-hour EVA. Elsewhere, the starboard Solar Alpha Rotary Joint (SARJ)—a 10-foot-diameter, 2,500-pound bearing, situated between the S-3 and S-4 truss segments—which enables the solar arrays to properly track the Sun has experienced intermittent difficulties for several years and requires further attention. According to Cassidy, the starboard SARJ has recently shown indications "that it's taking more current to drive the motor to make them spin, which indicates that maybe there's some binding or it's not smoothly spinning around the ring." The two astronauts will clean and lubricate the SARJ rings, on both sides of the space station, and tend to a Ku-band antenna malfunction and the need to repair a Sequential Shunting Unit.
With the drama of the EVAs keeping the entire Expedition 36 crew busy throughout the summer, Vinogradov and his team will welcome a steady train of visitors, including Russia's workhorse Progress, Europe's ATV-4 Albert Einstein in June, and Japan's Kounotori-4 ("White Stork") in July-August. Although a precise launch date has yet to be announced, the maiden demo flight of Orbital Sciences' Cygnus cargo craft should also occur during this timeframe. For Vinogradov, Misurkin, and Cassidy, their return to Earth is tentatively scheduled for 11 September.
.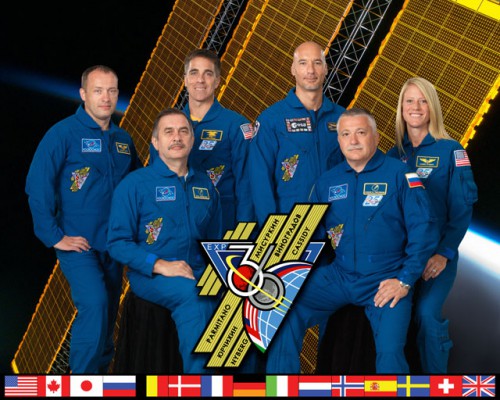 The two "halves" of the Expedition 36 crew, scheduled to be launched aboard Soyuz TMA-08 in March and Soyuz TMA-09M in May. Seated are Pavel Vinogradov (left) and Fyodor Yurchikhin, with (left to right) Aleksandr Misurkin, Chris Cassidy, Luca Parmitano, and Karen Nyberg standing. Photo Credit: NASA
.
Quelle: NASA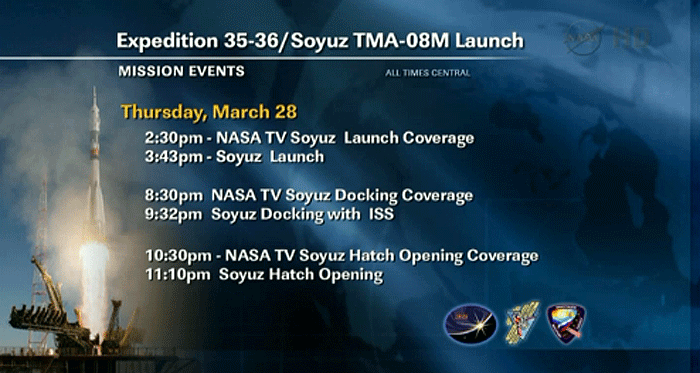 .
Update: 27.03.2013
.
Soyuz Rolls Out
The Soyuz rocket is rolled out to the launch pad by train on Tuesday, March 26, 2013, at the Baikonur Cosmodrome in Kazakhstan. Launch of the Soyuz rocket is scheduled for March 29 and will send Expedition 35 Soyuz Commander Pavel Vinogradov, and Flight Engineers Chris Cassidy of NASA and Alexander Misurkin of Russia on a five-and-a-half-month mission aboard the International Space Station.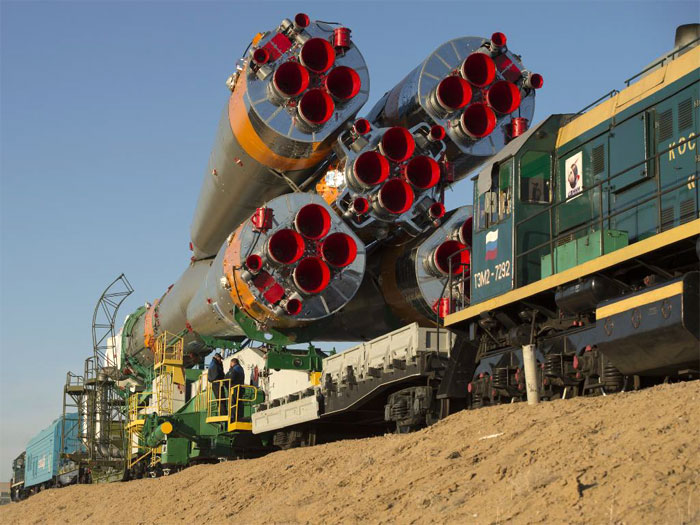 3946 Views