-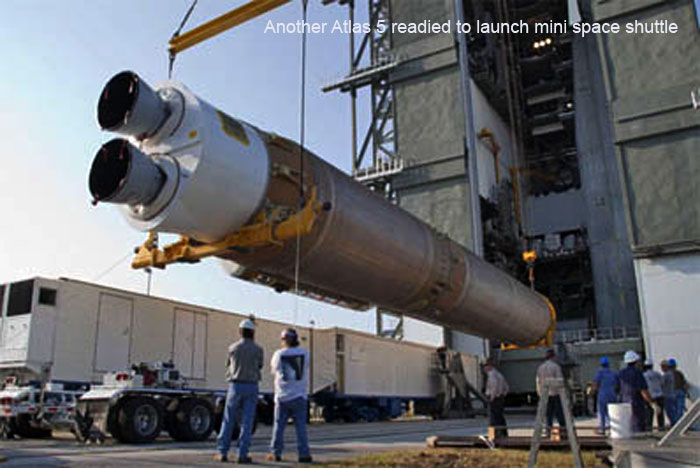 Foto:ULA
United Launch Alliance's Atlas-Centaur rocket has been put together for deploying the Air Force's third Orbital Test Vehicle flight, a mission that will demonstrate the reusability of the X-37B spaceplane when it blasts off Oct. 25.
The bronze first stage of the vehicle was erected atop the mobile launch platform inside the Vertical Integration Facility at Cape Canaveral on Thursday, Sept. 13.
After setting the interstage adapter hardware in place, the Centaur upper stage was hoisted high into the assembly building on Saturday, Sept. 15.
The upcoming spaceflight will be the second for this particular X-37B vehicle, which spent 224 days, 9 hours and 24 minutes aloft between April and December 2010 on the inaugural OTV shakedown cruise.
A second vehicle spent 468 days, 13 hours and 2 minutes on a voyage from March 2001 to this past June that circled the globe more than 7,000 times.
Now, the maiden spaceplane is poised for its return to orbit on another hush-hush mission of unknown duration or exactly what it is carrying in the payload bay.
"We are on track to launch OTV-3 in October," said Maj. Tracy Bunko, an Air Force spokeswoman at the Pentagon.
"As with many other advanced technology test programs, some details of the mission and test requirements are classified or sensitive. The focus of the program remains on vehicle capabilities and proving the utility and cost effectiveness of a reusable spacecraft."
With pickup truck-size cargo bay, seven feet long and four feet wide, the stubby-winged craft could be filled with equipment being exposed to the harsh environment of space for proof testing or could contain experimental instruments intended for use by future military and reconnaissance satellites. The planes' unique capability to drop from orbit and land on a runway allows technicians to get their hands on the hardware after it spent more than a year in space.
"One of the most promising aspects of the X-37B OTV is it enables us to examine a payload system or technology in the environment in which it will perform its mission and inspect them when we bring them back to Earth. Returning an experiment via the X-37B OTV enables detailed inspection and significantly better learning than can be achieved by remote telemetry alone. Experiments can then be modified and reflown, allowing us to mature technology faster," Bunko said.
Built by Boeing's Phantom Works division, the miniature space shuttle is 29 feet long with a wing span of 15 feet, made of light-weight composite structures instead of aluminum and shielded with improved leading-edge ceramic insulation panels on its wings and tougher silica tiles affixed to its belly that are designed to be more durable than first-generation tiles used on the manned shuttles. It can weigh up to 11,000 pounds fueled for launch.
The in-space design life is 270 days, but good performance on the last mission enabled ground controllers to keep it aloft significantly longer.
"As with previous X-37B OTV flights, the mission duration is driven by completion of the test objectives rather than any specific date," Bunko said.
The Atlas first stage, with its RD-180 main engine burning kerosene fuel and super-cold liquid oxygen, will fire through the initial five minutes of flight.
The cryogenic Centaur upper stage filled with liquid hydrogen and liquid oxygen then ignites for its only burn needed to heave the 5.5-ton payload into low-Earth orbit.
The launch sequence on OTV-1 and OTV-2 took about 19 minutes from liftoff to spacecraft separation.
It's the 501-version of the Atlas 5, a rocket that employs the five-meter-diameter nose fairing to shroud X-37B during ascent through the atmosphere and no strap-on solid-fuel boosters.
Although the exact target launch time has not been revealed, liftoff is expected in the late afternoon or early evening from Cape Canaveral's Complex 41.
Quelle: ULA
-
Shrinking space budgets don't stop the U.S. military from dreaming about space planes or rockets capable of flying back and landing on their own.
Reusable launch vehicles capable of soaring into space and returning by flying through Earth's atmosphere like airplanes could potentially save millions on expensive launches that typically cost thousands of dollars per pound — especially if they fly frequently. But U.S. military officers and researchers acknowledged the challenge of pushing for next-generation space vehicles during a time of budget cuts.
"Money is tight, and we have to make tough decisions on where to invest money," said Col. Scott Patton from Air Force Space Command. "In the long term, we need full spectrum launch capability at dramatically lower cost."
-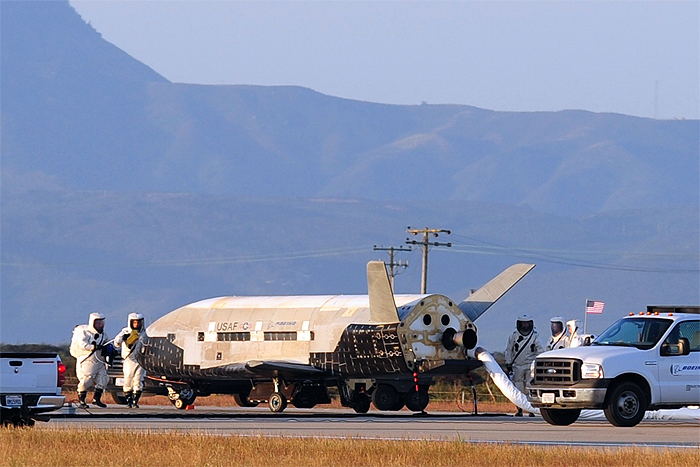 -
An investigation into a rocket glitch may delay the planned Oct. 25 launch of the U.S. military's enigmatic X-37B space plane, Air Force officials say.
The anomaly occurred Oct. 4, when a Delta 4 rocket blasted the GPS IIF satellite safely into orbit. While the unmanned X-37B spacecraft is ready to fly and doesn't use the Delta 4 — it lifts off atop an Atlas 5 — the Air Force's investigation into the glitch may affect the space plane's launch schedule.
Air Force Space Command commander General William Shelton has asked for a discretionary accident investigation board (AIB) to investigate why the Delta 4 RL-10B-2 upper stage engine did not perform as expected during the GPS satellite launch, said USAF Major Tracy Bunko at the Pentagon's Air Force Press desk.
-
-
-Update: 20.10.2012
Start von X-37 verschiebt sich in November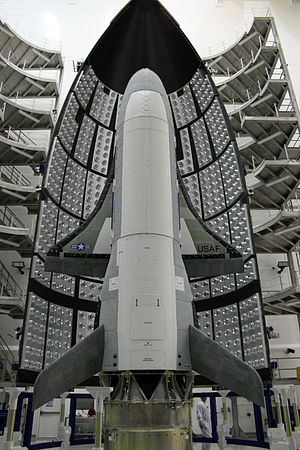 Photo Credit: USAF
The launch of a United Launch Alliance (ULA) Atlas V 501 rocket has been delayed to no-earlier-than Nov. 13. The payload for this mission is the Orbital Test Vehicle or "OTV." The delay will allow ULA to review the anomaly that cropped up during the Oct. 4 launch of a ULA Delta IV Medium rocket.
A lower-than-normal chamber pressure was observed on the Delta IV RL10 upper stage engine – a similar engine to that utilized in the Atlas V. The version of the RL10 used on the Atlas family of rockets is different than that on the Delta IV, but using an overabundance of caution, the ULA launch team and the U.S. Air Force have postponed launch by two weeks to allow the team to confirm that there will not be a repeat of the problem.
This will mark the third launch of one of the OTV spacecraft. The space plane to be used in the upcoming mission conducted its first orbital mission in April of 2010 and landed in December of that same year. ULA launched the second OTV on March 5, 2011 it landed over a year later on June 16, 2012. The USAF has not revealed what the spacecraft have been doing on orbit, but the first mission has been revealed to have been primarily a test of the vehicle's heat shield and to see how the OTV handled while it was hypersonic.
Quelle: USAF
-
Update: 22.10.2012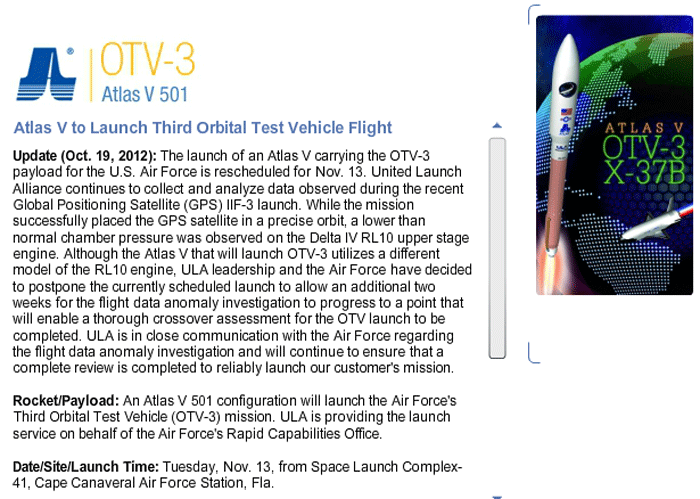 -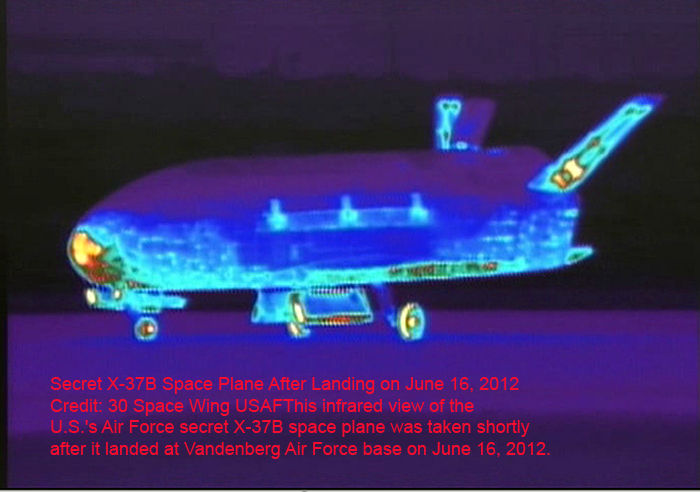 Update: 3.11.2012 / 16.00 MEZ
The third launch of the Air Force X-37B spaceship, a secret space plane used for classified missions in Earth orbit, has been postponed, officials said.
The liftoff of an Atlas 5 rocket set to carry the robotic X-37B Orbital Test Vehicle (OTV-3), which looks like a mini space shuttle, has now been slipped to Nov. 27, pending confirmation that the rocket range can support the launch.
-
Update: 8.11.2012 - Schub-Probleme bei ULA-Oberstufe welche X-37B in die Umlaufbahn bringen soll, daher wahrscheinliche Start-Verschiebung:
-
The U.S. Air Force is not close to finding a root cause of a recent low-thrust problem in an RL10 upper stage engine made by Pratt & Whitney Rocketdyne, and the service may further delay launch of its Orbital Test Vehicle-3 mission as well as NASA's Tracking and Data Relay Satellite System K spacecraft, says Air Force Space Command chief Gen. William Shelton.
"I don't think we are close on the investigation," he told a small audience during a breakfast here hosted by the Air Force Association. He said the fact that the Boeing GPS IIF-3 satellite made it to orbit was the result of a "bit of a diving save," owing to a large fuel reserve on the upper stage. "We are hopeful of a smoking gun," he says, noting work is continuing to narrow down possible causes.
Last week, Shelton delayed the OTV-3 mission, which will orbit the X-37B reusable spaceplane prototype, two weeks to Nov. 27. The second delay of that launch, the slip will allow for more investigation time into the RL10 problem. Today, he indicated a further delay is possible and acknowledged that it will have a domino effect on the manifest of launch provider United Launch Alliance (ULA), owing to a limited number of launch crews and pads.
The RL10 incident occurred during the Oct. 8 launch of a ULA Delta IV (4,2), which uses the RL10B-2 upper stage. Some officials have suggested it was luck that got the satellite into its proper orbit after ULA officials detected what they call an "unexpected data signature" that pointed to underperforming thrust on the upper stage.
OTV-3 and TDRSS are slated for launch on the Atlas V, which also uses the RL10. This booster uses the RL10A version of the upper stage, but it shares common components. The RL10 is a single-point-of-failure for the Atlas V and Delta IV Evolved Expendable Launch Vehicles, underscoring the need to ensure a similar problem cannot happen in the future. "We have to find out what happened and why, because there is no plan B," Shelton says. "The cost of a launch failure would be staggering," both in the loss of an expensive satellite and in terms of operational impact because forces have become so dependent on spaceborne services for their work.
The recent RL-10 problem tarnishes ULA's flawless launch record at a time when the monopoly is fighting to keep its position in the market against such upstarts as SpaceX, which has performed two docking missions to the International Space Station this year. The company is clearly after ULA's Air Force business, and has submitted a plan to the Air Force to certify its Falcon family for use in government missions.
Shelton says that whether a mission uses a ULA vehicle or a new entrant design, he is unwilling to reduce funding for mission assurance. Because a satellite loss could be so devastating operationally, "maintaining rigor is actually an affordability play for us," he says. The cost of mission assurance activities is about 3-5% of the total launch price, he adds.
Quelle: USAF
-
Launch of U.S. Air Force's Secretive Space Plane Delayed Until Dec. 11
CAPE CANAVERAL, Fla – United Launch Alliance (ULA) has stated that it is working with the Eastern Range to launch one of the U.S. Air Force's Orbital Test Vehicles (OTV) no-earlier-than Dec. 11. This marks the fourth delay of the unmanned space plane after an issue arose with the upper stage of a Delta IV launch vehicle.
During the Oct. 4, 2012 launch of a Delta IV Medium rocket with its Global Positioning System (GPS) IIF-3 satellite payload, the upper stage's RL-10 engine experienced a lower-than-normal engine chamber pressure. This anomaly apparently was deemed to be fairly serious and given that the Atlas V and Delta IV both use a similar version of the RL-10, ULA has opted to review flight data.
"We are working toward a planning date for the launch of OTV of Dec. 11, pending approval from the range," said ULA's Jessica Rye.
The Eastern Range is managed by the U.S. Air Force's 45th Space Wing. This will mark the third flight of one of the U.S. Air Force's unmanned space shuttles and the first time that one of the space planes has been reused (the orbiter used on the OTV-1 flight will be reused on this upcoming mission).
The RL-10 is a liquid-fueled rocket engine that is manufactured by Pratt & Whitney Rocketdyne. The engine burns cryogenic liquid hydrogen and liquid oxygen. The engine's development started in the 1950s. The latest version of this engine is what is employed in both the Atlas V and Delta IV families of rockets.

-
Update : 7.12.2012
Air Force and United Launch Alliance officials will meet today hoping to confirm plans for a Tuesday afternoon launch of a secret military space plane from Cape Canaveral.
The Air Force's 45th Space Wing said in a news release Thursday that launch of the X-37B Orbital Test Vehicle atop an Atlas V rocket was scheduled for a five-hour window between 1:03 p.m. and 6:03 p.m. Tuesday.
The launch follows weeks of investigation into an upper-stage engine problem during ULA's Oct. 4 launch of a GPS satellite on a Delta IV rocket.
The rocket's Pratt & Whitney Rocketdyne RL-10 upper stage engine, similar to the one used by the Atlas V, lost thrust but delivered the payload to orbit.
ULA has not announced the findings of its engineering review.
Next week's launch from Cape Canaveral Air Force Station would be the third by an unmanned OTV, which resembles a miniature space shuttle measuring 29 feet long and 15 feet wide.
The Air Force says its two OTV spacecraft are testing advanced guidance, navigation and control systems. They are also a rapid-turnaround technology demonstrator.
Officials have said that the spacecraft launching next week, making its second voyage, could land on Kennedy Space Center's runway. The first two missions touched down in California.
The Air Force is exploring a consolidation of the program's processing, launch and landing operations in Florida, including potential use of former shuttle facilities.
4713 Views