4.01.2022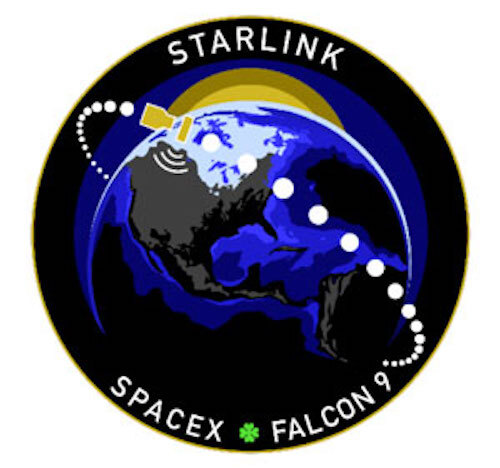 SpaceX's first launch of 2022 will deploy more Starlink internet satellites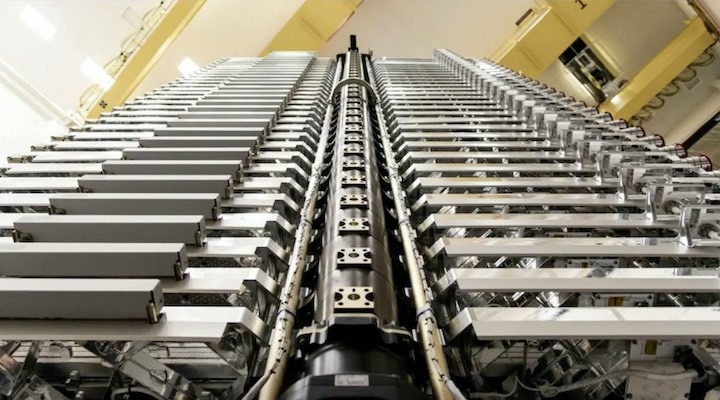 SpaceX plans to kick off its 2022 launch schedule with a Falcon 9 rocket flight Thursday from NASA's Kennedy Space Center with the company's next group of Starlink internet satellites.
In a change from previous Starlink missions, the Falcon 9 rocket will fly southeast from the coast of Florida on a course just north of the Bahamas to place the new batch of internet satellites into low Earth orbit a few hundred miles above Earth.
The mission, designated Starlink 4-5, is expected to target an orbital plane with a tilt of 53.2 degrees to the equator, one of five orbital "shells" at different inclination angles that SpaceX plans to fill with around 4,400 satellites to provide high-speed, low-latency broadband connectivity around the world.
SpaceX's previous launches carrying Starlink satellites to a similar orbit have flown northeast from Florida's Space Coast. Launches to the southeast must fly around the Bahamas to avoid the risk of dropping debris on populated islands.
Maritime warning notices suggest the mission scheduled for Thursday will do just that, tracking over the Atlantic Ocean north of the Abaco Islands, before making a slight right turn to head farther downrange.
SpaceX plans to land the Falcon 9's first stage booster on the drone ship "A Shortfall of Gravitas" positioned in the Atlantic. The landing platform departed Port Canaveral Saturday to head for the recovery zone.
The launch Thursday is targeted for 4:49 p.m. EST (2149 GMT), with a backup time available at 6:47 p.m. EST (2347 GMT).
Meanwhile, crews at nearby Cape Canaveral Space Force Station are preparing another Falcon 9 rocket for liftoff no earlier than Jan. 13 with dozens of small satellites from U.S. and international customers. That mission, known as Transporter 3, is SpaceX's third dedicated rideshare launch hauling smallsats into a sun-synchronous orbit.
Liftoff time Jan. 13 is set for 10:25 a.m. EST (1525 GMT), and SpaceX is expected to land the first stage on an onshore pad at Cape Canaveral.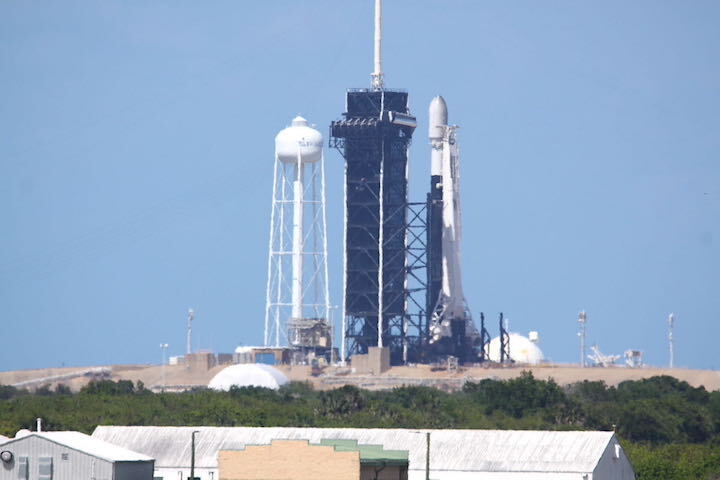 The mission set for Thursday will mark SpaceX's 34th dedicated launch with Starlink satellites. SpaceX hasn't said why the Falcon 9 rocket will take the southeasterly route to orbit on the next flight, or disclosed how many Starlink satellites will be on-board.
Dedicated Falcon 9 launches with SpaceX's latest generation of Starlink spacecraft have carried between 48 and 53 satellites per mission. SpaceX has launched 1,944 Starlink satellites to date, and the next mission will nudge that sum close to 2,000.
But not all of those satellites remain in orbit. Some have failed after launch, and SpaceX has intentionally de-orbited others, either due to technical problems or obsolescence as newer designs reach orbit.
A tabulation by Jonathan McDowell, an astrophysicist and expert tracker of spaceflight activity, shows SpaceX has 1,468 satellites providing Starlink internet service as of Sunday.
The flat-panel satellites are each a little more than a quarter-ton. After separation from the Falcon 9 rocket, the satellites will use krypton-fueled ion thrusters to maneuver into their operating orbits at an altitude of 335 miles (540 kilometers), joining the rest of the Starlink fleet.
SpaceX has a long-term plan to launch as many as 42,000 Starlink satellites, according to a company filing with the International Telecommunication Union. The company's initial focus is on deploying around 4,400 satellites into the first five orbital shells.
Jonathan Hofeller, SpaceX's vice president of Starlink and commercial sales, said last month that the Starlink network is providing internet service to consumers in more than 20 countries.
"We have well over 100,000 subscribers, both on the consumer and enterprise sides," he said in a panel discussion at Euroconsult's annual World Satellite Business Week event in Paris. "And we're not slowing down. We're just getting warmed up."
SpaceX hopes to use revenue from the Starlink business unit to help fund the company's ambitions to complete development of the heavy-lift Starship rocket, a massive fully reusable launcher designed to eventually replace the Falcon 9 and Falcon Heavy rockets.
Quelle: SN
+++
SpaceX drone ship heads to sea for first 2022 Falcon launch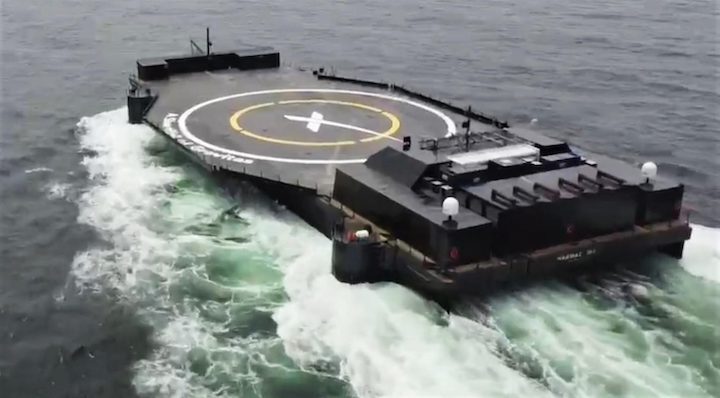 SpaceX drone ship Of Course I Still Love You (OCISLY) departed Port Canaveral on January 1st, heading to sea on the first day of the year for SpaceX's first launch of 2022.
With a launch manifest that's never been more jam-packed and seemingly achievable, it's no surprise that SpaceX is wasting no time kicking off what could be its third record-breaking year in a row. Barring delays, drone ship ASOG will arrive about 640 km (400 mi) downrange at its recovery site – just northeast of the Bahamas – a day or two before Falcon 9's first launch and landing attempt of the year. Known as Starlink 4-5 (Group 4 Launch 5) and scheduled to lift off no earlier than (NET) 4:49 pm EST (21:49 UTC), Thursday, January 6th, it will be SpaceX's 34th dedicated Starlink launch since May 2019.
Perhaps more importantly, if the mission goes to plan and doesn't have rideshare payloads, SpaceX will start 2022 having just launched its 1997th Starlink satellite, including two prototypes that came to be known as Tintin A and B and kicked off the constellation's in-space hardware testing phase in February 2018. Excluding all prototypes, Starlink 4-5 will mark the launch of more than 1900 (1922) nominally operational Starlink satellites.
Assuming ~90% of Starlink 4-5 satellites reach orbit in good health, SpaceX will also have more than 1800 working Starlink satellites, a bit less than 1500 of which will be actively serving customers. Including 4-5, another ~270 will be in the midst of orbital phasing and raising, which can take months.
More generally, Starlink 4-5 is expected to be the first of anywhere from 40 to 60 SpaceX Falcon launches nominally scheduled in 2022. As previously discussed on Teslarati, SpaceX's unofficial annual manifests have never been fuller heading into a new year. Simultaneously, in December 2021, the company demonstrated the ability to complete five Falcon launches in a single month but did so in less than three weeks. Following the last few years of trends, so long as SpaceX's Starlink production continues supplying a study flood of satellites to launch, the company could easily have enough commercial and internal (Starlink) payloads for 60+ launches in 2022.
The real question is how many launches the company can feasibly support. A conservative appraisal of SpaceX's recent history would suggest ~36 – continuing the series of 21 launches in 2018, 26 launches in 2020, and 31 launches in 2021. At the high end, demonstrating the ability to launch five times in three weeks implies a proven ceiling of up to 60 launches. In the middle, SpaceX successfully launched 30 times in 7 months (Oct 2020-May 2021), 8 times in 2 months (May-June 2021), and 26 times in 6 months (Jan-June 2021) – repeatedly proving its ability to launch around 50 times per year under the right circumstances.
Quelle: TESLARATI
----
Update: 5.01.2022
.
Space Force: Weather looks good for SpaceX Starlink launch this week
Conditions should be mostly favorable for the launch of a SpaceX Falcon 9 rocket with the company's next batch of Starlink internet satellites this week, marking the Space Coast's first mission of the year.
If schedules and conditions hold, the 230-foot rocket should fly into 80% "go" weather around Kennedy Space Center's pad 39A at 4:49 p.m. ET Thursday. The window will remain open until 6:47 p.m.
"On Wednesday, a wave will push north over the Space Coast, increasing cloud coverage and rain chances," Space Launch Delta 45 forecasters said Tuesday. "The unsettled weather is pulled away through the day Thursday as a low pressure system moves north towards the Atlantic Coast."
Upper-level winds above the pad and conditions for a drone ship recovery in the Atlantic Ocean were both classified as "low-risk." If the landing is successful, the drone ship and booster should sail into Port Canaveral before the end of the weekend.
In the event of a delay or scrub, conditions are expected to dip slightly to 70% "go" during a similar window on Friday. The main difference is the possibility of more powerful winds at liftoff time.
Thursday's launch marks the 33rd for SpaceX's Starlink constellation, a network of satellites beaming internet connectivity to thousands of users on the ground, mostly in rural or hard-to-reach areas. The company has launched around 2,000 of the satellites, but fewer than that – about 1,800 – are currently operational.
Launch Thursday, Jan. 6
Rocket: SpaceX Falcon 9

Mission: 33rd Starlink constellation launch

Launch Time: 4:49 p.m. ET

Launch Window: To 6:47 p.m. ET

Launch Pad: 39A at Kennedy Space Center

Weather: 80% "go"
Quelle: Florida Today
----
Update: 6.01.2022
.
It's launch day! Here's what you need to know about today's SpaceX Starlink launch
It's Launch Day!
Here's what you need to know for today's SpaceX Starlink launch from Kennedy Space Center's Launch Pad 39A:
• Liftoff is set for 4:49 p.m. The window will remain open until 6:47 p.m.
• Weather forecast is 80% "go" at the launch pad.
• Upper-level winds above the pad and conditions for a drone ship recovery in the Atlantic Ocean were both classified as "low-risk."
Conditions favorable: Space Force: Weather looks good for SpaceX Starlink launch this week
Launch-focused accommodations: Space and rocket launch-themed Courtyard by Marriott hotel slated to open near Kennedy Space Center
• Onboard the rocket will be 60 Starlink internet beaming satellites.
• The launch is SpaceX's first launch of the year and the 33rd for SpaceX's Starlink constellation.
• The company has launched around 2,000 of the satellites, but fewer than that – about 1,800 – are currently operational.
• Full coverage of the launch kicks off about 3:30 p.m today
Quelle: Florida Today
----
Update: 7.01.2022
.
Start von SpaceX's 33th Starlink v1.0 mission and 34th Starlink launch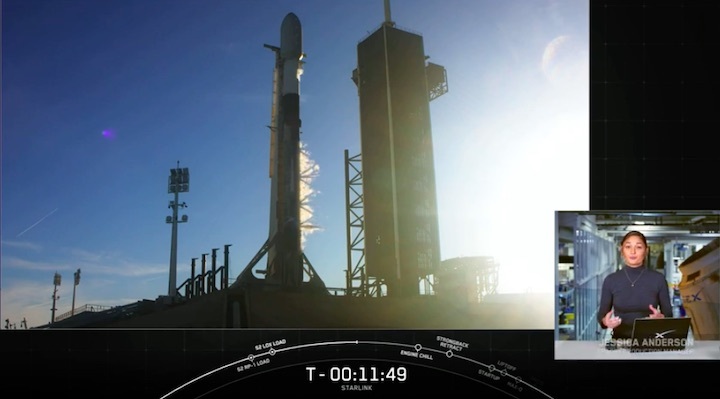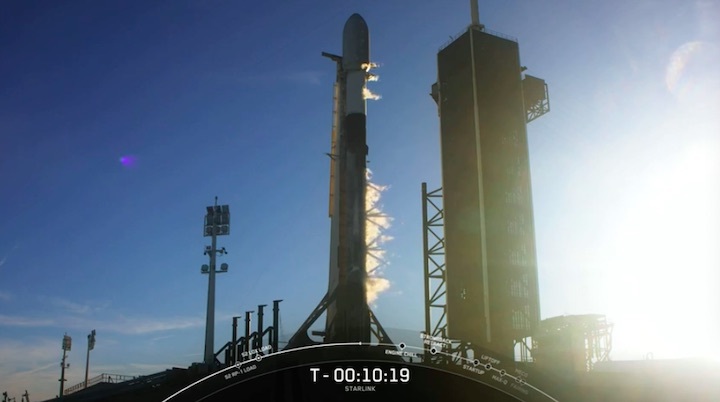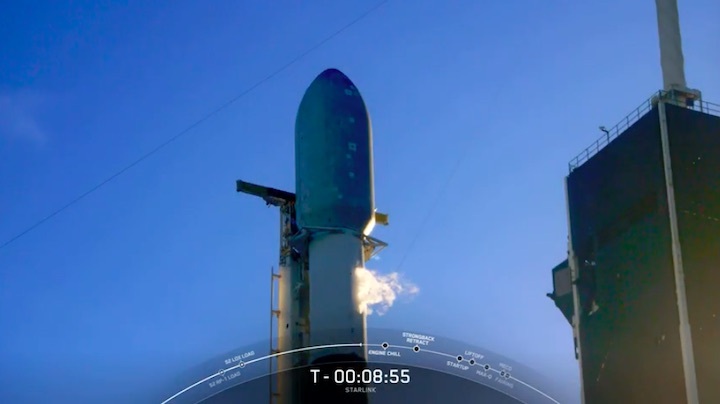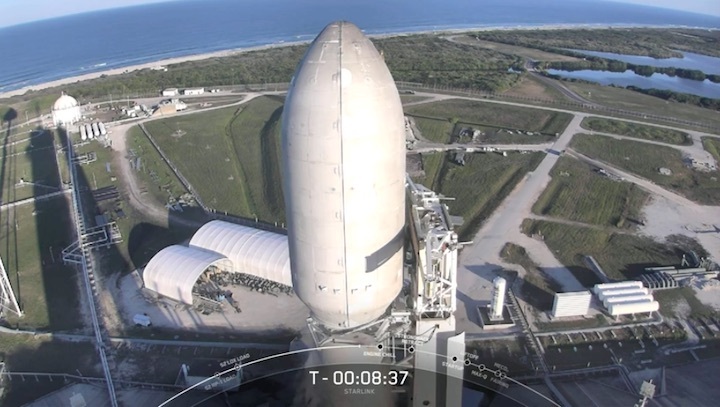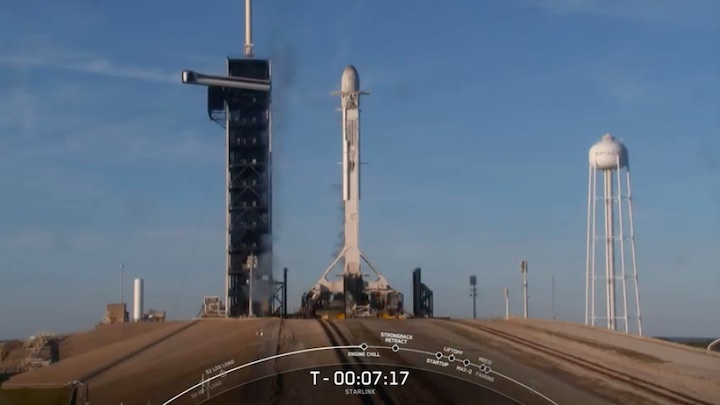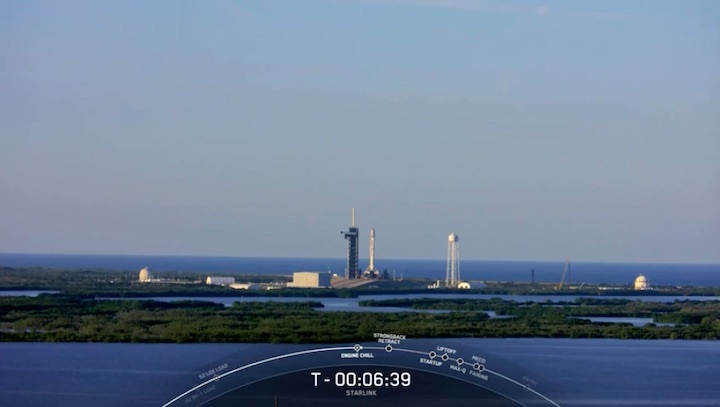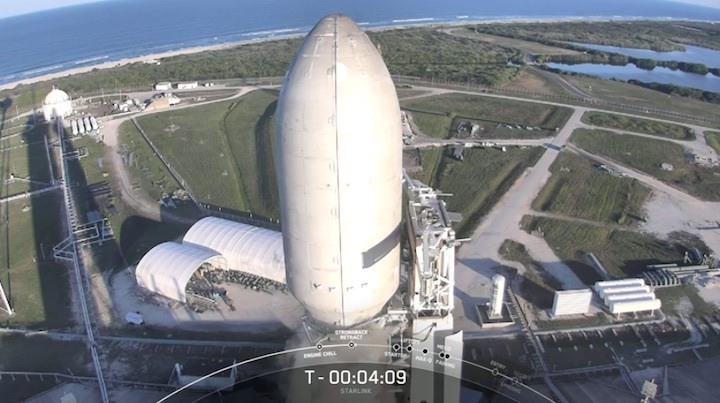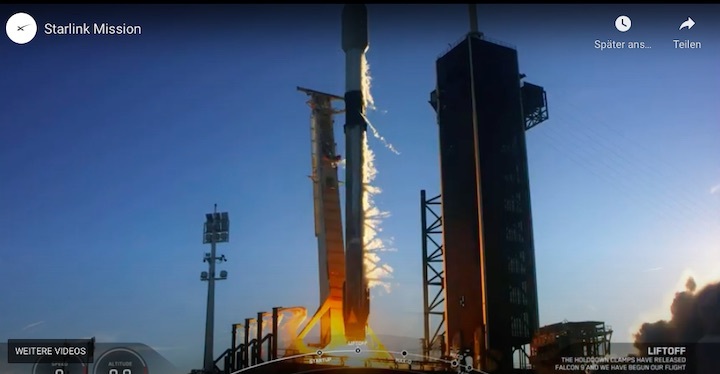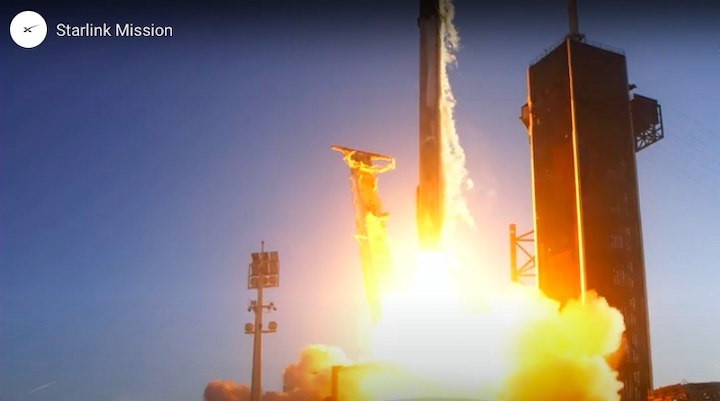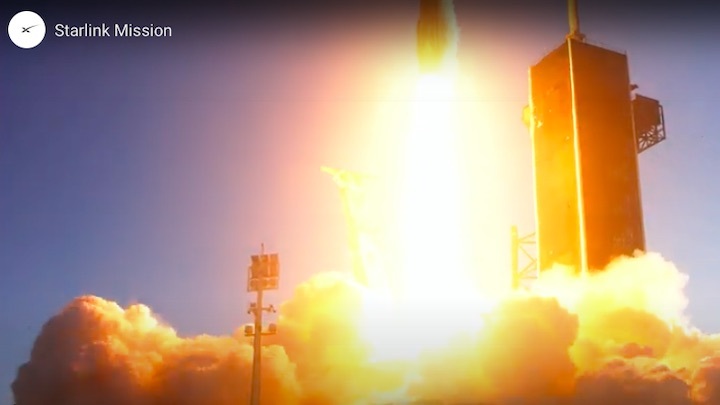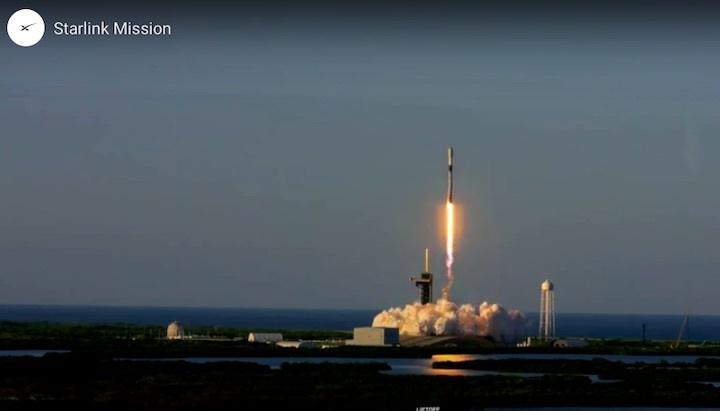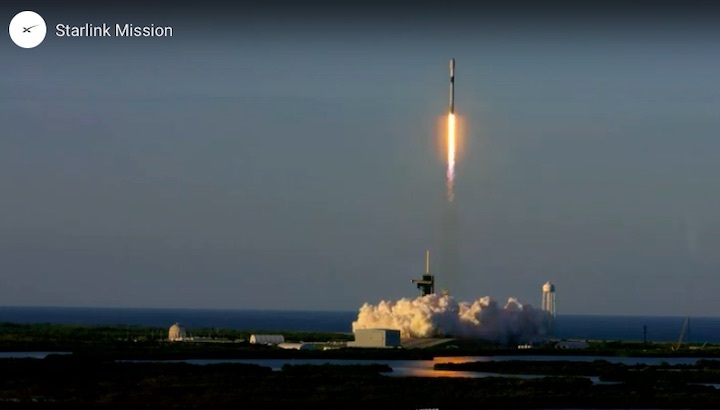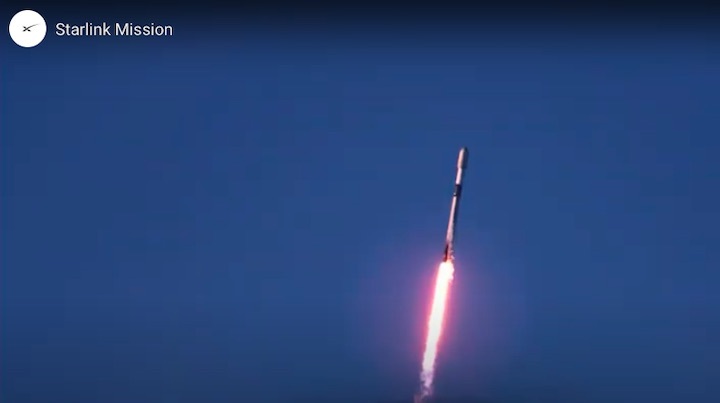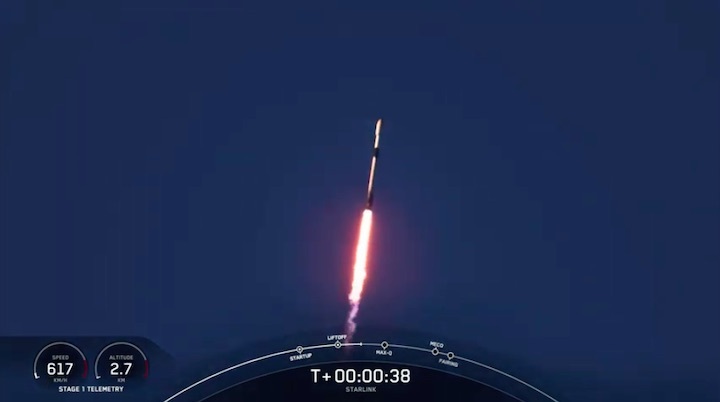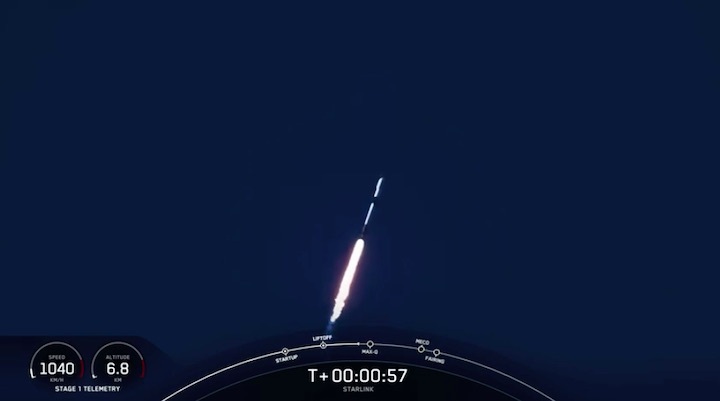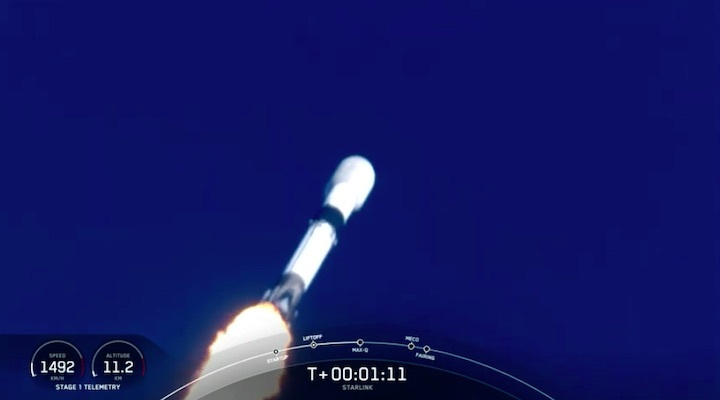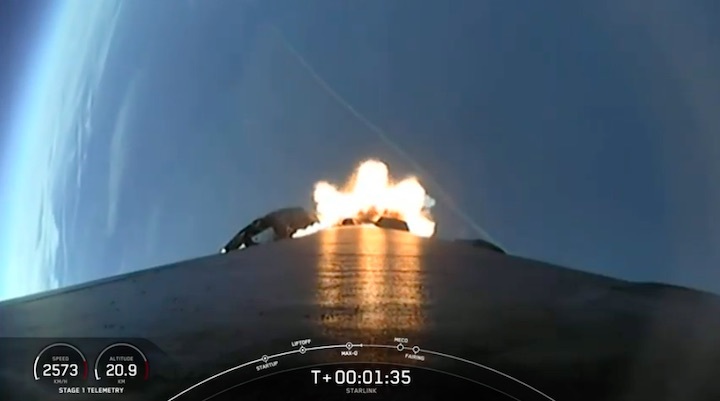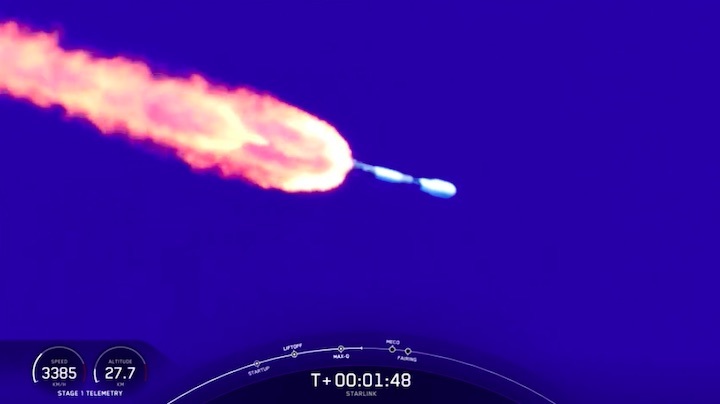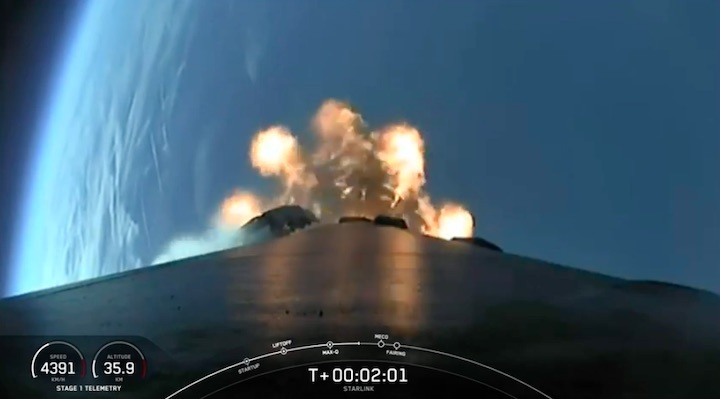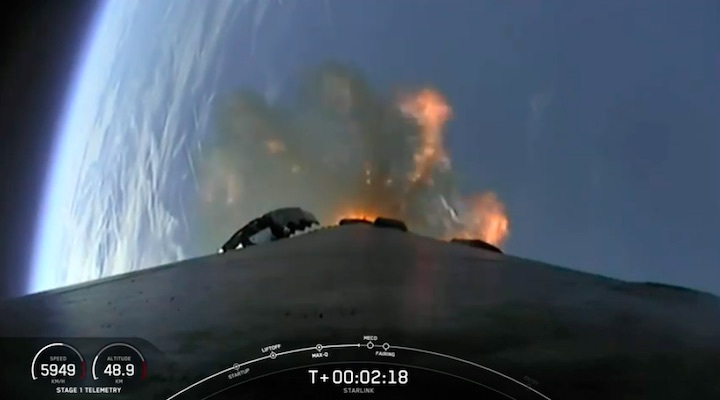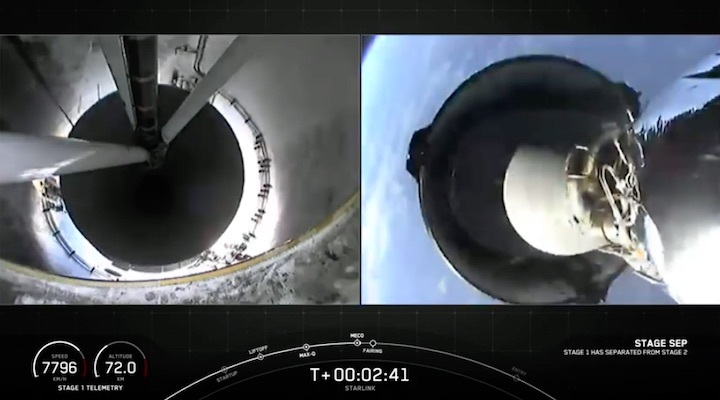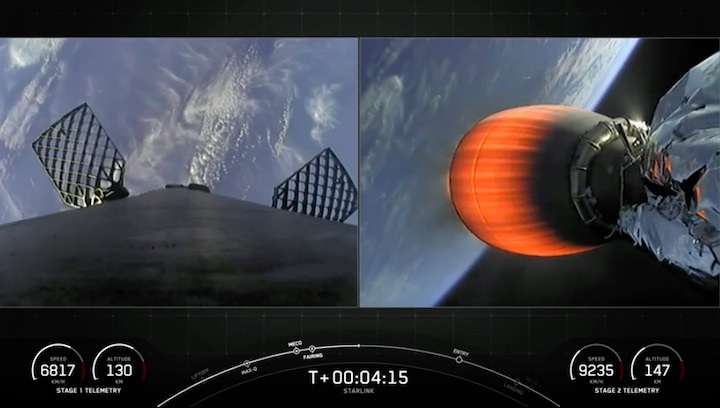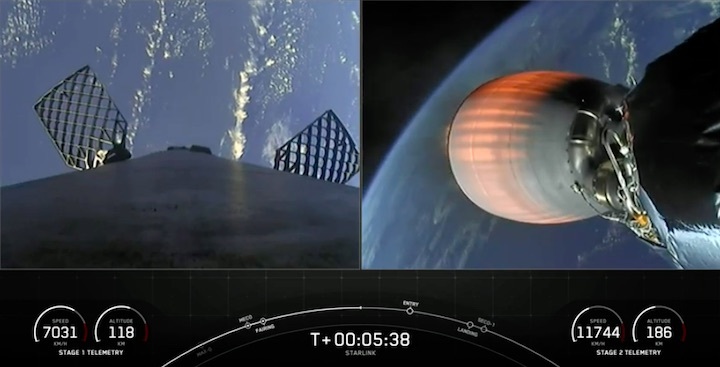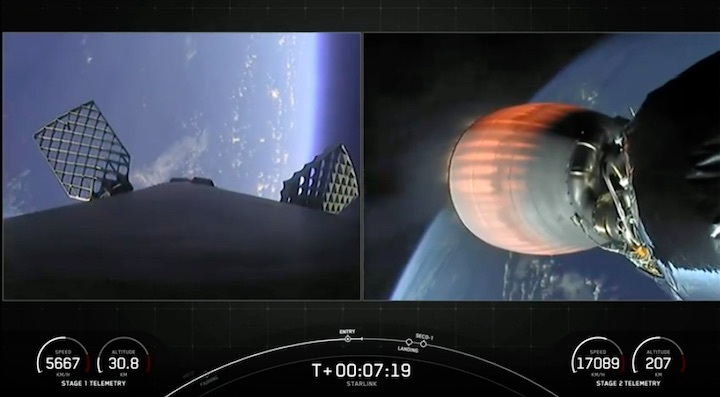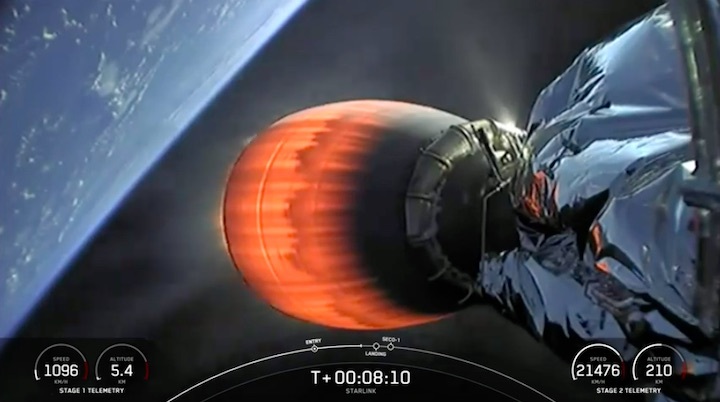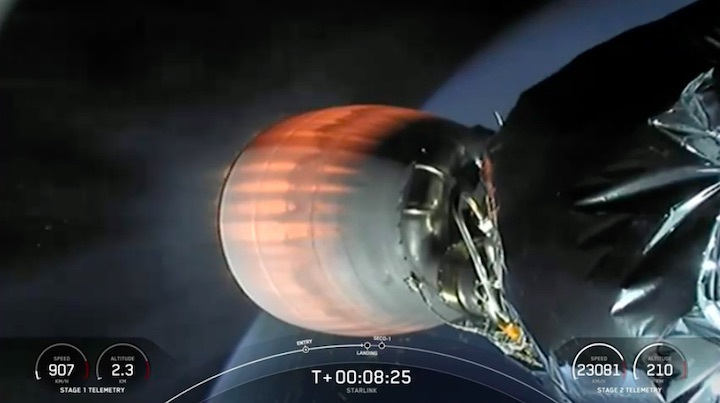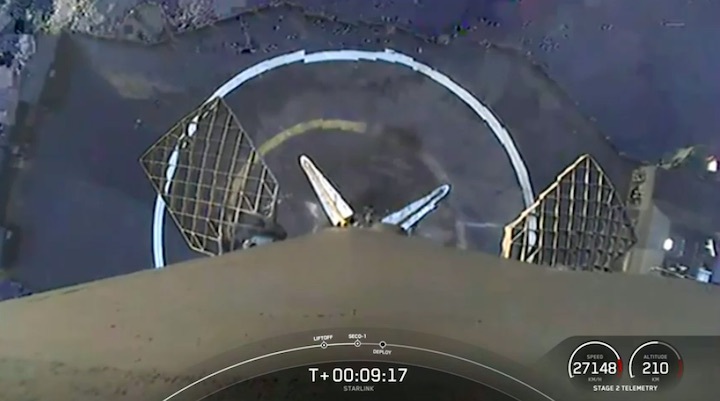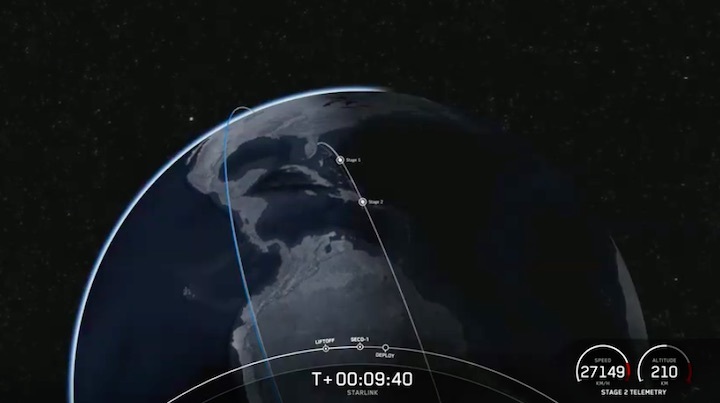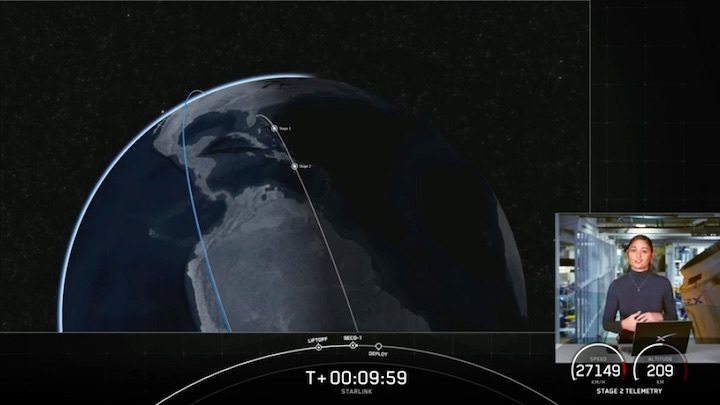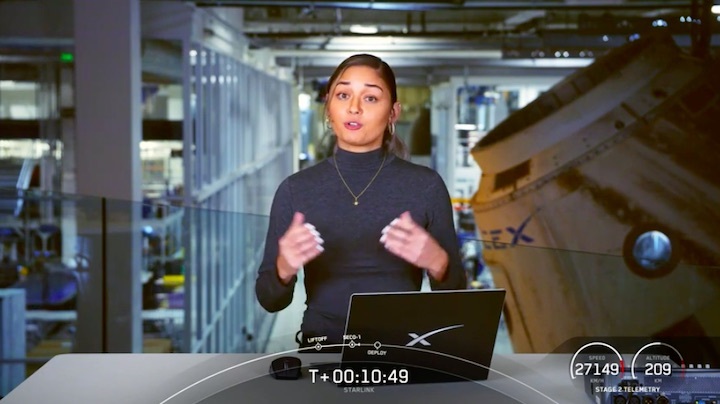 Quelle: SpaceX
+++
SpaceX kicks off 2022 with gorgeous Falcon 9 Starlink launch from Florida
If the Thursday afternoon launch of a SpaceX Falcon 9 rocket is any indication, the Space Coast should be in for an impressive year of space-related activities.
After liftoff from Kennedy Space Center at 4:49 p.m. ET, Falcon 9 pitched toward a southerly polar trajectory, a quick move that belied its hefty 230-foot height. Pad 39A hosted the 49-satellite Starlink mission targeting low-Earth orbit.
For spectators on the ground, Florida's crisp wintertime air meant the nine Merlin main engines were visible to the naked eye for several minutes until cutoff. Those with binoculars or telephoto camera lenses probably saw booster separation, too.
A veteran of three previous missions, the 162-foot booster eventually touched down on the Shortfall of Gravitas drone ship southeast of Florida. If inspections look good, it will be used for a future flight.
SpaceX has now launched 34 dedicated missions for the Starlink internet service constellation, which is quickly approaching 2,000 operational satellites in low-Earth orbit. The company said it plans on adding even more capacity – and customer signups – this year for the $99-a-month service. The plan requires a $499 initial purchase of the dish and wireless router.
Much like last year, 2022 should see a more or less non-stop launch cadence. Between SpaceX, United Launch Alliance, NASA's upcoming Space Launch System, Blue Origin, and others, the Space Coast could see between 40 and 50 flights. Both 2020 and 2021 saw 31 launches, the latter of which was slowed by the ongoing chip shortage and other supply chain issues.
SpaceX launches 34th Starlink mission from Kennedy Space Center in Florida
A SpaceX Falcon 9 rocket launches the company's 34th Starlink internet mission from Kennedy Space Center in Florida on Thursday, Jan. 6, 2022.
SPACEX
The Space Force's local operation, Space Launch Delta 45, recently said it expects as many as seven launches in the month of January alone. The current schedule, however, doesn't support that rate but four more are on the books through the end of the month.
Space Launch Delta 45 also said there could be up to five north-to-south polar missions this year, just like Thursday's Starlink. It's a type of trajectory once considered largely impossible due to Florida's angle and ease of using pads in California that have more open access to the corridor.
The main factor that historically limited polar missions was having to fly over populated regions in South Florida, but improvements in rocket technologies means Falcon 9 can more easily steer around the coast without burning too much extra fuel in the process.
An increase in polar launches from the Cape and KSC, the Space Force said, means boaters and pilots will need to be extra cautious about hazard areas. If a craft is in the zone of a launch – which changes with every mission depending on trajectory – it could be scrubbed and delayed to another day.
"Due to the unique southerly trajectories, there will be a larger potential impact to air and sea traffic along the southeast coast of Florida," Space Force Maj. Jonathan Szul said in a release. "We ask that all pilots and mariners double-check their Notices to Airmen (NOTAM) and Notices to Mariners (NOTMAR) to ensure they are fully aware of all pending launch activities in this historic month on the Space Coast."
Quelle: Florida Today
487 Views