11.07.2020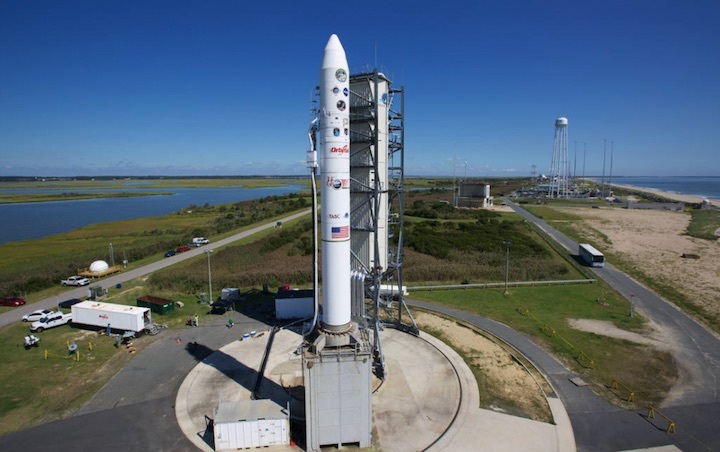 For the first time in its 10-year flight history, the Minotaur IV rocket is preparing to make its inaugural launch from the Mid-Atlantic Regional Spaceport, MARS, on Wallops Island, Virginia.
The classified mission from the National Reconnaissance Office, known as NROL-129, will launch sometime within a launch window that opens at 09:00 EDT (13:00 UTC) on Wednesday, 15 July 2020.
The rocket
Overall, the Minotaur IV has a 10-year launch history spanning six missions to date, with next week's being the seventh. All missions have been successful, giving the rocket a coveted and undisputed 100% success rating.
The mission will not only mark the first time a Minotaur IV flies from MARS but also the first time it will be used by the National Reconnaissance Office (NRO) and the first time it will fly a classified payload to orbit.
At present, it has launch locations at Vandenberg Air Force Base, California, Kodiak Island, Alaska, Cape Canaveral Air Force Station, Florida, and the Mid-Atlantic Regional Spaceport, Virginia — making it one of the most versatile rockets in terms of launch locations in the U.S. fleet.
The rocket itself is an expendable, all solid propellant vehicle derived from the LGM-118 Peacekeeper intercontinental ballistic missile (ICBM). It is overall part of a Minotaur family of launch vehicles and is the variant from which the Minotaur V is derived.
Minotaur IV comes to MARS
Preparation for Minotaur IV's first launch from MARS began in earnest in June with delivery of the propellant segments that will make up the vehicle.
In a one-on-one interview with NASASpaceflight, Kurt Eberly, Program Director Small and Medium Space Launch, stated "The motors were delivered in June, same with the Orion 38. They were transported from Vandenberg out to Wallops, and then we stacked on 10 June. Stage one went first, and then stages two and three [went independently on the same day]."
The three motors that will be used in next week's orbital launch were cast between 1988 and 1990 as part of the Peacekeeper ICBM program. They have undergone numerous acceptance checkouts and non-destructive evaluations by the Air Forcethrough the Aging Surveillance Program to ensure they meet all safety guidelines for use, noted Mr. Eberly.
388 Views