28.09.2018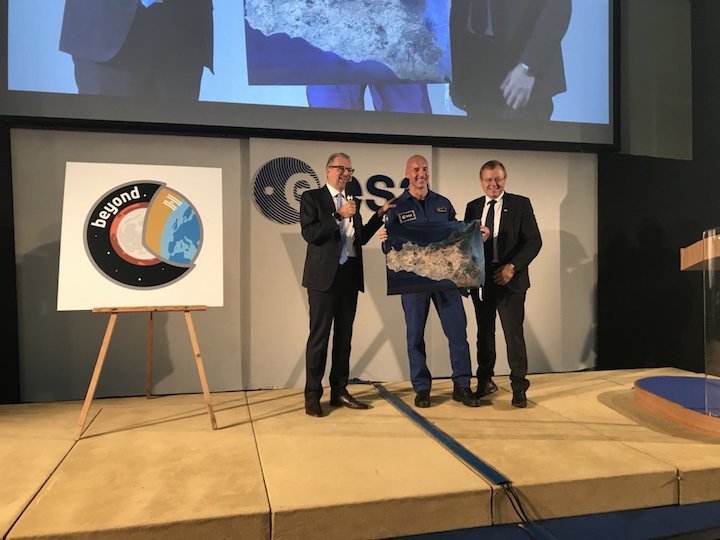 Luca Parmitano Beyond mission event
-
Today ESA astronaut Luca Parmitano announced the name of his second mission and logo during an event at ESA's ESRIN establishment in Italy. Luca will be going 'Beyond' when he returns to the International Space Station in 2019 as part of Expedition 60/61, alongside Andrew Morgan of NASA and Alexander Skvortsov of Roscosmos.
Luca was the first of the 2009 astronaut class to fly to the Space Station. His first mission Volare, meaning 'to fly' in Italian, took place in 2013 and lasted 166 days, during which time Luca conducted two spacewalks and many experiments that are still running today.
Been there, beyond that
In selecting Beyond, Luca was inspired by his fellow ESA astronauts. From the nearness to Earth of Thomas Pesquet's Proxima mission to the broadening scope of Alexander Gerst's current Horizons mission, Luca saw a path that will push humankind even farther, for the benefit of all.
"What we do in orbit is not just for the astronauts or for the International Space Station programme, it is for everybody," Luca explains. "It is for Earth, it is for humankind, and it is the only path for us to learn what we need in terms of science and technology in order to go beyond."
The mission logo illustrates this trajectory. An astronaut looks out into space through a helmet visor. Earth and the Space International Station are reflected in this visor. In the distance, the Moon is poised for humankind's return, with the Orion spacecraft and exploratory rovers. Beyond is Mars, the Red Planet, currently being studied by satellites such as ExoMars, Mars Express and, one day, by humans.
The research Luca will be running on the Space Station will contribute to keeping humans safe on longer exploration missions. Also on the agenda for Luca are demonstrations that will develop the technological and operational knowledge that will allow humans, together with robots, to explore the Moon and Mars from orbit and on their surfaces.
Commanding space
It is not all experiments for Luca. He will serve as Space Station commander during the second half of his mission. This is the third time a European astronaut has held this leadership role, but the first by an Italian astronaut.
How does Luca plan to take on this exciting yet challenging responsibility?
"I see myself as a facilitator. My goal will be to put everybody in the condition to perform to the best of their capability."
Luca is currently training for his upcoming mission at NASA's Johnson Space Center in Houston, at Star City near Moscow, and at the European Astronaut Centre in Cologne. In addition to running simulations on the Soyuz spacecraft he is also familiarising himself with the experiments he will conduct in the orbital outpost.
Luca is excited to return to Europe's Columbus laboratory, launched 10 years ago this year. Columbus houses as many disciplines as possible in a small volume, from astrobiology to microbiology through metallurgy and psychology. Countless papers have been published drawing conclusions from experiments performed in Columbus, and Luca will continue the research during his mission.
Follow Luca as he prepares for Beyond via lucaparmitano.esa.int.
Luca Parmitano's Beyond mission name and logo
Quelle: ESA
----
Update: 11.06.2019
.
NASA's administrator will not attend Soyuz launch from Baikonur on July 20 — Roscosmos
On July 20, the Soyuz MS-13 spacecraft will deliver Russian cosmonaut Alexander Skvortsov and astronauts Andrew Morgan (US) and Luca Parmitano (Italy) to the ISS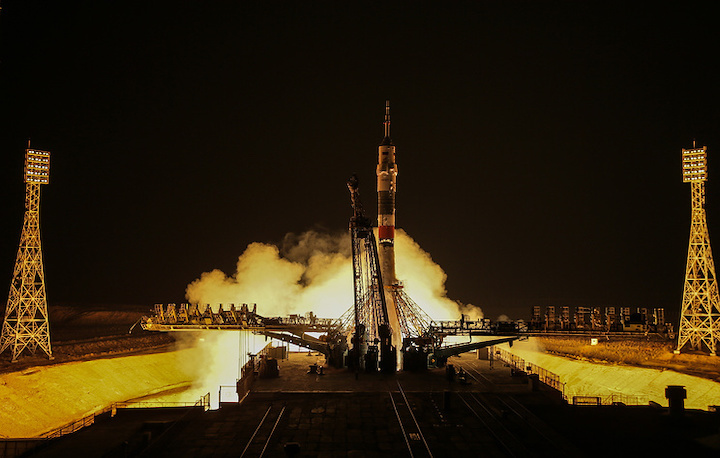 NASA's Associate Administrator for Human Exploration and Operations William Gerstenmaier will lead the US delegation to the launch of the Soyuz MS-13 manned spacecraft to the International Space Station (ISS) on July 20, the press service of Russia's Roscosmos space corporation told TASS on Tuesday.
"According to the US delegation's lists of participants in the launch of the Soyuz MS-13 manned spacecraft with the members of the 61st expedition onboard, William Gerstenmaier, [NASA Administrator Jim] Bridenstine's deputy, will lead NASA's delegation," the press service said.
Bridenstine also did not attend the last launch from the Baikonur spaceport in mid-March. Spokesman for Roscosmos Vladimir Ustimenko told TASS then that this could be due to Bridenstine's busy schedule.
On July 20, the Soyuz MS-13 spacecraft will deliver Russian cosmonaut Alexander Skvortsov and astronauts Andrew Morgan (US) and Luca Parmitano (Italy) to the ISS.
Quelle: TASS
----
Update: 19.06.2019
.
NASA Astronaut Available for Interviews Before First Space Mission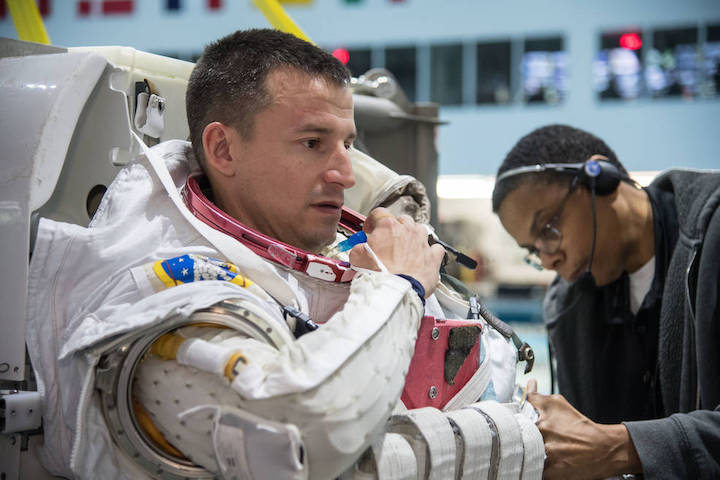 NASA astronaut Andrew Morgan prepares for spacewalk training Jan. 24, 2018, in the Neutral Buoyancy Laboratory at NASA's Johnson Space Center in Houston.
NASA astronaut Andrew Morgan will be available from 7 to 8:15 a.m. EDT Monday, July 1, for live satellite interviews from Star City, Russia, before launching on his first space mission, a nine-month expedition aboard the International Space Station.
The interviews will air live on NASA Television and the agency's website, preceded at 6:30 a.m. by video of Morgan's training.
Morgan and his crewmates, Alexander Skvortsov of the Russian space agency Roscosmos and Luca Parmitano of ESA (European Space Agency), are scheduled to launch aboard the Russian Soyuz MS-13 from the Baikonur Cosmodrome in Kazakhstan at 12:28 p.m. July 20 – the 50th anniversary of the Apollo 11 Moon landing.
They will arrive at the station about six hours after launch, joining Expedition 60 Commander Alexey Ovchinin of Roscosmos and Flight Engineers Nick Hague and Christina Koch of NASA. Morgan is scheduled to remain aboard the station until April 2020.
To interview Morgan, media must contact Sarah Volkman no later than 5 p.m. Wednesday, June 26, at 281-483-9071 or sarah.e.volkman@nasa.gov. Media participating in the interviews must tune to the NASA TV Public Channel (NTV-1) or Media Channel (NTV-3). Satellite tuning information is available at:
There are roughly 250 ongoing research experiments at NASA at any given time, many of which require astronauts' hands. On Morgan's mission, he and his crewmates, will facilitate research on various projects, including tests for the BioFabrication Facility on 3D-printing organs to see if microgravity affects the ability to build complex tissue shapes. Other experiments include the Biorock project, which focuses on mining materials in the solar system; the Space Mossstudy, a look into methods for engineering plants to grow better on Earth; and the Space Tango-Induced Pluripotent Stem Cells experiment, which will be the first examination in space of cells from patients with Parkinson's to better understand neurodegenerative diseases.
These are only a snapshot of the research Morgan and his crewmates will support during their expedition, and each experiment they conduct in space has practical application back on Earth.
Morgan joined NASA as a member of the 2013 astronaut class. He was born into a military family, but considers New Castle, PA to be his hometown. Morgan is a Colonel in the U.S. Army, and prior to his selection served as an emergency physician in special forces. He is the first Army Medical Corps officer to be selected as an astronaut.
In addition to Morgan's board certification in emergency medicine, he also is certified in primary care sports medicine (CAQSM) and has national registry in musculoskeletal ultrasound (RMSK). He is a qualified military freefall parachutist, combat diver and flight surgeon. Over the course of his career Morgan has deployed to combat zones in Iraq and Afghanistan.
Quelle: NASA
1151 Views