12.05.2019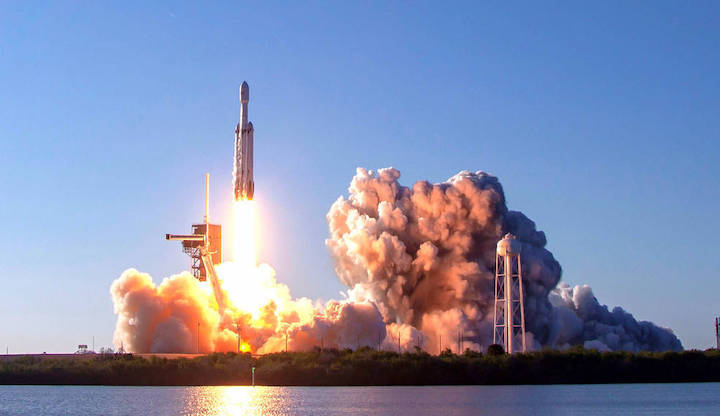 A new kind of atomic clock, non-toxic propellant system and missions to characterize how space weather interferes with satellites and communication transmissions are one step closer to liftoff. With the second-ever SpaceX Falcon Heavy launch complete, these NASA technologies await the powerful rocket's next flight.
"We are pleased with the success of yesterday's Falcon Heavy launch and first-stage landings," said Acting Associate Administrator for NASA's Space Technology Mission Directorate Jim Reuter. "We have important technologies that are ready to fly, and this success helps put us on that path."
The NASA technologies include two twin CubeSats, one small satellite and several payloads. Each has a unique set of objectives, but they have a common goal: improve future spacecraft design and performance, no matter the destination.
The Enhanced Tandem Beacon Experiment, or E-TBEx, CubeSats measure how radio signals can be distorted by large bubbles that form naturally in Earth's charged upper atmosphere. Such distortions can significantly interfere with communications and GPS in large regions near Earth's magnetic equator. The more we understand about the fundamental processes causing such disruptive bubbles, the more we can ultimately forecast and mitigate these disturbances.
The Green Propellant Infusion Mission demonstrates an alternative to conventional chemical propulsion systems. The new technology could improve overall spacecraft performance and reduce our reliance on the highly toxic fuel hydrazine.
The Deep Space Atomic Clock will be the first-ever ion clock in space and potentially the most stable space clock – taking nine million years to drift by a second. The technology offers a new way for spacecraft to navigate autonomously and explore deep space.
The Space Environment Testbeds mission studies how to protect satellites by assessing how the space environment near Earth affects hardware performance. Such information can be used to improve spacecraft design, engineering and operations in order to protect them from harmful radiation driven by the Sun.
The technologies are part of the U.S. Air Force's Space Test Program-2 (STP-2) multi-manifest mission. Over the next few months, SpaceX and the Air Force will ready the mission for launch from NASA's Kennedy Space Center in Florida.
Quelle: NASA
+++
Experience a SpaceX Falcon Heavy Launch, Learn About New NASA Space Tech
Social media users are invited to register to attend the next SpaceX Falcon Heavy rocket launch, carrying nearly two dozen satellites to space from historic Launch Complex 39A at NASA's Kennedy Space Center in Florida.
The Department of Defense's Space Test Program-2 (STP-2) mission is currently targeted for no earlier than Saturday, June 22. NASA and other highlights include:
Multiple NASA technologies, including a small satellite to test the performance of non-toxic spacecraft fuel and an advanced atomic clock to improve how spacecraft navigate;
Six National Oceanic and Atmospheric Administration (NOAA) weather research satellites;
Multiple CubeSat missions, including twin NASA CubeSats that will work in tandem with the NOAA weather research satellites to measure distortion of radio signals traveling through the upper atmosphere;
An Air Force Research Laboratory spacecraft equipped with NASA instruments to measure how space weather and radiation impact spacecraft electronics.
If your passion is to communicate and engage the world via social media, then this is the event for you! Joinus for a special NASA Social event, organized in collaboration with DoD and NOAA. Seize the opportunity to be on the front line to blog, tweet or Instagram everything about SpaceX's third Falcon Heavy launch, STP-2, NASA technology and more. The multi-manifest mission showcases partnerships across industry, government and academia.
As the first government contracted Falcon Heavy, the Air Force Space Command's Space and Missile Systems Centeraims to demonstrate the rocket's capability and gain insight into the process of recovering and refurbishing first stage boosters on the Falcon family of rockets.
A maximum of 55 social media users will be selected to attend this two-day event, and will be given access similar to news media.
NASA Social participants will have the opportunity to:
View a launch of the SpaceX Falcon Heavy rocket
Tour NASA facilities at Kennedy Space Center
Speak with representatives from NASA, SpaceX, U.S. Air Force and NOAA
View and take photographs of the Falcon Heavy rocket at Launch Complex 39A
Meet fellow space enthusiasts who are active on social media
NASA Social registration for the STP-2 launch opens on this page on May 6 and the deadline to apply is on May 16 at 12 p.m. EDT. All social applications will be considered on a case-by-case basis.
Credits: U.S. Air Force Space and Missiles Systems Center/SpaceX
Do I need to have a social media account to register?
Yes. This event is designed for people who:
Actively use multiple social networking platforms and tools to disseminate information to a unique audience.
Regularly produce new content that features multimedia elements.
Have the potential to reach a large number of people using digital platforms.
Reach a unique audience, separate and distinctive from traditional news media and/or NASA audiences.
Must have an established history of posting content on social media platforms.
Have previous postings that are highly visible, respected and widely recognized.
Users on all social networks are encouraged to use the hashtag #NASASocial.
How do I register?
Registration for this event opens May 6 and closes at 12 p.m. EDT on May 16. Registration is for one person only (you) and is non-transferable. Each individual wishing to attend must register separately. Each application will be considered on a case-by-case basis.
Can I register if I am not a U.S. citizen?
Because of the security deadlines, registration is limited to U.S. citizens. If you have a valid permanent resident card, you will be processed as a U.S. citizen.
When will I know if I am selected?
After registrations have been received and processed, an email with confirmation information and additional instructions will be sent to those selected. We expect to send the first notifications on May 23 and waitlist notifications on May 28.
What are NASA Social credentials?
All social applications will be considered on a case-by-case basis. Those chosen must prove through the registration process they meet specific engagement criteria.
If you do not make the registration list for this NASA Social, you still can attend the launch offsite and participate in the conversation online. Find out about ways to experience a launch at http://www.nasa.gov/centers/kennedy/launchingrockets/viewing.html.
What are the registration requirements?
Registration indicates your intent to travel to NASA's Kennedy Space Center in Florida and attend the two-day event in person. You are responsible for your own expenses for travel, accommodation, food and other amenities.
Some events and participants scheduled to appear at the event are subject to change without notice. NASA is not responsible for loss or damage incurred as a result of attending. NASA, moreover, is not responsible for loss or damage incurred if the event is cancelled with limited or no notice. Please plan accordingly.
Kennedy is a government facility. Those who are selected will need to complete an additional registration step to receive clearance to enter the secure areas.
IMPORTANT: To be admitted, you will need to provide two forms of unexpired government-issued identification; one must be a photo ID and match the name provided on the registration. Those without proper identification cannot be admitted. For a complete list of acceptable forms of ID, please visit: http://www.nasa.gov/sites/default/files/atoms/files/i-9_poster_acceptable_documents_2014_04_23.pdf
All registrants must be at least 18 years old.
What if the launch date changes?
Hundreds of different factors can cause a scheduled launch date to change multiple times. The launch date will not be official until after the Flight Readiness Review. If the launch date changes prior to then, NASA may adjust the date of the NASA Social accordingly to coincide with the new target launch date. NASA will notify registrants of any changes by email.
If the launch is postponed, attendees will be invited to attend a later launch date. NASA cannot accommodate attendees for delays beyond 72 hours.
NASA Social attendees are responsible for any additional costs they incur related to any launch delay. We strongly encourage participants to make travel arrangements that are refundable and/or flexible.
What if I cannot come to the Kennedy Space Center?
If you cannot come to the Kennedy Space Center and attend in person, you should not register for the NASA Social. You can follow the conversation using the #NASASocial hashtag on Twitter. You can watch the launch on NASA Television, www.nasa.gov/live. NASA will provide regular updates on @NASA, @NASA_Technology, @NASASunand @NASAKennedy. You can follow DoD's launch and mission updates at @45thSpaceWing, @AFspace and @AF_SMC as well as NOAA's feed at @NOAASatellites.
If you cannot make this NASA Social, don't worry; NASA is planning many other Socials in the near future at various locations! Check back on http://www.nasa.gov/social for updates.
Quelle: NASA
----
Update: 22.05.2019
.
BALL AEROSPACE SMALL SATELLITE FOR NASA ARRIVES IN FLORIDA FOR LAUNCH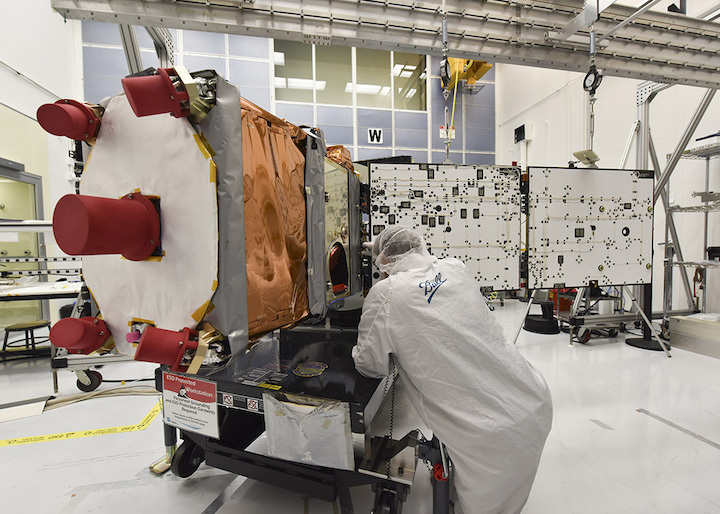 The Ball Aerospace-built small spacecraft for NASA's Green Propellant Infusion Mission (GPIM) arrived in Florida today to prepare for a June launch on board a SpaceX Falcon Heavy rocket. GPIM is NASA's first opportunity to demonstrate a new "green" propellant and propulsion system in orbit – an alternative to conventional chemical propulsion systems.
A sustainable and efficient approach to spaceflight, GPIM will demonstrate the practical capabilities of a Hydroxyl Ammonium Nitrate fuel and oxidizer blend, called AF-M315E. This innovative, low toxicity, "green" propellant was developed by the Air Force Research Laboratory. GPIM is part of NASA's Technology Demonstration Missions program within the Space Technology Mission Directorate.
"GPIM was a truly collaborative effort, working with our partners - NASA, Aerojet Rocketdyne, Air Force Research Laboratory, U.S. Air Force and SpaceX," said Dr. Makenzie Lystrup, vice president and general manager, Civil Space, Ball Aerospace. "We are proud to be part of this historic mission to test a new 'green' propellant on board Ball's flight-proven small satellite, helping to provide science at any scale."
Ball Aerospace is responsible for system engineering; flight thruster performance verification; ground and flight data review; spacecraft bus; assembly, integration and test; and launch and flight support. The GPIM bus uses the smallest of the Ball Configurable Platform (BCP) satellites, which is about the size of a mini refrigerator, and was built in just 46 days. The BCP provides standard payload interfaces and streamlined procedures, allowing rapid and affordable access to space with flight-proven performance.
"We have shown that Ball can provide small, fast and affordable solutions with excellent performance and now we're excited to do that for NASA," Lystrup said.
There are currently two BCP small satellites performing on orbit: STPSat-2, which launched in Nov. 2010, and STPSat-3, which launched in Nov. 2013. The two STP satellites were built for the U.S. Air Force Space Test Program's Standard Interface Vehicle (STP-SIV) project. Ball also has two BCP small satellites in development for NASA's Imaging X-Ray Polarimetry Explorer (IXPE) and Spectro Photometer for the History of the Universe, Epoch of Reionization and Ices Explorer (SPHEREx) missions.
Powered by endlessly curious people with an unwavering mission focus, Ball Aerospace pioneers discoveries that enable our customers to perform beyond expectation and protect what matters most. We create innovative space solutions, enable more accurate weather forecasts, drive insightful observations of our planet, deliver actionable data and intelligence, and ensure those who defend our freedom go forward bravely and return home safely. Go Beyond with Ball.® For more information, visit www.ball.com/aerospace or connect with us on Facebook or Twitter.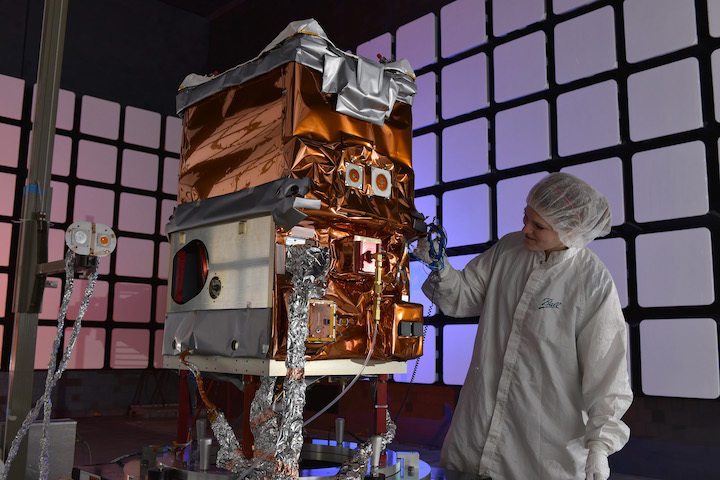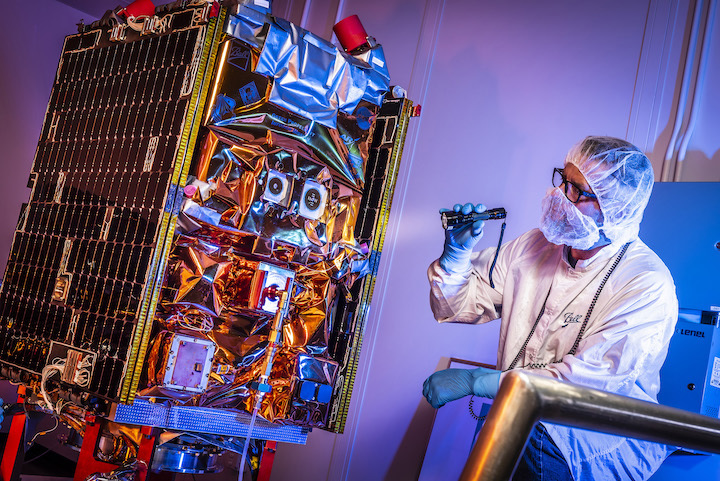 About Ball Corporation
Ball Corporation (NYSE: BLL) supplies innovative, sustainable packaging solutions for beverage, personal care and household products customers, as well as aerospace and other technologies and services primarily for the U.S. government. Ball Corporation and its subsidiaries employ 17,500 people worldwide and reported 2018 net sales of $11.6 billion. For more information, visit www.ball.com, or connect with us on Facebook or Twitter.
Quelle: Ball Aerospace
519 Views