4.05.2019
NASA's Mars 2020 Mission Passes Critical Heat Shield Test
This is how engineers recreate the hellish conditions of Martian reentry to test components that will go up against the real thing.
When your one-of-a-kind rover is 38 million miles from home, falling toward an alien planet at supersonic speed, it would be nice to know the spacecraft can handle the trip.
Today Lockheed Martin announced that its engineers have completed a slate of critical torture tests on the connection between the spacecraft carrying the Mars 2020 rover and its protective aeroshell, making sure it can handle the stress of the interplanetary journey.
Hammering Out Weaknesses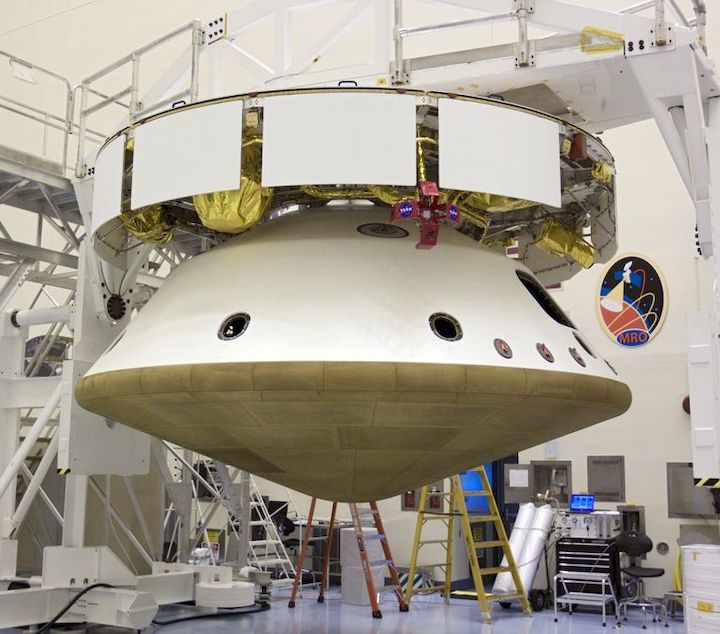 The final assembly of the Mars Science Laboratory with the Curiosity rover housed inside, November 10, 2011. The top section is the cruise stage, the middle is the aeroshell, and it's all protected by the heat shield on the bottom, also built by Lockheed Martin.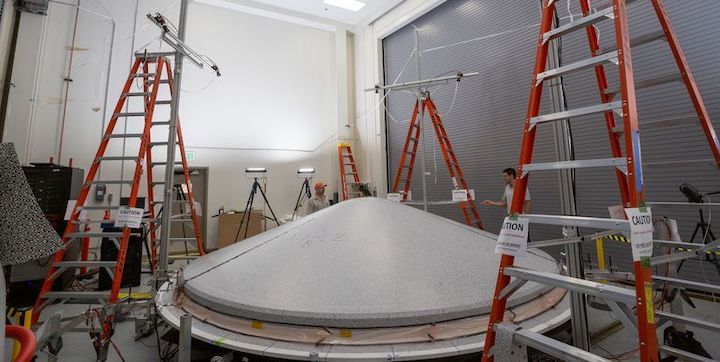 There is an inherent weakness in any vehicle or structure wherever two different materials are joined together. Each side reacts to stress differently, deforming under pressure or reacting to temperature changes. In spacecraft these small flaws can become fatal, so the engineers have to simulate these insane pressure loads and temperature swings.
For the Mars 2020 mission, the spacecraft (made by CalTech and NASA) must deliver an automobile-sized rover to the surface of Mars. The aeroshell—shaped like a shallow-bowl on the "bottom" of the spacecraft—is made of material designed to burn away, protecting the craft and its cargo from the intense heat caused by the entering the Martian atmosphere.
But first, the craft has to get off of Earth safely. "The first environment is surviving launch, because of the high accelerations, and the vibration from the acoustic environment," says Neil Tice, Lockheed Martin Mars 2020 heat shield program manager. "And then you're going into space. You start out at room temperature. And shortly after you can get into orbit, the temperatures start dropping rapidly. As it turns out, the heat shield is looking towards deep space. It continues to cool for several days after getting into space and heading off to Mars."
The Hell That Is EDL
855 Views