30.04.2019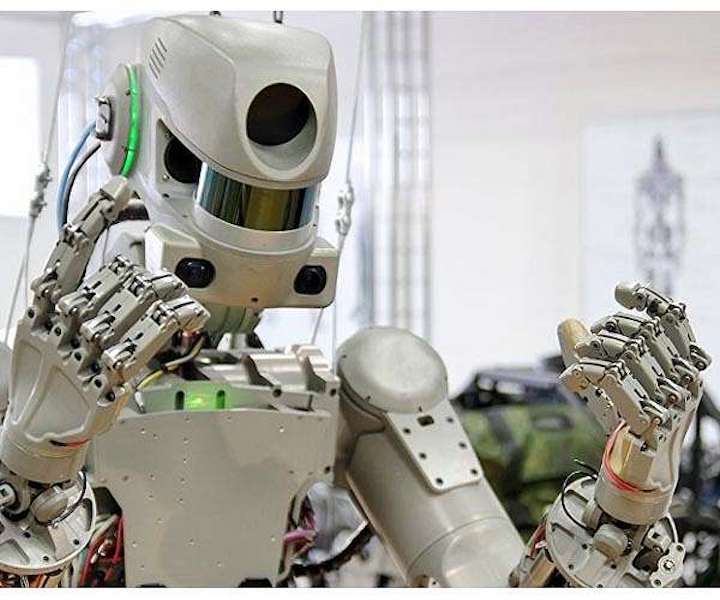 Russian State Space Corporation Roscosmos and Rocket and Space Corporation Energia have received FEDOR (Final Experimental Demonstration Object Research) anthropomorphic robot for its potential use in manned space missions, Roscosmos Director General Dmitry Rogozin said on Thursday.
"FEDOR - anthropomorphic rescue robot developed by the Android Technology R and D Company as well as the Russian Foundation for Advanced Research Projects - has been handed over to Roscosmos and RSC Energia for studying the opportunity of using it in manned missions. Now the robot is working on fine motor skills", Rogozin wrote on his Twitter page.
Last year, a source in the space and rocket industry told Sputnik that Roscosmos wanted to send two robots to the International Space Station in 2019 on board of the Soyuz-MS unmanned spacecraft. The flight is scheduled for 22 August 2019.
FEDOR is also going to be used during the flight of the new spacecraft Federatsiya, scheduled for 2022. The Federation spacecraft has been designed to deliver up to four people and cargo to the Moon and space stations in low Earth orbits. The spacecraft's autonomous flight period is estimated at up to 30 days, with the capacity to stay attached to a space station for up to a year.
Russia's Energia space corporation earlier said that the Federation, which is 80 percent built of composite materials, will be manufactured by 2021.
Quelle: SD
1804 Views