12.06.2018
Poor weather forecast delays H-2A rocket launch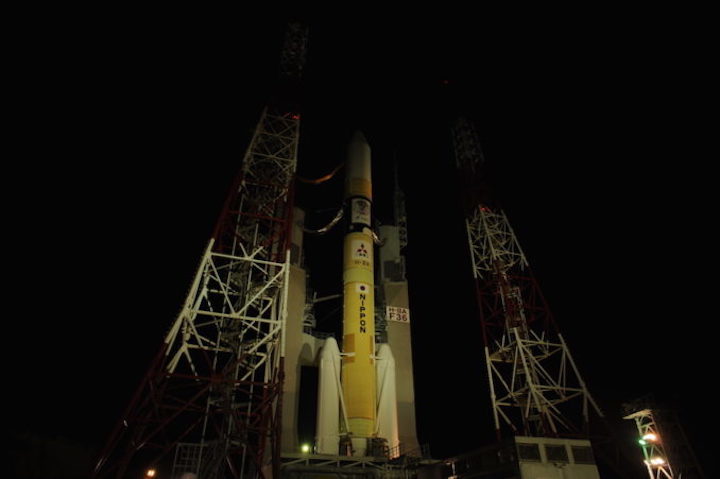 Projected weather impacts from Tropical Storm Maliksi passing over the Pacific Ocean south of Japan have prompted officials to push back the launch of an H-2A rocket and an Earth-imaging reconnaissance by one day to Tuesday, the Japan Aerospace Exploration Agency announced Saturday.
JAXA said deteriorating weather conditions predicted Sunday, when the H-2A rocket was supposed to roll out of the Vehicle Assembly Building to its launch pad at the Tanegashima Space Center, forced officials to postpone the launch.
Liftoff was scheduled for Monday, but is now set for Tuesday during a nearly 14-minute launch window opening at 0420 GMT (12:20 a.m. EDT; 1:20 p.m. Japan Standard Time).
The 174-foot-tall (53-meter) H-2A rocket is scheduled to roll out to the launch pad around 12 hours before liftoff.
Tuesday's mission will carry a radar reconnaissance satellite into orbit, joining the Japanese government's fleet of spy craft circling Earth. The radar payload can see through clouds and darkness, providing Japanese defense and intelligence officials an all-weather global surveillance capability.
Japan started its spy satellite program in 1998 after a North Korean missile test flew over Japanese territory. Japan's government surveillance observatories in orbit are part of a program run by the Cabinet Satellite Intelligence Center, which reports directly to the Japanese government's executive leadership.
The spy craft, which Japan calls Information Gathering Satellites, can also monitor natural disasters and support other civilian uses, according to Japanese officials.
The satellite launching Tuesday, named IGS Radar 6, is Japan's seventh radar reconnaissance satellite. Japan also flies Information Gathering Satellites with electro-optical cameras, which collect sharper imagery, but only in daytime and over regions with clear skies.
Tuesday's launch will be the 39th launch of a Japanese H-2A rocket, and the 13th with an Information Gathering Satellite on-board. It will be the second H-2A mission of the year, following the successful launch of the IGS Optical 6 spacecraft in February.
JAXA and Mitsubishi Heavy Industries, the H-2A's prime contractor, are not expected to provide an official live webcast of the launch.
Quelle: SN
+++
Update: 12.06.2018
,
Japan's H-IIA rocket launches IGS Radar 6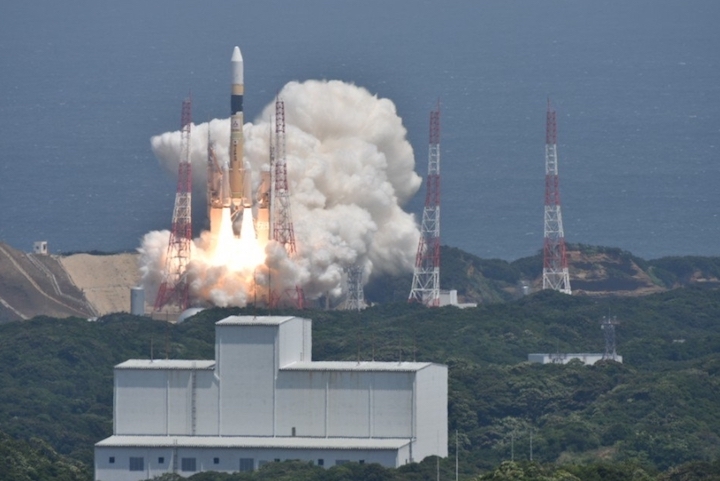 Japan made another addition to its constellation of reconnaissance satellites with the launch of the IGS Radar 6 satellite Tuesday. Riding to orbit atop an H-IIA rocket, the satellite lifted off at the start of a thirteen-minute, 57-second window that opened at 13:20:00 local time (04:20 UTC).

The Information Gathering Satellite (IGS) program – also known as Joho Shushu Eisei (JSE) – consists of optical and radar-imaging spacecraft in low Earth orbit. The satellites are operated by Japan's Cabinet Satellite Intelligence Centre, which conducts intelligence gathering for the Japanese military. IGS is also used to support civilian disaster management operations.
IGS Radar 6, which was built by Mitsubishi Electric, is the sixteenth IGS satellite to launch – including both the radar and optical imaging branches of the constellation. Tuesday's launch comes a little over three months after the previous IGS satellite, Optical 6, was carried to orbit by another H-IIA rocket.
Japan began the IGS program following North Korea's failed launch of the Kwangmyŏngsŏng-1 satellite in August 1998, which saw the North Korean Paektusan rocket overfly Japan. While the launch itself was unsuccessful, it proved that North Korea was capable of firing missiles that could reach Japan, prompting a need for greater monitoring and awareness of potential threats.
The first two satellites – one optical and one radar – were launched on the fifth flight of the H-IIA rocket in March 2003. Another pair of satellites were planned to be deployed later the same year. However, the rocket carrying them was destroyed by range safety after one of its solid rocket boosters failed to separate.
Replacement optical and radar satellites were launched separately, in September 2006 and February 2007 respectively, with the radar satellite sharing its ride to orbit with a prototype second-generation optical IGS spacecraft. The first operational second-generation satellite, IGS Optical 3, was deployed in 2009. The optical component of IGS entered its third generation in 2015 with IGS Optical 5, while the IGS Optical 6 satellite launched earlier this year was also a third-generation spacecraft.
The radar-imaging satellites currently on orbit are of the type's second generation: the first of which, IGS Radar 3, was launched in December 2011. Subsequent radar satellites were deployed in 2013, 2015 and 2017. Japan has not announced whether the Radar 6 satellite on Tuesday's launch is a fifth second-generation spacecraft, or the first third-generation radar mission.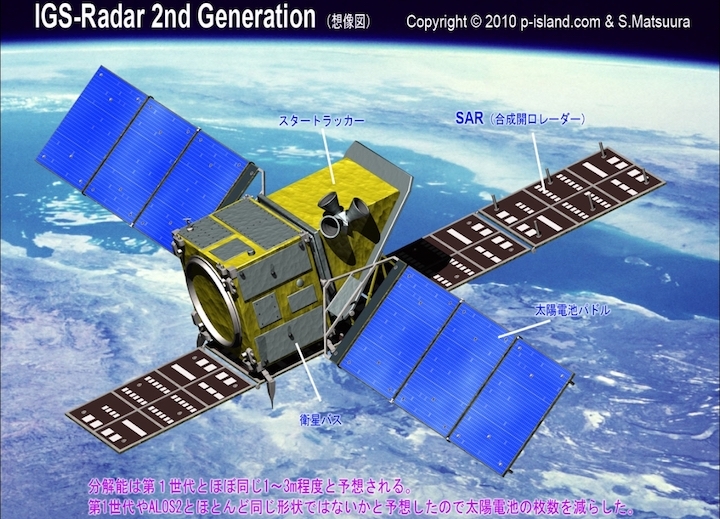 Although the satellite that launched Tuesday is numbered IGS Radar 6, it is actually the eighth radar-imaging satellite in the IGS series. This discrepancy arose as the result of two satellites being numbered IGS Radar 2 – the original that was lost the 2003 launch failure and its replacement – and an unnumbered spare satellite deployed in February 2015.
Tuesday's launch was the thirty-ninth flight of Japan's H-IIA rocket – designated H-IIA F39. Built and operated by Mitsubishi Heavy Industries, the H-IIA was introduced in 2001 as a cheaper and more reliable version of the earlier H-II. A two-stage rocket fuelled by cryogenic propellants – liquid hydrogen and liquid oxygen – the H-IIA has been a workhorse for Japan's space program carrying varied payloads, including military, Earth science, communications and interplanetary missions, to orbit.
Depending on mission requirements, the H-IIA flies with either two or four SRB-A solid rocket boosters augmenting the first stage – two intermediate configurations, with two SRB-As and two or four Castor-4AXL boosters, were used before 2009 when upgraded SRB-A3 motors rendered them obsolete. Tuesday's launch used two SRB-A3 motors, the most-commonly-flown configuration.
The H-IIA has completed thirty-seven of its previous thirty-eight launches successfully. Its only failure was during November 2003's launch, which resulted in the loss of the second pair of IGS satellites.
H-IIA launches take place from the Yoshinobu Launch Complex at the Tanegashima Space Centre. Yoshinobu consists of two launch pads – Pad 1 was built in 1993 for the H-II and subsequently modified for the H-IIA, while Pad 2 was constructed 200 meters (660 feet) to the west in the early 2000s to provide additional capacity for the H-IIA. All H-IIA missions have flown from Pad 1, while Pad 2 is now used by the larger H-IIB rocket.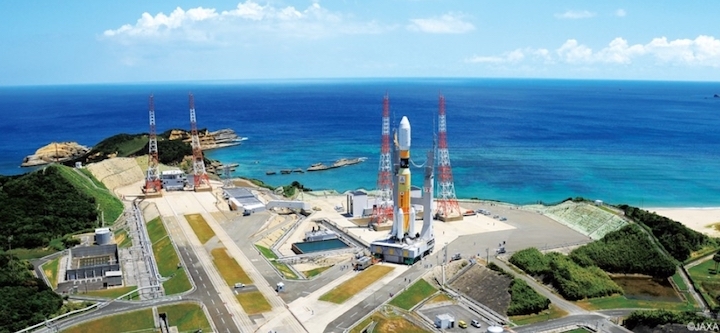 Final integration of the H-IIA took place in the launch complex's Vehicle Assembly Building, atop a Movable Launcher (ML). The assembly building, located about half a kilometer (0.3 miles) northwest of Launch Pad 1, serves both pads of the Yoshinobu launch complex and can integrate H-IIA and H-IIB vehicles. H-IIA F39 was rolled out to Launch Pad 1 in the early hours of Tuesday morning.
Under Japanese terminology, the zero mark in the countdown is designated X-0. The first stage's LE-7A engine ignited two or three seconds beforehand, with the SRB-A3 solid rocket motors lighting at X-0, when the rocket lifted off under the power of its main engine and twin boosters.
The SRB-A3 motors provided thrust for about 99 seconds, tailing off as they begin to deplete their fuel. About nine seconds after the boosters burn out, hydraulic actuators activated to push their spent cases away from the vehicle, reducing weight as the rocket continued its ascent.
After booster separation, the H-IIA continued to fly under the power of its first stage for a further five minutes. Towards the end of the first stage burn, the rocket's payload fairing – which serves to protect the IGS Radar 6 satellite from the dense lower regions of Earth's atmosphere and to preserve the rocket's aerodynamic profile – was jettisoned. Once the rocket reaches space, the fairing is no longer required and is discarded to save weight.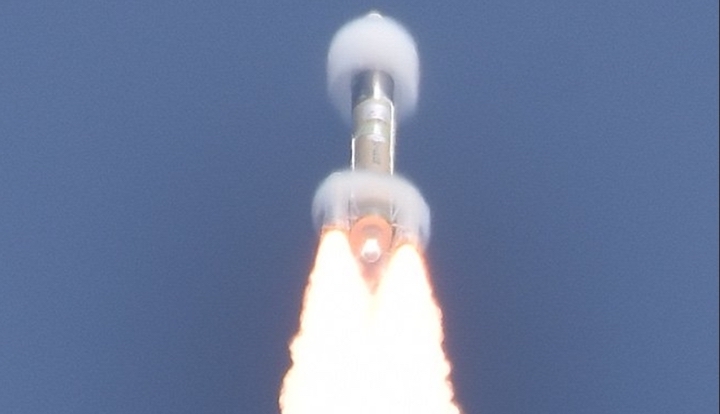 About six minutes and 50 seconds after liftoff, the LE-7A engine shut down, its fuel expended. Eight seconds later, the first stage separated, with second stage ignition coming six seconds after staging. Powered by an LE-5B engine, the second stage likely made a single eight-minute burn to inject IGS Radar 6 into sun-synchronous orbit. Official word of mission success came later in the day.
IGS radar satellites operate in roughly-circular orbits at an altitude of around 500 kilometers (310 miles, 270 nautical miles) and an inclination between 97.2 and 97.5 degrees. H-IIA delivered its payload close to its target orbit, with spacecraft separation occurring a few minutes after the second stage burn concludes.
Tuesday's launch was the fourth of the year for Japan and the second for the H-IIA rocket. Japan's next launch is currently scheduled for August or September, using an H-IIB rocket to orbit Kounotori-7, the seventh flight of an H-II Transfer Vehicle (HTV) to the International Space Station. Another H-IIA launch, carrying the second Greenhouse Gases Observing Satellite (GOSAT), is also slated for later in 2018.
Quelle: NS
+++
Japan launches H-2A rocket carrying intelligence-gathering satellite
TANEGASHIMA, Japan (Kyodo) -- Japan on Tuesday launched an H-2A rocket carrying a government radar-type intelligence-gathering satellite from the Tanegashima Space Center in southwestern Japan.
The reconnaissance satellites will be used for such purposes as monitoring military facilities in North Korea and taking images of affected areas at a time of natural disasters.
The Japan Aerospace Exploration Agency and Mitsubishi Heavy Industries Ltd. launched the H-2A F39 rocket from JAXA's launch site in Kagoshima Prefecture.
There are two types of reconnaissance satellites -- radar satellites capturing radio waves reflected from the ground and optical satellites taking photos of the ground using a device similar to a digital camera.
The government currently operates 4 radar satellites and 2 optical ones. It aims to operate 10 satellites in total including the two types and relay satellites.
The government classifies the images as specially designated secrets and does not reveal them, except for those taken at a time of natural disaster. When it does, the government downgrades the image quality so as not to reveal the image-capturing capacity of the satellites.
Quelle: The Mainichi
+++
Japan launches intelligence-gathering satellite
Japan has put another satellite into orbit to gather intelligence for national security purposes.

An H2A rocket carrying the intelligence-gathering satellite lifted off from Tanegashima Space Center in Kagoshima, southern Japan, at 1:20 PM on Tuesday. It put the satellite into orbit some 20 minutes later.

The Cabinet Satellite Intelligence Center and Mitsubishi Heavy Industries, which carried out the launch, cited security reasons for not disclosing launch details, such as the altitude of the satellite release.

The de-facto reconnaissance satellite is designed to capture images of the Earth's surface from hundreds of kilometers up.

Japan operates optical and radar satellites. The optical type use high-performance cameras to take images during the day, while the radar satellites take photos at night and in bad weather using radio waves. The latest launch was of a radar-type satellite.

The Japanese government uses the satellites to monitor North Korea's missile-launching facilities and to assess the extent of damage in disasters among other things.

Japan now has 8 intelligence-gathering satellites in orbit. Six are in operation. An optical-type satellite launched in February is currently being prepared to go into operation.

Together, the satellites ensure every part of the Earth is covered at least once a day.

The government plans to increase the number of reconnaissance satellites in orbit to 10.
889 Views