WASHINGTON — SpaceX and mobile satellite services provider Iridium, now halfway through deploying the Iridium Next constellation, are preparing for their fifth mission on March 18 from Vandenberg Air Force Base in California.
The Falcon 9 launch is expected to kick off a "rapid-cadence launch schedule targeting completion of the Iridium manifest by mid-2018," according to a Jan. 22 Iridium statement.
Iridium CEO Matt Desch told SpaceNews by email that the rapid cadence equates to "an average of about 5 weeks between launches to ensure we complete launch 8 mid-year."
Following the March 18 mission, the sixth Iridium Next launch is scheduled for mid-to-late April.
Like Iridium's last SpaceX mission, the March launch will employ a booster that previously carried 10 Iridium Next satellites into low Earth orbit. SpaceX will use the same first stage as its third Iridium Next launch in October.
Iridium switched its fourth and fifth launches from new to pre-flown Falcon 9s in order to preserve the operator's deployment schedule.
"We are entering the home stretch," Desch said in a press release. "This is going to be a monumental year for us as we complete our constellation refresh."
All 10 satellites in the fifth mission will form part of the active constellation following testing and validation. Iridium Next consists of 66 active satellites, nine in-orbit spares and six ground spares. French satellite manufacturer Thales Alenia Space is building the 81 satellites, with U.S. satellite builder Orbital ATK assembling, integrating, and testing each spacecraft at its manufacturing facility in Gilbert, Arizona.
The sixth Iridium Next launch will share a Falcon 9 with GRACE-FO, two research satellites for NASA and the German Research Center for Geosciences' (GFZ) Gravity Recovery and Climate Experiment Follow-On mission. Iridium ordered that launch in February 2017 to fill in for a Dnepr mission that fell years behind schedule in a Russian regulatory quagmire. The change in plans increased the number of orbital spares from six to nine.
Quelle: SN
---
Update: 13.03.2018
.
Satellites for the fifth Iridium NEXT launch arrive at Vandenberg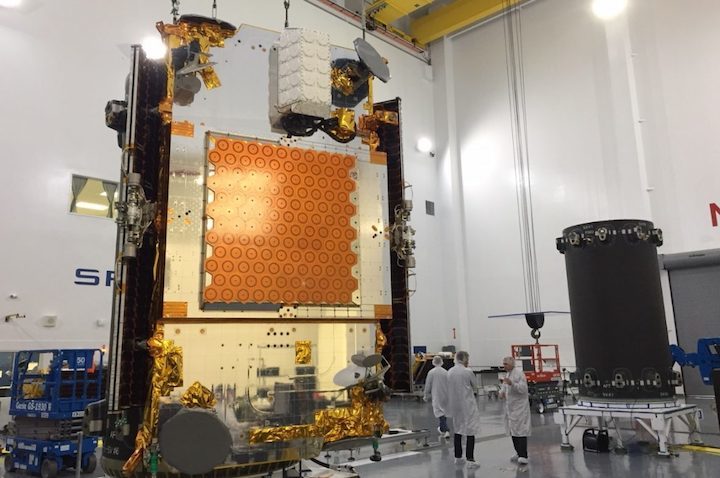 The latest set of Iridium NEXT satellites have arrived at Vandenberg Air Force Base in preparation for the Iridium NEXT-5 launch at the end of this month. They will be launched on a Falcon 9 booster that is familiar with the mission requirements, having previously launched the Iridium NEXT-3 mission.

Iridium provides global mobile satellite communications through a fleet of satellites in low Earth orbit.
The Iridium-NEXT satellites, which are built by a partnership of Thales Alenia Space and Orbital ATK, are replacing and modernizing Iridium's fleet.
Each satellite –  based on Thales' Extended Lifetime Bus 1000, or ELiTeBus-1000, platform – has a mass of 860 kilograms (1,900 lb), and carries L- and Ka-band communications payloads.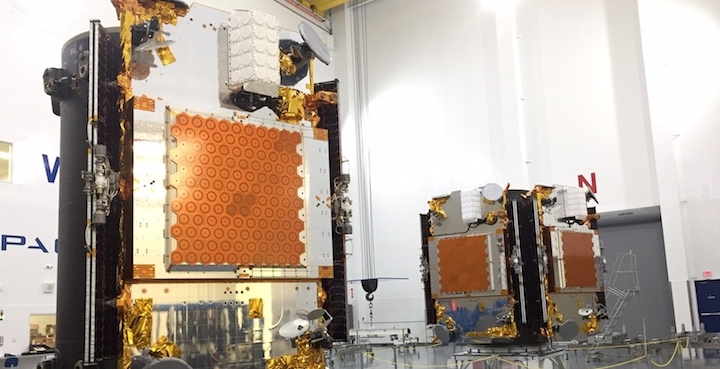 The first ten spacecraft were launched in January, with subsequent launches in June, October and December, bringing the total number of new-generation satellites on orbit up to 40.
The current campaign calls for the launch of seventy-five satellites aboard eight Falcon 9 rockets, with Iridium NEXT-5 set to loft the next 10 spacecraft. 
Those satellites have now arrived and are in processing at SpaceX's west coast launch site at Vandenberg Air Force Base in California, according to an Iridium statement on Monday.
The operational Iridium constellation will be comprised of 66 interconnected satellites, divided into six polar orbiting planes with 11 satellites in each plane. The larger launch total takes into account nine additional in-orbit spares with one or two in each plane.
Destined for Iridium orbital plane one, all 10 of the Iridium NEXT satellites deployed during this launch will immediately go into service following rigorous testing and validation.
"Now that we are more than halfway deployed, we can really focus on the impact our next-generation of services will make on the industry," said Iridium CEO, Matt Desch in Monday's update.
"Testing of our exciting new L-band broadband service, Iridium CertusSM, has been performing well, and with every successful launch, we are closer to bringing our full suite of Iridium NEXT solutions to life. "
The launch will involve the second Iridium mission to use a "flight-proven" SpaceX Falcon 9 rocket.
Iridium NEXT-4 successfully utilized Falcon 9 booster 1036.2 during the December launch from Vandenberg, a launch that captured the imagination of the Californian public as the ride uphill provided a stunning light show over parts of the State.
Falcon 9 B1036.2 had previous launched Iridium NEXT-2 in June, before landing on the West Coast ASDS, named Just Read the Instructions, in the Pacific Ocean.
With additional synergy, Iridium NEXT-5 will use the same booster that successfully launched Iridium NEXT-3.
Falcon 9 B1041.2, which launched in October, also returned to the West Coast ASDS.
The booster was then returned to port and processed for this upcoming mission.
As is the case with all SpaceX flight proven boosters of late, the booster will be sporting the "sooty" appearance, as the company refines its booster turnaround processing. Cleaning down the booster is unnecessary, although close up photos of the "sooty" boosters show pinstripe lines along weld points and other key areas of the rocket, allowing for required inspections.
Iridium-5 is currently targeted for March 29, 2018 at 7:19 am PDT (14:19 UTC), with the launch taking place from SLC-4E at SpaceX's Vandenberg site.
There is currently no official word on additional reusability goals during this mission, such as the use of the drone ship or another fairing recovery attempt using Mr. Steven.
Should all go to plan with Iridium NEXT-5 launch, the company believes it will remain on target to achieve its network timeline goals.
"With each day, we are meeting key milestones to complete our new network this year," added Mr. Desch on Monday. "We can't wait to see this fifth set arrive in space to keep up the momentum."
Quelle: NS
---
Update: 21.03.2018
.
Launch preps advance in California for next Falcon 9 flight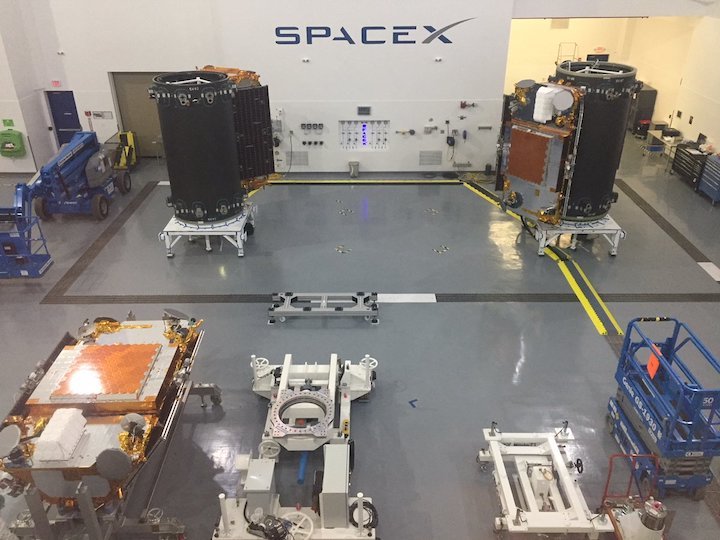 SpaceX's fifth launch of replacement spacecraft for Iridium's global voice and data communications network is set for March 29 from Vandenberg Air Force Base in California, a flight that Iridium hopes will signal the start of a brisk pace of West Coast missions to complete deployment of the telecom company's initial 75-satellite constellation this summer.
All 10 satellites assigned to the March 29 launch have been bolted on their SpaceX-built mounting platform for fueling, a procedure that was expected to conclude early this week.
Each of the satellites will weigh 1,896 pounds (860 kilograms) with a full load of hydrazine maneuvering propellant. The combination of the 10 satellites, plus their two-tier dispenser module, make the Iridium missions the heaviest payloads launched by SpaceX to date.
Built in Gilbert, Arizona, by Thales Alenia Space in partnership with Orbital ATK, the latest satellites set to join the Iridium Next fleet were trucked to Vandenberg Air Force Base in pairs, then passed post-shipment checkouts before their stacking on the deployment structure.
The schedule called for technicians to load around 361 pounds (164 kilograms) of hydrazine into each of the Iridium Next satellites over the weekend. The final major steps for the spacecraft will be their encapsulation inside the Falcon 9 rocket's payload shroud, which protects the satellites during their stay on the launch pad prior to liftoff, and during the first few minutes of flight through the dense lower atmosphere.
Meanwhile, SpaceX ground crews are preparing the Falcon 9 rocket inside the hangar at Space Launch Complex 4-East at Vandenberg. The booster launching March 29 first flew in October with the third set of Iridium Next satellites, then landed on SpaceX's rocket recovery vessel in the Pacific Ocean for refurbishment and reuse.
After completing a hold-down firing at the launch pad, the rocket will return to the hangar for workers to connect the Falcon 9's payload fairing and the Iridium Next satellites. The Falcon 9 will return to the launch pad, located around 1,000 feet (300 meters) from the hangar, around a day before liftoff.
The Falcon 9 will be hoisted vertical atop the launch mount for final pre-flight checks.
Launch is set for March 29 at 7:19:49 a.m. PDT (10:19:49 a.m. EDT; 1419:49 GMT). The instantaneous launch opportunity is timed to place the 10 payloads into Plane 1 of the Iridium network, which has spacecraft spread in six orbital planes, each with 11 spacecraft.
The 10 new Iridium Next satellites launching next week will join 40 others lofted by four Falcon 9 launches last year. Iridium is deploying an upgraded voice and data relay network to replace an aging satellite fleet that launched in the late 1990s and early 2000s.
Iridium has invested $3 billion in the new-generation system, purchasing 81 satellites from an industrial partnership between Thales Alenia Space and Orbital ATK, eight Falcon 9 launches from SpaceX, and modernized ground terminals to allow the company's more than 900,000 subscribers to connect to the network. The new satellites allow Iridium to debut voice and Internet capabilities, alongside the network's previous telephone, messaging and tracking applications.
"Now that we are more than halfway deployed, we can really focus on the impact our next-generation of services will make on the industry," said Iridium CEO, Matt Desch. "Testing of our exciting new L-band broadband service, Iridium Certus, has been performing well, and with every successful launch, we are closer to bringing our full suite of Iridium Next solutions to life.  With each day, we are meeting key milestones to complete our new network this year, and we can't wait to see this fifth set arrive in space to keep up the momentum."
Earlier this month, Iridium said 34 of the Iridium Next satellites launched last year had entered service, meaning more than half of the 66 active satellites in the company's fleet were new members of the constellation. Three more were due to become operational by the end of March.
Besides their primary mobile communications function, the Iridium Next satellite also host instrumentation to track global air and maritime traffic.
Iridium and SpaceX have three more missions booked after next week's launch.
Five Iridium Next satellites will share a Falcon 9 launch from California in late April with two joint U.S.-German research satellites to probe Earth's gravity field. A launch date for that mission has not been confirmed, but filings with the Federal Communications Commission suggest the flight is scheduled for no earlier than April 28.
A launch in late April would occur around 3 p.m. PDT (6 p.m. EDT; 2200 GMT), based on the time that the Earth's rotation begins the Vandenberg launch base under the mission's targeted orbital plane.
Two dedicated Falcon 9 flights, each with 10 satellites on-board, will wrap up the Iridium Next launch sequence. Iridium expects the eighth and final launch in the series to occur in July, according to a company spokesperson.
Six of the 81 satellites Iridium purchased have not been booked for a launch, and will remain on Earth as ground spares for now. Iridium has not ruled out launching the final six Iridium Next satellites in the future.
Quelle: SN