This processed image is the highest-resolution color look yet at the haze layers in Pluto's atmosphere. Shown in approximate true color, the picture is constructed from a mosaic of four panchromatic images from the Long Range Reconnaissance Imager (LORRI) splashed with Ralph/Multispectral Visible Imaging Camera (MVIC) four-color filter data, all acquired by NASA's New Horizons spacecraft on July 14, 2015. The resolution is 0.6 miles (1 kilometer) per pixel; the sun illuminates the scene from the right.
Scientists believe the haze is a photochemical smog resulting from the action of sunlight on methane and other molecules in Pluto's atmosphere, producing a complex mixture of hydrocarbons such as acetylene and ethylene.  These hydrocarbons accumulate into small particles, a fraction of a micrometer in size, and scatter sunlight to make the bright blue haze seen in this image.
As they settle down through the atmosphere, the haze particles form numerous intricate, horizontal layers, some extending for hundreds of miles around Pluto. The haze layers extend to altitudes of over 120 miles (200 kilometers).
Adding to the stark beauty of this image are mountains on Pluto's limb (on the right, near the 4 o'clock position), surface features just within the limb to the right, and crepuscular rays (dark finger-like shadows to the left) extending from Pluto's topographic features. 
Young at Heart: Pluto's Ice Only 10 Million Years Old
Pictures are still filtering back from NASA's New Horizons close-up of Pluto last year and one of the biggest surprises so far comes from the region informally known as Sputnik Planum. There's a lack of craters on its surface, making it a unique area on Pluto and a rare spot in the solar system — it turns out it could be very young terrain indeed.
"What I did was take the pictures that we have seen — the amazing pictures! — and calculate, based on Pluto's orbital environment, what the impact rate and therefore the surface age of Sputnik Planum must be," wrote planetary scientist David Trilling in an email to Discovery News.
"There have been lots of press releases describing various aspects of Sputnik Planum, but, as far as I know, this is the first time that the age estimate of 10 million years or younger appears in the peer-reviewed literature," added Trilling, an assistant professor of physics and astronomy at Northern Arizona University.
Trilling's study, which is in press at PLOS One, mentions three ways the resurfacing could take place:
Nitrogen ice on the surface could be "relaxing" if it is viscous, getting rid of any craters created by meteroids.
Ice on the bottom could be rising up and replacing ice at the top, somewhat like how a lava lamp works.
The ice could be partially melted at its bottom and from time to time, erupt on to the surface as cryo-lava.
As for where the meteorites are coming from, Trilling points out that Pluto is in a zone filled with smaller Kuiper Belt objects. From time to time, these small bodies crash into Pluto. Trilling's math shows that this happens roughly every 10 million years, which would explain why Sputnik Planum appears so young.
Trilling's research is mostly focused on near-Earth asteroids, but Pluto caught his attention not only because of the "astounding" images, but also the lack of craters. He's also hopeful that New Horizons will be funded to look at another Kuiper Belt object up close in 2018. If that happens, Trilling will be on the lookout for more "crater-free patches" to nail down more information about the solar system's evolution.
.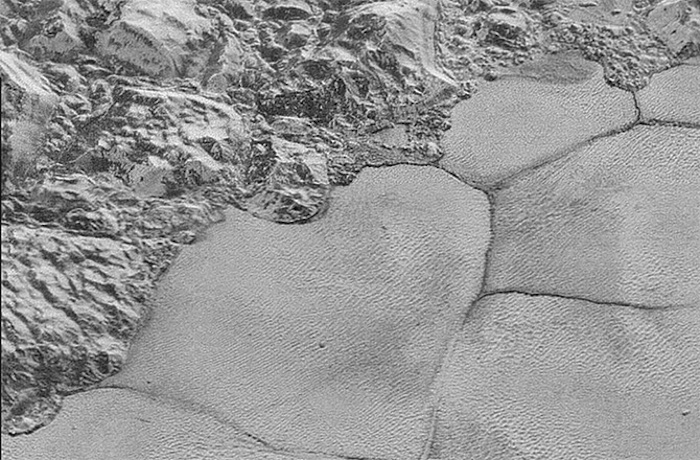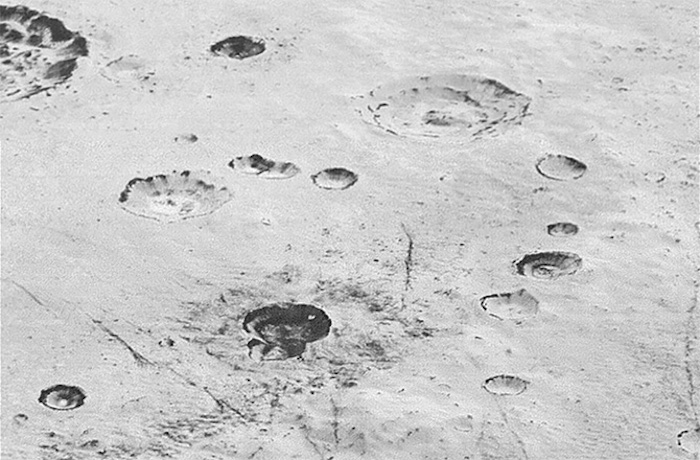 Quelle: D-News
Data from NASA's New Horizons spacecraft point to more prevalent water ice on Pluto's surface than previously thought.
This false-color image, derived from observations in infrared light by the Ralph/Linear Etalon Imaging Spectral Array (LEISA) instrument, shows where the spectral features of water ice are abundant on Pluto's surface. It is based on two LEISA scans of Pluto obtained on July 14, 2015, from a range of about 67,000 miles (108,000 kilometers). 
The scans, taken about 15 minutes apart, were stitched into a combined multispectral Pluto "data cube" covering the full hemisphere visible to New Horizons as it flew past Pluto. A data cube like this is a three-dimensional array in which an image of Pluto is formed at each LEISA-sensitive wavelength. 
Water ice is Pluto's crustal "bedrock," the canvas on which its more volatile ices paint their seasonally changing patterns. Initial New Horizons maps of Pluto's water ice bedrock compared LEISA spectra with a pure water ice template spectrum, resulting in the map at left. 
A disadvantage of that technique is that water ice's spectral signature is easily masked by methane ice, so that map was only sensitive to areas that were especially rich in water ice and/or depleted in methane. The much more sensitive method used on the right involves modeling the contributions of Pluto's various ices all together. This method, too, has limitations in that it can only map ices included in the model, but the team is continually adding more data and improving the model.
The new map shows exposed water ice to be considerably more widespread across Pluto's surface than was previously known — an important discovery. But despite its much greater sensitivity, the map still shows little or no water ice in the informally named places called Sputnik Planum (the left or western region of Pluto's "heart") and Lowell Regio (far north on the encounter hemisphere). This indicates that at least in these regions, Pluto's icy bedrock is well hidden beneath a thick blanket of other ices such as methane, nitrogen and carbon monoxide. 
Credit: NASA/Johns Hopkins University Applied Physics Laboratory/Southwest Research Institute
.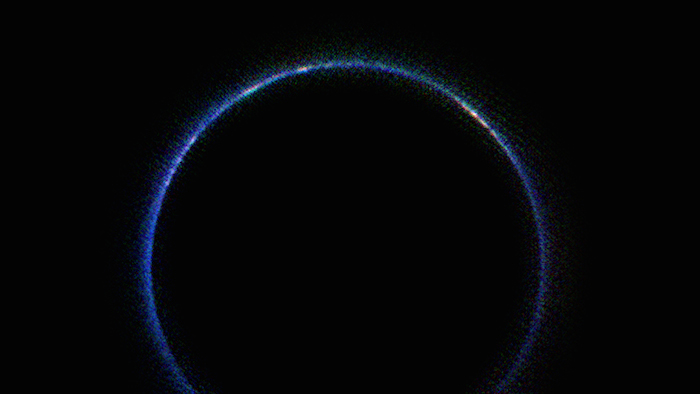 Pluto's Blue Atmosphere in the Infrared
Release Date: January 29, 2016
Keywords: LEISA, Pluto, Ralph
This image from NASA's New Horizons spacecraft is the first look at Pluto's atmosphere in infrared wavelengths, and the first image of the atmosphere made with data from the New Horizons Ralph/Linear Etalon Imaging Spectral Array (LEISA) instrument.
In this image, sunlight is coming from above and behind Pluto. The image was captured on July 14, 2015, while New Horizons was about 112,000 miles (180,000 kilometers) away. The image covers LEISA's full spectral range (1.25 to 2.5 microns), which is divided into thirds, with the shortest third being put into the blue channel, middle third into the green channel, and longest into the red channel. North in this image is around the 10 o'clock position.
The blue ring around Pluto is caused by sunlight scattering from haze particles common in Pluto's atmosphere; scientists believe the haze is a photochemical smog resulting from the action of sunlight on methane and other molecules, producing a complex mixture of hydrocarbons such as acetylene and ethylene. These hydrocarbons accumulate into small particles – a fraction of a micrometer in size – which scatter sunlight to make the blue haze. The new infrared image, when combined with earlier images made at shorter, visible wavelengths, gives scientists new clues into the size distribution of the particles.
The whitish patches around Pluto's limb in this image are sunlight bouncing off more reflective or smoother areas on Pluto's surface – with the largest patch being the western section of the informally named Cthulhu Regio. Future LEISA observations returned to Earth should capture the remainder of the haze, missing from the lower section of the image. 
Quelle: NASA
-
Update: 5.02.2016
.
Pluto might have icebergs that float in frozen nitrogen
Hills of water ice on Pluto 'float' in a sea of frozen nitrogen and move over time like icebergs in Earth's Arctic Ocean—another example of Pluto's fascinating geological activity. (NASA/JHUAPL/SwRI)
Pluto is weird. Good weird, but definitely weird. The latest findings from NASA's New Horizons mission help confirm that beautiful weirdness: According to the latest scientific analysis of photos and data from the July flyby, Pluto is home to rock-hard glaciers made of water ice (note: planetary scientists use the terms "water ice" or "frozen water" instead of the more obvious "ice," because ice on other planets can be made of all sorts of molecules other than good old H2O).
These water ice glaciers float around on frozen nitrogen, which is much more common on the frigid dwarf planet. Because of the temperature on Pluto (minus-380 degrees Fahrenheit, on average), water ice glaciers are likely as hard as mountains made of rock are on Earth. Meanwhile, nitrogen – which doesn't even freeze until it hits minus-346 degrees – is icy but flowing, like glaciers on Earth.
That water ice may be hard as rock, but it's still less dense than frozen nitrogen. NASA scientists believe the water ice hills break apart and are carried atop the nitrogen flows, causing them to move in chains and cluster together based on the flow pattern.
In some areas of Sputnik Planum (an informal name for the plains of ice flows that sit in Pluto's "heart") these water ice mountain clusters span 12 miles across.
The informally named Challenger Colles (a tribute to the lost crew of NASA's Challenger shuttle), which is 22 miles by 37 miles across, could be a cluster of "beached" water ice mountains shoved into place by the nitrogen flows, according to the mission scientists.
Pluto's surprisingly wealth of geological activity does make its "dwarf planet" status hard to swallow for some. But whatever this little world is categorized as, one thing is for certain: It's a very cool place.
Quelle: The Washington Post