Russian Federal Space Agency announced that a Proton-M carrier rocket launch with a Russian Express-АМ8 telecommunications satellite is scheduled for Monday evening.
MOSCOW (Sputnik) — A Proton-M carrier rocket launch with a Russian Express-АМ8 telecommunications satellite is scheduled for Monday evening, a spokesperson for the Russian Federal Space Agency (Roscosmos) has said.
It is the second launch after an incident in May, when a Proton-M carrier rocket failed to deliver the Mexican MexSat-1 satellite into orbit. The first successful launch of the Proton-M carrier rocket with the British telecommunications satellite Inmarsat-5F3 took place on August 28.
"The launch is scheduled for 10:00 p.m. Moscow time [19:00 GMT] on September 14. The separation of the Express-AM8 [satellite] from the Briz-M upper stage is expected to take place on September 15, at 4:37 a.m. Moscow time [01:37 GMT]," the spokesperson told RIA Novosti.
Express-AM8 has an operational life-time of 15 years. The satellite's weight is 2,100 kilograms (4,629 pounds), with the payload mass of 661 kilograms (1,457 pounds).
The satellite is designed to provide television and radio broadcasting, data transmission, multimedia services, presidential and governmental communications, telephony, mobile communication in the territory of western and central Russia, Europe, Africa, the Middle East, as well as South and North America.
Quelle: Sputnik
-
Update: 23.00 MESZ
.
Proton rocket takes off with Express AM8 communications bird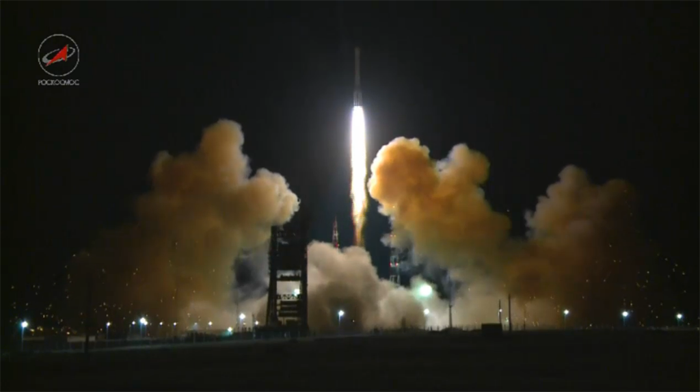 A Proton rocket lifted off at 1900 GMT (3 p.m. EDT) with the Express AM8 communications satellite. Credit: TsENKI/Roscosmos
A Proton rocket fired away from the Baikonur Cosmodrome in Kazakhstan on Monday, kicking off a nearly seven-hour flight set to conclude with a high-altitude delivery of a new Russian communications satellite into orbit.
The Proton booster blasted off at 1900 GMT (3 p.m. EDT) from Complex 81 at Baikonur, powering into the sky on the thrust of six RD-276 main engines.
The three-stage rocket completed its role in the mission less than 10 minutes later, then a Block DM upper stage took control of the flight for a series of three burns to inject the Express AM8 satellite into a near-circular geostationary orbit.
Deployment of Express AM8 is scheduled for 0137 GMT (9:37 p.m. EDT) to complete the launch sequence.
Weighing 2.1 metric tons (4,629 pounds) at launch, the spacecraft is light enough for the Proton/Block DM to place it near its final perch 22,300 miles above Earth. Heavier satellites often go to an elliptical transfer orbit, requiring them to consume their own fuel for final orbit-raising.
Express AM8 is beginning a 15-year mission at 14 degrees west longitude, covering a region stretching from the Americas to Europe, North Africa and Russia with 42 transponders transmitting in Ku-band, C-band and L-band, according to the Russian Satellite Communications Co., the satellite's owner.
RSCC is a state-owned Russian operator providing civilian communications services, and Express AM8's launch is considered part of Russia's federal space program, and not a commercial flight under the auspices of International Launch Services.
Thales Alenia Space of France supplied the satellite's antennas and repeater system. Express AM8's bus was built by ISS Reshetnev, a Russian satellite manufacturer.
Express AM8 will replace the aging Express A4 communications satellite launched in June 2002.
Monday's launch is the fifth flight of a Proton booster this year, and the 406th mission by the workhorse rocket since its debut in 1965. It is the second Proton launch since it returned to flight Aug. 28 after a launch mishap in May grounded the rocket more than three months.
Express AM8 joins RSCC's satellite fleet providing commercial telecom services and communications links for Russian government ministries and the Russian president. The new satellite is designed for fixed and mobile communications services, digital television, radio broadcasting, Internet access and other data transmissions, according to ISS Reshetnev.
The next launch of a Proton rocket is set for Oct. 9 with Turkey's Turksat 4B communications satellite. That mission is under the management of ILS.
Quelle:SN
.
Update: 15.09.2015
.
Erfolgreicher Start von Proton-M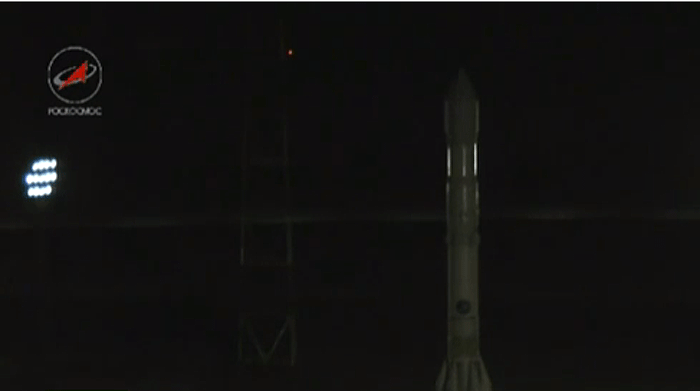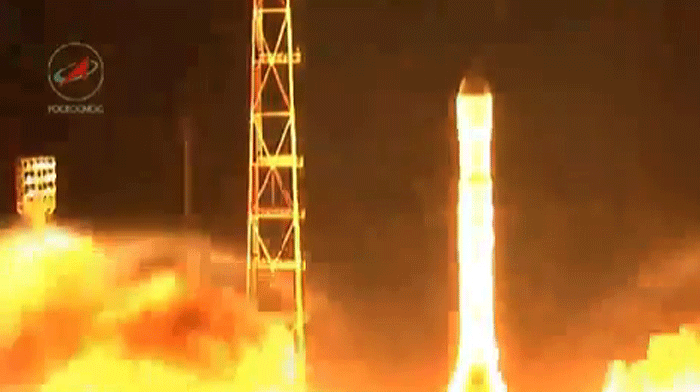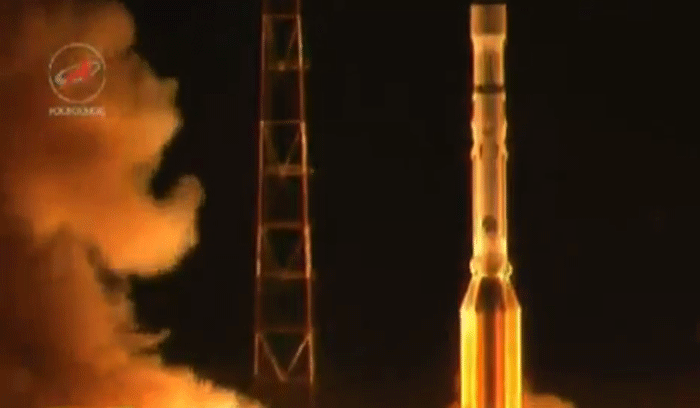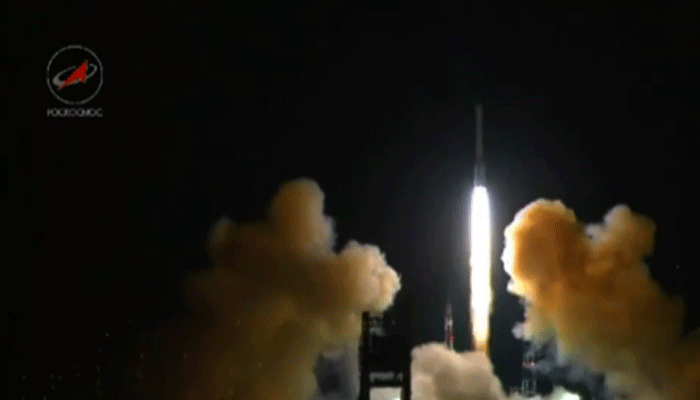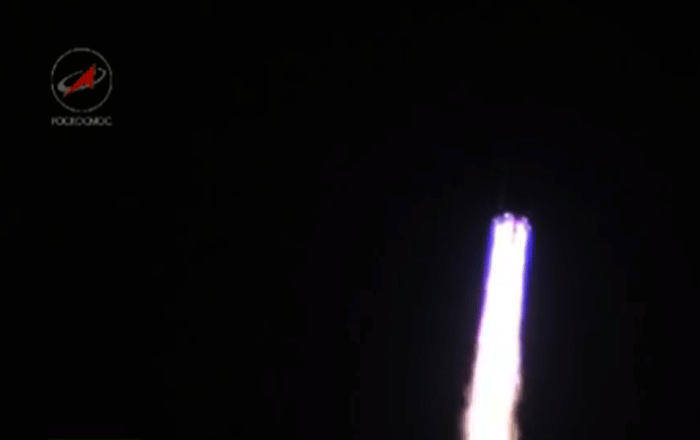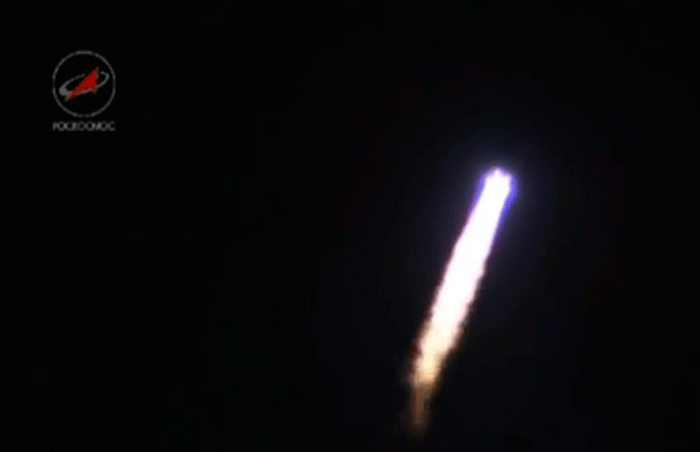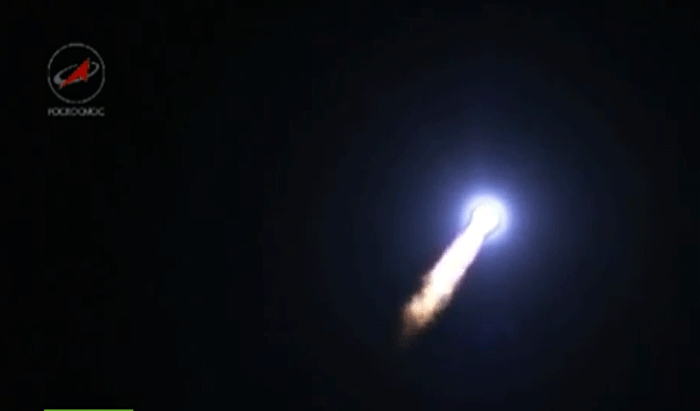 Quelle: Roscosmos