.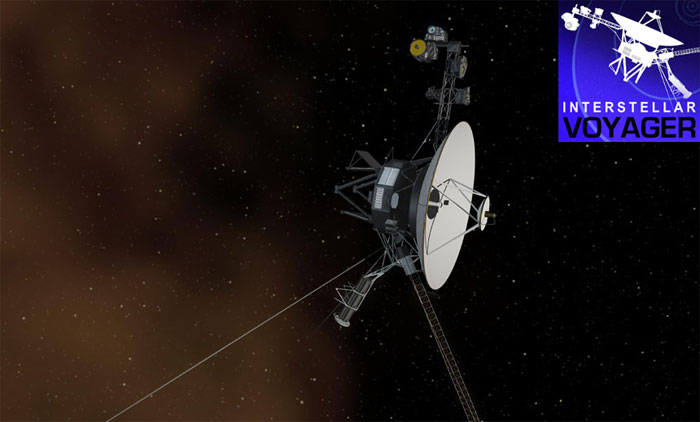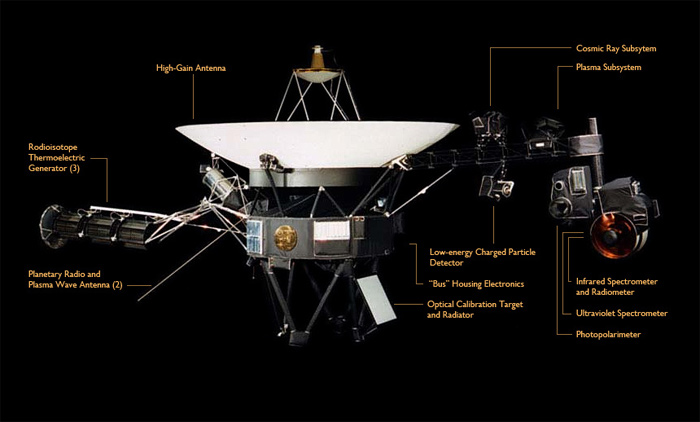 Pioneers 10 and 11, which preceded Voyager, both carried small metal plaques identifying their time and place of origin for the benefit of any other spacefarers that might find them in the distant future. With this example before them, NASA placed a more ambitious message aboard Voyager 1 and 2-a kind of time capsule, intended to communicate a story of our world to extraterrestrials. The Voyager message is carried by a phonograph record-a 12-inch gold-plated copper disk containing sounds and images selected to portray the diversity of life and culture on Earth.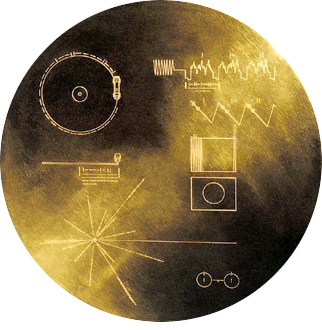 The contents of the record were selected for NASA by a committee chaired by Carl Sagan of Cornell University, et. al. Dr. Sagan and his associates assembled 115 images and a variety of natural sounds, such as those made by surf, wind and thunder, birds, whales, and other animals. To this they added musical selections from different cultures and eras, and spoken greetings from Earth-people in fifty-five languages, and printed messages from President Carter and U.N. Secretary General Waldheim. Each record is encased in a protective aluminum jacket, together with a cartridge and a needle. Instructions, in symbolic language, explain the origin of the spacecraft and indicate how the record is to be played. The 115 images are encoded in analog form. The remainder of the record is in audio, designed to be played at 16-2/3 revolutions per minute. It contains the spoken greetings, beginning with Akkadian, which was spoken in Sumer about six thousand years ago, and ending with Wu, a modern Chinese dialect. Following the section on the sounds of Earth, there is an eclectic 90-minute selection of music, including both Eastern and Western classics and a variety of ethnic music. Once the Voyager spacecraft leave the solar system (by 1990, both will be beyond the orbit of Pluto), they will find themselves in empty space. It will be forty thousand years before they make a close approach to any other planetary system. As Carl Sagan has noted, "The spacecraft will be encountered and the record played only if there are advanced spacefaring civilizations in interstellar space. But the launching of this bottle into the cosmic ocean says something very hopeful about life on this planet."
The definitive work about the Voyager record is "Murmurs of Earth" by Executive Director, Carl Sagan, Technical Director, Frank Drake, Creative Director, Ann Druyan, Producer, Timothy Ferris, Designer, Jon Lomberg, and Greetings Organizer, Linda Salzman. Basically, this book is the story behind the creation of the record, and includes a full list of everything on the record. "Murmurs of Earth", originally published in 1978, was reissued in 1992 by Warner News Media with a CD-ROM that replicates the Voyager record. Unfortunately, this book is now out of print, but it is worth the effort to try and find a used copy or browse through a library copy.
-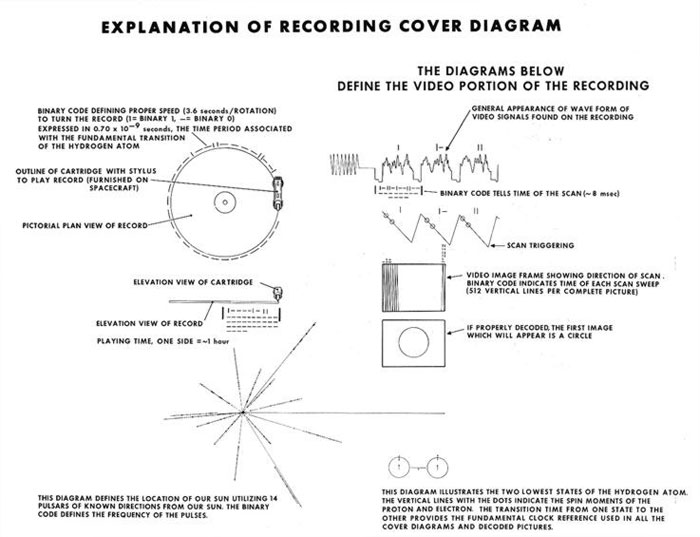 "In the upper left-hand corner is an easily recognized drawing of the phonograph record and the stylus carried with it. The stylus is in the correct position to play the record from the beginning. Written around it in binary arithmetic is the correct time of one rotation of the record, 3.6 seconds, expressed in time units of 0,70 billionths of a second, the time period associated with a fundamental transition of the hydrogen atom. The drawing indicates that the record should be played from the outside in. Below this drawing is a side view of the record and stylus, with a binary number giving the time to play one side of the record - about an hour.
"The information in the upper right-hand portion of the cover is designed to show how pictures are to be constructed from the recorded signals. The top drawing shows the typical signal that occurs at the start of a picture. The picture is made from this signal, which traces the picture as a series of vertical lines, similar to ordinary television (in which the picture is a series of horizontal lines). Picture lines 1, 2 and 3 are noted in binary numbers, and the duration of one of the "picture lines," about 8 milliseconds, is noted. The drawing immediately below shows how these lines are to be drawn vertically, with staggered "interlace" to give the correct picture rendition. Immediately below this is a drawing of an entire picture raster, showing that there are 512 vertical lines in a complete picture. Immediately below this is a replica of the first picture on the record to permit the recipients to verify that they are decoding the signals correctly. A circle was used in this picture to insure that the recipients use the correct ratio of horizontal to vertical height in picture reconstruction.
"The drawing in the lower left-hand corner of the cover is the pulsar map previously sent as part of the plaques on Pioneers 10 and 11. It shows the location of the solar system with respect to 14 pulsars, whose precise periods are given. The drawing containing two circles in the lower right-hand corner is a drawing of the hydrogen atom in its two lowest states, with a connecting line and digit 1 to indicate that the time interval associated with the transition from one state to the other is to be used as the fundamental time scale, both for the time given on the cover and in the decoded pictures.
"Electroplated onto the record's cover is an ultra-pure source of uranium-238 with a radioactivity of about 0.00026 microcuries. The steady decay of the uranium source into its daughter isotopes makes it a kind of radioactive clock. Half of the uranium-238 will decay in 4.51 billion years. Thus, by examining this two-centimeter diameter area on the record plate and measuring the amount of daughter elements to the remaining uranium-238, an extraterrestrial recipient of the Voyager spacecraft could calculate the time elapsed since a spot of uranium was placed aboard the spacecraft. This should be a check on the epoch of launch, which is also described by the pulsar map on the record cover."
-
Voyager Record Photograph Index
»
Calibration circle, Jon Lomberg
»
Solar location map, Frank Drake
»
Mathematical definitions, Frank Drake
»
Physical unit definitions, Frank Drake
»
Solar system parameters, Frank Drake
»
Solar system parameters, Frank Drake
»
The Sun, Hale observatories
»
Solar spectrum, National Astronomy and Ionosphere Center, Cornell University (NAIC)
»
Mercury, NASA
»
Mars, NASA
»
Jupiter, NASA
»
Earth, NASA
»
Egypt, Red Sea, Sinai Peninsula and the Nile, NASA
»
Chemical definitions, Frank Drake
»
DNA Structure, Jon Lomberg
»
DNA Structure magnified, light hit, Jon Lomberg
»
Cells and cell division, Turtox/Cambosco
»
Anatomy 1, World Book
»
Anatomy 2, World Book
»
Anatomy 3, World Book
»
Anatomy 4, World Book
»
Anatomy 5, World Book
»
Anatomy 6, World Book
»
Anatomy 7, World Book
»
Anatomy 8, World Book
»
Human sex organs, Sinauer Associates, Inc.
»
Diagram of conception, Jon Lomberg
»
Conception , Albert Bonniers; Forlag, Stockholm
»
Fertilized ovum, Albert Bonniers; Forlag, Stockholm
»
Fetus diagram, Jon Lomberg
»
Fetus, Dr. Frank Allan
»
Diagram of male and female, Jon Lomberg
»
Birth, Wayne Miller
»
Nursing mother, UN
»
Father and daughter (Malaysia), David Harvey
»
Group of children, Ruby Mera, UNICEF
»
Diagram of family ages, Jon Lomberg
»
Family portrait, Nina Leen, Time, Inc.
»
Diagram of continental drift, Jon Lomberg
»
Structure of Earth, Jon Lomberg
»
Heron Island (Great Barrier Reef of Australia), Dr. Jay M. Pasachoff
»
Seashore, Dick Smith
»
Snake River and Grand Tetons, Ansel Adams
»
Sand dunes, George Mobley
»
Monument Valley, Shostal Associates, Inc.
»
Forest scene with mushrooms, Bruce Dale
»
Leaf, Arthur Herrick
»
Fallen leaves, Jodi Cobb
»
Snowflake over Sequoia, Josef Muench, R. Sisson
»
Tree with daffodils, Gardens Winterthur, Winterthur Museum
»
Flying insect with flowers, Borne on the Wind, Stephen Dalton
»
Diagram of vertebrate evolution, Jon Lomberg
»
Seashell (Xancidae), Harry N. Abrams, Inc.
»
Dolphins, Thomas Nebbia
»
School of fish, David Doubilet
»
Tree toad, Dave Wickstrom
»
Crocodile, Peter Beard
»
Eagle, Donona, Taplinger Publishing Co.
»
Waterhole, South African Tourist Corp.
»
Jane Goodall and chimps, Vanne Morris-Goodall
»
Sketch of bushmen, Jon Lomberg
»
Bushmen hunters, R. Farbman, Time, Inc.
»
Man from Guatemala, UN
»
Dancer from Bali, donna Grosvenor
»
Andean girls, Joseph Scherschel
»
Thailand craftsman, Dean conger
»
Elephant, Peter Kunstadter
»
Old man with beard and glasses (Turkey), Jonathon Blair
»
Old man with dog and flowers, Bruce Baumann
»
Mountain climber, Gaston Rebuffat
»
Gymnast, Philip Leonian, Sports Illustrated
»
Sprinters (Valeri Borzov of the U.S.S.R. in lead), History of the Olympics, Picturepoint, London
»
Schoolroom, UN
»
Children with globe, UN
»
Cotton harvest, Howell Walker
»
Grape picker, David Moore
»
Supermarket, NAIC
»
Underwater scene with diver and fish, Jerry Greenberg
»
Fishing boat with nets, UN
»
Cooking fish, Cooking of Spain and Portugal, Time-Life Books
»
Chinese dinner party, Time-Life Books
»
Demonstration of licking, eating and drinking, NAIC
»
Great Wall of China, H. Edward Kim
»
House construction (African), UN
»
Construction scene (Amish country), William Albert Allard
»
House (Africa), UN
»
House (New England), Robert Sisson
»
Modern house (Cloudcroft, New Mexico), Frank Drake
»
House interior with artist and fire, Jim Amos
»
Taj Mahal, David Carroll
»
English city (Oxford), C.S. Lewis, Images of His World, William B. Eerdmans Publishing Co.
»
Boston, Ted Spiegel
»
UN Building Day, UN
»
UN Building Night, UN
»
Sydney Opera House, Mike Long
»
Artisan with drill, Frank Hewlett
»
Factory interior, Fred Ward
»
Museum, David Cupp
»
X-ray of hand, NAIC
»
Woman with microscope, UN
»
Street scene, Asia (Pakistan), UN
»
Rush hour traffic, Thailand, UN
»
Modern highway (Ithaca), NAIC
»
Golden Gate Bridge, Ansel Adams
»
Train, Gordon Gahan
»
Airplane in flight, Frank Drake
»
Airport (Toronto), George Hunter
»
Antarctic Expedition, Great Adventures with the National Geographic National Geographic
»
Radio telescope (Westerbork, Netherlands), James Blair
»
Radio telescope (Arecibo), NAIC
»
Page of book (Newton, System of the World), NAIC
»
Astronaut in space, NASA
»
Titan Centaur launch, NASA
»
Sunset with birds, David Harvey
»
String Quartet (Quartetto Italiano), Phillips Recordings
»
Violin with music score (Cavatina), NAIC
-
Greetings to the Universe in 55 Different Languages
A golden phonograph record was attached to each of the Voyager spacecraft that were launched almost 25 years ago. One of the purposes was to send a message to extraterrestrials who might find the spacecraft as the spacecraft journeyed through interstellar space. In addition to pictures and music and sounds from earth, greetings in 55 languages were included.
NASA asked Dr Carl Sagan of Cornell University to assemble a greeting and gave him the freedom to choose the format and what would be included. Because of the launch schedule, Sagan (and those he got to help him) was not given a lot of time. Linda Salzman Sagan was given the task of assembling the greetings.
The story behind the creation of the "interstellar message" is chronicled in the book, "Murmurs of Earth", by Carl Sagan, et al. Unfortunately, not much information is given about the individual speakers. Many of the speakers were from Cornell University and the surrounding communities. They were given no instructions on what to say other than that it was to be a greeting to possible extraterrestrials and that it must be brief. The following is an excerpt by Linda Salzman Sagan from the book:
"During the entire Voyager project, all decisions were based on the assumption that there were two audiences for whom the message was being prepared - those of us who inhabit Earth and those who exist on the planets of distant stars.
" We were principally concerned with the needs of people on Earth during this section of the recording. We recorded messages from populations all over the globe, each representative speaking in the language of his or her people, instead of sending greetings in one or two languages accompanied by keys for their decipherment. We were aware that the latter alternative might have given the extraterrestrials a better chance of understanding the words precisely, though it would have raised the thorny question of which two languages to send. We felt it was fitting that Voyager greet the universe as a representative of one community, albeit a complex one consisting of many parts. At least the fact that many different languages are represented should be clear from the very existence of a set of short statements separated by pauses and from internal evidence - such as the initial greeting "Namaste," which begins many of the greetings from the Indian subcontinent. The greetings are an aural Gestalt, in which each culture is a contributing voice in the choir. After all, by sending a spaceship out of our solar system, we are making an effort to de-provincialize, to rise above our nationalistic interests and join a commonwealth of space-faring societies, if one exists.
"We made a special effort to record those languages spoken by the vast majority of the world's inhabitants. Since all research and technical work on the record had to be accomplished within a period of weeks, we began with a list of the world's most widely spoken languages, which was provided by Dr. Steven Soter of Cornell. Carl suggested that we record the twenty five most widely spoken languages. If we were able to accomplish that, and still had time, we would then try to include as many other languages as we could.
"The organization of recording sessions and the arduous legwork involved in finding, contacting and convincing individual speakers was handled by Shirley Arden, Carl's executive assistant, Wendy Gradison, then Carl's editorial assistant, Dr. Steven Soter, and me. The master table, reproduce on pages 134 through 143, which shows each of the languages, the speaker's name, their comments in the original language, an English translation, and the real and fractional number of human beings who speak that language, was largely Shirley's idea. We contacted various members of the Cornell laguage departments, who cooperated with us on very short notice and provided numerous speakers, even though school was ending and many people were leaving for summer vacatons. Other speakers were more difficult to find. sometimes it meant sitting for hours, telephoning friends of friends who migh know someone who could speak, let's ay, the Chinese Wu dialect. After finding such a person, we had to determine whether he or she would be available during the hours when the recording sessions had been scheduled. Even while the recording sessions were going on, were were still trying to find and recruit speakers of languages not yet represented. Often people waiting to record would suggest names of individuals fluent in the very languages we were looking for. Immediately we called those people, explained the project and our plight, and asked them to come at once. Many people did just that.
"Bishun Khare, a senior physicist in the Laboratory for Planetary Studies, was responsible almost singlehandedly for the participation of the Indian speakers. He personally called friends and member os the Cornell Indian community, explaining the undertaking to them and asked for and received their cooperation.
"There were only a few disappointments, where someone had agreed to come to a recording session, could not and forgot to let us know in time for us to make other arrangements. It wasn't always possible to find replacements at the last minute, so there are some regrettable omissions - Swahili is one."
All the greetings, written in the appropriate language, translated to English, and with the name of the speakers, are included in the book. A CD-ROM, which accompanied the 1992 version of the book, included the spoken versions.
Music From Earth
The following music was included on the Voyager record.
»
Bach, Brandenburg Concerto No. 2 in F. First Movement, Munich Bach Orchestra, Karl Richter, conductor. 4:40
»
Java, court gamelan, "Kinds of Flowers," recorded by Robert Brown. 4:43
»
Senegal, percussion, recorded by Charles Duvelle. 2:08
»
Zaire, Pygmy girls' initiation song, recorded by Colin Turnbull. 0:56
»
Australia, Aborigine songs, "Morning Star" and "Devil Bird," recorded by Sandra LeBrun Holmes. 1:26
»
Mexico, "El Cascabel," performed by Lorenzo Barcelata and the Mariachi México. 3:14
»
"Johnny B. Goode," written and performed by Chuck Berry. 2:38
»
New Guinea, men's house song, recorded by Robert MacLennan. 1:20
»
Japan, shakuhachi, "Tsuru No Sugomori" ("Crane's Nest,") performed by Goro Yamaguchi. 4:51
»
Bach, "Gavotte en rondeaux" from the Partita No. 3 in E major for Violin, performed by Arthur Grumiaux. 2:55
»
Mozart, The Magic Flute, Queen of the Night aria, no. 14. Edda Moser, soprano. Bavarian State Opera, Munich, Wolfgang Sawallisch, conductor. 2:55
»
Georgian S.S.R., chorus, "Tchakrulo," collected by Radio Moscow. 2:18
»
Peru, panpipes and drum, collected by Casa de la Cultura, Lima. 0:52
»
"Melancholy Blues," performed by Louis Armstrong and his Hot Seven. 3:05
»
Azerbaijan S.S.R., bagpipes, recorded by Radio Moscow. 2:30
»
Stravinsky, Rite of Spring, Sacrificial Dance, Columbia Symphony Orchestra, Igor Stravinsky, conductor. 4:35
»
Bach, The Well-Tempered Clavier, Book 2, Prelude and Fugue in C, No.1. Glenn Gould, piano. 4:48
»
Beethoven, Fifth Symphony, First Movement, the Philharmonia Orchestra, Otto Klemperer, conductor. 7:20
»
Bulgaria, "Izlel je Delyo Hagdutin," sung by Valya Balkanska. 4:59
»
Navajo Indians, Night Chant, recorded by Willard Rhodes. 0:57
»
Holborne, Paueans, Galliards, Almains and Other Short Aeirs, "The Fairie Round," performed by David Munrow and the Early Music Consort of London. 1:17
»
Solomon Islands, panpipes, collected by the Solomon Islands Broadcasting Service. 1:12
»
Peru, wedding song, recorded by John Cohen. 0:38
»
China, ch'in, "Flowing Streams," performed by Kuan P'ing-hu. 7:37
»
India, raga, "Jaat Kahan Ho," sung by Surshri Kesar Bai Kerkar. 3:30
»
"Dark Was the Night," written and performed by Blind Willie Johnson. 3:15
»
Beethoven, String Quartet No. 13 in B flat, Opus 130, Cavatina, performed by Budapest String Quartet. 6:37
-
-
Sounds of Earth
The following is a listing of sounds electronically placed onboard the Voyager 1 and 2 spacecraft.
»
Music of The Spheres
»
Volcanoes, Earthquake, Thunder
»
Mud Pots
»
Wind, Rain, Surf
»
Crickets, Frogs
»
Birds, Hyena, Elephant
»
Chimpanzee
»
Wild Dog
»
Footsteps, Heartbeat, Laughter
»
Fire, Speech
»
The First Tools
»
Tame Dog
»
Herding Sheep, Blacksmith, Sawing
»
Tractor, Riveter
»
Morse Code, Ships
»
Horse and Cart
»
Train
»
Tractor, Bus, Auto
»
F-111 Flyby, Saturn 5 Lift-off
»
Kiss, Mother and Child
»
Life Signs, Pulsar
-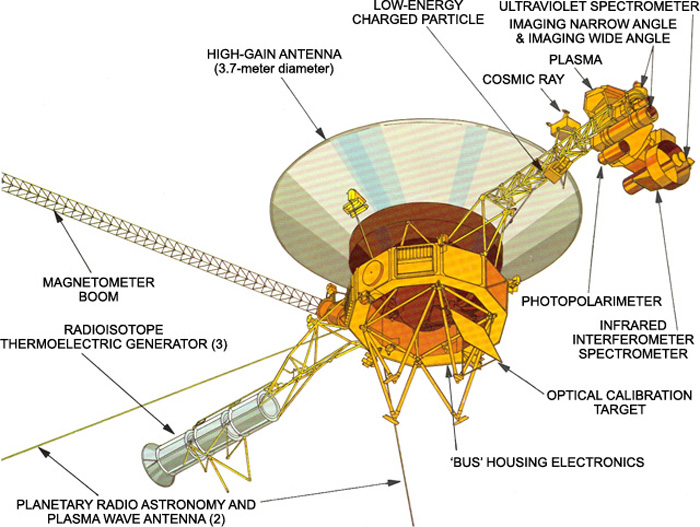 Quelle: NASA
2730 Views