.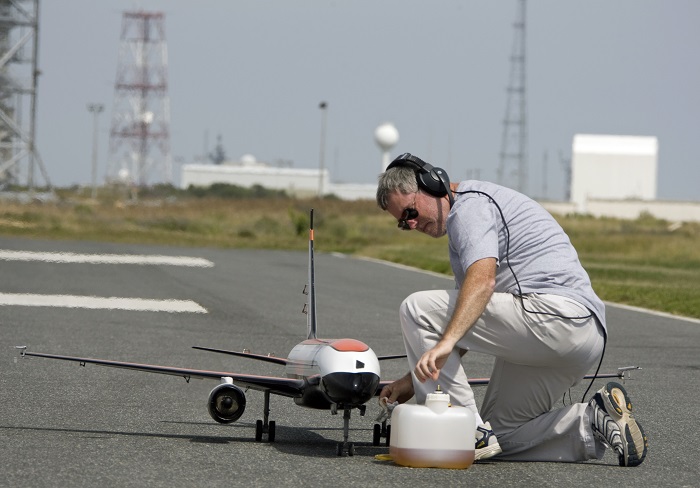 Image Credit:
NASA photo
.
UAS Test Site Selection Good News for NASA Langley, Wallops
The selection of six unmanned aircraft system (UAS) test sites by the Federal Aviation Administration may have an impact on NASA aeronautics research, especially at two NASA Virginia facilities.
NASA's Langley Research Center in Hampton and NASA's Wallops Flight Facility on Virginia's Eastern Shore are expected to work with the Virginia Tech team, which is based in Blacksburg. According to the FAA, Virginia Tech plans to conduct UAS failure mode testing and identify and evaluate operational and technical risks areas. This proposal includes test site range locations in both Virginia and New Jersey.
"Aeronautics researchers at NASA Langley are thrilled that the selection of unmanned aircraft system test sites has been made and that the country is moving forward to do the work needed to integrate unmanned aerial systems into the national airspace," said David Hinton, deputy director for aeronautics research and technology at NASA Langley. "With Langley's years of research experience in airspace operations, unmanned systems, sense and avoid technology, autonomy and other technical areas we look forward to working with any of the teams selected to help advance and expand the safe use of unmanned aerial systems."
NASA Langley uses unmanned aircraft, such as a scaled airliner model, in its own aviation safety research. Langley researchers have flown the Airborne Subscale Transport Aircraft Research or AirSTAR model at a Wallops test range.
"The safe and efficient integration of unmanned aerial systems into the National Airspace System is an important national goal, and we at NASA Wallops stand poised and ready to support related testing in the Mid-Atlantic Region," said Wallops Director Bill Wrobel. "Wallops' location, instrumentation capabilities, restricted airspace, established safety program and past experience in flying unmanned aerials systems make it a valuable member of the team supporting this great endeavor."
NASA's Aeronautics Research Mission Directorate has an already-established project, called UAS Integration in the NAS (National Airspace System), to help contribute capabilities that reduce technical barriers related to the safety and operational challenges associated with routine civilian use of unmanned aircraft. NASA has identified five subprojects to address some of the technical challenges: Separation Assurance/Sense and Avoid Interoperability; Human Systems Integration; Communications; Certification; and Integrated Test and Evaluation.
"NASA has testing we plan to do in the next three years, so while we already have airspace we can use, we may also be able to take advantage of the new test sites," said Ed Waggoner, head of NASA's Integrated Systems Research Project, which oversees the UAS project. "The FAA included NASA and other federal agencies in the review process for the test site selection."
To date, the primary user of unmanned systems, more commonly known as drones, has been the military. Current federal civil aviation regulations are based on a pilot being in the aircraft. Few regulations exist that specifically address UAS. To allow seamless operation of civil unmanned aircraft, technologies and procedures need to be developed, validated and employed by the FAA. NASA research will contribute data needed to help define requirements, regulations and other issues.
According to an FAA fact sheet, "The FAA has selected six UAS test site operators that will allow the agency to develop research findings and operational experiences to help ensure the safe integration of UAS into the nation's airspace as we transition to a system featuring NextGen technologies and procedure."
"While the selection of these test sites will not allow immediate access to the national airspace system for commercial and civil purposes, data and other information related to the operation of UAS that is generated by the six test site operators will help the FAA answer key research questions such as solutions for 'sense and avoid,' command and control, ground control station standards and human factors, airworthiness, lost link procedures and the interface with the air traffic control system. This data will help the FAA to develop regulations and operational procedures for future commercial and civil use of the NAS."
The other test site operators chosen are the University of Alaska, the state of Nevada, New York's Griffiss International Airport, the North Dakota Department of Commerce, and Texas A&M University-Corpus Christi.
NASA Langley researchers have also worked in the past with part of the North Dakota team, using a Cirrus SR-22 aircraft as an unmanned aircraft technology testbed to assess "sense and avoid" computer software in Grand Forks, N.D.
.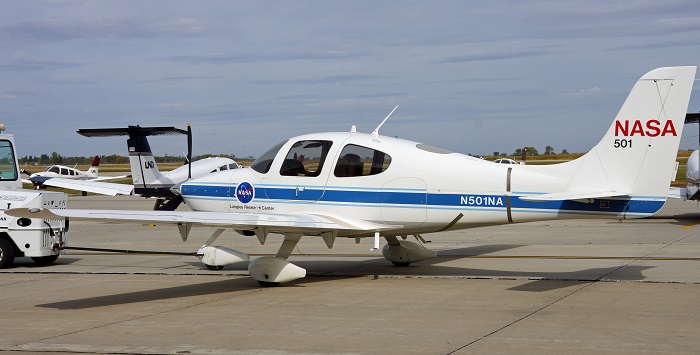 Image Credit:
NASA/Kathy Barnstorff
.
Quelle: NASA
3214 Views