.
1.10.2013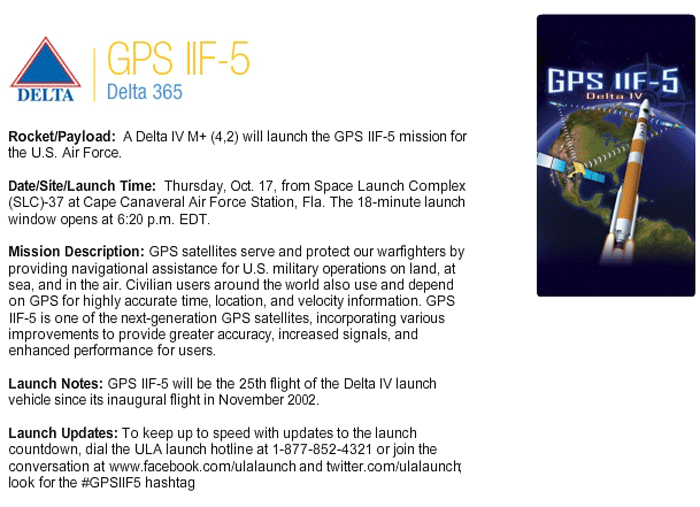 Quelle: ULA
.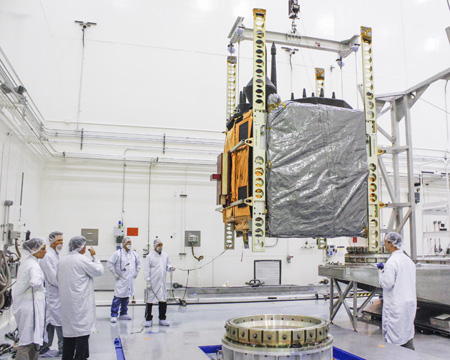 CAPE CANAVERAL AIR FORCE STATION, Fla., Sept. 17, 2013 – Boeing [NYSE: BA] workers lift the Global Positioning System (GPS) IIF-5 satellite onto a transporter following its Aug. 1 arrival at the Navstar Processing Facility on Cape Canaveral Air Force Station, Fla.
.
Cape Canaveral Air Force Station, Fla., Sept. 17,Boeing [NYSE: BA] workers lift the Global Positioning System (GPS) IIF-5 satellite onto a transporter following its Aug. 1 arrival at the Navstar Processing Facility on Cape Canaveral Air Force Station, Fla.
Boeing shipped the fifth GPS IIF satellite from its satellite factory in El Segundo, Calif., on a U.S. Air Force C-17 airlifter. Workers will fuel the satellite and integrate it with a United Launch Alliance Delta IV rocket prior to launch in October. The GPS IIFs continue to meet mission requirements as they are added to the on-orbit constellation, achieving the greatest accuracy ever and ensuring highly accurate position, timing and navigation services to a global user community.
Quelle: Boeing
.
Update: 3.10.2013
.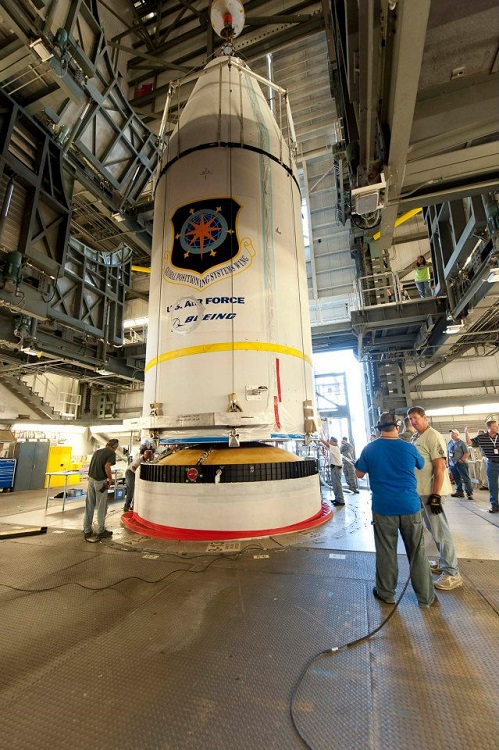 Launched in October 2012, the U.S. Air Force's GPS IIF-3 satellite is pictured during the process of encapsulation in its 4-meter (13-foot) payload fairing. Photo Credit: United Launch Alliance
Faulty Valve Replacement Delays ULA's Next Delta IV Launch
.
With a launch-heavy weekend behind us—Sunday, 29 September having seen both the successful maiden flight of SpaceX's new Falcon 9 v1.1 from Vandenberg Air Force Base, Calif., and the return to flight of the troubled Proton-M booster from Baikonur, Kazakhstan—it will be a little longer before we next hear the roar of space-bound rocket engines. United Launch Alliance (ULA) tweeted yesterday that its next flight has slipped from 17 to 23 October. In response to a request for information on their Twitter page, the company announced that the delay is "to allow technicians time to change out a faulty ground system valve on the liquid oxygen storage tank prior to launch." The mission will see a Delta IV carry the Global Positioning System (GPS) IIF-5 satellite into a medium orbit, more than 11,000 miles above Earth.
The Delta IV will fly in its Medium+ 4,2 configuration, numerically designated to identify its 4-meter (13-foot) payload fairing and the presence of two solid-fueled Graphite Epoxy Motors (GEM)-60. The central component of the vehicle is a single Common Booster Core (CBC), which stands 134 feet tall and is powered by a single Rocketdyne-built RS-68 liquid oxygen and hydrogen engine. This will ignite at T-5 seconds and undergo several seconds of computer-controlled health checks, ahead of the ignition of the GEM-60s at T-0.01 seconds and a release of hold-down clamps and liftoff at T-0. The Medium+ 4,2 configuration of the Delta IV has the capacity to inject up to 12,890 pounds of payload into geostationary transfer orbit.
The upcoming launch will also represent the 25th Delta IV mission since the vehicle's maiden voyage in November 2002. It has chalked up an impressive track record, with all but one of its missions classed as full successes. Only the first flight of the Delta IV Heavy in December 2004 experienced a premature shutdown of its CBCs, which caused one of its satellite cargoes to enter an incorrect orbit and the other to fail to achieve orbit entirely. Last October, a Delta IV Medium+ 4,2 experienced a problematic ascent when its RL-10B2 upper stage engine suffered a period of reduced thrust. Fortunately, the Delta's robust system design, flight software, vehicle margins, and propellant reserves compensated for the shortfall, and the GPS IIF-3 primary payload was inserted safely into orbit.
However, the incident led to an investigation into the cause of the glitch. Experts from ULA and the Air Force implemented a number of corrective actions. These included thorough inspections of engine and Delta IV systems for damage or the presence of "foreign objects," coupled with in-flight helium purges to critical components and changes to how the restartable RL-10B2 was thermally conditioned during ascent, ahead of its first "burn." The commonality of the RL-10B2 on the Delta IV and the RL-10A on the Atlas V—also operated by ULA—meant both vehicles were grounded, pending a resolution of the problem. As the Delta IV work continued, an Atlas V successfully delivered the Air Force's X-37B spacecraft into orbit without incident in December 2012.
Finally, with a clean bill of health, the Delta IV returned to flight in late May 2013, delivering the U.S. Air Force's fifth Wideband Global Satcom (WGS-5) into orbit, followed by the sixth in early August. Both missions flew in the Medium+ 5,4 configuration, with a larger 5-meter (16-foot) payload fairing, a modified second stage with 5-meter liquid hydrogen tank and "stretched" liquid oxygen tank, and four GEM-60 boosters. Three weeks later, on 28 August, the Delta IV Heavy—which utilizes three CBCs and is presently the largest rocket in operational service, anywhere in the world—successfully lofted the National Reconnaissance Office's NROL-65 classified payload into orbit.
According to schedules posted by Spaceflight Now, liftoff of the GPS IIF-5 mission from Space Launch Complex (SLC)-37 at Cape Canaveral Air Force Station, Fla., is scheduled for 5:53 p.m. EDT on 23 October, at the start of a planned 19-minute "window" for that day. At T-5 seconds, its single RS-68 first-stage engine will roar to life, followed at T-0.01 seconds by the ignition of the two side-mounted GEM-60 boosters. At T-0, the 206-foot-tall Delta will be released from the pad surface and commence a fast climb away from SLC-37. About eight seconds after liftoff, the vehicle will execute an automated pitch, yaw, and roll program maneuver to establish itself on the proper flight azimuth for delivery of GPS IIF-5 into orbit. Powered by its RS-68 engine and twin boosters, it will burst through the sound barrier at about T+47 seconds. At one minute into the flight, it will encounter a period of maximum aerodynamic turbulence on the airframe, known colloquially as "Max Q."
Following the separation of the GEM-60s, about 105 seconds into the flight, the RS-68 will continue the push toward orbit for a further three minutes. It will shut down and be discarded about four minutes after launch, after which the Delta Cryogenic Second Stage (DCSS)—powered by the Pratt & Whitney RL-10B2 engine which caused such troubles during its last Delta IV Medium+ 4,2 outing in October 2012—will roar to life and take over. Twelve minutes after leaving SLC-37, the DCSS will achieve an initial "parking orbit" and will shut down, then coast for several minutes, before reorienting itself for a second burn. After the completion of the three-minute-long second burn, the DCSS and the GPS IIF-5 payload will coast for three hours, preparatory to a third burn. This final burn will last about two minutes and will position GPS IIF-5 correctly for separation from its Payload Attach Fitting (PAF) at about 3.5 hours into the flight.
Weighing 3,600 pounds, GPS IIF-5 is the latest in an "interim" class of Global Positioning System satellites to keep a critical worldwide positioning, velocity, and timing asset operational until the next-generation GPS Block IIIA comes online sometime in 2014. The spacecraft boasts improved-accuracy positioning systems, a reprogrammable processor, capable of future upgrades, an interference-free civilian signal for commercial aviation search-and-rescue, and better resistance to electronic jamming through the new "M-code" military GPS signal. The first member of the planned 12-strong constellation of Block IIF satellites was launched in May 2010. It was followed by GPS IIF-2 in July 2011, GPS IIF-3 in October 2012, and GPS IIF-4—aboard an Atlas V—in May 2013.
"As each IIF satellite becomes operational, we continue the seamless transformation of the GPS constellation into an even more accurate, reliable, and durable navigation resource for the U.S. military and the global civilian user community," said Craig Cooning, vice president and general manager of GPS Block IIF prime contractor Boeing Space & Intelligence Systems. "Our efficient pulse-line manufacturing process, adapted from Boeing's commercial airplane production lines, also ensures that we deliver each spacecraft on time and on cost."
In the meantime, the U.S. Air Force awarded Lockheed Martin a $1.4 billion contract in May 2008 to develop the Block IIIA network, which may eventually consist of as many as 32 satellites. At present, the Air Force has formally contracted for four Block IIIAs. With 500 times the transmitter power of current systems, Block IIIA will also benefit from new navigational warfare capabilities, enabling them to shut off GPS service to limited geographical locations whilst maintaining service to U.S. and allied forces. The GPS system is operated and controlled by the 50th Space Wing, located at Schriever Air Force Base, Colo.
Quelle: AS
Update: 17.10.2013
.
The launch of a new satellite to replenish the U.S. Air Force's GPS navigation network, previously scheduled to lift off Oct. 23 on a United Launch Alliance Delta 4 rocket, has been postponed, according to Air Force officials.
.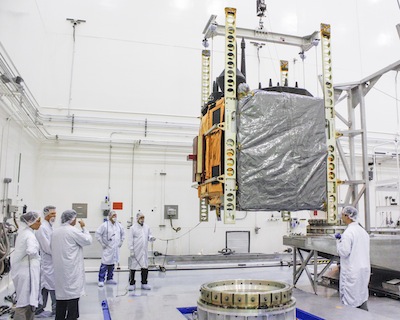 Photo of the GPS 2F-5 spacecraft after its arrival at Cape Canaveral Air Force Station, Fla. Credit: Boeing
The GPS 2F-5 spacecraft, the fifth in a series of 12 current-generation satellites built by Boeing Co., was supposed to be mated with its Delta 4 rocket last week.
But the satellite's trip to the Delta 4 launch pad was pushed back, along with the mission's Oct. 23 launch date, officials said.
United Launch Alliance spokesperson Jessica Rye deferred inquiries on the matter to the Air Force on Tuesday. An Air Force spokesperson did not respond to questions on the cause and expected length of the postponement by the end of Wednesday.
The two-stage Delta 4 rocket and its twin solid rocket boosters were stacked on the launch mount at Complex 37 at Cape Canaveral Air Force Station, Fla., following the expendable launcher's previous flight in early August.
Boeing shipped the GPS 2F-5 satellite from its factory in El Segundo, Calif., to the Florida launch site Aug. 1, kicking off more than two months of testing and fueling before engineers were supposed to move the 3,400-pound spacecraft to meet its Delta 4 booster.
The upcoming launch will mark the 25th flight of a Delta 4 rocket since launches began in November 2002. The launch of GPS 2F-5 will be the fourth and final Delta 4 mission of 2013.
.
Update: 19.10.2013

.
Air Force GPS launch delayed while ULA investigates 2012 launch
United Launch Alliance's scheduled Oct. 23 launch of a U.S. Air Force satellite is being postponed as the rocketmaker continues to investigate the cause of a fuel leak during the launch of the same kind of rocket a year ago.
The Centennial-based company announced the reasons for delay Friday. It's the second rescheduling of the Boeing Co.-built GPS IIF-5 satellite lift off on a Delta IV rocket.
ULA has been continuing to investigate anomolies from the successful Oct. 4, 2012 launch of a GPS satellite aboard a Delta IV. Pratt & Whitney Rocketdyne of Canoga Park, Calif., makes the RL-10B-2 engine used in the Delta IV rocket's upper stage. That engine didn't produce the expected thrust during last year's launch.
"It was determined that a fuel leak occurred within the engine system and that this fuel leak caused the low thrust," the ULA statement said.
An earlier phase of the investigation into the anomaly delayed a launch last November of an experimental, unmanned Air Force space plane. ULA recently updated conclusions from last year's flight data and is delaying this month's GPS IIF launch while it determines whether the new conclusions suggest changes to the engine should be made.
The upcoming Nov. 18 launch scheduled for the Mars Atmosphere and Volatile Evolution mission (MAVEN) is unaffected by the investigation, ULA said. That launch is aboard one of ULA's Atlas V rockets.
Quelle:ULA
3711 Views